Luntiang Lumina, Nationwide Tree Planting Activity of Lumina Homes
28 August 2021
As part of the month-long celebration of the 9th anniversary of Lumina Homes, the affordable housing arm of Vista Land, held Luntiang Lumina 2021, a nationwide virtual tree planting event and a webinar that tackles the importance of trees and tips about urban gardening in cozy spaces.
By 10 AM of August 28, 2021, attendees viewed the event through Lumina Official Facebook Page, Lumina website's Live Event, and early registrants via Zoom.
Different Lumina project locations participated in the Luntiang Lumina, nationwide tree planting activity that involves employees, homeowners, and partner sales networks, such as:
1. Lumina Homes in Bacolod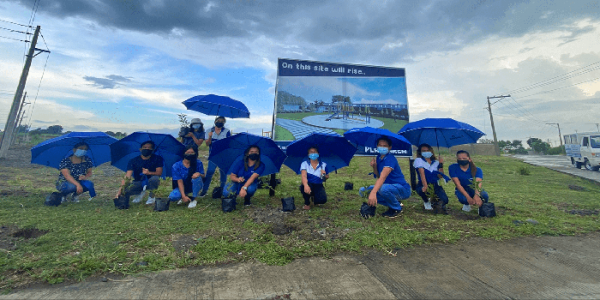 2. Lumina Homes in Butuan City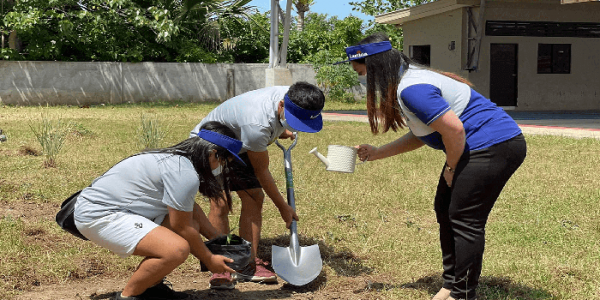 3. Lumina Homes in Rizal
"To see people working hand in hand and with one heart amid pandemic is a great privilege." Janelle Alba, a Marketing Assistant in Lumina Baras, participated and enjoyed the tree-planting activity. "It amazed me that people still connect with nature. Laughing over their dirty hands was my most favorite part."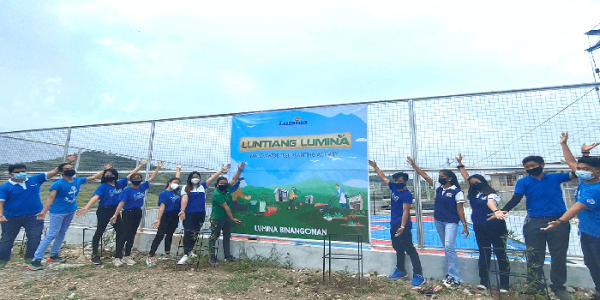 "This tree planting activity is such a great bonding and good advocacy at the same time," says Syrell Yaba, Marketing Team Leader of Lumina Homes in Rizal.
4. Lumina Homes in San Miguel, Bulacan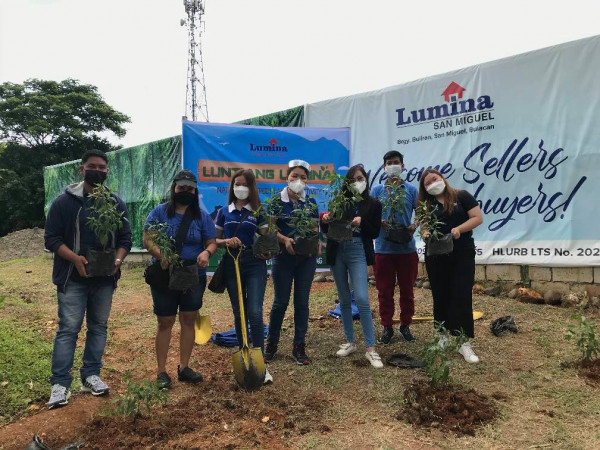 5. Lumina Homes in Cabanatuan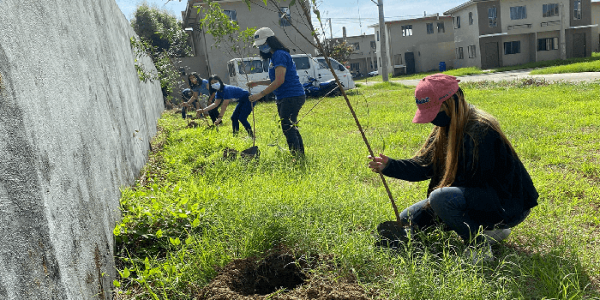 6. Lumina Homes in San Jose, Nueva Ecija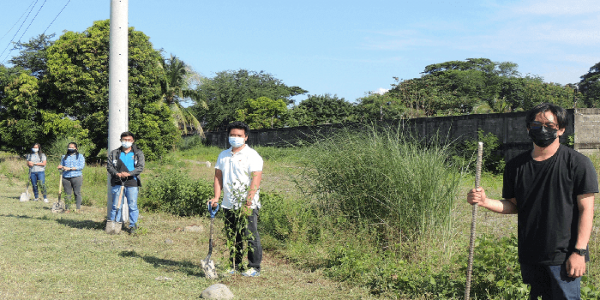 7. Lumina Homes in Tarlac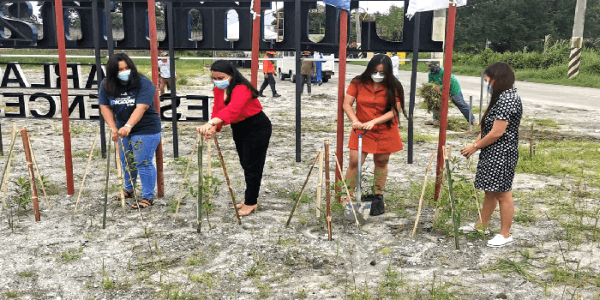 8. Lumina Homes in Manaoag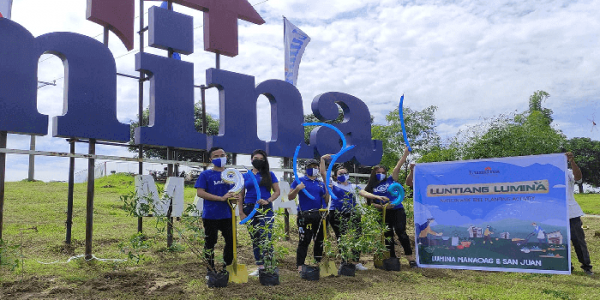 9. Lumina Homes in San Juan, La Union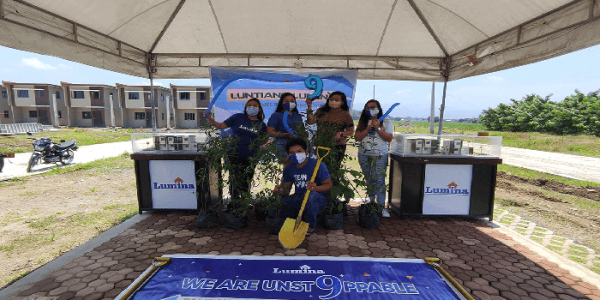 10. Lumina Homes in Cavite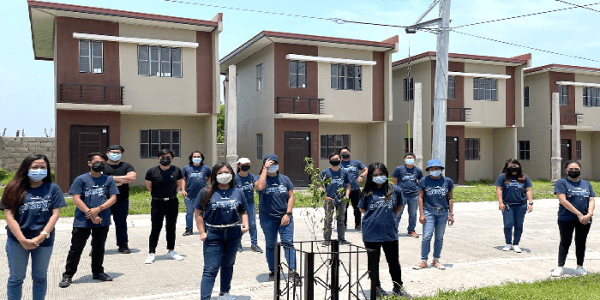 11. Lumina Homes in Tanauan, Batangas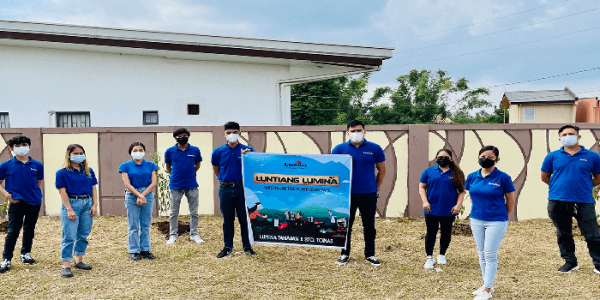 12. Lumina Homes in Sto. Tomas, Batangas
13. Lumina Homes in Quezon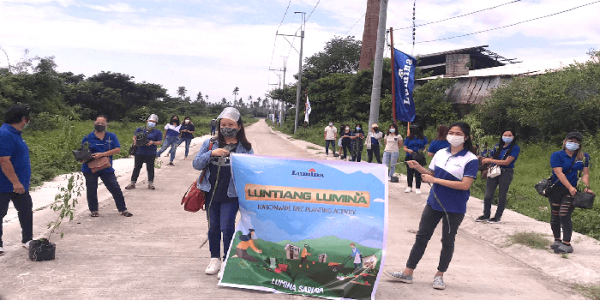 Mr. Ernie Krishna Enriquez, Licensed Agriculturist and Lumina Homes' Horticulturist, shared urban gardening tips that are perfect for cozy spaces at home.
Key Takeaways of Luntiang Lumina Webinar
1. Know what kind of plant are you interested in.
The first option is the indoor plants that are low maintenance and can beautify your home. But, most of them are poisonous, so it has to be kept out of reach of your children or fur babies.

The second option is outdoor ornamentals, such as flowering plants, succulents, shrubs, and trees.

The third option is edible gardening, such as fruits, vegetables, and mushrooms.

The fourth option is vertical gardening, where plants can be placed and hung on walls.

And last option is the technology of aqua and hydroponics.
2. Know your plants' primary care, such as sun requirement (indoor, morning sun, full sun, partially, or bright shaded), water requirement, fertilizer, and nutritional needs.
3. Use rice wash for watering plants since it gives a lot of nutrients.
4. You may place coffee grounds on your lemon, calamansi, or dalandan plants for additional nitrogen nutrients.
5. For basic organic pesticides, you may use the mixture of 2 garlic and chili, two tablespoons of vinegar, five drops of dishwashing liquid, one tablespoon of oil, and 1 liter of water. Wait for two days before using the mixture. Use the mixture to spray on your plants every afternoon only to avoid damage to leaves.
The next much-awaited event of Lumina Homes is the Launch of Espacio this September 11. The event will highlight how wide-open spaces at Lumina communities spur residents to pursue a healthy, active lifestyle by walking, biking, and playing outdoors. To support such eco-friendly activities, Lumina will launch Espacio, the center of convergence in all its communities. The amenity hub houses the multi-function hall, park and playground, basketball court, Lumina's newest addition: community center facility, and Tambayan ni Juan. All essential services that Lumina homeowners need will be available in Espacio – a health center, a senior citizen center, a daycare center, and a barangay center.
Be part of Lumina Homes.
Share the Filipino bayanihan spirit at Lumina Homes and fulfill a life well lived in a Barangay Lumina community! You may chat with a real-time Lumina representative on this website for inquiries.
Kababayans here and abroad can avail themselves of a Lumina house and lot through different online reservation methods that would make it easier for them to own their safe place—a home that is their own, whether in Luzon, Visayas, or Mindanao.
Here are the online methods of reserving a house and lot or condo unit in Lumina Homes:
Lumina Homes Online-

a one-stop home reservation portal. Its interactive web map lets homeowners view the exact unit of the chosen property within a Lumina subdivision and reserve through GCash, AllEasy, or credit card.

Shopee-

where Lumina Homes provides discount vouchers and even gives a house and lot prize for Shopee 9.9! You visit the official store of Lumina Homes in Shopee to avail e-vouchers that are equivalent to a reservation fee for a house and lot or a condo unit.

Lazada-

digital reservation vouchers may also be availed through the official Lazada store of Lumina Homes.

Facebook Shopping Cart-

through the Messenger of Lumina Official Facebook Page, you may chat with a real-time Lumina sales representative for your inquiries. And if you are ready to reserve a house and lot or a condo unit, you may also pay the reservation fee on the same social media platform by clicking the Add to Cart button. Payment shall be deducted from your GCash account.

Viber Store-

Lumina Homes now has a new way for you to book your own Lumina house and lot or condo unit! With the help of our Viber Store Live Agent, you may purchase your own house reservation e-voucher directly from our Viber Store!

GLife

- make your Lumina home investment purchase with GLife through your GCash App! When you reserve a Lumina Home through GLife, the homebuyer only needs to confirm the payment via GCash. Upon payment, a Lumina representative will contact the purchaser to complete the transaction.
You may also take advantage of the following promos for the 9th-anniversary celebration of Lumina Homes:
"Good Jab, Kabarangay!"- For August, home seekers can simply present their COVID vaccination card to enjoy as much as P1,000 off on reservation fees, and the equivalent amount discounted will be donated to a chosen charity of Lumina Homes.
9 Years, 9 Wins Raffle Promo- F

or homebuyers and Bida Lumina Sellers, a raffle promo will feature nine special prizes, ranging from home appliances to AllEasy load credits grocery packages. For every reservation, homeowners and sellers shall get one raffle ticket.
Related Article:
***
For more information about the affordable house and lot or condominium for sale by Lumina Homes, contact (0917) 629 6523.
Visit our official website at www.lumina.com.ph and like/follow our official online channels:
Facebook
,
Twitter
,
Instagram
,
YouTube
, Google MyBusiness & Google Maps,
Pinterest
,
Spotify
,
Viber
,
Telegram
,
Lazada
, and
Shopee
.

Loan Calculator
Try Lumina Homes' loan calculator and get an estimate computation for your preferred Lumina property and home model.