Lumina Homes Launches its Online University
21 September 2020

The COVID-19 pandemic has affected most, if not all, aspects of our everyday life. In the past challenging months, we have developed new habits to keep ourselves safe and healthy and found ways to maintain financial stability (or make financial progress) even when at home.
While others ventured into baking or cooking and selling them online, there are those who decided to make use of this downtime as an opportunity to boost their credentials through virtual classes.
Enter Lumina Online University
Lumina Homes, the affordable housing arm of Vista Land, acknowledged early on that changes will have to be made, securing digital processes in place of physical transactions to ensure the safety of its clients and accredited business partners which includes over 30,000 sales agents and brokers nationwide.
Dedicated to provide a decent abode for every Filipino family, Lumina Homes aims to tap more real estate brokers and agents to help assist in its mission. However, in light of the recent events, it is unable to hold gatherings like sales clinics and product knowledge seminars like it has used to. But with its mission in mind, it was able to launch "Lumina Online University" a web-based teaching platform that offers free sales courses on selling Lumina Homes.
"Lumina Online University" initially offers a two-level learning course with several modules each:
Beginner's Course
Fundamentals of Lumina Homes
Reservation Process
Real Estate 101
Admin and Customer Care Briefing
Advanced Course
Recruitment & Training
Facebook Marketing
Digital Marketing
In the future, this training portal will also include free webinars and specific courses about Lumina properties so sellers will become more familiar about the product they are selling.
How to Enroll in Lumina Online University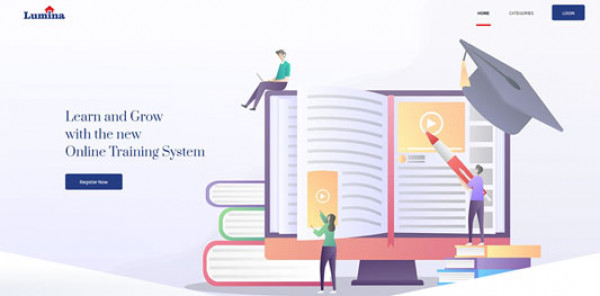 To access the free online courses in the "Lumina Online University," one must already be an accredited seller in any of Lumina Homes' projects nationwide. Once accredited, the seller may simply follow these easy steps:
Go to the Lumina Online University official site at https://onlineuniversity.lumina.com.ph/
Click the 'Register' button.
Fill-out the required details and click 'Sign Up' to finish.
You will receive an email to confirm your successful registration.
Wait for 24 hours as your Lumina Marketing Officer will have to verify your account before you are given access to the free courses.
A digital certificate will be automatically generated for every completed course.
In Lumina Homes, the sellers' experience is just as important as that of the buyers. Amid the pandemic, Lumina Homes strives to help its sales network adjust to the changing landscape of real estate selling, ensuring that they remain proactive and persistent in their shared mission of home providing.
Related Articles:
***
For more information on Lumina Homes, contact (0917) 629 6523.

Try our Home Loan Calculator
Loan Calculator
Try Lumina Homes' loan calculator and get an estimate computation for your preferred Lumina property and home model.