Lumina Homes, First Real Estate Brand To Open On GCash App's GLife
12 August 2021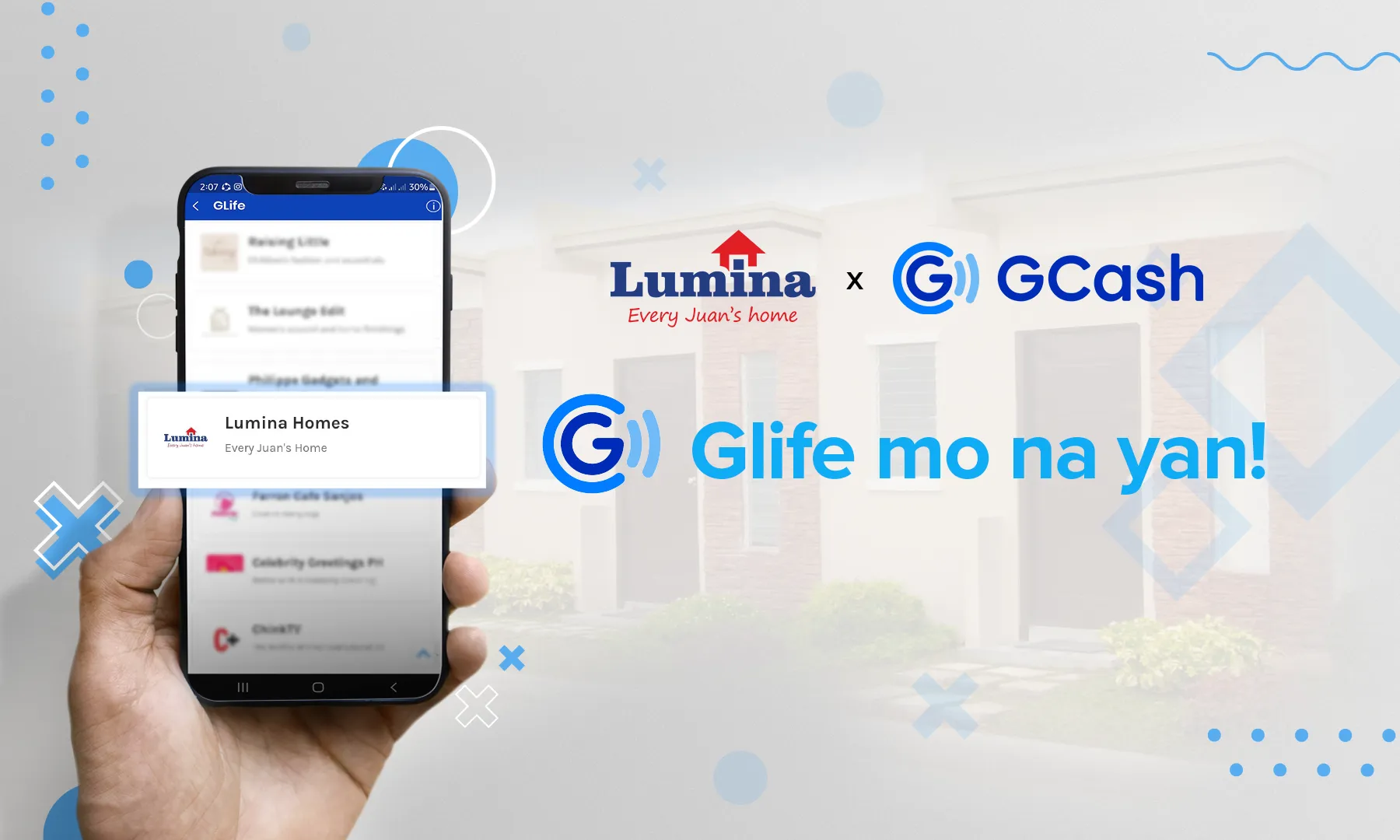 Going beyond to keep its affordable home offerings available amid the constraints on physical transactions, Lumina Homes, the Philippines' game-changer housing developer, continues to be the frontrunner in digital innovations for real estate selling.
Adding another milestone in celebration of its 9th anniversary, the ever-innovative affordable housing arm of Vista Land is the first real estate brand to open in GLife.
You can now make your Lumina home investment purchase with GLife a mini app through your GCash App! Just log on to your GCash app, then swipe to GLife, a feature on the app that serves as a one-stop-shop for all your favorite brands, essential needs, and that includes Lumina Homes!
When you reserve a Lumina Home through GLife, the homebuyer only needs to confirm the payment via GCash. Since they are already inside the GCash ecosystem, you can complete the transactions and payments within the platform. All you have to do is ensure that your GCash account has enough funds for the home reservation amount. Funding a GCash account is easy and can be done online or through multiple cash-in kiosks at partner stores or supermarkets.
If you don't have the GCash app yet, you can download it via the App Store or Google Play. Just register your account and enjoy GCash and check out Lumina Homes in GLife.
What is GLife in the GCash app?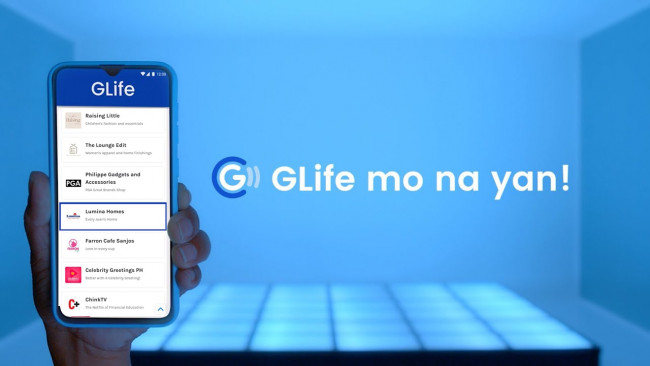 GLife is one of the newest services that GCash, one of the Philippines' largest mobile money or digital wallet service, offers. Through GLife, you may shop from a variety of beauty companies, lifestyle brands, food delivery platforms, e-commerce sites, gadget shops, restaurants, real estate, and more within the GCash mobile application. Now, you can enjoy transactions with your favorite brands and GCash's approved merchants smoother, easier, and faster than ever!
How to access GLife in the GCash App?
If you have are one of the existing GCash users and are already a GCash user, you can conveniently access GLife using your GCash App on your mobile phone. You can access it with these two easy and simple steps:
Step 1. Look and choose the GLife option from the GCash dashboard upon accessing your account. It can easily be found from the dashboard, so you should not have difficulty finding that icon.
If you cannot find the GLife option from the dashboard due to some circumstances, you can check it from the Show More option. Also, make sure that you have the latest version of the GCash App.
To do this, you can go to Google Play or App Store from your mobile phone and update your GCash App.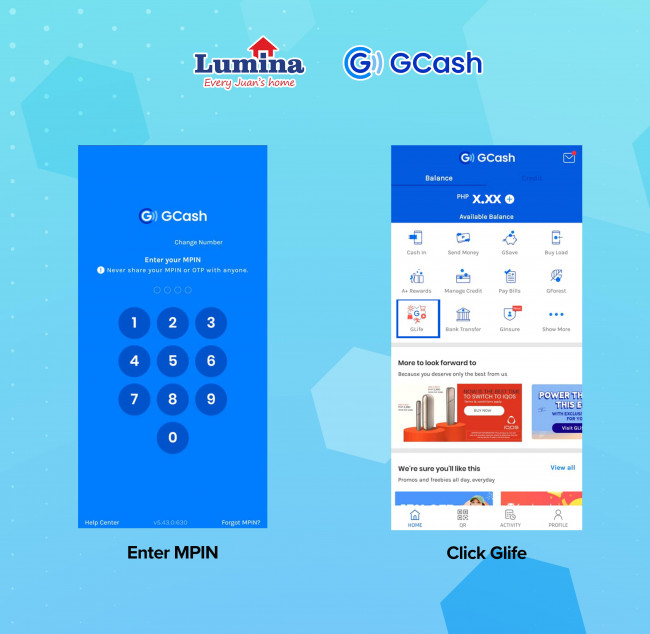 Step 2. For first-time GLife users, a welcome page will greet you in using their new service. Just tap your screen until you see the wide selection of partner merchants from the GLife lists.
How to make a Lumina home reservation in GLife?
You can now easily make your home reservation by using GLIfe and paying it through GCash!
Step 1. Scroll down to the Our GLife Partners section, then find and select Lumina Homes from the list.
Step 2. You will be directed to a page asking for your permission to allow Lumina Homes to know your GCash Number, Name, and Contact Details. Tap the I AGREE button.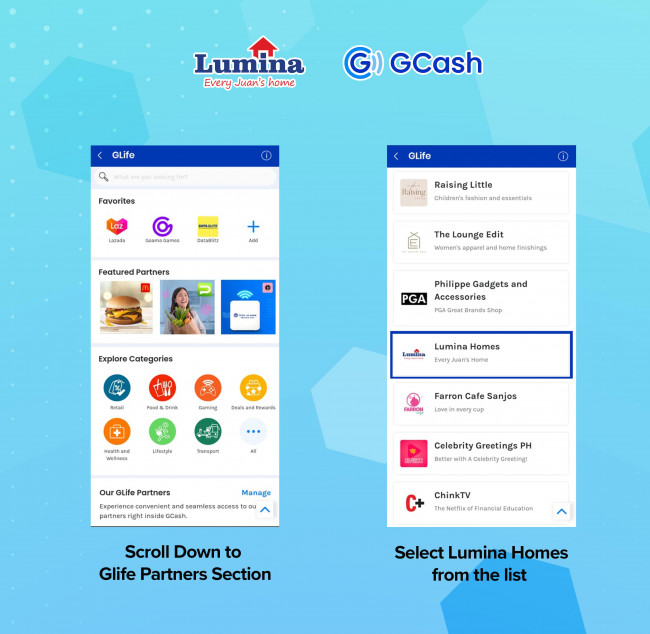 Step 3. It will then bring you to their Lumina Homes Shop, where you can find all the available home model units that Lumina is offering together with their designated reservation prices. Just add to the cart your chosen home model unit and input the information needed for the checkout.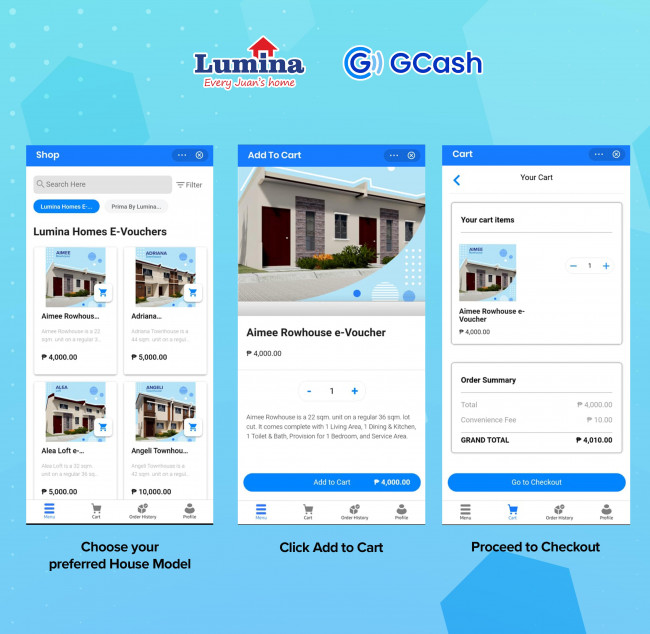 Step 4. After availing of your home reservation, a sales representative from Lumina Homes will contact you as soon as possible.
Due to pandemic, it is a must for any business to accept digital payments, take online orders, in store payment transactions, QR payment acceptance, or simply having a fully automated selling by having banking partner or similar institutions common aspirations.
About Lumina Homes
Each Lumina Homes community has its very own amenity hub that includes a multi-purpose hall, mini gardens and playground, gazebo, and jogging path plus, you can quickly locate and choose any Lumina Homes' community because of its nationwide presence.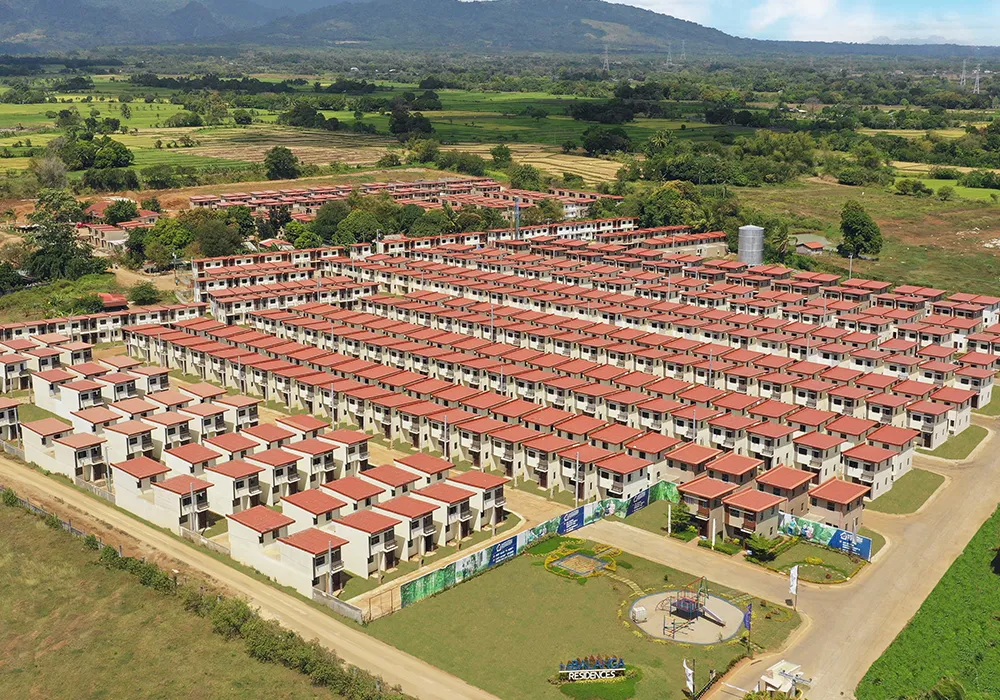 Lumina already has over 50 house and lot developments in key locations across the country: Rizal, Bulacan, Pampanga, Bataan, Zambales, Nueva Ecija, Tarlac, Pangasinan, La Union, Cagayan, Isabela, Cavite, Batangas, Laguna, Quezon, Camarines Norte, Albay, Sorsogon, Iloilo, Capiz, Cebu, Negros Occidental, Agusan del Norte, Zamboanga del Sur, Bukidnon, Misamis Occidental, Davao del Norte, Davao del Sur, and South Cotabato. Lumina Homes also marked its 9th year with its own line of vertical communities through Prima. The affordable condominium is now available in Tanza, Cavite with one building already sold out. The affordable condominium brand is set to launch in other key provinces across the country, such as Iloilo, Iloilo, Davao, Butuan, Cabanatuan, Subic, and Cebu.
Through the years, Lumina managed and created breakthroughs, not to mention various online order acceptance solution, in the real estate industry. Due to the global crisis brought by the COVID-19 virus, Lumina Homes overmastered itself by creating innovative platforms and promote digital payments to reach a greater audience and continue the best home investment service to their customers even amid the pandemic.
Aside from GLife, you may purchase a Lumina home reservation through the following digital platforms:
Lumina Homes Online- a one-stop home reservation portal with an interactive web map allowing homeowners to view exact unit location within subdivision and reserve through GCash, AllEasy, or credit card. It is a similar method of buying movie tickets when you select a unit.
Shopee- visit Lumina Homes' official store in Shopee and easily get online orders discounted e-vouchers from Shopee that you can use in making your dream home reservations from Lumina Homes.
Lazada- visit Lumina Homes' official store in Lazada and have a seamless online order fulfilment from Lazada that you can use to pay for your Lumina home reservation. Similar to checking out your beauty essentials or buying a voucher of other service providers.
Facebook Shopping Cart- cchat your inquiries with Lumina Official Facebook Messenger and choose the Cart icon when you decided to purchase an affordable condominium unit or a house and lot. Making in store purchases, similar to retail goods, make sure to have enough balance in your GCash e wallet app.
Viber Store- add to cart through Viber; this allows prospective homebuyers to directly reserve a home through the Viber app.
Lumina Homes will also soon accept Lyka gems as payment for house and lot reservations. You may also follow Lumina Homes' Facebook Page for the Live Selling schedule where you can MINE your dream home.
Home reservation and investment should be guaranteed safe and healthy while eliminating all its complexities. With Lumina Homes, homebuyers and sellers don't have to undergo the stress and hassle of all these transactions.
Make your home investment now with Lumina Homes and experience the convenience of house and lot shopping anywhere in the country!
Related Articles:
***
For more information on Lumina Homes, contact (0917) 629 6523.
Visit our official website at www.lumina.com.ph and like/follow our official online channels: Facebook, Twitter, Instagram, YouTube, Google MyBusiness & Google Maps, Pinterest, Spotify, Viber, Telegram, Lazada, and Shopee.

Try our Home Loan Calculator
Loan Calculator
Try Lumina Homes' loan calculator and get an estimate computation for your preferred Lumina property and home model.