Lumina Homes Recognized as Best Developer for Affordable Housing in 1st Carousell Property Awards
19 March 2022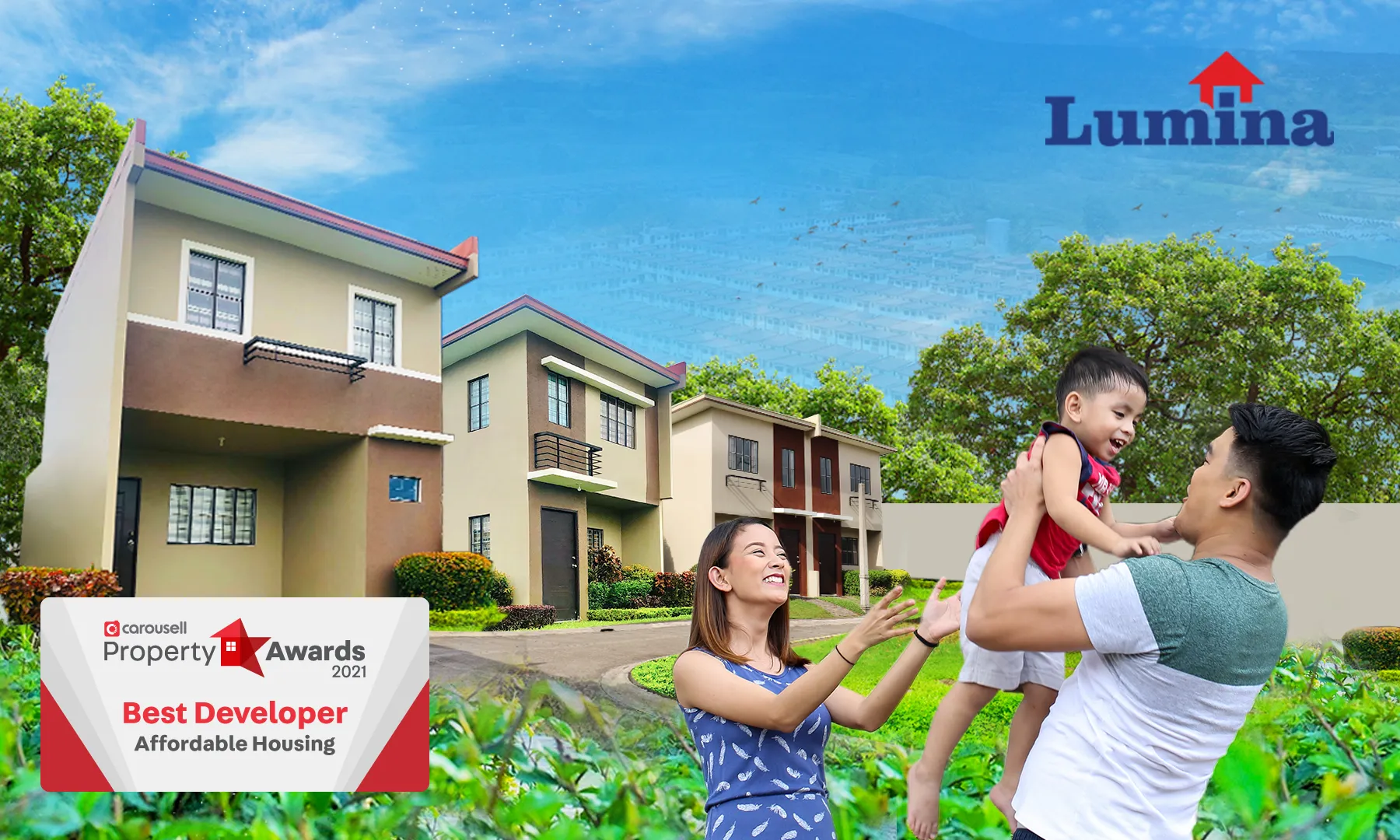 Lumina Homes, coming from a low-cost housing brand, is now on its way to becoming a housing developer that provides the ultimate dream home for a middle-income Filipino family!
However, it always returns to its roots of providing affordable and decent housing to everyone. Lumina Homes' commitment has been recognized by several award-giving bodies, including the first-ever Carousell Property Awards, which named Lumina as Best Developer for Affordable Housing.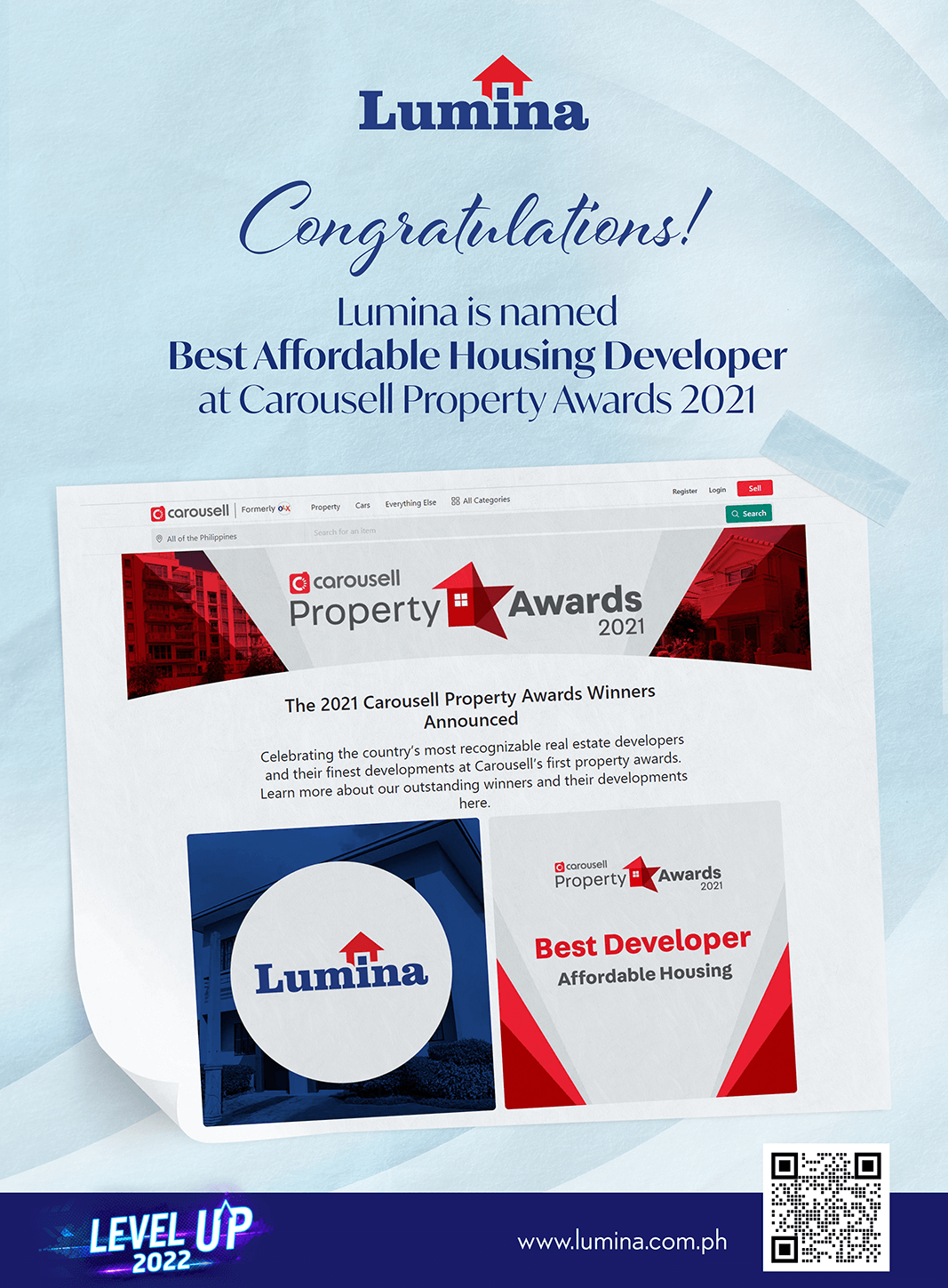 "We in Lumina Homes are committed to going beyond the expectations in an affordable housing community. We will continue to maximize and level up our developments' potential in providing residents the quality home and life they deserve," shares Engr. Joemi Tan, Division Head of Lumina Homes.
This award bestowed upon Lumina Home coincides with its ten-year celebration of building sustainable communities and more than 100,000 homes for Filipino families and as part of Vista Land, one of the pioneering real estate developers in the country. Lumina project locations are available in over 50 key cities and municipalities in the Philippines, which include Batangas, Cavite, Rizal, Laguna, Quezon, Bulacan, Isabela, Bataan, Pampanga, Zambales, Nueva Ecija, Tarlac, Pangasinan, La Union, Cagayan, Isabela, Albay, Camarines Norte, Sorsogon, Iloilo, Cebu, Capiz, Negros Occidental, Agusan del Norte, Zamboanga del Sur, Bukidnon, Misamis Occidental, South Cotabato, and Davao del Norte.
10 Reasons Why Lumina Homes is a Great Investment
In line with Lumina Homes' 10-year anniversary this August, we'll provide you with 10 major reasons why Lumina Homes makes for a great investment for aspiring property owners like you. These are as follows:
1. Affordable house and lot
This is what Lumina Homes was chiefly recognized for, and for all good reasons. Our brand offers affordable homes to help Filipinos achieve their dream house and lot in the Philippines at a fairly affordable price.
2. Quality home construction
Matching Lumina's affordability is the quality of its housing construction. At Lumina Homes, we believe that affordability does not necessarily equate to having substandard materials, and that affordability and quality can be achieved at the same time.
3. Strategic locations
Location, location, and location are the most essential factors in developing housing projects. As such, Lumina Homes only chose cities and municipalities that are strategically located, which means they are near schools, supermarkets, hospitals, churches, and accessible modes of transportation, among others.
4. Diverse home models
Not all aspiring homeowners prefer the same housing model. And so Lumina Homes did not just stick to one type of housing unit and model and instead offer a variety of them, including duplexes, townhouses, and single firewall homes to meet the housing preferences of different homebuyers.
5. Safe and secure communities
The safety and security of all homeowners are a top priority. We make this possible by having guarded entrances and round-the-clock security to ensure that all residents feel safe and secure in their own community.
6. Complete amenities
Perks and amenities are necessary to further give convenience to homeowners. Lumina Homes' version is through eSpacio—which comprises a multipurpose hall, gazebos, mini-gardens, jogging path, and a playground for your kids. We also have a community center that can accommodate different offices, such as Daycare Center and Senior Citizen Center,
7. Flexible payment terms
If you invest in Lumina Homes, you will get to enjoy flexible payment terms on top of acquiring an affordable house and lot for sale for you and your loved ones.
8. Hassle-free reservation
You can reserve your future Lumina home without leaving your current abode! That is, we provide a hassle-free online home reservation in quick and easy steps. You can do this by filling out a virtual reservation form.
9. Fast and easy home-buying process
If you transact with an accredited Lumina seller or sales representative, rest assured that you will be accommodated in your home-buying journey. Got any questions? You can give us a direct message through this website or through our social media pages.
10. Trusted and reliable homebuilder
Now in its 10th year of providing affordable homes with quality perks and amenities, Lumina Homes managed to rake recognitions from various award-giving bodies, the latest of which is this one from the Carousell Property Awards. These recognitions only drive us to provide more housing services for all Filipino families who are in need of affordable housing. With more than 50 noteworthy developments nationwide, we intend to expand in the future and continue to become the best Affordable Housing Developer, which was how Carousell Property Awards distinguished us to be!
Lumina also pays close attention to current market demands and has begun converting its developments to meet the increasing needs for bigger living spaces. Because of the pandemic, most property buyers are looking for two-story houses and lots with bigger room provisions, a bigger lot, and better ventilation.
Recently, Lumina "unboxed" eSpacio, its amenity center filled with well-thought-out and functional amenities. eSpacio features a holistic community center and "Tambayan ni Juan" and standard amenities such as a play area, multi-purpose hall, mini gardens, a jogging path, and a shuttle terminal.
The "Tambayan ni Juan" features an alfresco dining hub with live performers on stage, providing homeowners with a safer environment to enjoy new-normal leisure and entertainment. At the same time, the community center has office provisions for Day Care Center, Health Center, Senior Citizen Center, and Barangay Center.
In addition, Lumina has an advantage over most affordable housing brands in the real estate industry in that it had pushed for real-estate solutions from the beginning, even before the pandemic began.
Lumina offers convenient virtual home tours and subdivision walkthroughs to ensure that transactions are safer, smoother, and quicker. As a result of its collaboration with national bank players, it has also perfected online reservations and online payment options, including digital wallets and digital banking services.
Carousell is a marketplace or a classified ads platform via its website and mobile app in countries in Southeast Asia such as Singapore, Hong Kong, the Philippines, Malaysia, Taiwan, and Indonesia. It is a website that allows you to buy and sell everything under the sun, including real estate properties. It first brings together the country's most famous real estate developers and their most remarkable projects in a single thrilling event—through Carousell Property Awards.
Other winners in the first-ever Carousell Property Awards include Laguna Technopark by Ayala Land Logistics as the Best Leading Industrial Development, U Home as Best Development Value for Investment, Suntrust Kirana for Best Affordable Condominium, and Crown Asia as the Best Mid-Range Condominium, among others.
For affordable housing, Lumina Homes is deemed the best in the industry. For your inquiries, message us today to attain your dream house and lot without shelling out all your life savings!

Try our Home Loan Calculator
Loan Calculator
Try Lumina Homes' loan calculator and get an estimate computation for your preferred Lumina property and home model.