1 Million Peso Grand Prize Awaits Pag-IBIG Fund Raffle Promo Winner
23 August 2021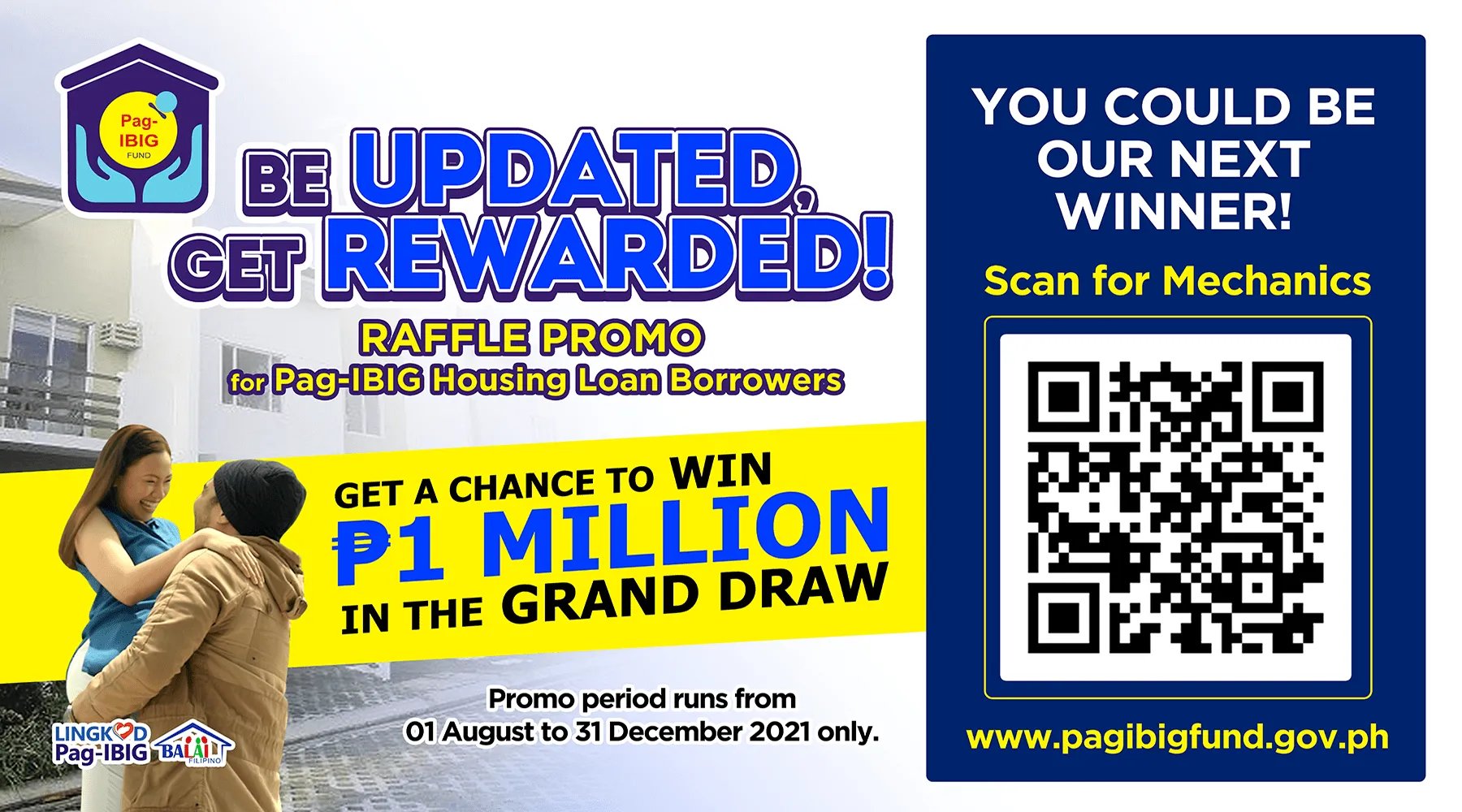 You can be the next millionaire when you join the "Be Updated, Get Rewarded Raffle Promo for Pag-IBIG Housing Loan Borrowers" starting August 1 to December 31, 2021!
The raffle promo is Pag-IBIG Fund's reward for borrowers with on-time payments on their Pag-IBIG Housing Loan.
There will be five monthly draws where there will be seven winners of Php100,000 each month! The seven winners for the monthly raffle draw will be three from National Capital Region, one from North Luzon, one from South Luzon, one from the Visayas, and one from Mindanao. Here is the schedule of the monthly draw:
1st monthly draw: September 20, 2021
2nd monthly draw: October 20, 2021
3rd monthly draw: November 20, 2021
4th monthly draw: December 14, 2021
5th monthly draw: January 20, 2022
Meanwhile, the Grand Draw will also be held by December 14, 2021, where there will be one winner of Php 300,000, one winner of Php 500,000, and one winner of one million pesos!
The prize amount will be composed of at least fifty percent (50%) shall be placed to the principal portion of the winner's outstanding balance pag ibig housing loan. At the same time, Pag-IBIG will give the remaining amount as a cash prize in a check payable to the confirmed winner. If the amount required to fully pay the winner's account is less than half of the prize amount, the remaining amount after full payment of the winner's account shall be granted as a cash reward. A borrower of a Pag-IBIG Housing Loan may win a monthly draw reward just once during the raffle promo period and a grand raffle draw prize only once. Hence, a monthly draw winner is eligible and can still win during the grand raffle draw. The winners will be announced in the Pag-IBIG Fund website and will be posted on Pag-IBIG Fund's official Facebook page.
What are the mechanics of Be Updated, Get Rewarded Raffle Promo for Pagibig Housing Loan borrowers?
Those who have taken out a Pag-IBIG Housing Loan are entitled to one raffle entry for each of his or her housing loan accounts, for each of the monthly, and grand raffle draws, provided that each loan account has been updated as of the corresponding cut-off date. Only principal borrowers will be eligible to participate in the raffle.

There will be a cut-off schedule for each monthly draw, and for the grand draw, the Pag-IBIG Fund will compile a list of housing loan borrowers whose accounts have been updated and who are thus eligible to participate in the respective draws. The cut-off date to qualify for the 1st monthly raffle draw is August 31. For the 2nd monthly raffle draw date of cut-off is September 30, the 3rd monthly raffle draw date of cut-off is October 30, the 4th monthly raffle draw and grand draw date of cut-off is November 30, and the 5th monthly raffle draw cut-off is December 31.

For each raffle draw, an Electronic Raffle Number (ERN) will be assigned to each qualified Pag-IBIG Housing Loan applicant. Given that each account is updated as of the relevant cut-off date, borrowers with numerous home loans will be given multiple raffle entries.

Pag-ibig housing loan borrowers will receive their ERN through text message or email, which will be sent to their cellphone number or email address on file. Borrowers are advised to update their contact information with the pag ibig fund so that they can properly be notified with their ERN.

The ERN is only applicable for the raffle draw for which it was issued. If a borrower is eligible for more than one draw, he or she will be given separate ERNs, one for each monthly or grand raffle draw.

Promo runs from August 1 to December 31, 2021.
***All Pag-IBIG Fund employees: regular, direct-hired, agency-hired, contractual, job order personnel, consultants, and members of the pag ibig fund Board of Trustees are disqualified from joining the raffle promo, as well as their relatives up to the second degree of affinity and consanguinity.
How to join the Be Updated, Get Rewarded Raffle Promo for Pagibig Housing Loan borrowers?
Pay your current monthly amortization and the total amount of past-due (if any) on or before the due date of your Pag-IBIG Housing Loan account. You may settle your dues via Virtual Pag-IBIG or through approved collecting partners' outlets of Pag-IBIG Fund or online payment facilities to keep your account up to date. You may also make your payment at any Pag-IBIG Fund branch in your area.

You must update your contact information with Pag-IBIG Fund to ensure that you receive their notifications. When approved home loan borrowers submit their ERN, Pag-IBIG Fund will send the information to their email address, mobile, or landline phone number on file with Pag-IBIG Fund. Fill out the Member's Change of Information Form (HQP-PFF-049) and send it to any Pag-IBIG Fund branch location near you to make changes to your contact information.

Follow the Official Facebook Account of Pag-IBIG Fund for the latest updates.
Lumina Homes partnership with Pag-IBIG Fund
Lumina supports the "Be Updated, Get Rewarded Raffle Promo for Pag-IBIG Housing Loan Borrowers" by informing Lumina Homeowners that are existing housing loan borrowers of pag ibig fund. Read about inspiring stories of Lumina homeowners that purchased their homes through pag ibig housing loan:
Lumina Homes offers quality yet affordable houses and lots under the Pag-IBIG housing loan. It is relentless in its commitment to provide every Filipino family a place to call their own, proof of which is its annual recognition and awards received from Pag-IBIG Fund.
Related Articles:
***
For more information about the affordable house and lot or condominium for sale by Lumina Homes, contact (0917) 629 6523.
Visit our official website at www.lumina.com.ph and like/follow our official online channels:
Facebook
,
Twitter
,
Instagram
,
YouTube
, Google MyBusiness & Google Maps,
Pinterest
,
Spotify
,
Viber
,
Telegram
,
Lazada
, and
Shopee
.

Try our Home Loan Calculator
Loan Calculator
Try Lumina Homes' loan calculator and get an estimate computation for your preferred Lumina property and home model.