Lumina Homes Joins Brigada Eskwela 2019
23 May 2019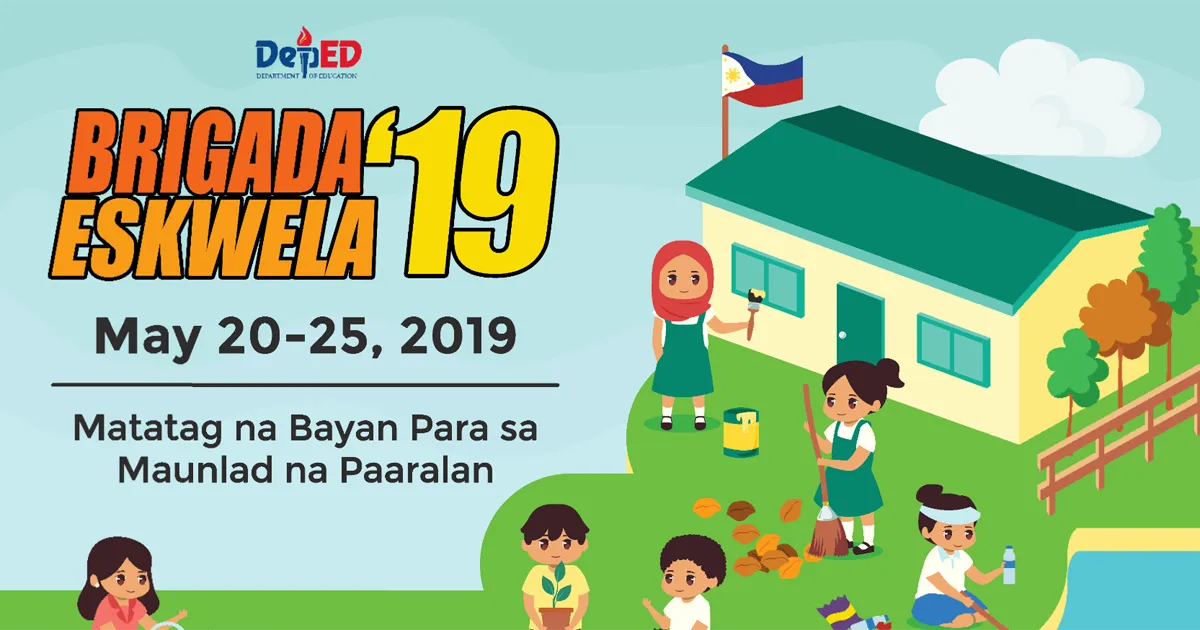 Written by: Ness Albito
Lumina Homes joined the Department of Education's Brigada Eskwela 2019 that started last May 20, and will have its closing program by May 25. Lumina Homes encourages everyone to support this national public school campaign with the theme "Matatag na Bayan Para sa Maunlad na Paaralan."
Lumina Homes across the country participated in Brigada Eskwela 2019, including Lumina Homes in Nueva Ecija, Lumina Homes in Tarlac, Lumina Homes in Bulacan, Lumina Homes in Misamis Occidental, Lumina Homes in Rizal, Lumina Homes in Quezon, and Lumina Homes in Bacolod.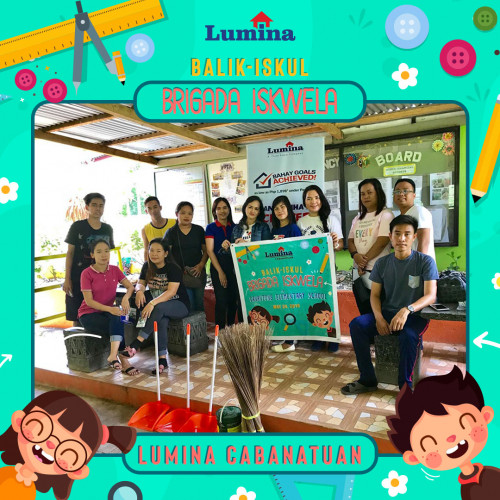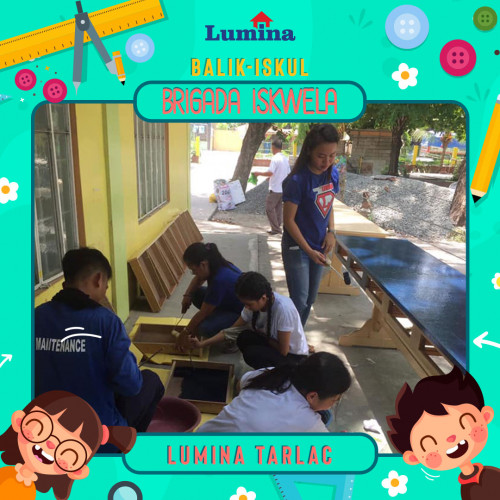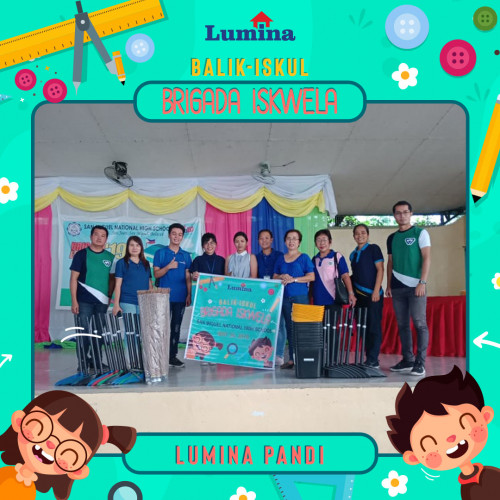 The volunteers from Lumina Homes joined the motorcade parade as information dissemination of the schools' clean-up drive. Simultaneously, they also donated materials, helped with the cleaning and repainting of school rooms and equipment, and had a booth set-up to offer refreshments with co-volunteers.
Mr. Rothen De Rosas, Brigada Eskwela Coordinator of Morong National High School even expressed his gratitude to Lumina Homes. "On behalf of Morong National High School, we would like to thank the management of Lumina Homes for their untiring support and help. Lumina also joined our Brigada Eskwela last year, and we hope to have a partnership with them in the years to come," he said.
Being a house and lot developer that offers affordable house and lot in the country, Lumina Homes makes sure that Lumina communities are built in strategic locations—having these housing developments close to major roads and highways and various markets and especially to schools. Getting that "Edukasyon Achieved" goal in purchasing your dream home is one reason why Lumina Homes is your best choice and best place to live in.
As Lumina Homes continuously encourages every individual to share time, effort, and resources in joining the yearly Brigada Eskwela of the Department of Education, here is a checklist of what to donate:
What do you need in an emergency learning kit?
1. Whistle
2. Leaflets of information of the kits
What are the contents of a learner's bag?
1. Notebook (50 leaves)
2. Pad paper
3. Pencil
4. Ballpen
5. Crayon
6. Ruler
7. Small scissors
8. Pencil sharpener
9. Paste
10. Bag
What are the contents of an emergency kit for school?
1. First aid kit
2. Emergency contact numbers
3. Stretcher
4. Radio/batteries
5. Bell/warning device
6. Transistor radio
7. Electrical tape
8. Whistle
9. Rope
10. Flashlight/batteries
What is the checklist for a first-aid kit?
1. Burn ointment
2. Povidone-iodine
3. Adhesive bandage
4. Bandage
5. Gauze
6. Plaster tape
7. Alcohol
8. Hydrogen peroxide
9. Bottled water
10. Gloves
11. Cotton
What are the contents of a teacher's kit?
1. Manila Paper
2. Bond paper long (cactus)
3. Pair of scissors
4. Cartolina
5. Pen (black and red)
6. Permanent markers (black and blue)
7. Bag
8. Ruler
9. Pencil sharpener
10. Lesson plan notebook
11. Class records
What should be the content of a teacher's emergency kit?
1. Whistle
2. Flashlight/batteries
3. Radio/batteries
4. Raincoats/umbrella
5. Boots
6. Emergency hotline list
7. Evacuation guide
8. Toiletries
9. Bottled water
What are the contents of health and hygiene kit?
1. Soap, toothpaste, toothbrush
2. Sanitary pads for female high school learners
3. Drinking water (1 liter)
Aside from these, volunteers can also get involved in various activities for the school clean-up drive like repairing school facilities, repainting the school offices and classrooms, and cleaning the school grounds.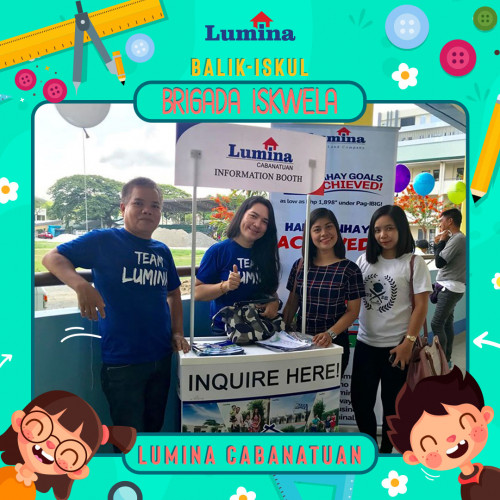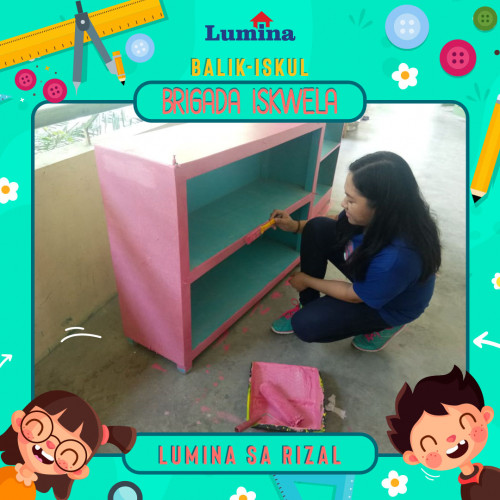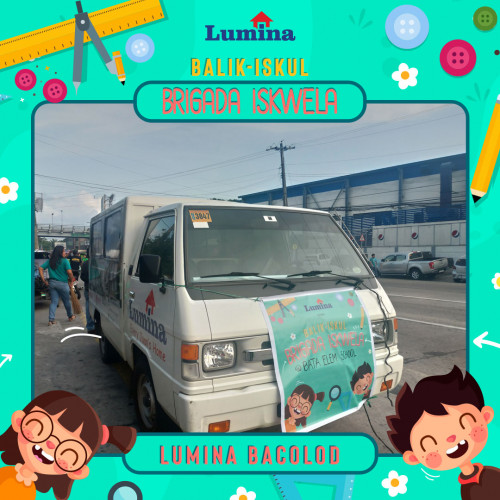 BALIK ISKUL 2019: AKLAT NI JUAN
Lumina Homes would also like to invite everyone to participate in their upcoming Balik Iskul Program called "Aklat ni Juan Project: Lumina Nationwide Book Drive."
If you are interested in joining Aklat ni Juan Book Drive and donating old or unused books at home, Lumina Homes would like to encourage you to donate them to Lumina San Miguel Sales Office. They will be accepting donations starting June 6 until June 30, 2019. There is no limit to donating, so you can donate as many books as you want!
Proceeds of this book donation drive will go to the chosen beneficiary of Lumina Homes in Bulacan.
Related Articles:
***
For more information on Lumina Homes, contact (0917) 629 6523.

Try our Home Loan Calculator
Loan Calculator
Try Lumina Homes' loan calculator and get an estimate computation for your preferred Lumina property and home model.