Enjoy P300 Off When You Reserve a House and Lot Through Lumina Homes Online
18 February 2022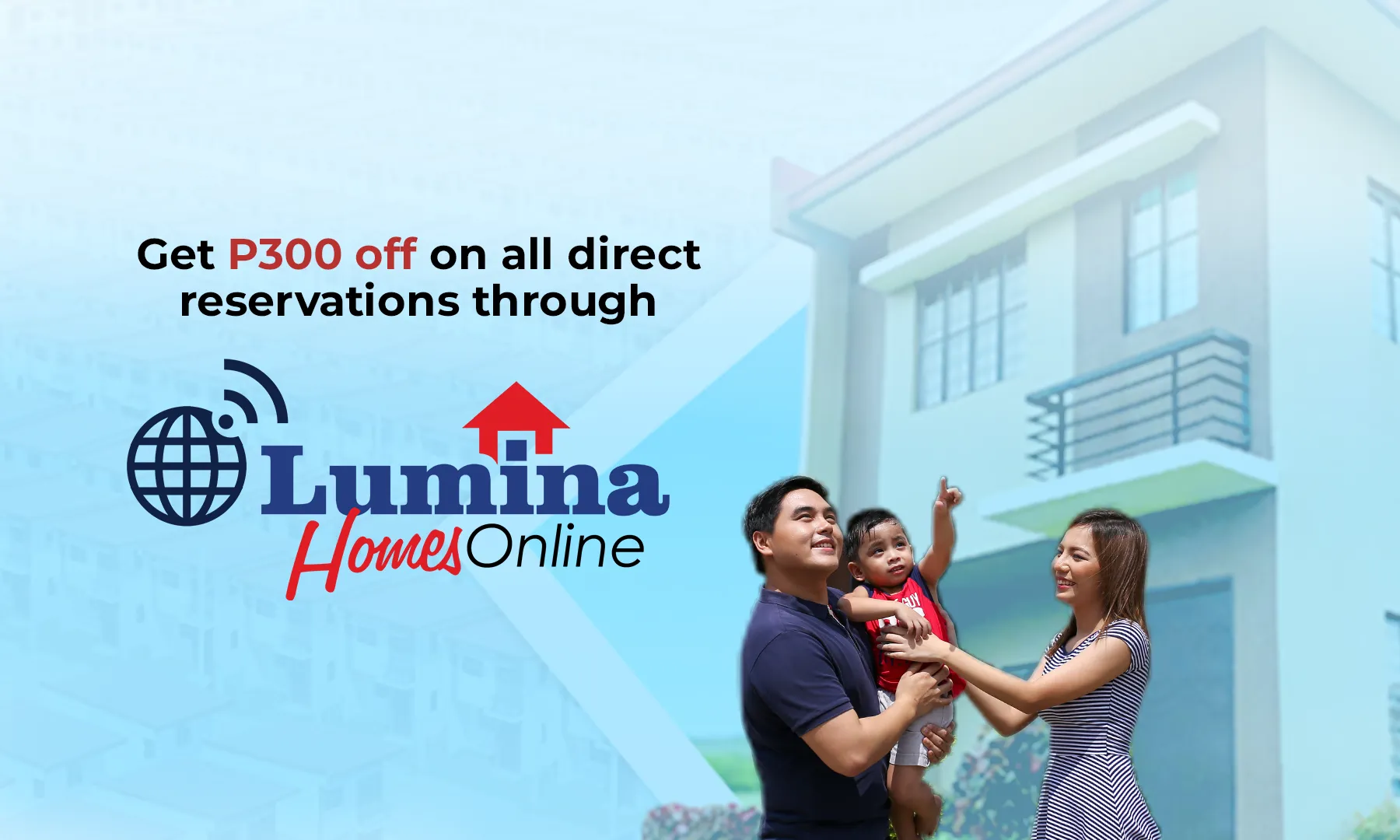 There's no denying that getting a place you can call your own is challenging and expensive. But don't worry because Lumina Homes is here to the rescue. Lumina Homes, the affordable housing arm of Vista Land, breaks the norms of the usual home buying journey thanks to Lumina Homes Online.
Lumina Homes Online allows you to access a one-stop home reservation site that shows the availability of affordable house and lot for sale online. Through it, home buying is made easier.
But wait. There's more! Aside from making your home buying journey hassle-free, Lumina wants to make it more affordable for you by giving you a P300 discount from your home reservations when you reserve through Lumina Homes Online.
So, if you're looking for a sign to reserve the Lumina Homes house and lot you've been eyeing for so long, this is it!
How to reserve a house and lot through Lumina Homes Online
To reserve a house through Lumina Homes Online and get P300 discount on your reservation fee upon check out, follow these simple steps:
Go to Lumina Homes Online reservation form at https://onlinereservation.lumina.com.ph/

.





Input all the required fields on the page. In the Source field, make sure to enter where you found out about Lumina Homes.




After filling out the form, tick the box to confirm that you understand the Terms and Conditions of making a home reservation at Lumina Homes. Make sure to also check the Captcha box at the lower part of the screen. Then click NEXT.



In this Page, you will need to input first your chosen

Location, Project Name, and Subdivision/Phase.

The result will give you the Phase and Blk/Lot Number, the Lot Area, and the House Model available for your chosen Net Contract Price (NCP) range. The map will also indicate if your chosen Phase and Blk/Lot Number is close to the subdivision's amenities.





Afterwards, you have to input your chosen

House Model and Blk/Lot

based on the subdivision's interactive project map. You will see a picture of your chosen home model unit at the bottom of the page indicating the subdivision name, phase number, site location, the total contract price of your chosen home model unit, the home model type, and the floor area.



NOTE:

On the Promo Code/Referral Code, make sure to input

WELCOME300 to get an instant P300 discount on your reservation fee upon checkout. Click NEXT.



You will then be directed to the Reservation Fee Page. Click

PROCEED TO PAYMENT.

A pop-up Confirmation Box will appear telling that the amortization term may still differ during the Marketing and Admin Briefing. Click

CONTINUE

.





The Page will then ask you to choose which payment facility you prefer. Select your preferred Payment Options either through digital wallet or online banking.
You can select from one of these sites in order to use the Promo Code:
Reserve your dream house and lot now at Lumina Homes Online to get the P300 off!

Try our Home Loan Calculator
Loan Calculator
Try Lumina Homes' loan calculator and get an estimate computation for your preferred Lumina property and home model.