May Payday: Top 10 Pahabol Budol Finds
31 May 2021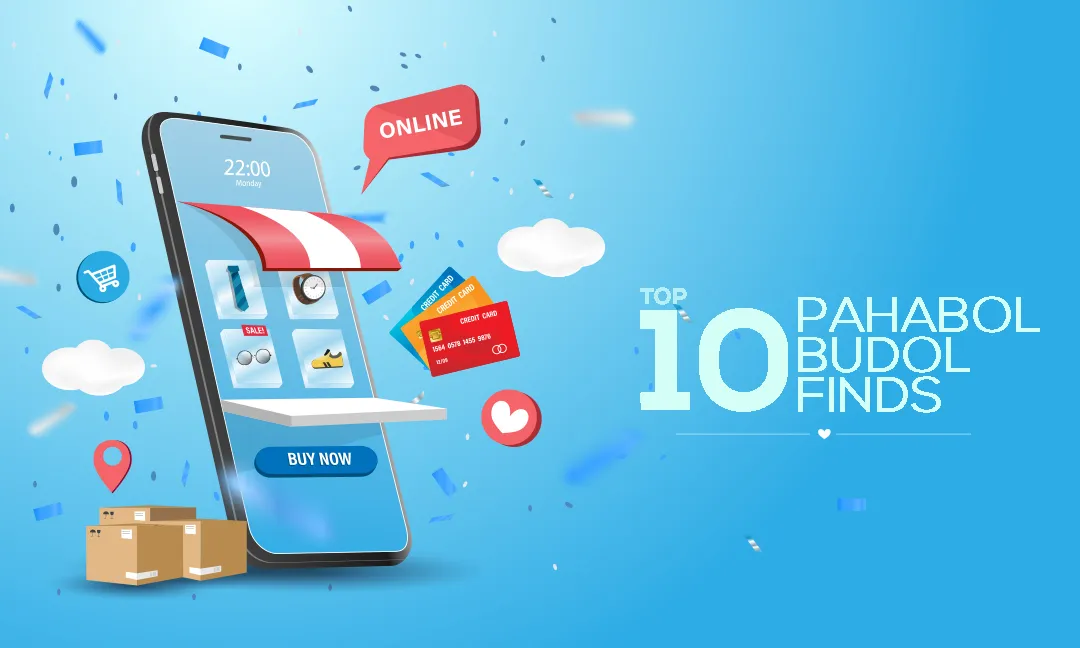 Payday is here, and pahabol budol finds for the month are waving! Make sure that your purchases are items that you may use and have in the long run. Just like these top 10 best budol finds that we collate for you:
1. Swimming Pool
It's never too late to enjoy and have fun with your family at home because when the sun is up and the pool is out, it's summertime! Beat the heat with a family-sized swimming pool. Get it for only P8,500 at AllToys Official Store in Shopee and chill under the sun together with the family!
Nobody can stop us from having fun this summer, even if we're confined. If we can't go to the beach any longer, we'll bring the beaches and resorts to us.
2. Buy 1 Take 1: Samgyup-at-Home
Are you a K-drama fan? Samgyup-at-home anytime when you have this Dowell Indoor Grill IG-137! Now on a BUY 1 TAKE 1 deal for an affordable price of P2,999.00! You don't have to be budoled alone; ask another ahjumma to take this good deal with you! The budol find is at AllHome shopping site!
3. Moon Lamp from Market Liberty PH
Who says you can't give a moon? Have this Moon Lamp from the Shopee store of Market Liberty PH be delivered to your doorsteps!
Moonlight can soothe us deeply while also uplifting our spirits at any time. Well, you can't always count on moonlights to appear and create that relaxing and romantic vibe in your room.
But with this budol find, you can achieve the same effect with the help of lighting that resembles a moon!
4. Team Kahoy Spice Rack
Removing food items in their original packaging is the key to getting sleek-looking kitchen counters. Here is a wooden spice rack to complete your kitchen counter collection for #TeamKahoy.
The budol link for this Team Kahoy spice rack is in the Shopee Store of AllHome!
5. Plantita Gardening Toolset
Available in five different colors, match your style of being kikay to your plantita goals with this Pro Garden gardening toolset (shovel, gardening fork, and pruning shear) from Green Centrale PH's Official Shopee Store!
Complete your gardening tool with this trio of gardening essentials, perfect for a variety of tasks, including digging, weeding, pruning, and transplanting! They will last a long time and look beautiful, doing the perfect job for planting bulbs and flowers.
6. Team Puti + Team Gubat Affordable Dinner Plates
Finds, A Discount Store is a haven for deal hunters and practical shoppers. Having "on sale promos" on a daily basis makes it easier on your budget to go for a shopping spree any day of the week! See great budol finds of affordable dinner plates:
Check more homelines on sale here: https://finds.com.ph/
7. Kettlebell in Lazada
A home gym might be just what you need to find the motivation to exercise. For your daily routine to keep you fit and active while staying at home, have this kettlebell where you can purchase through Lazada!
You may use a kettlebell in different exercises, including ballistic activities that combine cardiovascular, strength, and flexibility training.
8. Asahi Wooden Blade Stand Fan
Team Kahoy and Team Puti will surely love this budol find! We can't surely go for 24/7 air-condition, so why not go for an electric fan that screams coolness with its wind and aesthetics? White and wood color, but this electric fan is made with metal and plastic material.
Do you want to have this for free? Today is the last day to join the AllHome and Lumina Homes Raffle Giveaway! Like, follow, and subscribe AllHome and Lumina Homes' Facebook Page and Youtube channel to join this exciting raffle giveaway! There will be one winner of Asahi Oven Toaster, one winner of Asahi Wooden Blade Desk Fan, and five winners of Php 500 AllHome e-vouchers. These appliances would excellently match your household, whether you are Team Kahoy or Team Puti. The announcement of lucky winners will be on May 31, 2021.
9. Prima Tanza Digital Reservation in Lazada
Get ready as Lumina Homes takes you to new heights with its first-ever condominium community. Experience a new life close to daily conveniences in your latest community — Prima! Soon to rise in a stone-throw away from a lifestyle center, Vista Mall Tanza, and a point-to-point transportation terminal is Prima Tanza. Be prepared to purchase affordable condo unit and experience a redefined lifestyle where anything and everything is near you!
Lumina Homes' first-ever affordable condominium, Prima Tanza in Cavite, is also available with 50% off on the reservation fee (avail now at P5,000). Simply follow the Lumina Official Store in Lazada and use the code LUMI5000 upon check out.
10. Adriana Townhouse Home Reservation E-voucher in Shopee
For Shopee 6.6 Mid-Year Sale, Lumina Homes is giving amazing home reservation discounts. Starting May 26 to June 6, have a chance of a lifetime and avail yourself of Lumina Homes' e-vouchers at 60% off!
Adriana Townhouse is one of the best-selling units of Lumina Homes and is built using the Cast-in-Place (CIP) construction method – sound-proof, durable, and pest-resistant.
The default features of Adriana Townhouse include a living area, dining and kitchen, two bedroom provision, one toilet & bath, one carport, and a service area.
Adriana Townhouse, just like other Lumina home models, follows a standard design and placement of windows to offer natural ventilation, letting the indoor airflow smoothly across the house. With its floor area of 44 sqm and lot area ranging from 36 sqm to 54 sqm, homebuyers may create necessary adjustments to make Adriana Townhouse a pandemic-proof home.
Adriana is present in different project locations from as north as Tuguegarao down to Camarines Norte in Bicol and Ozamiz. For those looking for an address close to Metro Manila, the townhouse is also in Cavite, Laguna, Bulacan, and Batangas.
Related Articles:
***
For more information on Lumina Homes, contact (0917) 629 6523.

Try our Home Loan Calculator
Loan Calculator
Try Lumina Homes' loan calculator and get an estimate computation for your preferred Lumina property and home model.