Top Chinese New Year Activities Online this 2022
12 January 2022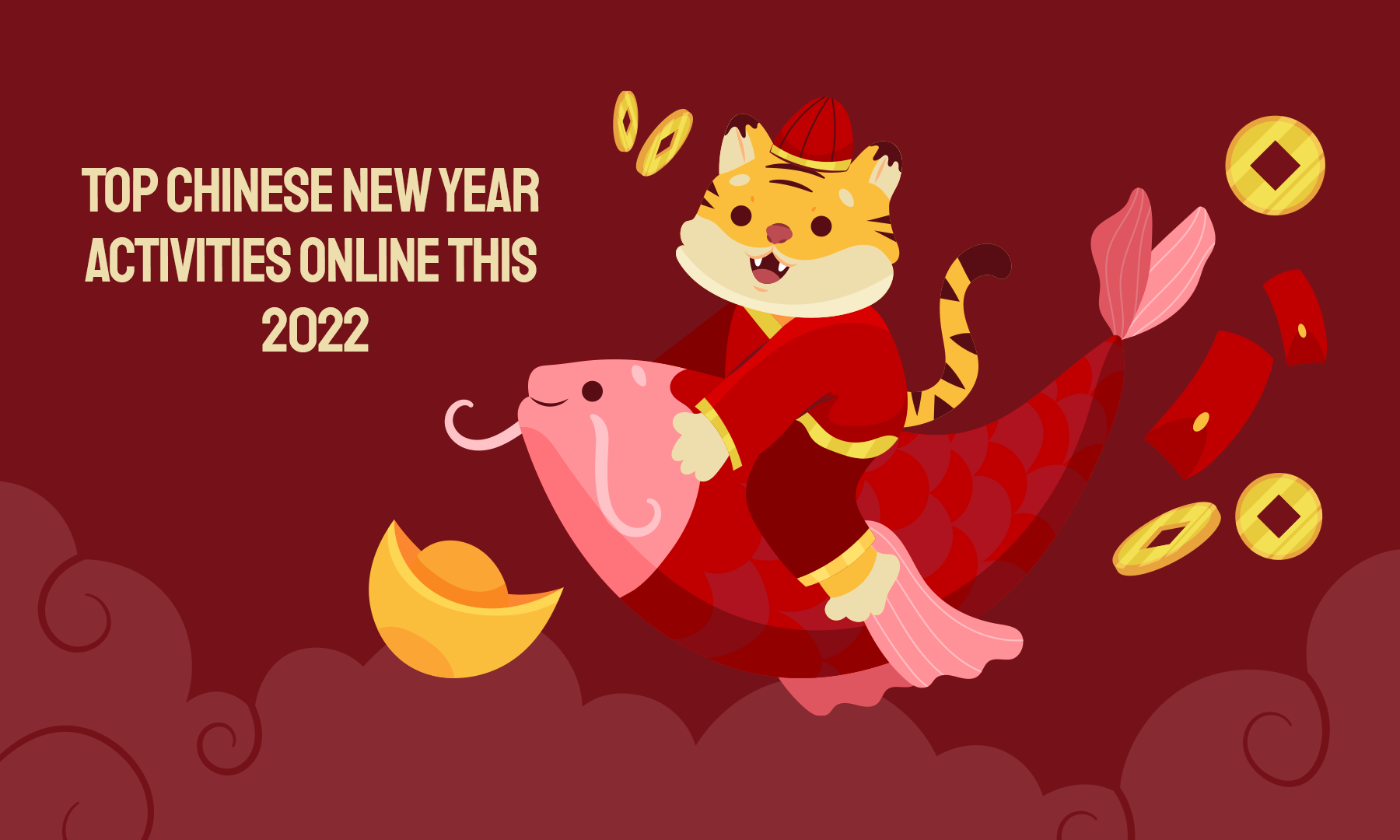 The most important holiday in the Chinese calendar for those of Chinese ancestry is the Lunar New Year. People throughout the globe celebrate the Chinese New Year, which is a significant holiday in China and many other countries.
On the first day of the first month in the lunar calendar, several countries with significant Chinese populations, such as China, Taiwan, South Korea, Thailand, Vietnam, Singapore, Indonesia, and the Philippines, observe a version of this holiday. Businesses in these nations are closed for days because of the significance of this holiday, which honors ancestors and often necessitates traveling. But with the current lockdown and travel restrictions implemented all around the globe, this kind of crowded and loud celebration of Chinese New Year is prohibited.
But, we can still have some fun games and activities during the Spring Festival online—thanks to the internet!
1. Create your own Chinese dragon.
The Chinese dragon is always present during the celebration of the Chinese New Year. It is because this is the ultimate symbol of the festival. It is common to see them in parades, as well as in the form of paintings. They represent strength and are generally colored red, associated with fire and good luck.
For this year's games, why not be more creative and resourceful online by virtually gathering the whole family and relatives to make your own Chinese dragon! All you need are a few basic materials and your imagination to make them. Completing these will help everyone sharpen their cutting abilities and have a blast dancing with them afterward.
2. Chinese Zodiac story time.
The Jade Emperor of China wanted to know how old he was thousands of years ago. He came up with the idea of holding a swimming competition including a variety of animal species to give each year of the Chinese zodiac a unique name. The year would be named after each animal based on where it finished in the race.
Share this story during your virtual party and let them re-enact it through a recorded skit!
3. Experience Chinese culture.
You can still experience Chinese culture even you do your party online. One way is having a red-colored theme virtual party with your whole clan! Chinese families wear red at Chinese New Year and weddings because it is considered a bright hue in Chinese culture. New red clothing is a popular option for the occasion since it symbolizes new beginnings. So ensure that all clan members are wearing a red ensemble for luck.
Another way is through a fortune cookie. There are many digital fortune cookies with Chinese symbols available online that you can use for this activity.
4. Discover Chinese customs through virtual Bingo.
Playing bingo is a fun activity that can be enjoyed at any time of the year. You can prepare a Lunar New Year-themed Virtual Bingo template for you to utilize at your online event wherein instead of numbers, you can replace it with the different Chinese customs.
To begin, distribute the card to all attendees and allow them some time to mingle and chat. Players fill in the squares with the names of party members who match the descriptions in the name. The winner is the player who gets the most consecutive squares without duplicating their names.
This is a fun way to discover Chinese customs and, at the same time, be closer with your whole clan at a digital party.
5. Chinese New Year word jumble.
Have the feeling of the Spring Festival through Chinese words. Word jumbles are a great activity for both youngsters and adults. You must decipher words that have been jumbled up related to Chinese New Year as part of these puzzles. You may make the jumbles a race and provide a reward to the first person to properly list all of the terms in their jumble.
6. Red envelopes are coming!
Traditionally, elderly family members present red envelopes to Chinese children. Their grandchildren and great-grandchildren return the favor to their parents and grandparents as soon as they begin earning money. Red envelopes usually contain an even number amount of money, with individuals avoiding four since the Mandarin pronunciation sounds much like "death."
If you think that this kind of trade is difficult to do virtually, well think again! Thanks to the available e-wallets in our country, sending cash to our loved ones has become possible and faster! You can also send it through GCash, or other digital wallets like AllEasy and ShopeePay where you can have options either to have it via Express Send, Send with a Clip or even send it more conveniently via QR code!
So make sure to have your QR codes ready and get some luck in receiving your online red envelopes.
7. Play Chinese New Year songs.
Every party will not be complete without music. This holiday has several traditional Chinese songs linked with it. In addition to Spotify's holiday-themed playlist, there is a slew of excellent ones produced by other people on the platform. Playing music in the background may assist in establishing the tone and keep the event from being too boring or monotonous.
Prepare and line up your music beforehand so that there will be no dead air during your clan's virtual celebration.
8. Virtual Chinese New Year dinner with family.
Since sharing a meal with one's whole extended family is an essential component of Chinese New Year, the food is a major focus of festivities. But since the entire clan can't have a physical reunion for a holiday, you can invite them to have a virtual dinner so that you can all enjoy the festivities together.
There are symbolic implications associated with the food eaten during the Chinese New Year celebrations, so make sure to send a list to your relatives so that they can also be guided with luck and fortune for their dishes during the festival.
To ring in with the Chinese New Year, you can't go wrong with these traditional dishes:
Fish. Because "fish" in Mandarin means "surplus," eating fish is a way to send your wishes for a prosperous new year to everyone you meet.
Dumplings. Golden ingots, known as yuanbao in ancient Chinese coinage, are reminiscent of dumplings.
Apples. The Mandarin word for "peace" is "apple."
Mandarin oranges. The word "orange" in Mandarin has a connotation of "good fortune."
Niangao. One of the puns used in "a prosperous year" (Niangao) refers to this.
Many Asian nations celebrate Chinese New Year with great enthusiasm. And whichever Chinese zodiac animals you have, there is nothing more special and more ardent way to celebrate it than in your brand new home! It's always better to do everything if you have a space you can call your own! As Lumina Homes evolves into a house and lot developer for Filipino family's dream homes, they will unbox bigger and better spaces. The house for sale has up to three bedrooms where you can dedicate an extra room for an online class or distance-learning for kids or work-from-home set-up and other virtual activities inside the house.
Start your journey and have new beginnings with the bigger and better living spaces offered by Lumina Homes!
***
For more information about the affordable house and lot for sale and condo units of Lumina Homes, please contact (0917) 629 6523.

Try our Home Loan Calculator
Loan Calculator
Try Lumina Homes' loan calculator and get an estimate computation for your preferred Lumina property and home model.