AllHome for All Moms With Lumina Homes
21 May 2021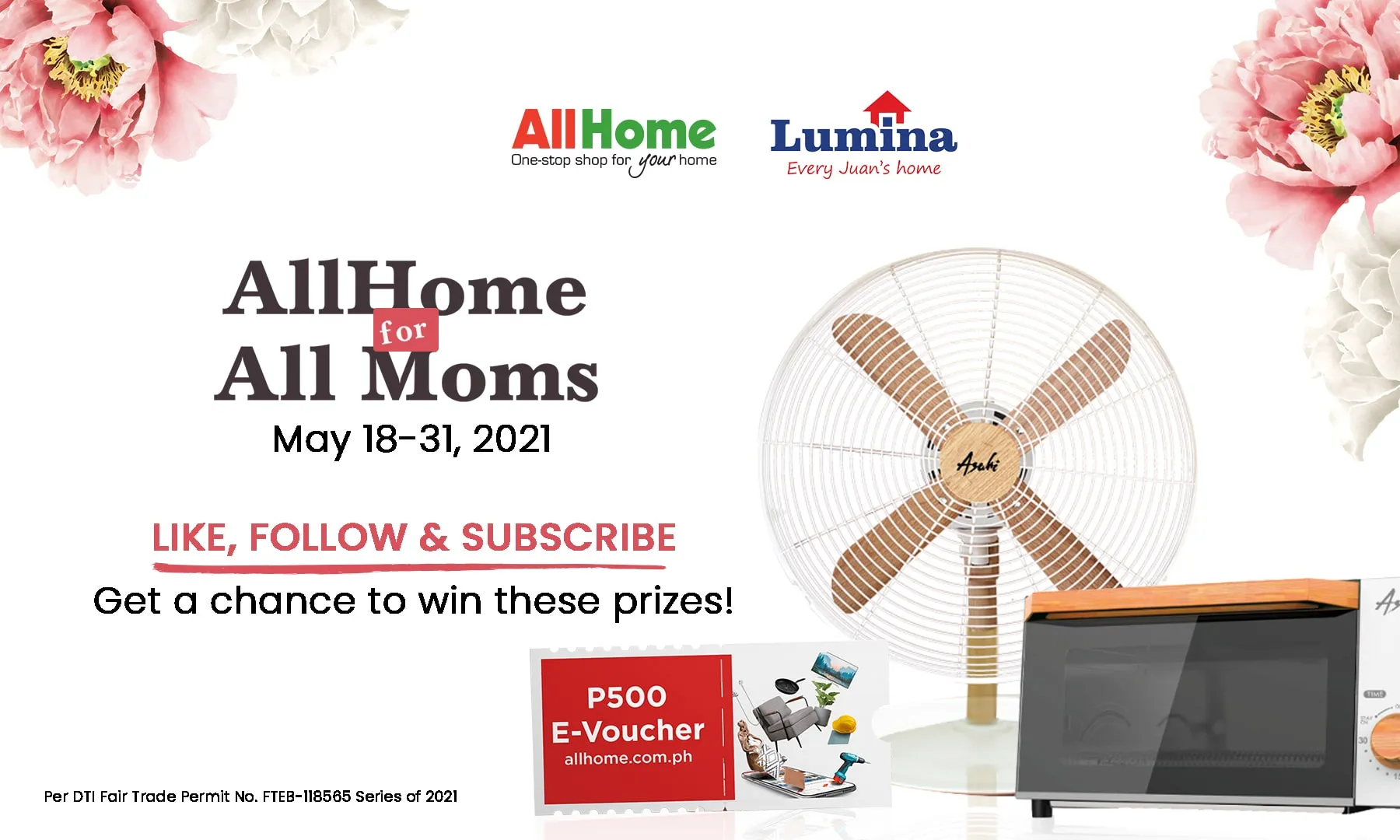 The pandemic costs us substantially to be stuck at home most of the time. It made us reflect on the essential things or might still need to make ourselves more comfortable at home, especially to our mommies who are predominantly part of the household, whether about the chores, the interior design, furniture, or requisite appliances inside our humble abode. Each light of our home has an own taste and character on the kind of house they like to have.
Some mommies prefer to declutter from time to time to remove all the unnecessary things inside their home, while other moms find it too hard to let go of themselves on items as they see each of them have a sentimental value.
There are also a fascinating number of mothers who prefer to keep their house simple by being a minimalist, meaning they opt to have fewer chattels at home and removing or dispatching things that they consider as distractions or excess possessions. Although, to some extent, several moms are getting more inclined in redesigning their homes in specific themes that it already resulted in a fanciful online pseudonym of Team Kahoy or Team Puti.
But whichever team or theme you are currently on, AllHome is a one-stop-shop for all your home and builders' needs. Find appliances, furniture, hardware, homewares, linens, tiles and sanitary wares, and construction items. Gone are the days when you had to visit several different stores to buy everything on your home construction checklist. Today, you can head to AllHome to get everything you need!
And it's wonderful news for all the moms out there since AllHome in partnership with Lumina Homes, is currently having a raffle giveaway!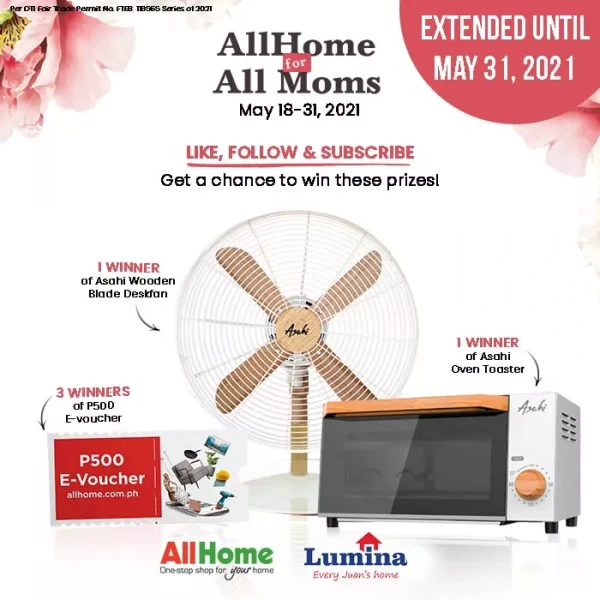 LIKE, FOLLOW, & SUBSCRIBE to join AllHome and Lumina Homes' exciting raffle giveaway!
Here's how:
1. Like & follow AllHome and Lumina Homes' official Facebook pages:
• Lumina Official - https://www.facebook.com/luminahomesofficial
• AllHome - https://www.facebook.com/allhomeofficial
2. Subscribe to AllHome and Lumina Homes' official Youtube channels:
• Lumina Official - https://www.youtube.com/luminahomesofficial
• AllHome - http://bit.ly/AllHomeCorpYouTube
3. Comment the link of screenshots of proofs in the promo poster posted on Lumina Official Facebook Page, including the hashtags: #AllHome and #LuminaOfficial on the pinned promo poster.
This promo will run from May 18 to May 31, 2021, so make sure to hurry and join this promo on time to get a chance to win exciting prizes! There will be five winners of Php 500 AllHome e-vouchers, one winner of Asahi Oven Toaster, and one winner of Asahi Wooden Blade Desk Fan. These appliances would excellently match your household whether you are Team Kahoy or Team Puti. The announcement of lucky winners will be on May 31, 2021.
AllHome also provides special services, including styling consultations with professional interior designers, ready-for-occupancy home furnishing services, delivery, customizable furniture, gift registry services.
Of course, improving and making your home interior will be best if you already have a home you can call your own!
Lumina Homes gives you the best deal for home investment through its affordable house and lot for sale that can be found across the country. Their home models only range from Php 500,000 to Php 1.7 million pesos, and you can have that creative freedom to design your space based on your taste.
Another great thing about Lumina is that you can still avail this affordable house and lot through its offer of lean financing options for homebuyers such as bank and pag-ibig housing loan.
Realize your vision of having your dream home with Lumina Homes and customize your living spaces with AllHome.
Related Articles:
***
For more information on Lumina Homes, contact (0917) 629 6523.

Try our Home Loan Calculator
Loan Calculator
Try Lumina Homes' loan calculator and get an estimate computation for your preferred Lumina property and home model.