Lumina Homes Welcomes the Year with Level Up 2022
13 January 2022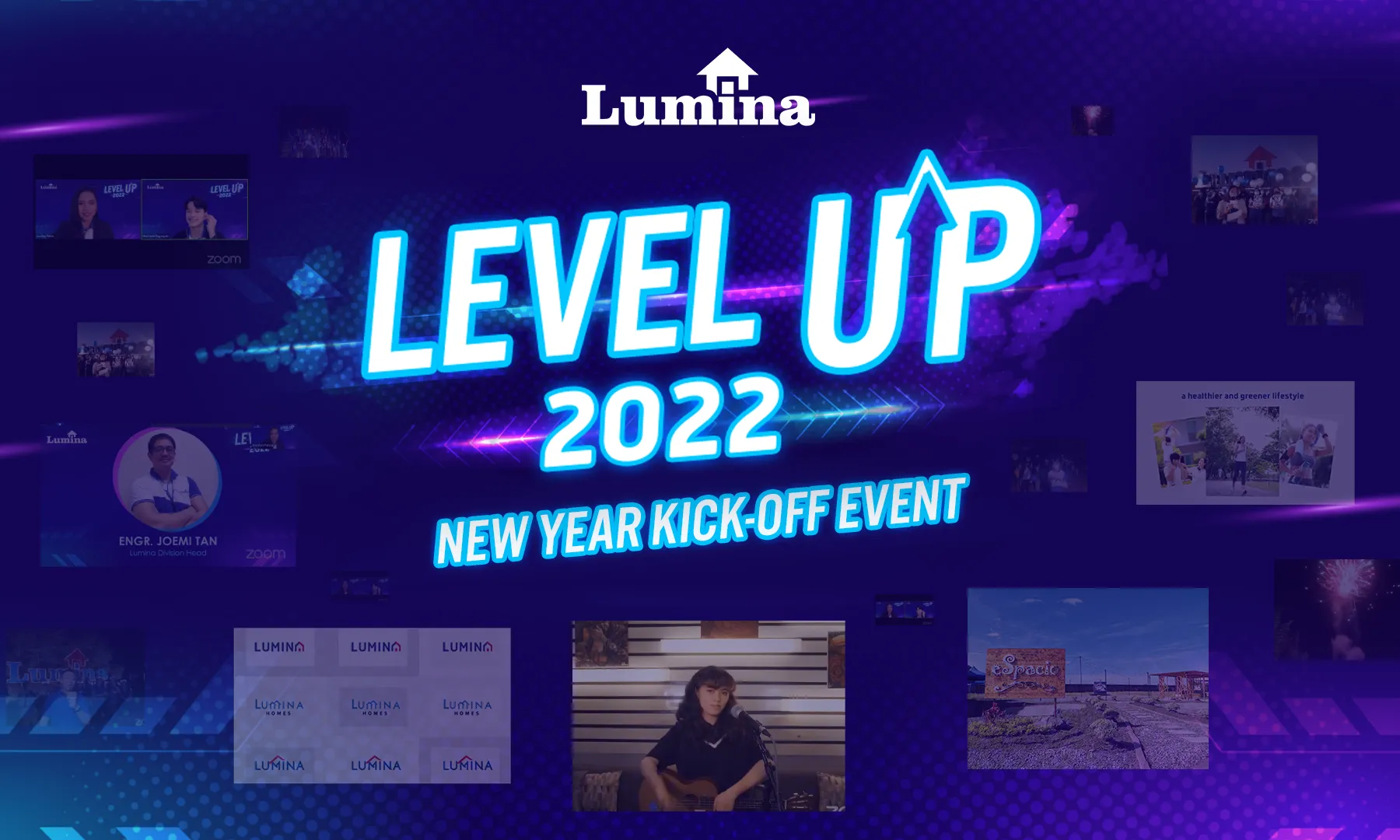 Lumina Homes began the New Year with new exciting promos and innovations through its event theme, Level Up 2022. This event showcased Lumina Homes as it has evolved and go beyond the expectations in providing affordable housing communities by committing itself to maximize the potential of its various developments.
Lumina Homes' Level Up 2022 also included different events in which both homebuyers, homeowners, agents, brokers, and employees participated. For the morning event, Lumina conducted a Zoom webinar for partner sales network where different prizes such as 200 grocery baskets, lechon, cellphones, tablets, a shopping spree for as much as P5,000, refrigerator, washing machine, and LED TV was given to lucky sellers.
Below is the list of winners for the LuminaAguinaldo Raffle Promo:
Winners of AllHome Grocery Baskets
Aimee Aquino

Alberto Cacho

Alexandra Llega

Allysa Jan Marimon

Alyssa Joyce Gonzales

Ana Lorraine Asaldo

Analiza Pacifico

Analyn Descutido

Andrea Fidel

Angelica Beatrice Ordiz

Angierose Devilles

Anita Saril

Anjanette Kwan

Anthony Jayson Solijon

Anthony Solijon

Ariane Samson Pihera

Arlen Gepoleo

Beverly Calope

Camille Joy Pascua

Carina Ymbang

Carissa Salonga

Carl Mark Cosido

Carlota Sabile

Cecile Raposas

Charmaine Cabanela

Cherene Cabalza

Cherry Joy Robles

Cherrylane Albios

Cherrymae Sudario

Christine Felongco

Cianne Adiao

Cristine Roble II

Cy Asiado

Cyriel Abutin

Delia Iglesia

Denise Casandra

Dennis Javier

Donald Aguelo

Dulce Castillo

Edgar Almarez

Edgar Cabuhat

Edison Cabanas

Edna Cuvinar

Edna Tablang

Ednalyn Ilaya

Edonamie Gonzales

Eduard Biscaro

Eleanor Foronda

Elmae Jade Fiel

Eloisa Dayson

Emelia Salhay

Emelyn Dela Cruz

Emerlito B. Lacopia

Frenalyn Hacermida

Frenie Abdukahil

Generosa Tagaro

Geraldine Salvador

Hanna Ayesha Saludes

Hazel Flor Canchela

Ian Domines Guzman

James Gary Magat

Janet Briones Aguila

Jaybee Cardona

Jayvee Calacat

Jazelle Cruz

Jean Hermosisima

Jean Marbebe Sales

Jelica Replagao

Jereco Rebadejo

Jerielene Vitamog

Jervy Baklayan

Jessebelle Verdida

Jhaneth Dela Cruz

Jireh Malabanan

John Ray Collado

Johnser Desiderio

Jommel Chavez

Jonathan refill

Joseph Usal

Jovelie Seron

Joviner De Dios

Juanito Quintos

Judelyn Angeles

Julie Lacpapan

Jun Jun Durupan

Jung Patrick Cunanan

Kare Grace Marasigan

Katherine Rose Lee

Kathleen Bergera

Kathleen Favor

Kay Mabelle Celis

Kaycelyn Castor

KhimRyan Pogosa

Ladyann Tonga

Leidy Taypa

Leonila Coronel

Levy Macedo

Liezl Danguecan

Ligaya Difunturom

Lilian Samson

Lilibeth Altar

Lilybeth Caluma

Lorena Bucao

Lorena Velasco

Louise Cogalito

Love Bermudez

Lucia Tresvalles

Luzviminda Rada

Lynn Janay

Ma. Emerald Quebral

Ma. Aiza Calicaran

Manilyn Cabides

Manny Peladia Dedios

Marella Bianca Cunanan

Maria Fe Santiago

Maria Lourdes Perez

Maria Luisa Castueras

Maria Theresa Batu

Marianne Magramo

Maricar Grande

Maricon Taguba

Mariel Torregoza

Marilou Torino

Marivic Lim

Marivic Magdaong

Mark Jason Serion

Marvin Falculan

Marvin Ramos

Mary Fe Oral

Mary Ferdinette Ramos

May Pontiaga

Melissa Formoso

Meriam Joy Linaza

Merlyn Soriano

Michael Angelo Atad

Michael Flores

Michael Vic Santiago

Mikhael Maclang

Miraflor Pasaul

Myla Azuelo

Myla Castillo Ocampo

Myrajane Gajol

Myrna Balbuena

Naresh Kumar Malani

Noelito Antibo

Noriene Fontela Olaño

Pamela San Diego

Paola Mari Majarucon

Rafaela Quitillano

Ralf Roger Tagao

Ramil Lumauag

Randolf Padrigo

Rawell Belo

Reabell Olea

Reina Ester Subaba

Reymund Garillos

Reynaldo Ramos

Riabell Olea

Rodelio Parafina

Rodora Nucom

Romer Araya

Rona De Silva

Ronalyn Maniego

Rosalie Daniel

Rose Ann Mendoza

Rowena Agustin

Roy Herrera

Rubisita Langoyan

Ruth Bernadette Daumar

Sandy Abad

Sasrah Mae Angcog

Shanferly Yabut

Sharie Mae Victoria

Sheen Naciongayo

Sheila Daiz

Shenna Carillo

Sherry Mae Lun Chen

Sheryl Mapili

Shiela Marie Ayende

Shinomette Arellano

Tesalonica Españo

Vernon Talattag

Vincent Quiros

Vivien Malabanan

Wenie Roldan

Wilvi Delmoro
Winners of Lechon
Maria Fe Santiago

Edgardo Cabuhat
Winners of Cellphone from AllHome
Lynn Janay

Riabel Olea

Kathleen Favor
Winners of Tablet from AllHome
Shanferly Yabut

Naresh Kumar Malani
Winners of Shopping Spree worth 3k
Luzviminda Rada

Shiarize Mae Victoria
Winners of Shopping Spree worth 5k
Jayvee Calacat

Alexandra Llega
Winners of Php 10,000 cash
Rose Ann Joyz Mendoza

Wilvi Del Moro
Winner of Washing Machine
Winner of Refrigerator
Winner of LED TV
Aside from this, Lumina Homes also conducted a webinar about Market and Investment Opportunities hosted by the Strategic Accounts Lead of Lamudi Philippines, Mr. Anthony Kim.
But this event doesn't end up here as they also prepared some activities in the evening in which Lumina Homes held a fireworks display in its existing communities through Facebook Live.
Engr. Joemi Tan of Lumina Homes Division Head also gave an inspiring message during the event. "Every Juan looks forward to a home that can accommodate their growing needs towards a better life. Through the years, these need to evolve—just like Lumina Homes. We have grown from a socialized housing brand to one that provides a middle-income Filipino family's ultimate dream home."
Do you want to be part of Lumina Homes' partner sales network? Sign-up and be accredited today through our Seller's Portal.
Overseas Filipino Workers Lumina Homebuyers Promo
Along with that, Lumina Homes also announced the OFW winners for their Give Love From Abroad Raffle Promo, in which they gave away exciting prizes that include 44 winners of Php 500, 1 winner of Php 3,000, 1 winner of Php 5,000, and 1 winner of Php 10,000.
You can check out the names of the winners of Php 500 here:
44 Winners of Php 500 Cash from Give Love From Abroad Promo
Kristine Dela Cruz

Oscar Jr. Bagsic Bueno

Joan Naniong Dela Cruz

Jenny Huda Saligan

Gloria Gutierrez

Angelo Lagura

Delia Yanagidate

Angielene Briones

Alfredo Salas Jr.

Junalyn Sereño

Ronie Sanico

Teodolo Layno

Avila Melody

Jerald Cedazo

Jemar Nartea

Bunuan Ferdinand Jr.

Jeraldine Aquino

Dennis Clerin

Jay Arr Tapaoan

Garry Daymon

Jeffrey Legaspi

Sha Sha Padilla

Vanessa Taasan

Joe Wendell Janeo

Julyper Cajocson

Medilyn Duis

April Joy Lirazan

Lionel Jonco

Chelen Felipe

Rina Peregrino

Charlotte Villones

Ramil Espanola

Anelin Madrilejos

Iren Millena

Melody Desuyo

Chriscelda Deyta

Rey Calingacion

Christine Escaros

Rosalyn Aranel

Ma. Rusel Gaufo

Olive Cariaga

Joe Marie Arenga

Josephine Kyogoku

Sherly Faundo
Winner of Php 3,000 cash
Winner of Php 5,000 cash
Winner of Php 10,000 cash
There is also a special performance by Peniel Roxas, the grand winner of Wishcovery Originals, that now becomes a Lumina homeowner after winning a Lumina house and lot in Wishcovery Originals.
What is coming in Lumina Homes Level Up 2022?
During the event, Lumina Homes also invited everyone to join their newest exciting contests, such as the "Hip-hop to the Top Nationwide Dance Contest" and their "Home Sweet Home Tiktok Transformation Challenge."
They also had a sneak peek event for the new innovations that will be coming this year in their communities. Some of the things to look forward to are their unboxing of new social connections, healthier and greener lifestyle, bigger and better living spaces, safer and more secure community, faster and reliable home internet connectivity, and faster and more efficient client transactions and its new logo that will soon be launched this 2022.
With Lumina Homes, you can easily adapt to the changes happening in the world. Lumina will keep on unboxing, innovating, and exploring more developments to serve its community and partner networks. So, start the year right and make your reservations now!
Did you miss the live event of Level Up 2022? Watch and listen to the serenade of Peniel Roxas, the grand champion of Wishcovery Originals:
***
For more information about the affordable house and lot for sale of Lumina Homes, please contact (0917) 629 6523.

Try our Home Loan Calculator
Loan Calculator
Try Lumina Homes' loan calculator and get an estimate computation for your preferred Lumina property and home model.