Wishcovery Originals Grand Champion Peniel Roxas Wins Lumina House and Lot
8 November 2021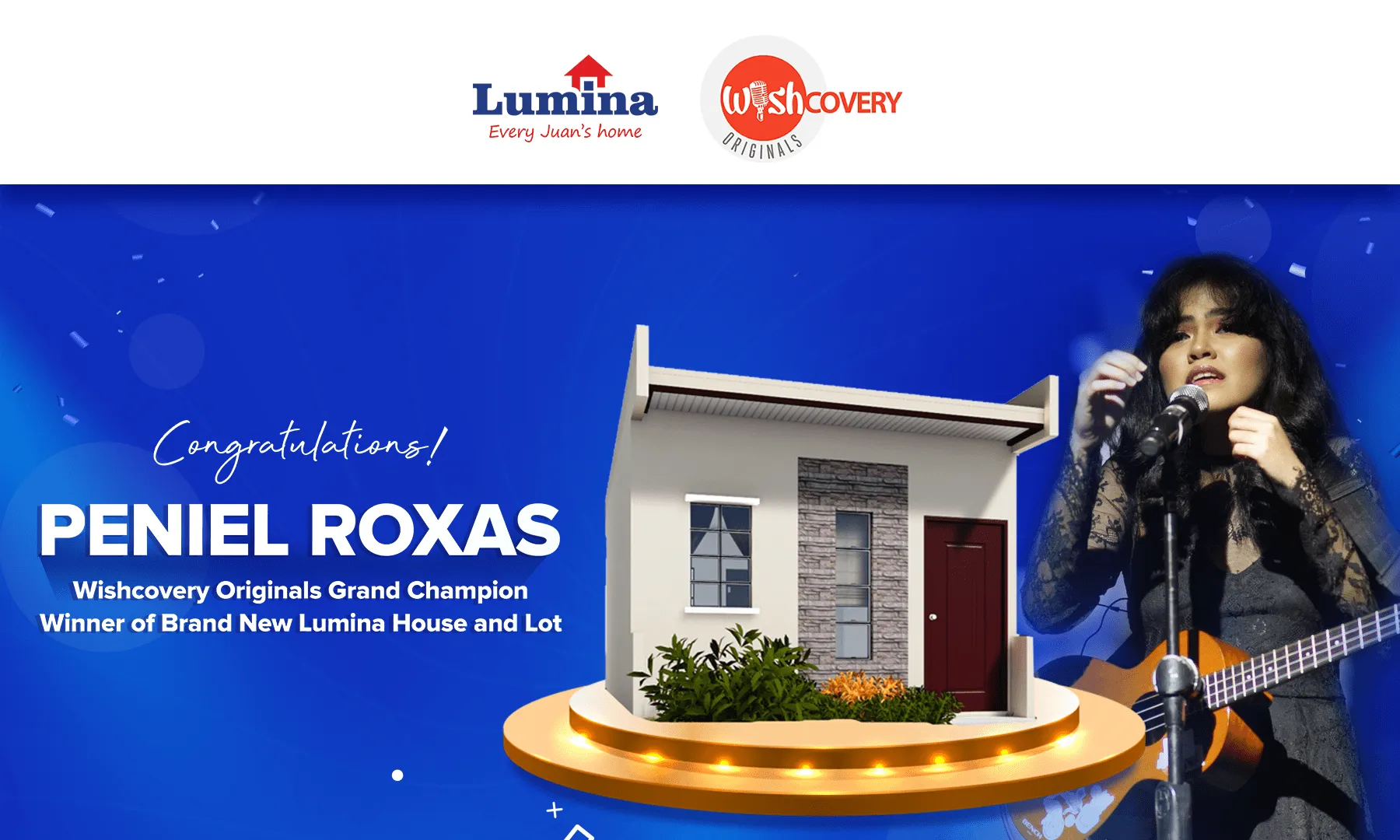 Peniel Roxas, a singer-songwriter from Davao, was hailed as the grand champion of the Wishcovery Originals Grand Finals held last November 7 and streamed on the Wish 107.5 YouTube channel.
As the Grand Prize Winner, Roxas won a P1 million cash, a recording contract, a brand-new car, and a house and lot from Lumina Homes.
Her winning entry piece, "Poet's Path," is a thoughtful and symbolic picture of the Davaoeña songsmith's great conviction in pursuing the trade of music-making.
"I just want to thank my family, my friends, and everyone who found my music, listened to my music, or found something special in me because most of the time," she said in her speech as she accepted her award. Roxas extends her gratitude to the people who believed in her. "Thank you, thank you so much for seeing me and seeing my music."
Roxas and her fellow finalists showed off their singing and songwriting chops in front of 800 people at the LausGroup Event Center in Pampanga. There are also notable performances from Juan Karlos, Oh Flamingo, and Mayonaisse during the show.
The event implemented strict health and safety protocols throughout the show. Before the grand finals, the contestants, production staff, guest performers, and audience members tested negative for COVID-19.
Since the lockdowns started, the Wishcovery Grand Finals marks the first time performers and a sizeable audience gathered for an in-person musical event take place in the country.
The attendance of Wishers and music fans, who were there to see performances by young artists and veteran musicians alike perform together — was appropriate for an event that tries to keep the OPM industry alive.
The Wishcovery Originals is a Wish 107.5-produced competition for talented Filipino singer-songwriters that aims to make the future of OPM shine even brighter.
Lumina supports the purpose of the songwriting contest- celebrating OPM Music while also encouraging composers, singers, and all music artists affected by the pandemic. For years, Lumina has been sponsoring television and music contests, giving away every Filipino's greatest dream—a safe and secure home to call his own, especially on grand draws and finals night.
Read more about Lumina Homes TV sponsorship:
Wish 107.5 Bus'

Wishcovery Originals Journey
It all started months to years back with submitting thousands of audition videos from aspiring singers and songwriters in the Philippines when it premiered last September 2019. From Quezon City, Cebu City to Davao City, Wish 107.5 Bus is searching for rising talents not only in the country but other Filipino artists around the world.
And also kicked off a series of weekly and monthly eliminations, but the show was temporarily paused in March last year due to the pandemic. The competition had over a year-long break for the safety of the contestants, judges, and the whole production.
Then it resumed by September 2021, picking things up where the competition left things off, with five OPM acts qualified for a spot in the grand finals and where the weekly winners contended to get the remaining two slots to join for the main event.
Before the finals, the contestants signed and participated in Virtual Bootcamp Sessions with the judges to improve their musical abilities. During the Virtual Bootcamp, contenders both had one-on-one and collaborative work opportunities, which depicts adjusting to the new normal of the music industry and doing their best within limits.
All of the contenders also had the chance to give back to the community through charity. They provided 300 locals in Bataan with complimentary meals and grocery packs while they were prepping for the grand finals.
During this season, the Grand Finals night highlighted the music of the seven contenders: Peniel Roxas, From Outtakes, White Caps, PIP, JC Sales, Anthony Meneses, and Mei Teves.
As for the judging mechanics, the finalists' live performances accounted for 80% of their final score, with the remaining 20% coming from the total number of views on their Wishclusive videos. From October 25 to November 5, the power-viewing time was in place.
Reactor-judges Jungee Marcelo, Mayonaisse's Monty Macalino, and Jay R composed the judging panel, communicating with the candidates via a virtual setting.
Peniel Roxas and her singing and songwriting skills bested the six other music contenders and received different prizes, including a Lumina house and lot. Mei Teves of San Juan City was named first runner-up and received P500,000, while White Caps of Agusan del Sur was named second runner-up and received P300,000 in prizes.
A quick look into Peniel's Lumina house and lot prize
Peniel Roxas will receive her brand new house and lot from Lumina Homes, which is an Aimee Home Model. It is one of Lumina's best-selling rowhouse models with a 22 square meter floor area with a lot area of 36 square meters.
The house specification details of the Aimee Home Model includes the:
a living area

dining and kitchen

a provision for a bedroom

one toilet and bath

a service area
Roxas may also choose among over 50 locations of Lumina Homes' available sites nationwide such as Rizal, Bulacan, Pampanga, Bataan, Zambales, Nueva Ecija, Tarlac, Pangasinan, La Union, Cagayan, Isabela, Cavite, Batangas, Laguna, Quezon, Camarines Norte, Sorsogon, Albay, Iloilo, Cebu City, Negros Occidental, Capiz, Zamboanga del Sur, Bukidnon, Misamis Occidental, Agusan del Norte, Davao del Norte, Davao del Sur, and South Cotabato. Lumina developments are part of master-planned communities that come complete with 24/7 security, community hall, basketball court, mini gardens and playground, shuttle service, and commercial areas soon.
The community hall has a stage and can accommodate sports tournaments and other regular community events such as pageants and general meetings. The outdoor amenity also has lush green spaces and a jogging path that will encourage homeowners and families to safely go out to exercise and experience a healthy and active lifestyle.
For safety and security, aside from gated communities, CCTV cameras are installed and have 24/7 roving security. Lumina also prioritizes health and safety protocols, such as regular sanitation and social distancing.
Each project of Lumina Homes is located in a strategic area close to major thoroughfares, transport hubs, schools, hospitals, other services, and business and leisure centers—a secure and self-sustaining community.
For those interested to purchase an affordable house and lot for sale, you can visit the nearest Lumina office, Monday to Saturday. You can also contact our accredited Lumina agents or check and follow our official Facebook, Twitter, and Instagram pages for detailed information and updates about our affordable house and lot packages.
So, save up for an investment to get your own brand new house and lot in the Philippines today.

Try our Home Loan Calculator
Loan Calculator
Try Lumina Homes' loan calculator and get an estimate computation for your preferred Lumina property and home model.