Lumina Homes to Host a Nationwide RFO Appreciation Day & Viewing
13 January 2022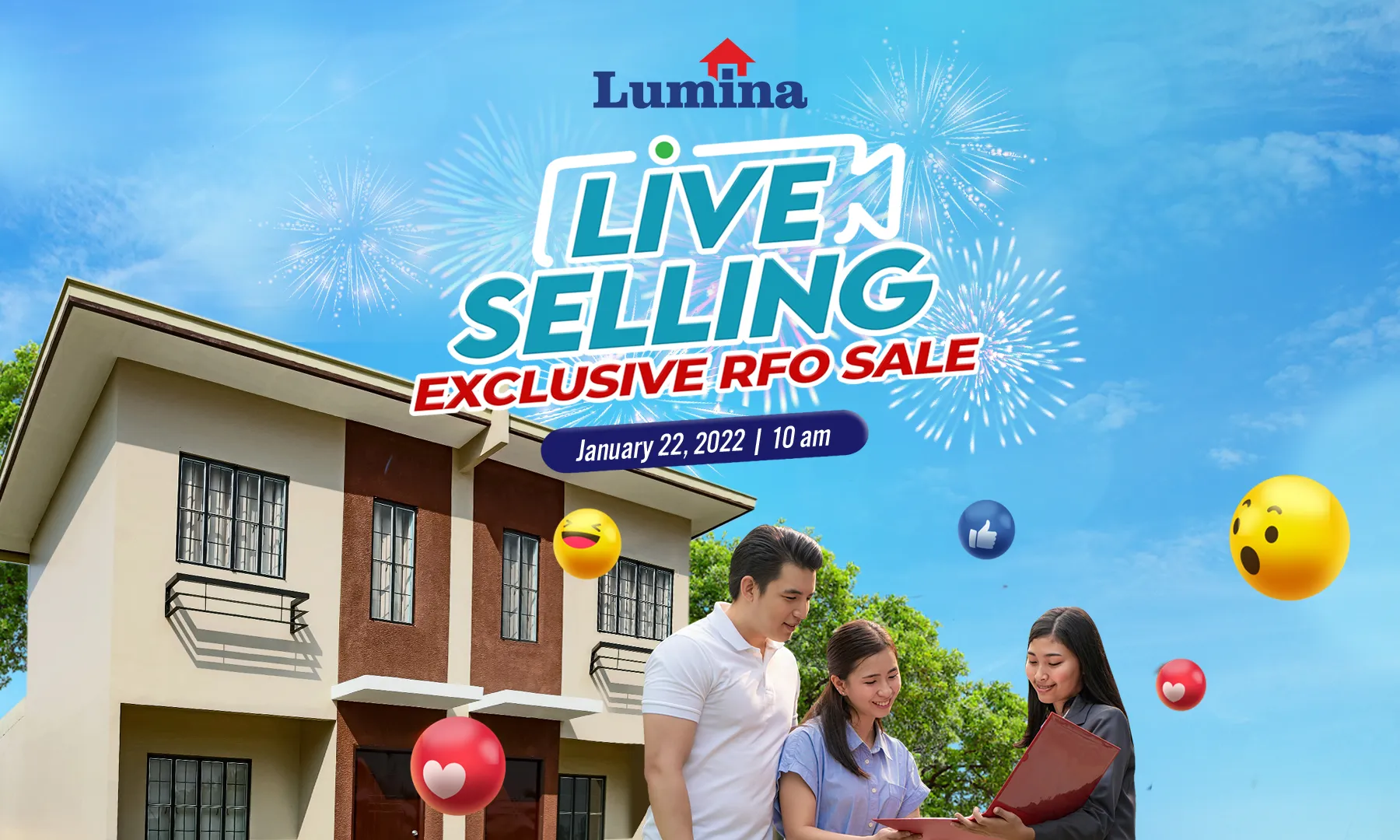 Whether to fulfill the family's dream home, start a real estate investment, or take the opportunity to have another source of income through leasing. Watch the live selling of your preferred Lumina Homes location during the RFO Appreciation Day and Viewing this January 22 to surely score you the best home deal!
Aside from free move-in fees, homebuyers during this Nationwide Open House for RFO units will receive cashback or discounts on their reservation fees and have a special giveaway. Meanwhile, sellers that will close a deal will also receive a gift and incentive even top sharers can grab some freebies too!
All interested house and lot buyers can choose from the vast catalog of RFO units from Luzon, Visayas, and Mindanao! Here are some Lumina project locations that will have an All Out Inventory Sale and offer Ready For Occupancy house and lot packages:
1. Lumina Baliwag in Bulacan
Not only do you receive your dream house on a budget with Lumina Baliwag, but you also get a quality of life.
Ready For Occupancy Units in Baliwag, Bulacan:
Angeli Home Model

is a 42 square meter house on a regular 54 square meter lot with features including a living area, three-bedroom provision, dining & kitchen, a toilet & bath, a carport provision, and a service area. It is available in a Townhouse and Single Firewall type of house.

Angelique Townhouse

is a 35 square meter home on a regular 36 square meter lot with features that include a living area, provision for two bedrooms, dining & kitchen, a toilet & bath, a carport provision, and a service area.
For the first three reservations during the open house, Lumina Baliwag homebuyers will receive 1,000 worth of GCash load while the seller will receive 500 worth of GCash load.
A 5% cashback on reservation fee plus a Lumina neck pillow awaits the homebuyer of Angelique Townhouses in Lumina Tarlac during the RFO Appreciation Day. A cash promo and Lumina merchandise will also be given to the real estate salesperson of the client during the event.
Lumina San Jose property investors during the Appreciation and Site Viewing Day of RFO units will have a P1,000 discount on the reservation fee plus free Lumina merchandise. At the same time, the seller will receive a P500 cash incentive and merchandise.
4. Lumina Sto. Tomas in Batangas
RFO house and lot buyers of two-storey home models of Lumina Sto. Tomas will receive a 20% cashback on their reservation fees plus neck pillow.
5. Lumina Tanauan in Batangas
Similar to Lumina Sto. Tomas, homebuyers of affordable RFO two-storey units in Lumina Tanauan will have a 20% cashback on their reservation fees plus a neck pillow as a gift.
For both Lumina Sto. Tomas and Lumina Tanauan, sellers of townhouse units, will receive a P700 cash incentive and a Lumina shirt. Sellers of duplex and single firewall units will receive P1,000 and a Lumina jacket.
Participating salesperson during the event and will close a deal for two-storey unit will receive a Lumina jacket. A prospecting activity within the area will also be held to disseminate the all-out inventory sale of RFO units in Lumina Bauan.
Buyers of RFO Angelique Townhouse in Lumina Quezon will receive a neck pillow and a 20% discount on reservation fees.
Purchase any two-storey RFO house and lot package in Lumina Sariaya, have an outright 20% cashback on reservation fee and receive a neck pillow.
For Lumina Quezon and Lumina Sariaya, the seller will receive a P700 cash incentive and neck pillow for every townhouse unit sold. At the same time, sellers of duplex and single firewall units will receive P1,000 and a Lumina jacket.
P1000 Shopee voucher awaits the seller of any RFO townhouse, duplex, or single firewall unit in Lumina Tanza during the site viewing event.
A motorcade will be held as Lumina Bacolod makes an all-out inventory sale for its RFO units, and an open house event will come after.
11. Lumina Iloilo
An open house event will be held at the Lumina Iloilo site. You may also watch a virtual guide to Lumina Iloilo to have a better idea on what this community has to offer!
For all Visayas areas with RFO units like Cebu, Iloilo, and Bacolod, sellers with reservation sales will receive a P1,000 cash incentive. The homebuyer and seller will get Lumina merchandise like an umbrella and notebook for every site tripping. At the same time, those who reserve a unit will also receive a grocery basket.
13. Lumina Butuan in Agusan Del Norte
With few units available in Lumina Butuan, interested homebuyers may walk-in and have a site ocular. Seller and property buyers will get Lumina merchandise for every site tour like mugs, sun visors, pens, notebooks, and fans. A Product Knowledge Seminar for newly accredited brokers and agents during the RFO Appreciation Day. P500 cash incentive awaits sellers of RFO units while the buyer will have a 10% discount on the reservation fee.
All of these RFO units in Lumina Homes are available through bank financing. Through a housing loan via bank, the maximum payment term is 20 years if you are locally employed while 15 years for OFWs. Age is also a factor to consider in choosing the maximum payment terms allowed. The principal buyer must fully pay the bank housing loan by 60 years old.
Meanwhile, a 30% net disposable income is also required for locally employed and OFW bank housing loan applicants. Yet, a 25% net disposable income is necessary if you are self-employed.
It is an advantage that bank financing caters shorter payment terms. With such, you can pay debts faster and save more money than paying for a housing loan in a longer period. You can quickly contact them via mobile, email, or visit the nearest bank branch regarding immediate concerns. Commercial bank establishments offer faster services and are much more accessible than other financing institutions. With Lumina Homes and bank financing, an account officer fully assists the entire housing loan process. There will be no need for long queues and lengthy processing of transactions—these advantages in bank financing with no required membership or contribution.

Try our Home Loan Calculator
Loan Calculator
Try Lumina Homes' loan calculator and get an estimate computation for your preferred Lumina property and home model.