Lumina Homes Goes All-Digital with Future-Ready Innovations
6 February 2021

Written by: Cielo Fernando
COVID-19 pandemic has forced many businesses to stop operations for the meantime, and worst totally closed down. Given the situation, the pandemic has also forced businesses to adopt remote work environments and think of innovative strategies to keep the business standing.
As the world begins to re-open, things are not exactly as they used to be. Quarantines around the globe led to the closure of many companies and establishments, limited face-to-face contact, and gave limited options for transportation. In the new normal where physical distancing is a must, the majority of interactions with customers and employees must take place virtually. Given the circumstance, operating digitally is one of the most helpful (if not the only) ways to stay in business through quarantines and restrictions.
Lumina Homes, the affordable housing arm of Vista Land, finds ways to handle the crisis. Not only is Lumina future-ready with its digital innovations, but it was also among the first real estate companies with ready technology to provide homebuyers in the Philippines and abroad with safer and all-digital reservation options and more.
To learn more about it, here are some of the digital innovations that Lumina Homes has created to make our services and home buying process easier and more accessible to every Juan, whenever and wherever.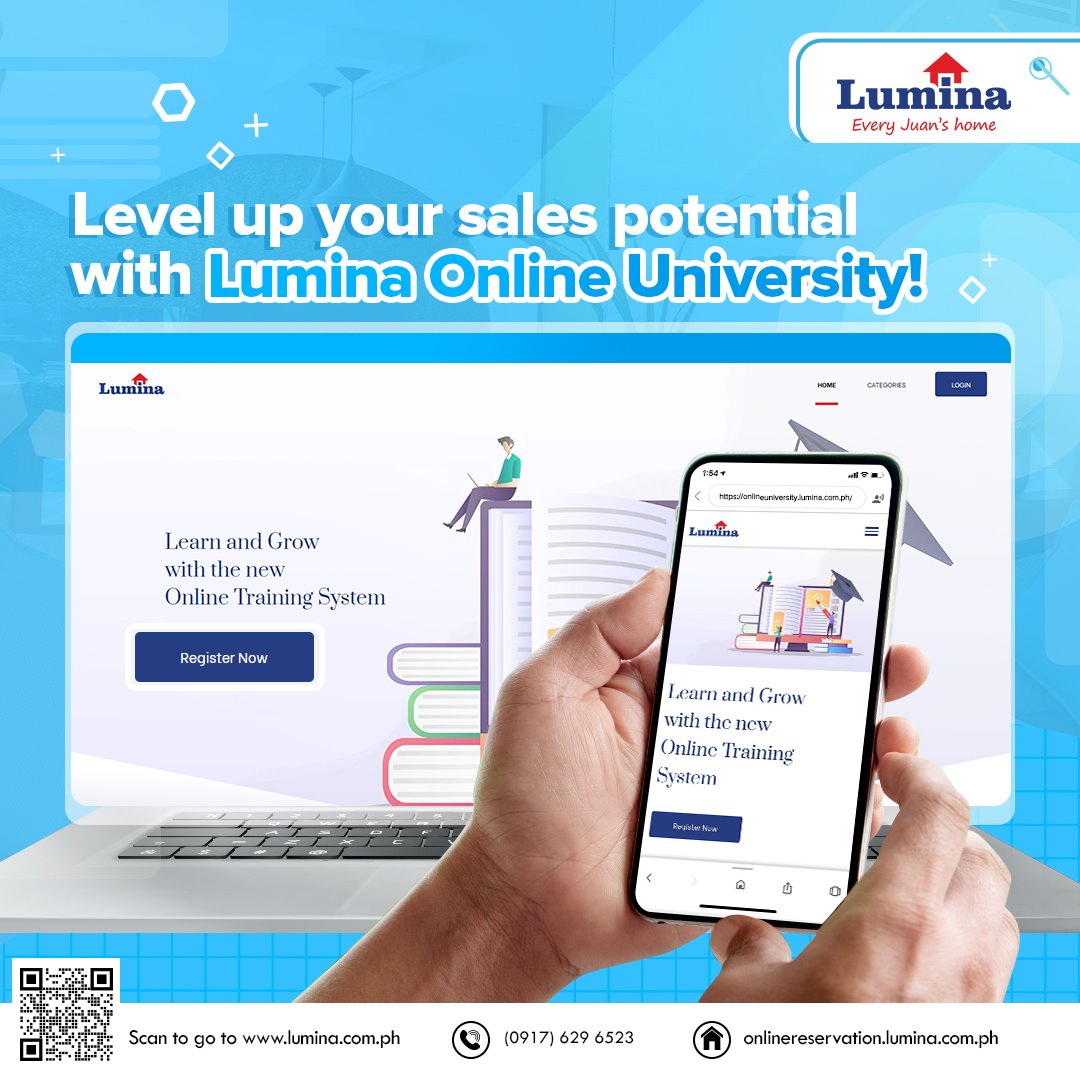 Let's face it, with the pandemic still going on, and consumers are still hesitant to travel or commute because going out and interacting with so many people risk not only our lives but also our loved ones'. So if ever you're thinking of buying a home amid the pandemic, visiting project sites is a bit challenging now compared to before when we can just easily go tripping any time we want. Lumina Homes understands the struggle brought by the pandemic; that is why instead of you going to our project sites physically, we will bring Lumina to you to ensure every Juan's safety in the new normal.
Lumina Homes Online, a one-stop home reservation site that allows access to check the available Lumina house and lot units and provides option to pay the reservation fee through GCash, debit or credit card, or over-the-counter. In 2017, Lumina Homes Online was created for Overseas Filipino Worker (OFW) clients and the working class who can not find time to visit the Lumina Homes site that they prefer. Since then, it has become a valuable mode for sellers and homebuyers as the pandemic continues to restrain physical transactions.
If you are too busy or want to avoid going out due to the pandemic, you can do your tripping from the comforts of your home or office! The best part about virtual tripping is you can do it anywhere at any time.
You can check the available home packages by visiting the Lumina Project site, the Lumina Office, or Lumina Homes Online at https://onlinereservation.lumina.com.ph/
Exploring Lumina Homes in 3D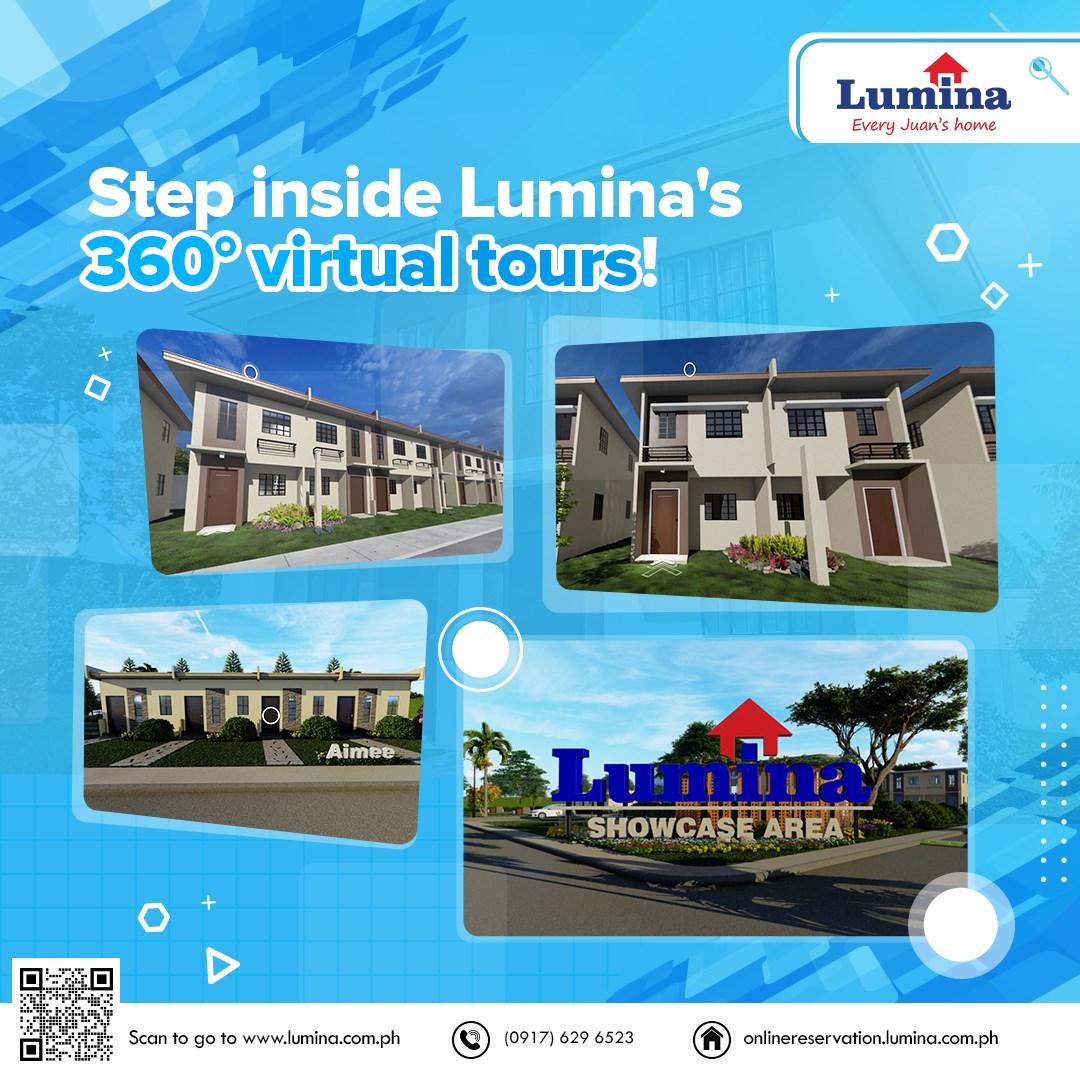 To ensure safety, we built a way to make "virtual tripping" possible. With the 360-degree virtual house tours of its best-selling homes, Lumina Homes provided a hassle-free way for you to choose your house and lot unit straight from your computer or smartphone.
If you want to explore Lumina Homes in 3D, all you have to do is visit our official website: www.lumina.com.ph, and view our best-selling home models:
Aimee Rowhouse, a 22 square meter home with a one-bedroom provision;

Angelique Home Model (available in Townhouse and Duplex), a 35 square meter home with provision for two bedrooms;

and Angeli Home Model (available in Townhouse, Duplex, and Single Firewall), a 42 square meter home with provision for three bedrooms
Lumina Homes' signature showcase area with a preview of what a typical Lumina Homes community looks like is also available in 3D.
It doesn't stop there! We also have Interactive Project Maps. Lumina's Interactive Project Maps also allow both homebuyers and sellers to view Lumina Homes' available units in the subdivision map. The interactive map gives you a better idea of the Lumina unit's exact location inside the subdivision.
To see actual videos and insightful vlogs about Lumina Homes' projects nationwide, watch the playlists for Lumina House Tours and Lumina Vlogs when you visit Lumina Homes' YouTube channel www.youtube.com/luminahomesofficial.
Lumina Payment Portal
With quarantines and restrictions in place, it is best to practice social distancing, limiting our actions than what we used to do, like shopping and paying cash straight to the registry. That is why, to get through the new normal, we must maximize the use of cashless transactions and accept it as the new normal means of purchase and payment.
To make everything more convenient for homebuyers, we also launched the Lumina Payment Portal, where homebuyers can conveniently settle their Lumina home dues through credit cards, as powered by Pesopay. Check the list below for the available modes of payment:
Digital Wallet
Homebuyers can opt for a digital wallet as their mode of payment. The payment portal also displays all other reliable online payment channels with step-by-step guidelines.
With Digital Wallet, you can pay through:
AllEasy (Biller Name: Prima Casa Land & Houses, Inc.)

GCash (Biller Name: Prima Casa).
Online Banking
Another way to pay for your Lumina home dues is through Online Banking.
Under Online Banking, you can pay through:
Banco de Oro (BDO)

Asia United Bank (AUB)

Philippine National Bank (PNB)

Security Bank

Unionbank (Biller Name: Prima Casa Land & Houses, Inc.)
If you prefer online banking, but you do not have any accounts on the abovementioned banks, don't worry, because you can still pay through any bank via Instapay.
How to pay:
Log in to your preferred bank's mobile app or online site

Look for the Transfer to Other Local Bank or any similar option

Select "AllBank via Instapay" as your Destination Bank
Once the transaction is successful, your payment will be credited from AllBank to your account in Lumina Homes.
And here's some good news for homeowners enrolled in BDO: an option for an Auto Debit Agreement service. All you have to do is simply request for an Auto-Debit Application Form from your Lumina accounts officer, accomplish and submit back the form, and then Lumina Homes will be the one to process their application with BDO.
With the Lumina Payment Portal, everything is just a click away on the computer or smartphone, and there are no more lines or queues to deal with. Hence the new process has given us more time for more important matters.
Of course, we understand the risk of doing cashless transactions, so it requires caution. With Lumina Payment Portal, you don't have to worry, as Lumina Homes guarantees that the online payment facilities it has partnered with are safe and trusted. Lumina homeowners can have peace of mind while settling their home equity and amortization, securely from the comforts of their home.
Visit the Lumina Payment Portal at https://apps.vistaland.com.ph/LuminaPaymentPortal/.
Lumina e-Text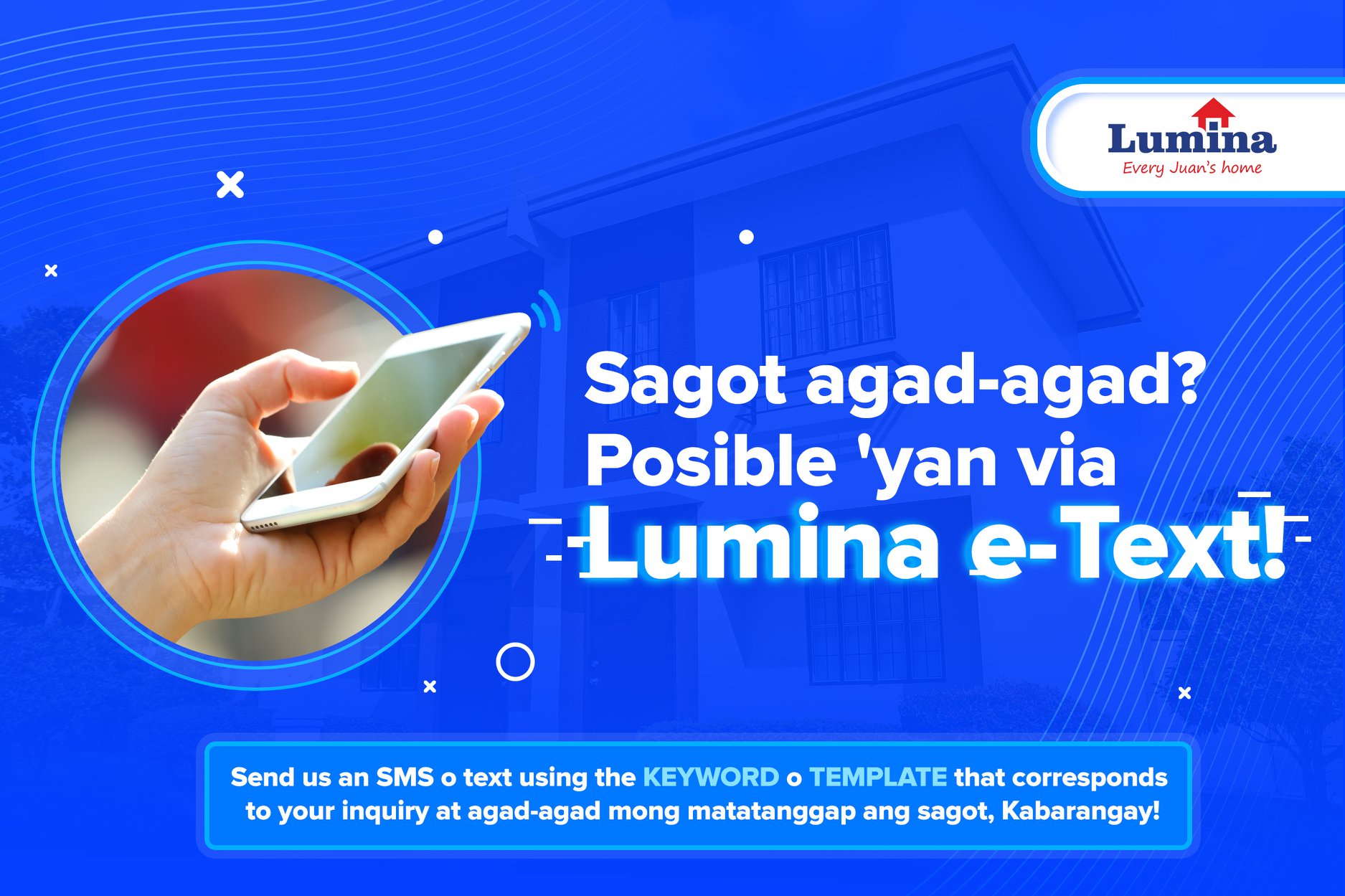 While the Internet has been a reliable and convenient way of communicating with family, friends, and even establishments, people still face barriers due to multiple reasons. As for the receiving end, online messaging is more challenging.
Just like what we are experiencing with so many users online at the same time, it has been difficult for some Lumina homeowners to request their statements of account online.
Lumina Homes steps up by going back to the basic SMS messages to beat this challenge, which it finds effective and still convenient. It may be old-school, but it is always dependable. So, we introduced the Lumina e-Text.
Lumina e-Text is an SMS service that uses keyword templates for specific types of inquiries. With Lumina e-Text, customers have to send an SMS template of their inquiry to (0917) 818-1875 or (0919) 072-1399, and they will promptly receive a response. Regular text charges will apply.
Check the SMS templates below to be guided accordingly:
SMS templates for Lumina e-Text
For outstanding balance inquiry, text LUMINABILL<space>10-DIGIT SALES ORDER NUMBER. Example: LUMINABILL 2500000000

For reference number needed when paying through local payment centers, text LUMINAREFNUM<space>10-DIGIT SALES ORDER NUMBER. Example: LUMINAREFNUM 2500000000

For the list of payment channels available, text LUMINAPAYCTR<space>10-DIGIT SALES ORDER NUMBER. Example: LUMINAPAYCTR 2500000000

For inquiry of last posted or credited payment, text LUMINALASTPAY <space> 10-DIGIT SALES ORDER NUMBER. Example: LUMINALAST PAY 2500000000

For total payments you have made, text LUMINATOTALPMT <space> 10-DIGIT SALES ORDER NUMBER. Example: LUMINATOTALPMT 2500000000

For updating your mobile number on Lumina Homes' system, text LUMINAMOBILE<space>10-DIGIT SALES ORDER NUMBER <space>11-DIGIT NEW MOBILE NUMBER. Example: LUMINAMOBILE 2500000000 09171234567

For updating your email address on Lumina Homes' system, text LUMINAEMAIL<space>10-DIGIT SALES ORDER NUMBER <space>NEW EMAIL ADDRESS. Example: LUMINAEMAIL 2500000000 [email protected]
With Lumina e-Text, Lumina Homes can reach homeowners quickly and vice versa. It provides the homeowners an alternative means to access and update their account details. And take note, Lumina e-Text is also a faster way to access your account details.
Lumina Online University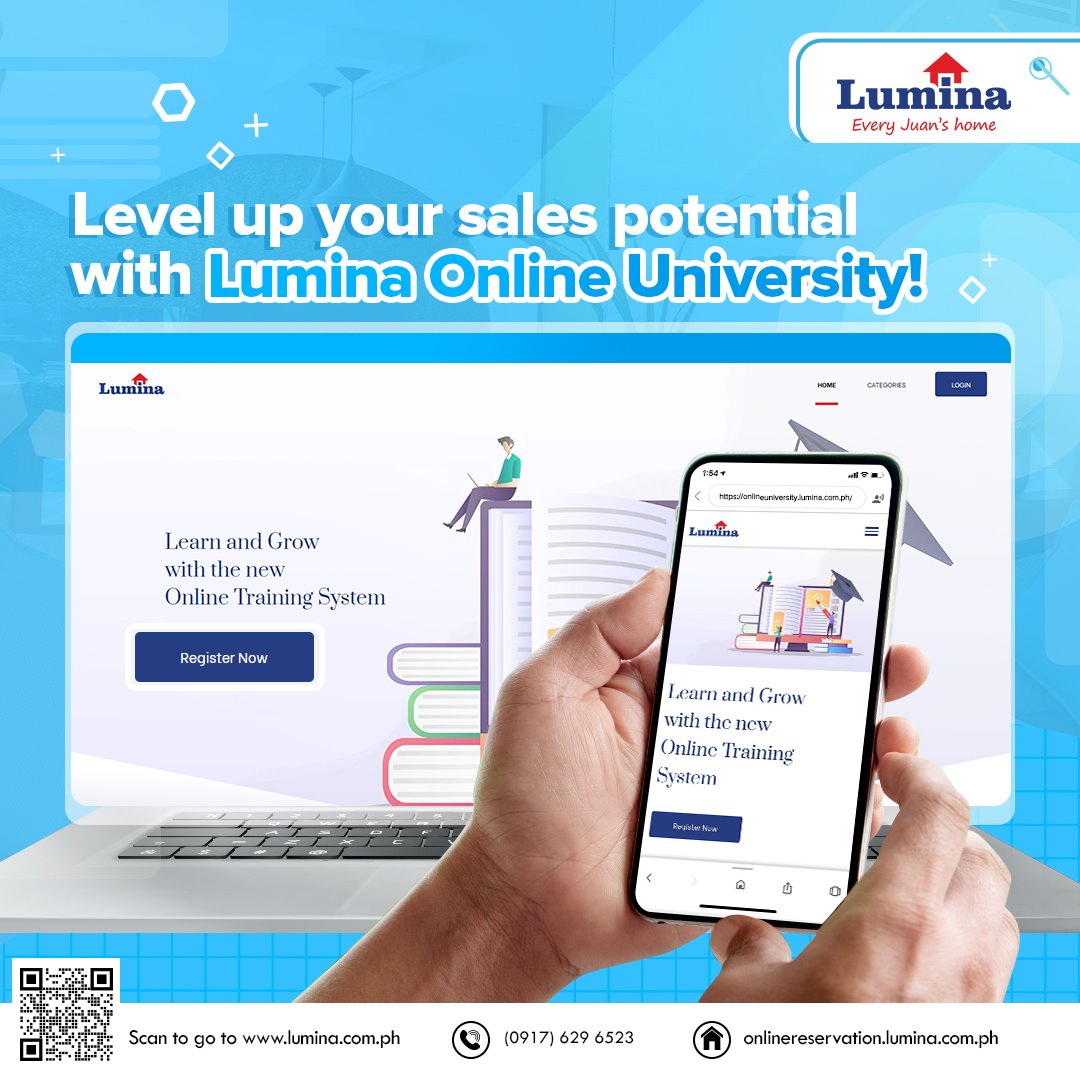 To better serve the homebuyers, Lumina Homes aims to tap more real estate brokers and agents to help its mission. However, with the quarantine and restrictions still in place, we are unable to hold gatherings like sales clinics and product knowledge seminars like we used to do. So, to ensure the safety of Lumina Homes' clients and accredited business partners, which includes over 30,000 sales agents and brokers nationwide, we launched "Lumina Online University" a web-based teaching platform that offers sales courses on selling Lumina Homes. And you know the best part of it? These online courses are free, so you don't need to think about limiting your budget for other expenses to gain extra knowledge!
Lumina Online University initially offers a two-level learning course with several modules each:
Beginner's Course
Fundamentals of Lumina Homes

Reservation Process

Real Estate 101

Admin and Customer Care Briefing
Advanced Course
Recruitment & Training

Facebook Marketing

Digital Marketing
In the future, this training portal will also include free webinars and specific courses about Lumina properties so sellers will become more familiar with the house and lot offers of Lumina Homes.
How to Enroll in Lumina Online University
To access the free online courses in the "Lumina Online University," one must already be an accredited seller in any of Lumina Homes' projects nationwide. Once accredited, the seller may follow these easy and simple steps:
Go to the Lumina Online University official site at

https://onlineuniversity.lumina.com.ph/

.

Click the 'Register' button.

Fill-out the required details and click 'Sign Up' to finish.

You will receive an email to confirm your successful registration.

Wait for 24 hours as your Lumina Marketing Officer will have to verify your account before you may access the free courses.
For every completed course, you will be given a digital certificate.
Lumina Homes is committed to giving our customers and business partners a more refined experience with us, so we make sure to do everything we need to fulfill our commitment.
In Lumina Homes, the sellers' experience is just as important as that of the buyers'. Even if we face trying times due to the pandemic, Lumina Homes strives to help its sales network adjust to the new normal of real estate selling, ensuring that they remain proactive and persistent in their shared mission of providing affordable housing.
This pandemic truly affected our ways of living and forced us to be somewhere we didn't expect to be. At Lumina Homes, we always believe that there's a rainbow after the rain. And to get through the rain, we must help each other. That is why we, at Lumina Homes, are not stopping on thinking of innovations to give the best experience to our employees, sellers, partners, and homebuyers.
Related Articles:
***
For more information on Lumina Homes, contact (0917) 629 6523. Visit our official website at www.lumina.com.ph and like/follow our official online channels: Facebook, Twitter, Instagram, YouTube, Google MyBusiness & Google Maps, Pinterest, Spotify, Viber, Telegram, Lazada, and Shopee.

Try our Home Loan Calculator
Loan Calculator
Try Lumina Homes' loan calculator and get an estimate computation for your preferred Lumina property and home model.