Dreaming of a Serene Life? Here Are 7 Convincing Reasons Why You Must Consider Living in Batangas
1 December 2021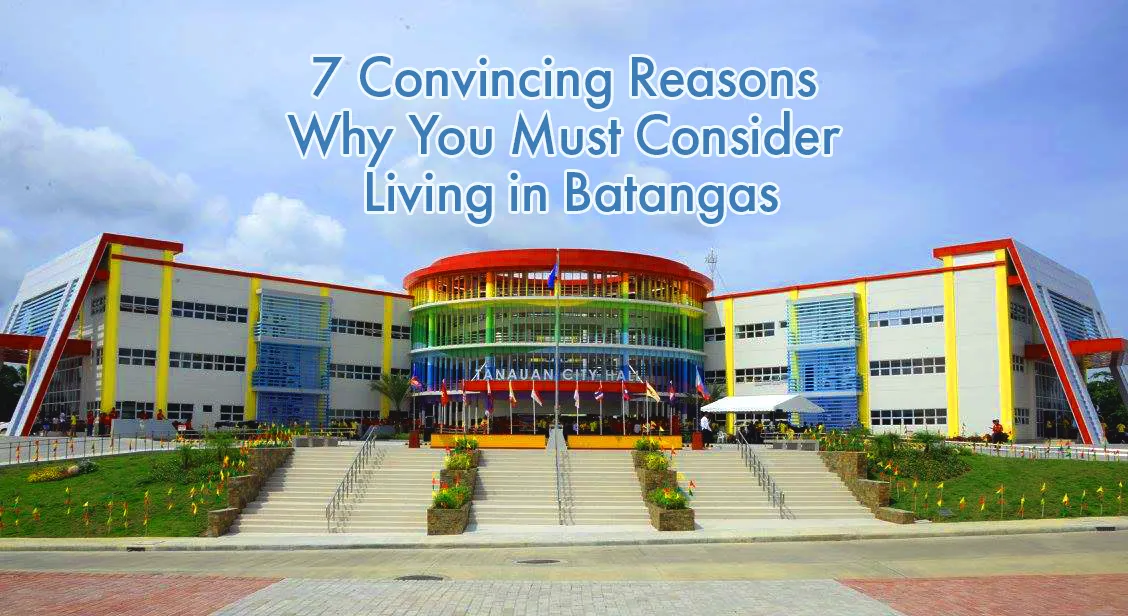 While Metro Manila is home to the most prominent businesses and career opportunities, there's no denying that life in the National Capital Region is convenient yet expensive and fast-paced. But there is something in slow living that makes a serene probinsya life all worth it.
Like living in Batangas, we know it too well as a popular beach destination, especially for quick getaways because of its proximity to Manila. But aside from being home to many pristine islands, Batangas is also a good location for a permanent living if you're planning to move somewhere not quite far from the busy capital.
But why Batangas? Simple. The province has everything you need to start a new and progressive life—rich culture and history, extraordinary tourist destinations, a growing economy, and so much more. Tanauan, specifically, boasts a roster of beautiful destinations and thousands of square kilometers of land ideal for agriculture. Read on if you want to know why it's an ideal place to move in for good.
What you'll love about living in Batangas
1. It's near Metro Manila
What's great about living in Batangas is it's very accessible to Metro Manila via the South Luzon Expressway (SLEX). You can already reach the province just around two to three hours away from the metro. Aside from SLEX, the Southern Tagalog Arterial Road Tollway (STAR Tollway) also eases the traffic congestion within Batangas.
2. Not too urbanized, not too rural
The province's settings allow for some balance between the bustling and the serene. If you are transitioning from a life in the metro to a quieter probinsiya life, you will not have difficulty adjusting to Batangas. There you will get the best of both worlds—some peace and progress.
3. Beaches are just a few trips away
One of the best perks of living in Batangas is that you are so close to many beautiful beaches you can't see in the city! Case in point, Tanauan, Laiya, Anilao, and Nasugbu boast pristine islands perfect for island-hopping, beach getaways, diving, and snorkeling. These municipalities have become popular beach destinations for city dwellers looking for quick escapes from the hustle and bustle of the metro.
Some of the most beautiful beaches in Batangas you must visit are:
Fortune Island

Laiya Beach

Masasa Beach

Sepoc Beach

Matabungkay Beach

Isla Verde Batangas

Bituin Cove

Calayo Beach

Malabrigo Point Beach
So if you are someone who's into beaches (who doesn't love the beach anyway?), then the province of Batangas is a perfect location for your new home.
4. Perfect for foodies
If you are a certified foodie, Batangas will be your haven as it boasts lots of many delicious dishes that could make you forget your name. Among the significant crowd drawers in the province aside from their beaches is their delicious specialties, such as the tawilis, which is endemic to Taal Lake.
Aside from the tawilis, get your tummies filled with other yummy dishes such as:
Bulalo

Batangas lomi

Tawilis

Sinaing na Tulingan

Tapang Taal

Longganisang Taal

Kalderetang Kambing
5. There are lots of career and business opportunities
According to Statista and the latest Commission on Audit (COA) report, Batangas is the second most prosperous province in the Philippines, with 20.7 billion in total assets. That only means the province is continually progressing, and many people in business are investing in the province. Plus, given the fantastic Batangas beaches near Manila, the tourism sector in Batangas is also booming.
Because of these factors, many career and business opportunities await those who are planning to buy a house and lot in Batangas. The province has a lot of potentials to grow even more.
6. Low cost of living
There's no denying that living in Manila is expensive compared to residing in the province. The good thing about living in Batangas is that the cost of living is lower than in Manila's. From food and transportation to education, it is more affordable in Batangas.
7. There are many affordable housing options
As mentioned above, the cost of living in Batangas is pretty lower than in the metro. And one of the things that will benefit your pocket should you decide to move to Batangas for good is the affordable housing options. Would you believe that you can already buy a house and lot for sale in Batangas for as low as PHP 550,000? Yup, you read it right. But we will discuss that more as we go on.
Find the best property investment in Tanauan City through Lumina Homes
Do you want to have a spacious house in your hometown? Or were you thinking of moving to Tanauan City in Batangas for good? Lumina Homes is ideal for choosing the best property developer for real estate investment for OFWs (Overseas Filipino Workers.)
Lumina Homes is a housing brand of Vista Land, the Philippines' largest homebuilder, including Camella Homes, Brittany, Crown Asia and Vista Residences, among others.
Through its family-friendly house and lot for sale in Tanauan City, getting the dream home is made achievable for every Filipino. With Lumina Homes easy-to-own payment options through bank housing loan will make the dream of owning a bigger and better house and lot be more achievable.
What's amazing about Lumina properties, aside from the flexible payment tems, their communities have complete amenities like play area, Tambayan ni Juan, multi-purpose hall, and community center that may accommodate important offices. It is also strategically located near major establishments, schools, and transportation hubs that are necessities in daily living.
Ideal Property Investment for OFWs
We at Lumina understand the struggle of Filipino families being away from each other to attain the dream of owning a home. Life abroad is surely difficult. So to help OFWs and their families to plan a brighter future, away from the chaos of the metro, Lumina Tanauan is one of the best home options for you to invest good location for a very good price.
Lumina Tanuan is located at Brgy. Hidalgo, Tanauan City, Batangas. The Lumina Tanauan ready for occupancy homes are perfect for home seekers that are seeking a property where they can move-in faster and easily.
So, if you are looking for a townhouse home for sale that you can either make as a primary home for your family or a property that will generate passive income through leasing, you'll not regret choosing Lumina Homes in Batangas!
Ready to unbox the best gift this Christmas? Here' are the things you need to know about Lumina Tanauan:
Amenities
Playground

Basketball Court

Guard House

Jogging Path
If you love Lumina's affordability, wait until you hear some more good news!
Get PHP 100 Discount Voucher on your Lumina transactions for only PHP 1 on Shopee! You can avail a PHP 100 discount voucher for only PHP 1 with no minimum spend. Payment vouchers obtained in advance via the Shopee app under the "Deals Near Me" or "Flash Deals" sections are discount vouchers. Using ShopeePay's QR, you can utilize the discount vouchers for in-store transactions such as reservation fees, monthly down payments, and in-house monthly amortization.
Know more ways to avail a discount in Lumina Homes:
Move-in faster and easily with Lumina Tanauan
Lumina Tanauan's Ready for Occupancy units are perfect for home buyers that are looking for a property where they can move-in right away!
The theme of Lumina Homes this holiday season is "Juan Love this Christmas," and they are offering an Easy Move-in Promo for Ready for Occupancy house and lot or RFO Homes through December 31, 2021.
Ready for Occupancy House and Lot for sale in Batangas:
Bettina Townhouse

is a 44 square meter house and lot for sale in Batangas on a regular 36 square meter lot. Its features include a living area, dining & kitchen, 2 bedroom provision, 1 toilet & bath, 1 carport provision, and service area.

Angeli Single Firewall

is a 42 square meter house and lot for sale in Batangas on a regular 54 square meter lot. Its features include a living area, dining & kitchen, 3 bedroom provision, 1 toilet & bath, 1 carport provision, and service area.
These ready for occupancy units are available via bank financing only. For townhouse home for sale, the terms include the following:
Settle the downpayment of 7.5% (can be spot payment and may also be paid for 3 months installment)

A 5% discount will be granted once the bank housing loan is approved on the 4th month

Complete standard and income documents is required
Landmarks
Schools, Colleges, & Universities
Hidalgo Elementary School

Tinurik National Highschool

First Asia Institute of Technology and Humanities
Hospitals & Clinics
Mercado General Hospital

Reyes Hospital

Gonzales General Hospital
Places of Worship
Saint John Evangelist Parish

Nuestra Señora Dela Soledad Parish Church

Life Ministries Tanauan Christian Church
Marketplace, Malls, & Leisure Areas
Victory Mall and Market

Puregold Tanuan

Waltermart Tanauan
Major Roads, Highways, & Expressways
CALABARZON Expressway

President JP Laurel Highway Tanauan
Transport Terminals
Brgy, Hidalgo Transport Terminal

Tanauan Bus Stop

Victory Mall and Market Terminal
Local Government Offices
That being said, what property investment for OFWs is better and more practical than Lumina Tanauan?
HOW TO GET TO LUMINA TANAUAN
Via Commute
From Manila, take a bus going to Tanauan City. Take off along National Highway. Ride a tricycle going to Lumina Tanauan.
Via Private Vehicle
From Manila, take SLEX and exit at Tanauan City Exit. Ride a tricycle going to Lumina Tanauan.
A Quick Guide to Bank Financing
Buying a house and lot may seem daunting because of the many processes you have to undergo. While it's true at some points, the payment part is not as complicated as you think it is.
If you don't know how to pay for your house and lot, here's a quick guide to help you understand how you can buy a Lumina property through bank financing.
All Lumina housing units are available via bank financing only, which is an easy way to help you acquire your very own real estate property. The good thing about bank financing is that there is no compulsory membership and regular contributions. You don't even
need to have a savings account to apply for a bank loan.
The annual interest rate on bank financing house loans for economic packages is 5.25 percent. Although Lumina Homes uses the standard interim rate of 8% for banks for income qualification. After paying the down payment and your bank housing loan is released, some banks offer as low as 5%, so you don't already have to pay their interim financing too!
You will have a maximum of 20 years payment term if you are locally employed, while OFWs have 15 years to pay. Meanwhile, a 30% net disposable income is required for both OFW and locally employed loan applicants. But if you are self-employed, you will just be required to have 25% net disposal. This means that since bank financing caters shorter payment terms, you can pay your debts faster and save more money than those paying for a more extended period.
You can borrow from PHP 450,000 to PHP 50 million loanable amount, which is also subject to qualification. Also, borrowers can loan up to 90% of the total contract price!
The loan process will not take too long as it is just around 2 to 3 weeks. Your loan can be released even if your house is not fully completed. At this rate, if you will choose bank financing for your housing loans, you can move earlier to your dream home!
For your convenience, Lumina Homes partners with notable banks in the Philippines, including:
AllBank

Banco de Oro (BDO)

Cebuana Lhuillier Bank

RCBC

UnionBank

UCPB

Security Bank

China Bank Savings

Robinsons Bank

Maybank
Get your money's worth with Lumina Tanauan. Start investing in a new property now to provide a comfortable living environment for your family or as a future source of income. Contact us directly and let Lumina Homes help you on your real estate investment journey and achieve your dream home!
***
For more information about the affordable house and lot for sale in Tanauan City of Lumina Homes, please contact (0917) 629 6523.

Try our Home Loan Calculator
Loan Calculator
Try Lumina Homes' loan calculator and get an estimate computation for your preferred Lumina property and home model.