Life in Baliwag: Modern Living in a Tranquil Space
8 December 2021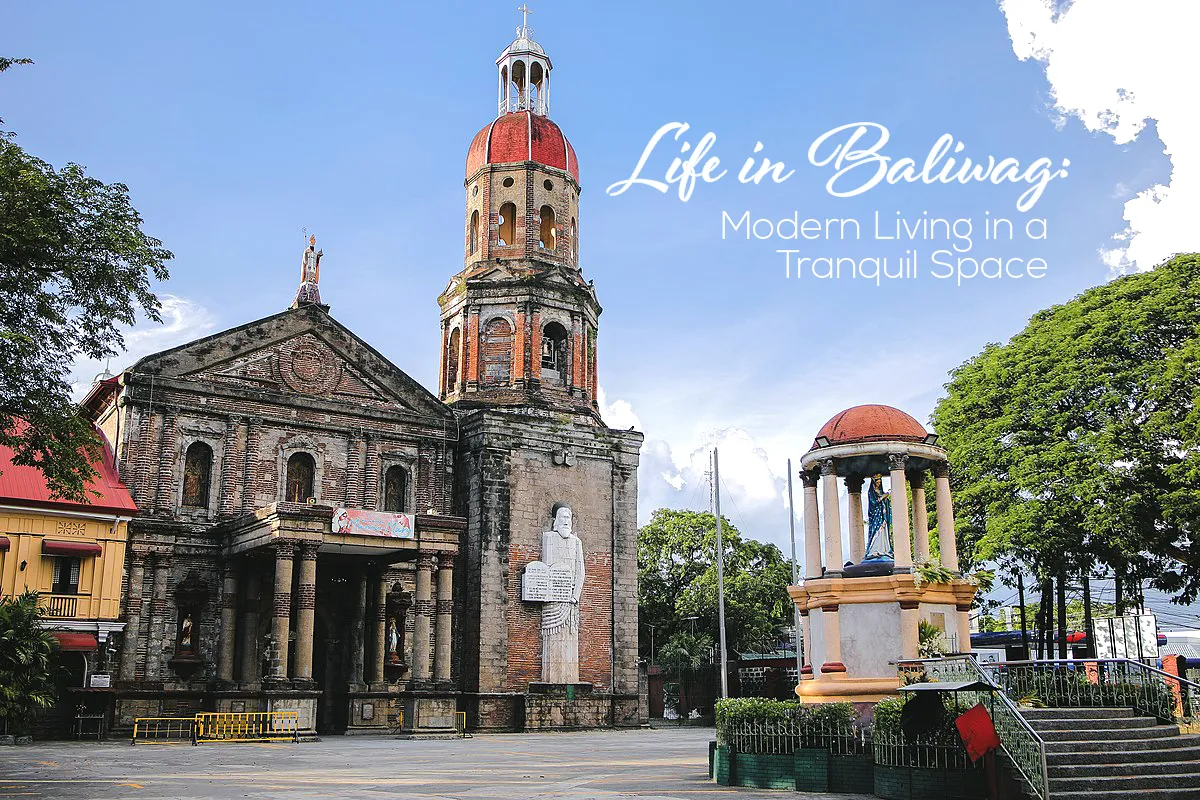 Life in a highly urbanized area like Metro Manila, while convenient, is also slowly getting more high maintenance for an average individual or family. The prices of essential commodities are rising, the houses and even rent in some areas are also skyrocketing. But aside from that, heavy traffic and the stress of city life could be unbearable and slowly affect your mental health. These are probably some reasons why some people are looking for options on building their dream home outside of Metro Manila without sacrificing convenience.
If you want to experience the probinsiya life without getting too far from the metro, one place we'd recommend is Baliwag, Bulacan. It is one of the places that could be ideal for someone who wants to live outside of a stressful and expensive city without taking away the perks of an urban lifestyle.
What you'll love about living in Bulacan
Here are some of the reasons why choosing Baliwag, Bulacan for your new home would be a wise option:
1. There are different options to travel in and out of Baliwag
Aside from Doña Remedios Trinidad Highway that traverses the municipality, some roads make it easily accessible to many neighboring places. The Pulilan-Baliwag Bypass Road, for example, connects it to Pulilan Toll Plaza of North Luzon Expressway. It is also not very far from Tabang and Sta. Rita exit of the said expressway.
If you don't have a private vehicle, it won't be a big problem in Baliwag. The Baliwag Central Terminal located in SM City Baliwag has different modes of transportation that travel to neighboring areas in Pampanga, Bulacan, and even in Metro Manila. There are also terminals in the town's public market. These routes and modes of public transportation will make it easy if you are working in Metro Manila or have children studying in NCR schools.
It is also not that far from Clark International Airport in Pampanga, making Baliwag's location even more ideal. You will have another option to travel overseas aside from Ninoy Aquino International Airport in Pasay.
2. Ease of access to necessities and services
Traveling is not the only thing that is convenient in Baliwag. As mentioned earlier, there is a mall and public market in the municipality where every resident can get what they need. The public market has fresh fish, farm and poultry supplies, vegetables, fruits, and root crops. There are also other supplies that even locals from nearby areas find in Baliwag, like baking and pastry needs, textiles, and plastic materials. You won't have to go very far for most of your needs so you will also save time and money if you live in a town like Baliwag.
If you have any medical needs, you can also find private hospitals in the municipality, and the Baliwag District Hospital managed by the provincial government. There are also privately owned clinics with various specialties like EENT, Dentistry, Pediatrics, and even Veterinary clinics if you have pets.
Baliwag is also home to some educational institutions if you want your children to study nearby. There are private and public schools, colleges, and universities in almost every barangay, some of which are decades old and trusted in the education sector.
And you don't have to worry about the phone signal as there are also cell sites from various network providers in Baliwag. So, internet and cellular signals are clear. This is not the case for some areas outside of Metro Manila, so that is also one advantage that Baliwag has.
3. You are closer to nature
Although it has almost everything a city has, Baliwag is still surrounded by greenery that is pleasing to the eyes and can also relax anyone. It is always good to take a breath of fresh air, especially after you've had a stressful day at work or after studying. Some people even choose some event places in Baliwag as venues for their weddings, anniversaries, or other important occasions because of the municipality's picturesque view. You won't have to travel far if you want a glimpse of nature because many places in Baliwag could be just close to you if you choose to live there.
4. An up-and-coming tourism industry
Adding up to the beautiful greenery, there are also places in Baliwag that are Instagram-worthy. Among the most visited tourist spots in Baliwag include the St. Agustine Parish Church and the Mt. Carmel Church. The architecture in both of these churches is genuinely breathtaking and picture-perfect. Many tourists also take several snaps in the clock tower of Baliwag, which is said to be the first-ever self-supporting clock tower in Bulacan. These buildings will make you feel like you feel like you've traveled back in time with their one-of-a-kind architecture.
If you want to learn about their rich history, you also have Baliwag Museum and Library and the Museo ng Baliwag.
Baliwag also has a rich culture that they still preserve despite being a continually developing municipality. They still preserve the tradition of weaving hats because they are known as the Buntal Hat Capital of the Philippines. There are even places where you can watch elders weave a hat. And to give honor to these weavers, they celebrate these artists in their annual Buntal Hat Festival. The hats from Baliwag are even exported to other countries because of their quality.
Another event that attracts people from nearby places is the Holy Week Processions held in Baliwag every Good Friday. Around a hundred Carrozas or giant floats with life-size replicas of characters and scenes from the Bible are paraded at nighttime. These carrozas are maintained by families that have great devotion and faith.
The Christmas Season in Baliwag is also one that captures tourists. They celebrate it by an annual street dance competition where youth from local schools showcase their creativity in making costumes and their remarkable dance skills.
They also have famous dishes that attract local and foreign foodies, such as Menudong Bukid, Meaty Longanisa, and Okoy. If you're more of a sweets-lover, you will also love their famous Pastillas de Leche, which is a common pasalubong or something tourists take home to their families after visiting. You might have also heard of the Baliwag Lechon Manok that can be found not just in Metro Manila but all over Luzon.
The local government is also looking for investors in Tourism and Hospitality Services and Facilities to build Cultural and Historical Centers and Parks, Theme and Recreational Parks, and Entertainment Centers. This will make the tourism industry in the municipality grow further, and it will surely bring benefits to their residents incidentally.
5. More business and career opportunities await
Job and business opportunities are plentiful in Baliwag, and the local government is also looking for investors, so there will be more in a few years. They are aiming to attract investors to develop the municipality further. They are even willing to give incentives to anyone interested in investing. According to their official website, some of their priority investment areas are Agriculture, Infrastructure and Services, Infrastructure and Communications Technology, Environmental Protection and Enhancement, Healthcare, Wellness and Health Services, and Mass Transport Facilities. They have their Local Climate Change Action Plan, and they ask their investors in mass transport to conform to ensure that they take care of nature while developing their town.
Baliwag also has lands available for Commercial, Industrial and Agricultural purposes. With a total land area of 4,505 hectares, they have around 75% of the land ideal if you plan to start an agricultural business. Farming is one of the common sources of income in the municipality because of the rich rice fields all over it.
6. They were commended for Safety and Peace and Order
Another primary concern of any resident is the safety of their family. In Baliwag, you don't have to worry about your safety, as it has once been proven that they have a credible police force that can ensure this. Their local police force won the Best Municipal Police Station – Regional Level and Silver Eagle Award back in 2016. These awards accredited by the Department of Interior and Local Government are a testament that they will serve and protect all the residents in their town.
Whether you are a young adult looking for an ideal space to build your dream home, newlyweds looking for a place to start your family, or just someone who wants to move their family, Baliwag is an ideal place with a lot of things to offer. It is a place where you can enjoy your time with all of the conveniences without the anxiety of living in the city. It would be a wise move to live in Baliwag now and witness how it grows while enjoying all of the benefits it already has.
Find the best property investment in Baliwag, Bulacan through Lumina Homes.
Are you thinking of moving to Bulacan for good? Or want to build a new house in your hometown? Lumina Homes is ideal for choosing the best developer for affordable property investment for OFWs (Overseas Filipino Workers) and city dwellers.
Lumina Homes is a leading housing developer in the Philippines and an arm of Vista Land similar to other housing brands, including Camella Homes, Crown Asia, Brittany, and Vista Residences, among others. It is known for offering affordable condominium units and house and lot packages with easy-on-the-pocket payment terms. It was recently named the Top Real Estate Company in the Philippines by Best Startup Asia for its innovations and position at the forefront of digital real estate transactions.
Know more digital innovations of Lumina Homes:
Through its easy-to-own house and lot for sale in Baliwag, getting the dream home is made achievable! What's great about the Lumina properties, aside from their affordability, is that all projects have complete amenities. Lumina communitoes are also strategically located near schools, major establishments, and transportation hubs to maximize the way you live in the province.
An Ideal Property Investment for OFWs & Starting Families
Lumina understand every Filipino dream of having a bigger and better living spaces for their families. Working abroad while living away from your loved ones is undoubtedly difficult. So to help you plan a brighter future for your family, away from the chaos of the metro, Lumina Baliwag will aid you to find a good home in a good location for an excellent price.
Lumina Baliwag is a wise property investment for OFWs as it offers a variety of house and lot in the Philippines. It is conveniently located at Brgy. Pagala, Baliwag, Bulacan. The Lumina Baliwag ready for occupancy homes are perfect for home seekers seeking a property where they can move in faster and efficiently.
So, if you are looking for a townhouse home for sale in a new area, you'll not regret choosing Lumina Homes in Bulacan.
Are you ready to unbox the best gift this Christmas? Here's what you need to know about Lumina Baliwag:
Amenities
Guard House

Playground

Gazebo

Basketball Court
Bahay Goals Bundle Promo | Easy move-in promo with Lumina Baliwag
Lumina Baliwag Ready for Occupancy units is perfect for home buyers looking for a property where they can move in right away!
How? Here are the terms:
Pay down payment of 7.5% (can be spot payment of 3 months installment)

With 5% discount once the bank loan is approved on the 4th month

Complete requirements for housing loan (standard and income documents)
But wait, there's more! Avail a Lumina house and lot for sale in Baliwag under bank financing to enjoy Bahay Goals Bundle Promo where you can enjoy:
Free move-in fee

Free water application fee

Free power connection fee
House and Lot for sale in Baliwag:
Angeli Townhouse:

It is a 42 square meter house and lot for sale in Baliwag on a regular 36 square meter lot. Its features include a living area, dining & kitchen, 3 bedroom provision, 1 toilet & bath, 1 carport provision, and service area.

Angelique Townhouse:

It is a 35 square meter house and lot for sale in Baliwag on a regular 36 square meter lot. Its features include a living area, dining & kitchen, 2 bedroom provision, 1 toilet & bath, 1 carport provision, and service area.
Landmarks
Schools, Colleges, & Universities
Baliuag University

Baliuag Polytechnic College
Hospitals & Clinics
Castro Maternity Hospital and Medical Center

ACE Medical Center
Marketplace, Malls, & Leisure Areas
SM City Baliuag

Puregold Baliuag

Savemore Supermarket
Major Roads, Highways, & Expressways
Doña Remedios Trinidad Highway

Pulilan -Bypass Road

NLEX- Sta Rita Exit
Transport Terminals
Baliwag Transit Terminal

SM Baliwag Central Terminal
Local Government Offices
That being said, what property investment for OFWs is better and more affordable than Lumina Baliwag?
HOW TO GET TO LUMINA BALIWAG
Via Commute
Point of Origin- SM North EDSA: Ride a bus (ES Transport, Baliwag Transit, Golden Bee). Alight at Baliwag Flyover. Take a 3-minute walk to Camella Baliwag. Ride the shuttle service from Camella Entrance to Lumina Baliwag.
Via Private Vehicle
Point of Origin- SM North EDSA: Take Sta Rita or Pulilan-Baliuag Bypass Road thru Pulilan Exit, take the route to the San Rafael area.
The entrance of Lumina Baliwag is the same as the entrance gate of Camella Baliwag (near Baliwag Flyover).
A Quick Guide to Bank Financing
Buying a house and lot may seem daunting because of the many processes you have to undergo. While it's true at some points, the payment part is not as complicated as you think it is.
If you don't know how to pay for your house and lot, here's a quick guide to help you understand how you can buy a Lumina property through bank financing.
All Lumina housing units are available via bank financing only, which is an easy way to help you acquire your very own real estate property. The good thing about bank financing is that there are no required contributions or membership. Even opening a savings account to apply for a bank loan is not necessary.
The bank financing housing loan interest rate for economic packages is at 5.25% interest rate per year. Although Lumina Homes uses the standard interim rate of 8% for banks just for qualification, after down payment and once your loan is released, some banks offer as low as 5%, so you don't already have to pay their interim financing.
You will have a maximum of 20 years payment term if you are locally employed, while OFWs have 15 years to pay. Meanwhile, a 30% net disposable income is required for both OFW and locally employed loan applicants. But if you are self-employed, you will just be required to have 25% net disposal. This means that since bank financing caters shorter payment terms, you can pay your debts faster and save more money than those paying for a more extended period.
You can borrow up to PHP 50 million loanable amount, which is subject to qualification, and borrowers can loan as much as 90% of the total contract price!
The loan process will not take too long as it is just around 2 to 3 weeks. Your loan can be released even if your house is not fully completed. So, if you choose bank financing for your housing loan, you can move earlier to your dream home!
For your convenience, Lumina Homes partners with notable banks in the Philippines, including:
Banco de Oro (BDO)

Cebuana Lhuillier Bank

AllBank

RCBC

UnionBank

UCPB

Security Bank

Maybank

China Bank Savings

Robinsons Bank
Get your money's worth with Lumina Baliwag. Start investing in a real estate property now where your family can live comfortably or make it a new source of income through leasing. Contact us today and let Lumina Homes help you on your real estate investment journey!
***
For more information about the affordable house and lot for sale in Baliwag of Lumina Homes, please contact (0917) 629 6523.

Try our Home Loan Calculator
Loan Calculator
Try Lumina Homes' loan calculator and get an estimate computation for your preferred Lumina property and home model.