Lumina Homes Shares Success Stories, Gives Irresistible Prizes at The ViCon
28 June 2021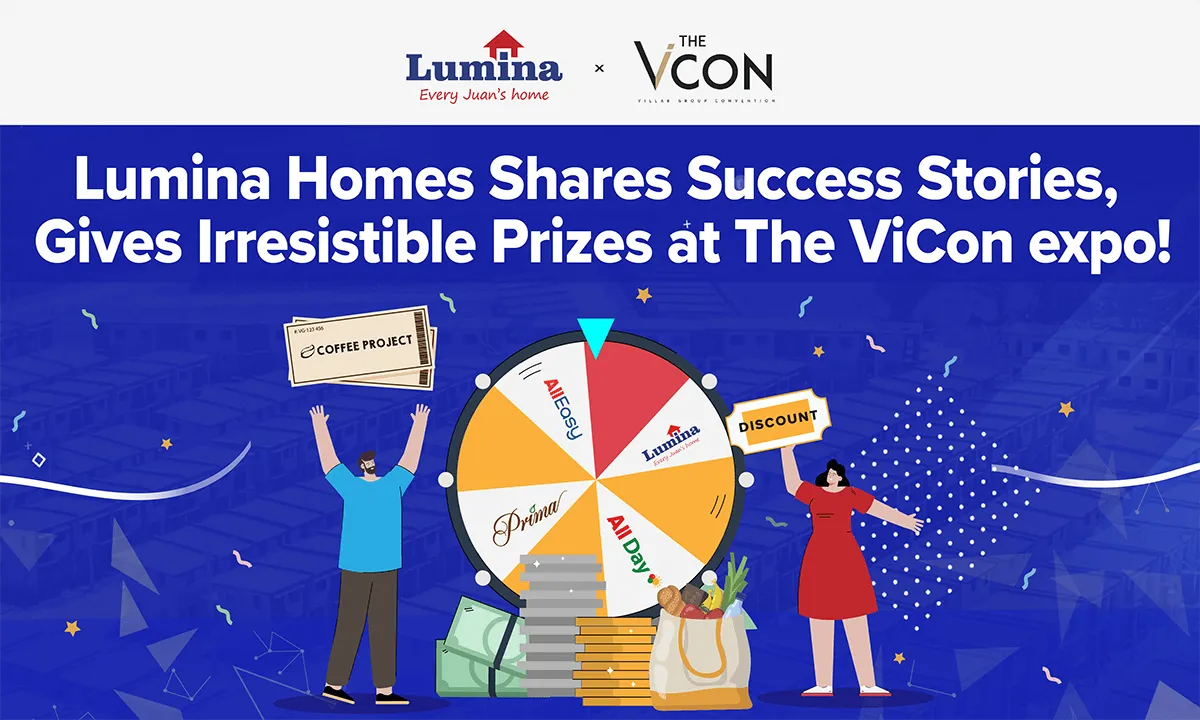 The Villar Group of Companies successfully gathered Vista Land and Golden MV's strong property brands—Lumina Homes, Bria, Lessandra, Camella, Crown Asia, Brittany, Camella Manors, and Vista Residences; alongside Golden Haven and Vistamalls—in its first-ever virtual expo dubbed The Villar Group Convention (The ViCon) last June 24 and 25.
As the property giant's affordable housing arm, Lumina Homes showcased its unparalleled efforts and achievements in the past eight years.
In less than a decade, the company has already become a household name, as it generously sponsored house and lot prizes for over 40 shows on major TV networks.
Engr. Joemi Tan, Division Head of Lumina Homes, expressed his gratitude to everyone, especially the partner sales network. "We in Lumina are very grateful for the active support of our partner sales network, which adjusted to the changing landscape of real estate selling with us. Our strengthened partnership will undoubtedly lead to achieving our goals in the shared mission of providing affordable homes."
Leader in digitalization
Even before the pandemic, Lumina has been a game-changer in terms of digital innovations in real estate selling, which only proved paramount in this challenging time. Lumina Homes was the first mass housing brand in the country to launch an online reservation system, which now includes an interactive project map.
Lumina was also the first developer to launch shops in major online shopping sites, offering inexpensive and usually discounted reservation e-vouchers.
Aside from Lumina's wide presence in social media sites and messaging apps, it takes pride in its best tech practices, including:
Text automation for faster billing and contact info update
Creation of Juan Support, the virtual assistant for all Lumina Homes queries

Chatbot named Juan ZoBot for housing inquiries on the Lumina website

Lumina Online Appointment System; and

Downloadable Lumina e-Services app.
Adapting to new-normal ways and capturing the advantages of virtual events, Lumina Homes has also been tireless in holding online events for its residents, future homebuyers, salespeople, and staff. In the past year, it has successfully accomplished its annual awards, Gawad Lumina, as well as the Lumina-wide DigiCon, Kumustahan sa Bayan ni Juan Admin & pag-ibig housing loan Summit, and Admin & Bank Summit.
These ongoing efforts have brought phenomenal growth to the brand's reservation sales and network and multiple recognitions from various award-giving bodies such as pag ibig fund and BestStartUp.Asia.
Widest reach, digitally and physically
Outside the digital realm, Lumina continues to safely build homes around the country to give more affordable housing options for Filipinos. In addition, it is expanding its geographical footprint, now featuring over 100 developments in over 50 key cities and municipalities nationwide.
Aside from house and lots, the brand has recently launched its integrated vertical community—with the first one, Prima Tanza, in Cavite.
Inspiring Bida Lumina Sellers, Trending Home Buddies Story
A homeowner and a Bida Lumina Seller, Ria Rose del Rosario, also shared her trending story in Home Buddies during The ViCon. After 15 years of renting, her family is now taking the pride of homeownership through their Lumina home.
Other Bida Lumina sellers that shared their success stories for being in the real estate industry also encouraged The ViCon attendees to be part of the growing sales network of Lumina Homes.
Endless prizes
As expected, the generous Lumina Homes gave away amazing raffle prizes during The ViCon!
Several buyers who reserved a Prima Tanza condo unit and Lumina house and lot during the convention won at The ViCon Lumina Cool Deals Raffle.
The major prize winner, Mary Rose Dela Cruz, won a whopping P30,000 discount on her downpayment.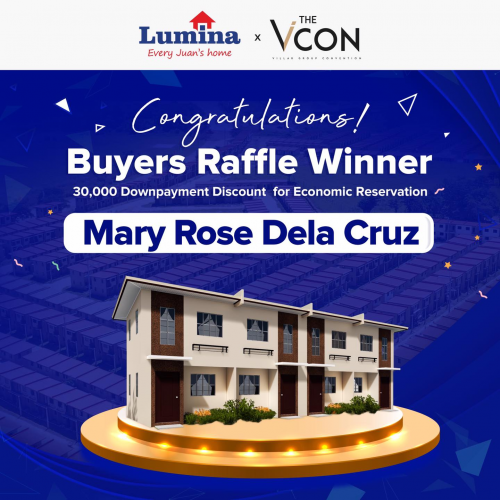 Five lucky winners each got a grocery package worth P2,000 from AllDay Supermarket. They were: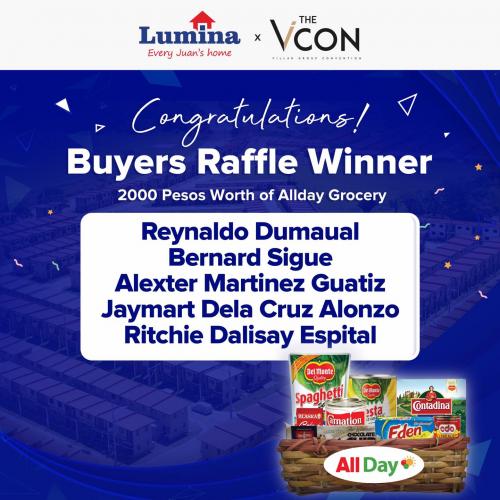 All participants who attended The ViCon and watched Lumina Homes' The Own Your Home Series were included in other exciting raffles. And the lucky viewers were:
Winners of P500 AllEasy load credits: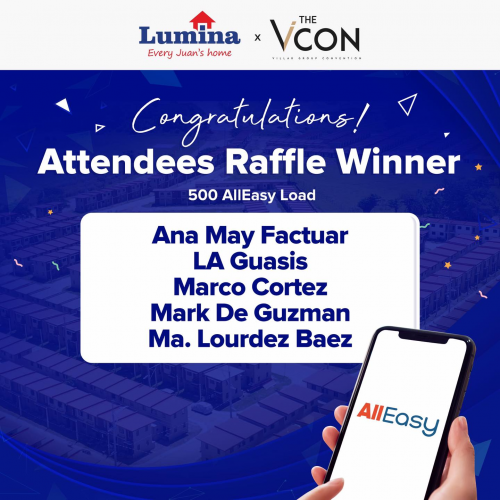 Winners of P500 AllDay groceries:
Winners of P1,500 cash: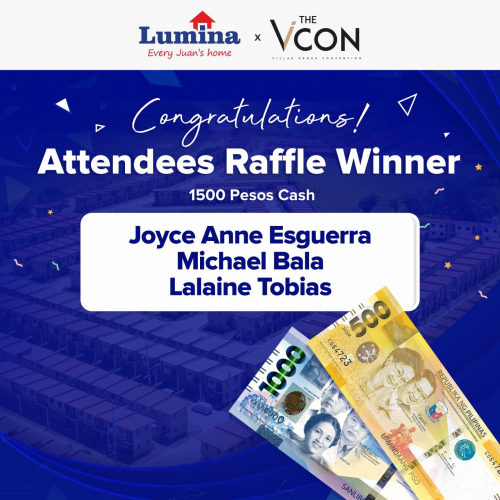 Unanimously, The ViCon event is capped with victory and is worth an annual repeat. Until then, Lumina Homes is committed to spread more fun and online excitement among the many Juans looking for a beautiful home to call their own. Watch out for more especially this August, as Lumina Homes celebrates its 9th Anniversary!
Related Articles:
***
For more information on Lumina Homes, contact (0917) 629 6523.

Try our Home Loan Calculator
Loan Calculator
Try Lumina Homes' loan calculator and get an estimate computation for your preferred Lumina property and home model.