Bicol Airport to Start Operation this October 8
7 October 2021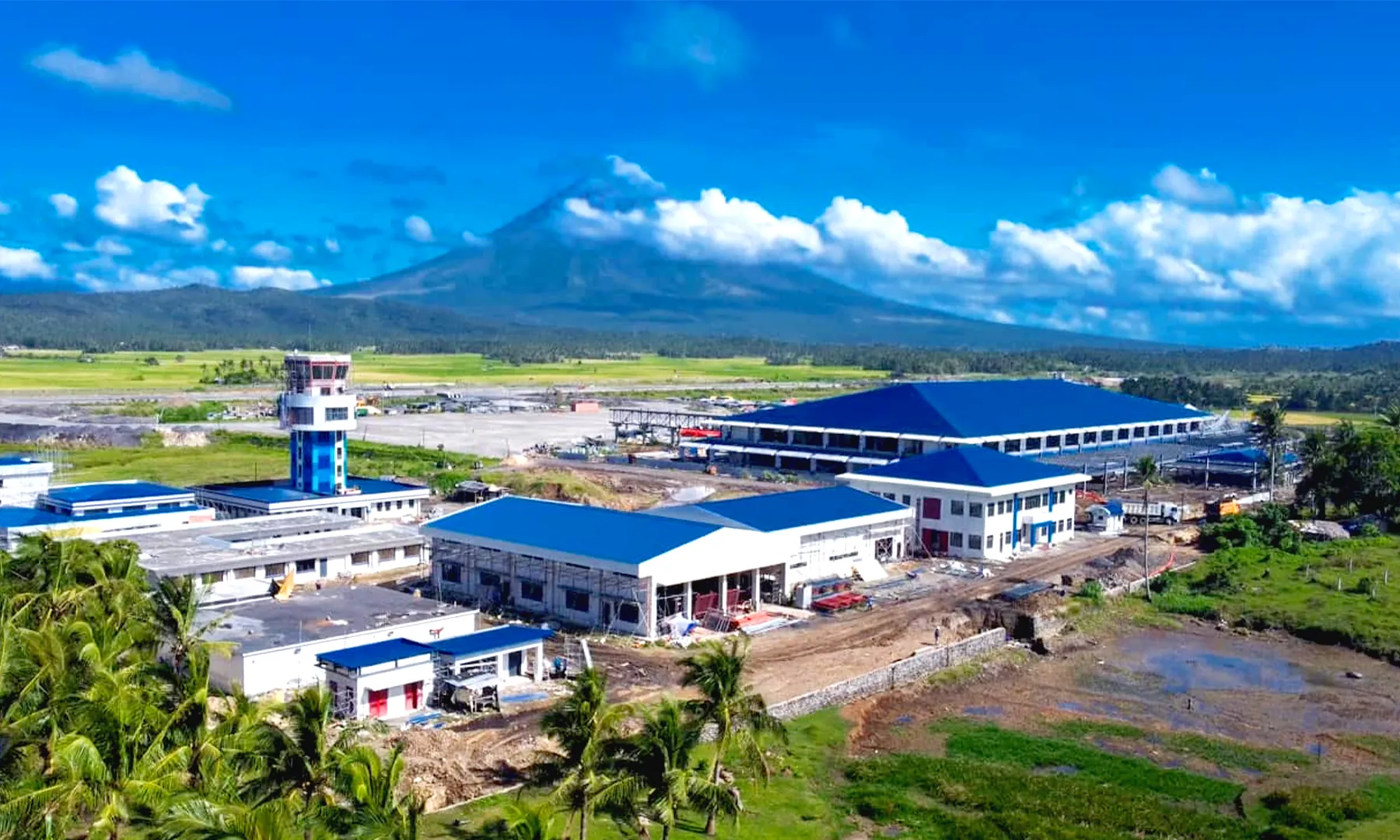 The Bicol International Airport (BIA) in Daraga, Albay province, Philippines, has officially opened and will start operating this Friday, October 8, 2021.
Before June 2016, the airport has gone through three groundbreaking ceremonies. This international airport was carried out through nonstop airport development under President Rodrigo Duterte administration's Build, Build, Build project.
BIA is the first international airport in the south Manila region and expected to serve million passengers. It is a 148-hectare airport with an air traffic control tower and a 2,500-meter runway strip with night landing and take-off capabilities.
Significance of Aviation in PH
Airport project is crucial to a city's economy because they connect local companies to the rest of the world. They aid a community's efforts to retain and attract businesses, which results in more employment and more wealth for the region.
A community's airport project plays an important role in the larger regional setting. While the aviation community is included, the airport's runway serves as an economic engine as well as an emergency service provider and an educational institution in addition to other services it provides.
When it comes to connecting people throughout this vast nation, commercial aircraft is absolutely vital. The country contains more than 7,000 islands and spans 1,800 kilometers from north to south. Aside from this, airports also play a crucial role in promoting commerce and tourism by linking the Philippines to the rest of the globe.
In the regions they serve, regional airports have a major impact on the local economy. Because they provide employment and encourage tourism, these small airports help their surrounding towns develop. Attracting visitors is one of the most significant advantages of these small airports, since travelers can have the opportunity to support local small businesses and therefore provide them the chance to thrive.
This is also one of the major reasons why the Bicol International Airport was first planned in 1996 as the government saw the tourism and economic potential of the Bicol province.
Bicol International Airport Project
The Bicol International Aiport BIA Project was first planned in the year 1996 but the first phase of the Php 4.7 billion BIA facility only began its construction in 2008. However, development work did not conclude until 2012 due to many setbacks. When the Duterte administration took over in 2016, the airport's Package 2A and 2B improvements were continued under the Build, Build, Build program and inaugurated and opened on October 7, 2021.
Currently, there is a non stop construction ongoing from the Sunwest Construction and Development Corp. who is in charge of Package 2A construction, which includes the airport's landside facilities including the administrative and air traffic control buildings as well as the crash fire rescue building, and the maintenance building. At the same time, the BIA project's Package 2B has also almost been completed. The E.M. Cuerpo construction firm, on the other hand, is in charge of Package 2B, which includes the site development works such as the passenger terminal building, taxiways, the runway extension, and other site improvements.
About the Bicol International Airport BIA
Tagged as the "country's most scenic gateway," the Bicol International Airport BIA has rapid progress on its construction. The BIA, which has as its beautiful background the famous Mayon Volcano, is projected to serve a total of two million airline passengers each year once it is finished. The opening of the new international airport is also expected to increase regional air traffic even at the midst of the current pandemic outbreak.
An essential part of Duterte's "Build, Build, Build" program, the BIA also aims to play a key role in Albay and the rest of the Bicol Region's development into a strong economic competitor.
Albay Second District Rep. Jose Ma. Clemente "Joey" Salceda even said that their region's economic growth will be stimulated to the greatest extent by the inauguration of the BIA, which is expected to handle 3,000 people per day instead of the current airport's 600 passengers. He also mentioned that other provinces may also be served by the BIA as well.
According to him, building the airport would undoubtedly help spur the formation of tourist partnerships such as the one he pioneered as the head of the Bicol Regional Development Council, which includes Almasor or the Albay-Masbate-Sorsogon group of provinces.
Department of Transportation (DOTr) Secretary Arthur Tugade meanwhile said that as the nation begins to recover from the effects of Covid-19, it will be critical to have ongoing transportation infrastructure projects like the BIA.
Affordable House and Lot in Bicol
Those looking for a place to get away from all the pollution and noise of the city while still enjoying a variety of exciting outdoor pursuits will find that living in Bicol is the best option. Here are some of the affordable house and lot for sale in the Adventure Capital of the Philippines that you will find helpful on your home investment journey.
House and Lot for Sale in Lumina Sorsogon
Located along the Sorsogon Diversion Road in Brgy. Macabog, Sorsogon City, are the affordable house and lots for sale from Lumina Sorsogon. SM City Sorsogon is only ten minutes away from the community, as it is strategically placed at the heart of Sorsogon City.
There are 1,075 saleable units in this 9.8 hectares land size solely dedicated for real estate development. You can have a wide range of home sale selection from this peaceful yet thriving community from their most affordable Aimee Rowhouse, their value-priced townhouse home called Angelique Townhouse, the Angeli Duplex, and their Angeli and Armina Single Firewall units.
House and Lot for Sale in Lumina Legazpi
Lumina Legazpi is one of Lumina Homes' premier gated communities in Vista Land, offering home and lot packages at an accessible price to every Juan. Lumina Legazpi is located in Brgy. Maslog Legazpi, City, near Sitio San Jose. Future residents will benefit from easy access to major roads, highways, and transportation hubs because of the subdivision's advantageous position. Additionally, it is within walking distance to many essential services and amenities, such as grocery stores, schools, and colleges, as well as health care facilities.
You can choose from their available house and lot units like Aimee Rowhouse, Angeli Duplex, and Angeli Single Firewall.
A little distance from the welcome arch of the municipality, you'll find Lumina Camarines Norte at Brgy. Cabanbanan, San Vicente, Camarines Norte. There are a total of 1,467 affordable house and lot for sale as part of their real estate development land. The Daet downtown and the SM City Daet are both only ten minutes away from the project.
There are five home model units for sale that Lumina Camarines Norte is currently offering such as Aimee Rowhouse, Adriana Townhouse, Angeli Duplex, Angeli Single Firewall, and Athena Single Firewall units, these value-priced home investments promised not just practicality but as well as durability and quality.
Avail now your own affordable rent to own house for only Php 500,000 to Php 1.7 million and start your wise property investment, especially for our OFWs, in this pretty reachable and accessible house and lots in Bicol.
With the recently opened Bicol International Airport project, development in the province will surely boom and travel will be so much easier!
Related Articles:
***
For more information about the affordable house and lot for sale in Bicol of Lumina Homes, please contact (0917) 629 6523.
Visit our official website at www.lumina.com.ph and like/follow our official online channels: Facebook, Twitter, Instagram, YouTube, Google MyBusiness & Google Maps, Pinterest, Spotify, Viber, Telegram, Lazada, and Shopee.

Try our Home Loan Calculator
Loan Calculator
Try Lumina Homes' loan calculator and get an estimate computation for your preferred Lumina property and home model.