List of Airports in the Philippines
15 April 2022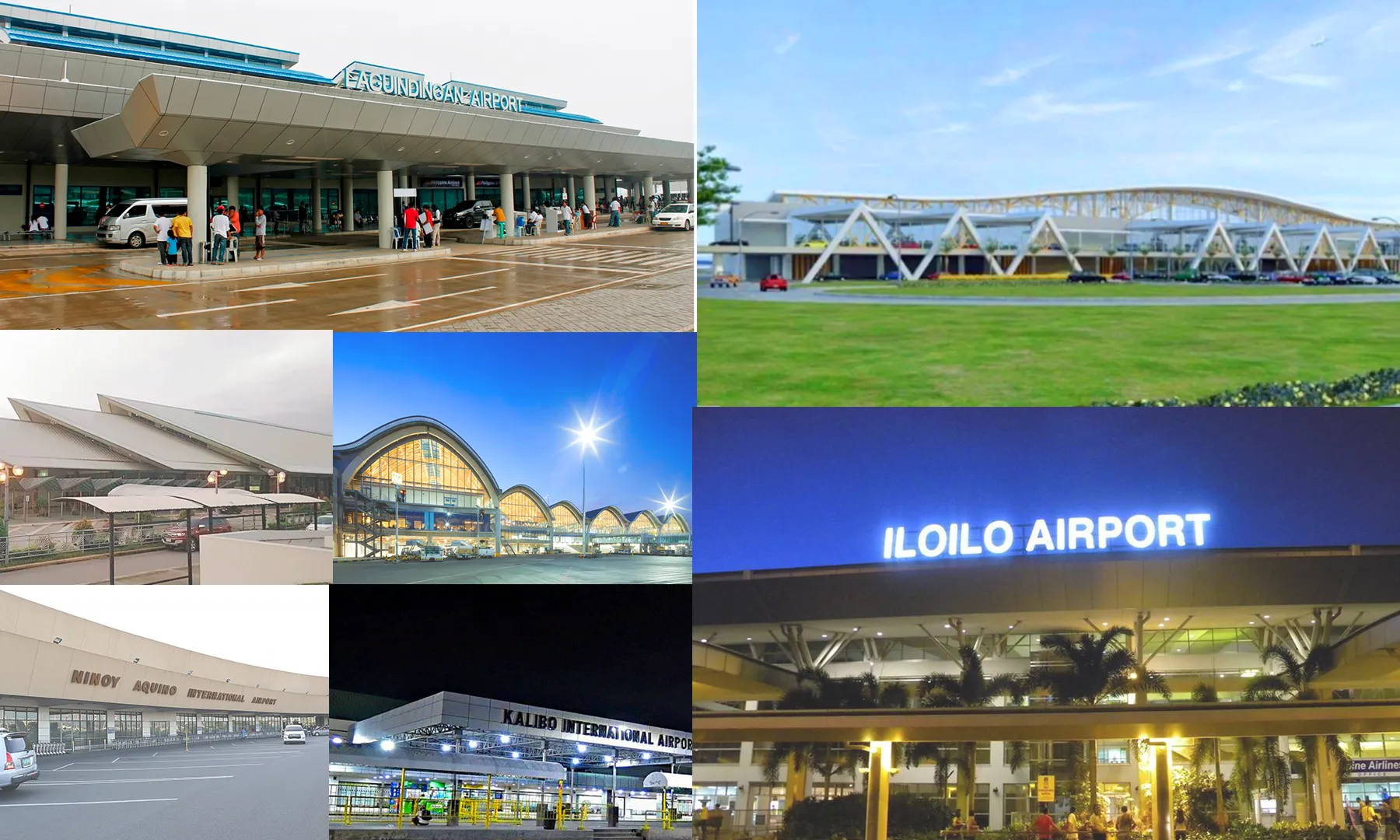 In the Philippines, flying is the best and quickest method to see all of the country's main cities. Most tourists to the Philippines who want to see the country's top beaches, islands, mountains, and other natural wonders have to make at least a few airport transfers.
The Philippines is an exhilarating and exciting place to visit, with beaches, rocks, and islands to explore. As a result of this, it is very accessible and supports simple travel across the globe as there are now more than 70 airports in the Philippines that handle international, local, and charter flights.
There is an airport within 50 kilometers of almost every location, as well as shuttles and buses in almost every region. We've compiled a list of the most significant airports in the Philippines, so you can figure out which one to have in your domestic and international flights when you want to explore its 7, 107 islands.
Domestic and International Airports in the Philippines
You must carefully organize your entrance and transfer points if you want to have an unforgettable trip to the Philippines. Having a better understanding of the various airports in the Philippines can help you choose the best one to land at on your next trip.
Luzon Airports
Clark International Airport
Clark International Airport, also known as the Diosdado Macapagal International Airport, is a good alternative to NAIA if you don't want to deal with the commotion there. Until 1991, the United States Air Force's biggest overseas base was based at this airport, which is now owned and operated by the Philippines' National Airports Authority.
There are three terminals at the airport, and they are presently undergoing renovations to better serve travelers. The BBB Project Subic-Clark-Tarlac Expressway or SCTEX has also made it simpler to get to this airport.
Pampanga's Mabalacat Freeport Zone is located near Andres Bonifacio Avenue in Clark.
Ninoy Aquino International Airport
This airport, known as NAIA in the Philippines, is one of the country's busiest. It was the city's first commercial airport when it opened in 1937. After a series of upgrades, it served 45,082,544 people in 2018, beating the record for the most passengers serviced in a single year. Air China, Air Asia, Cebu Pacific, China Airlines Delta Airlines Emirates Malaysia Airlines Philippines Airlines Qatar Airways SkyJet Thai Airlines are just some of the airlines that use the airport for local and international flights.
Wi-Fi is also available throughout the Ninoy Aquino International Airports' four terminals, namely:
Terminal 1 Address: Ninoy Aquino Ave., Pasay, Metro Manila

Terminal 2 Address: NAIA Rd., Pasay, Metro Manila

Terminal 3 Address: Andrews Ave., Pasay, Metro Manila

Terminal 4 Address: Aurora Blvd., Pasay, Metro Manila
Visayas Airports
Iloilo International Airport
For flights to and from Iloilo province in the Philippines, the Iloilo International Airport serves as the primary airport. As a result, it is known as Santa Barbara Airport, Cabatuan Airport, and Iloilo Airport, among other names. A relatively new airport, it was opened in 2007, and is notable for its rapid expansion, design, and construction. An elegant passenger terminal and flights from carriers like Philippine Airlines, Cebu Pacific, and Philippine Airlines-Asia are supported by the airport.
It is located at Iloilo Airport Access Road, Cabatuan 5031, Iloilo.
Mactan Cebu International Airport
The most well-known airport in the Visayas is Mactan Cebu International Airport, often known as Cebu Airport. It is also the country's second-largest airport in terms of passenger traffic. In fact, the Cebu Airport has an area of about 797 hectares on Mactan Island, which is located in Lapu-Lapu City. It can hold roughly 4.5 million passengers each year.
There are 37 international routes as well as 36 local ones served by this airport. The Mactan-Cebu International Airport has two terminals. Terminal 1 is for local flights, while Terminal 2 is for international ones. The design of Terminal 2 is well-known and actually received an honorable mention at the World Architecture Festival in 2019.
It is located in Lapu-Lapu Airport Rd, Lapu-Lapu City, 6016 Cebu.
Tacloban City Airport
Tacloban City Airport, commonly known as the Daniel Z. Romualdez Airport, is another international airport in the Philippines. The airport is situated about 13 kilometers southeast of Tacloban, although it is also handy for those who want to visit other parts of Leyte Island.
The airport has frequent flights from and to AirAsia, Cebu Pacific, and Philippines Airlines. From TAC, the cities of Naval, Tanauan, and Ormoc are all within a reasonable distance.
It is located at DZR Airport Complex, San Jose, Tacloban.
Kalibo International Airport
There are two airports from which you may fly to Boracay, and this is one of them. The number of passengers using Kalibo International Airport is increasing at a rapid pace, and the airport is sometimes used for international flights and services to and from places like Taipei.
It is located in Kalibo International Airport Access Rd., Kalibo, Aklan.
Bacolod-Silay Airport
This is the primary airport servicing the Bacolod Metropolitan Area. As of 2007, it has handled an average of 1.7 million passengers per year, making it more of a domestic airport. It receives a far less volume of foreign travel than does the rest of the world. To visit Negros Islands in the Philippines, this airport is the best option. Philippine Airlines and Philippine AirAsia are among the airlines it flies to and from.
It is located at Airport Road, Silay City, 6116 Negros Occidental.
Mindanao Airports
Davao International Airport
Located on the island of Mindanao, the primary airport servicing Davao City is Francisco Bangoy International Airport, more popularly referred to as the Davao International Airport. Huts were erected at the airport in 1940 to serve as the terminal building. Huts remain, although they are hardly occupied. Both local and foreign airlines use this airport to fly into and out of Davao del Sur. Cebu Pacific, Philippine Airlines, Philippines Air Asia, Qatar Airways, Silk Air, Xiamen Air, and Garuda Indonesia all use it.
It is located at Daang Maharlika Highway, Buhangin, Davao City, 8000 Davao del Sur.
Laguindingan Airport
After Davao Airport, Laguindingan Airport is the busiest airport in Davao City. The airport was opened in 2013 and is still relatively young. Cagayan de Oro, Iligan, and Marawi can all be reached easily from here, thanks to its location in Northern Mindanao. There are up to 2 million passengers and freight aircraft flying out of this airport every year, despite it being little in comparison. Airlines like Cebu Pacific, Philippine Airlines, and Philippine AirAsia benefit from its ease of use.
It is located in Laguindingan, Misamis Oriental.
Traveling domestic flights or to international destinations will be much more convenient if your community has proximity to the major airports in the country. Good thing that some of the principal domestic airports as well as those handling international flights have proximity to the top leading community provider in the country, Lumina Homes.
Be a part now of this convenient and practical community and make your reservations this Labor Day to get awesome promo and freebies on your real estate investment with us! For more details about the over 50 projects that we have nationwide, you can visit our website or like, follow, and subscribe to our social media accounts.

Try our Home Loan Calculator
Loan Calculator
Try Lumina Homes' loan calculator and get an estimate computation for your preferred Lumina property and home model.