List of Expressways in the Philippines
25 April 2022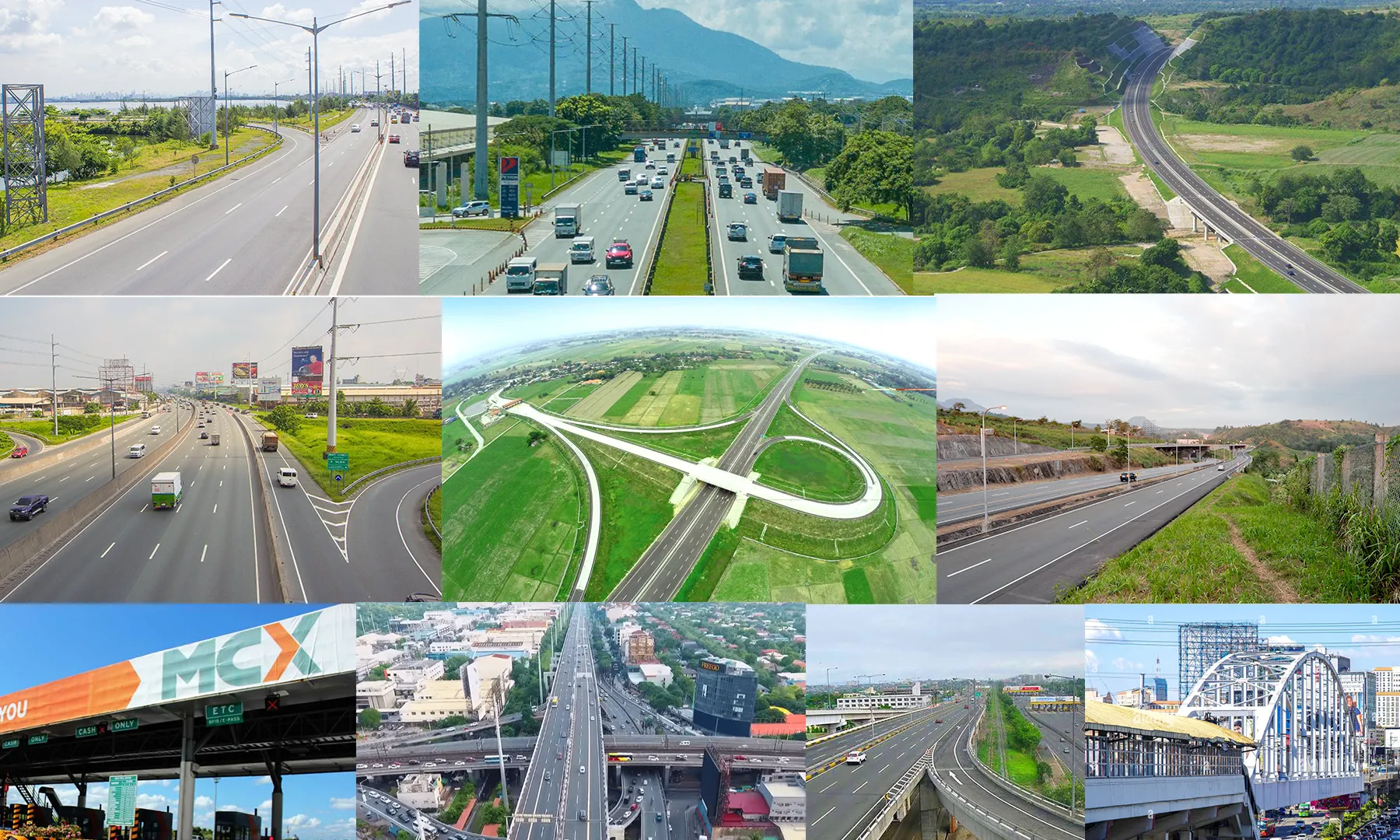 Traveling is a great way to de-stress and get away from the daily grind, if you're not the driver, that is.
Being a driver necessitates the ability to think on your feet and keep up with current road conditions, toll rates, gas stations, and one-stop-shops where you can relax and get help in the event of a breakdown or breakdown. It's a good thing that driving expressways not only saves you time but also provides you with a number of essentials for an easier trip ahead.
Visiting the Philippines is a great way to spend some time with family or for business. When it comes to becoming lost, you'd rather avoid it in order to save time and avoid the hassles of a long trip.
Want to take a trip throughout the Philippines? Make sure you know where you're going before you set off on your journey! The following is a list of all of the expressways from North to South that are currently operational:
North Luzon Expressway NLEX
This 84-kilometer expressway connects Metro Manila and the provinces of Central Luzon. At Balintawak Interchange in Quezon City, the route starts and travels through Quezon City, Caloocan, and Valenzuela before concluding at the heart of Metro Manila. Meycauayan, Marilao, Bocaue, Balagtas, Guiguinto, Malolos, Plaridel, Pulilan, and Calumpit are all included in the route's stopover destinations.
Finally, it travels through the Pampanga municipalities of Apalit, San Simon, San Fernando, Mexico, and Angeles, all of which are in the province. At Mabalacat, it joins MacArthur Highway. This expressway is consists of 15 highway exits and 4 toll plazas.
NLEX is both linked to Manila's C-5 by the 2.7-kilometer NLEX-Mindanao Avenue Link, while it is also linked to the MacArthur Highway via the 2.7-kilometer NLEX-Karuhatan Link.
Construction Development Corporation of the Philippines (CDCP), which is now known as Philippine National Construction Corporation (PNCC), completed the majority of its important components although the initial contractor for the NLEX project is the Department of Public Works and Highways (DPWH).
There are also future plans that are already set for NLEX. As part of NLEX's long-term plan to alleviate traffic on both ends, new segments such as Section 8.2 connecting NLEX segment 8.1 to C-5 Road and Commonwealth Avenue are planned. In addition to the roundabout connection at Congressional Avenue and the three local road crossings at Quirino, Sauyo, and Chestnut Avenues, the proposal calls for two interchanges on Mindanao and Regalado Avenues and a third on Chestnut.
Segment 10.1 (NLEX-Harbor Link), a 2.6-kilometer elevated expressway from the new Caloocan Interchange along Fifth Avenue or C-3 Road in Caloocan City to Radial Road 10 (R-10) in Navotas City, is also in line for construction.
South Luzon Expressway SLEX
In 1969, the South Luzon Expressway (SLEX) or earlier known as the South Superhighway (Manila to Alabang) was initially constructed. Expressway Route 2 or E2 and Radial Road 3 or R-3 of Manila's arterial road network make up the current SLEX, which connects Metro Manila to the CALABARZON area.
From Paco District in Manila's Quirino Avenue, Manila, the SLEX travels 51 kilometers to the cities of Makati, Pasay, Paranaque, Taguig, and Muntinlupa in Metro Manila. While passing through San Pedro and Binan Laguna, it also makes its way through Carmona Cavite before heading back to Binan, Santa Rosa, Cabuyao, and Calamba Laguna to wind up at the city of Santo Tomas in Batangas.
Various groups are responsible for the upkeep of various components of SLEX. This roadway or South Superhighway is managed by the DPWH and the Metropolitan Manila Development Authority (MMDA) (MMDA). It is the Metro Manila Skyway, the country's first grade-separated highway, that is managed by Skyway Operations and Maintenance Corporation (SomCo), whereas South Luzon Tollway, Alabang-Calamba-Santo Tomas Expressway (ACTEx), and SLEX Main are all managed by Manila Toll Expressway Systems, Inc. (MATES).
The four-lane SLEX Toll Road 4 (TR4) extension project will be implemented by the South Luzon Tollway Corporation (SLTC), which is a subsidiary of San Miguel Corporation (SMC). In the Philippines, it is a 66.74-kilometer highway that stretches from the city of Sto. Tomas in Batangas to Lucena City in Quezon. It will include seven interchanges: Sto. Tomas in Batangas, Makban and San Pablo City in Laguna, and Tiaong, Candelaria, Tayabas City, and Lucena City in Quezon when it is finished.
Metro Manila Skyway
To ease congestion on SLEX and other key routes, the Metro Manila Skyway was built as the country's first entirely grade-separated highway.
The building of Skyway Stage 1 began on April 7, 1995, and was partially completed in October 1999. Its operator, SOMCO or Skyway Operations and Maintenance Corporation took over from 2008 to the current day, formerly known as Skyway Operations and Maintenance Corporation. This flyover is set to be the world's longest flyover when it is completed.
One of President Rodrigo Duterte's signature Build, Build, Build initiatives is the Skyway Stage 3. Recently, the extended flyover has been completed. An estimated 18.68 kilometers long, it links SLEX and NLEX at several sites. On December 29, 2020, the new portion of Skyway was officially opened to the public, although not including all of the entrances and exits. By January 14, 2021, the San Miguel Corporation has indicated that all of the new road's entrances and exits would be open. Additionally, the Skyway will be extended to Susana Heights as part of the proposal, in an effort to alleviate traffic congestion on other key thoroughfares. The connection road, which will link the NLEX Connector highway to the Skyway Stage 3 elevated roadway, has also begun construction at SMC. The project is completed in 2021.
Southern Tagalog Arterial Road or STAR Tollway
There are 42 kilometers of two- to four-lane highway on the Southern Tagalog Arterial Road, also called the STAR Tollway or the CALABARZON expressway. To reach Batangas International Port, this highway begins at the Pan Philippine Highway intersection and SLEX in Santo Tomas and continues south towards Diversion Road. It was inaugurated in 2001 by STAR Infrastructure Development Corporation (SIDC). The STAR Tollway also traverses Malvar, Lipa, and Ibaan.
For its future projects, the Pinamucan Extension was planned by the city's Sangguniang Panlalawigan in an effort to alleviate traffic on Batangas highways even more. Ten kilometers of the STAR Tollway will be extended through Batangas barangays including Tinga Itas, Tinga Labac, San Pedro, Dumantay, Sampaga, Sirang Lupa, and San Isidro, all in the province. It is predicted that the Pinamucan Bypass Road project will be completed by 2021.
The Bauan extension, also known as the Batangas City–San Pascual–Bauan Road, is another potential wing. With this, the Department of Public Works and Highways (DPWH) proposes a new route connecting Batangas City and Bauan. As part of this continuing project, the STAR Tollway tail will begin from the barrio Balagtas in Baguio, go through the barangay of San Pascual, and conclude at the national road to Mabini in Bauan.
Manila Cavite Expressway or CAVITEX
At around 14 kilometers in length, the Coastal Road or Manila–Cavite Expressway (CAVITEX) is an open road. This highway runs from Bacoor to Kawit exit from its beginning point at the traffic signal junction of NAIA Road and Roxas Boulevard. CAVITEX was constructed in two halves, one from Cavite to Laguna and the other from Laguna to Cavite. Manny V. Pangilinan, the CEO of the Metro Pacific Investments Corporation, oversaw the construction of this road.
Subic-Clark-Tarlac Expressway SCTEX
It is the longest highway in the Philippines and was opened to traffic on July 2008. Located in the Central Luzon area, it's a four-lane highway of 94 kilometers in length. Building and maintenance are handled by the NLEX Corporation and the Base Conversion and Development Authority (BCDA).
One of SCTEX's entrance points is the Subic Bay Freeport Zone in Zambales, which then travels via the Clark Freeport Zone, that has two interchanges-- Clark North and Clark South. Tarlac-Pangasinan-La Union Expressway at Brgy. Amucao, Tarlac City, is also linked to NLEX through Mabalacat Interchange. Travel time was slashed in half between Clark and Subic and Clark and Tarlac with only 40 minutes and 25 minutes travel time respectively.
The Dinalupihan River in Bataan, the Gumain River in Floridablanca, the Pasig–Potrero River in Porac, Pampanga, and the Sacobia River in Concepcion, Tarlac are also all crossed by this highway.
NAIA Expressway (NAIAX)
In order to connect Metro Manila Skyway with Diokno Avenue, Ninoy Aquino International Airport, and Entertainment City, the 11.6-kilometer NAIA Expressway was constructed. This airport expressway is the country's first and is situated in Manila, the capital city. The first airport expressway in the Philippines was inaugurated in September 2016. It runs through the Philippine cities of Pasay and Paranaque.
Subic Tipo Expressway
Known as STipEx and the Subic Freeport Expressway, this road extends from Zambales to Bataan and is part of the NLEX Segment 7 and Expressway 4 (E4) of the Philippines expressways network.
Originally constructed in 1996, the Rizal-to-Argonaut section of STiPex climbs steadily as it approaches Bataan National Park. The Tollways Management Corporation now manages the 8.8-kilometer motorway, which is owned by NLEX Corporation.
Muntinlupa-Cavite Expressway (MCX)
One of the shortest expressways in the Philippines is the Muntinlupa-Cavite Expressways, or MCX for short. The southern section of Cavite is linked to Muntinlupa City via a 4-kilometer access-controlled toll highway. AC Infrastructure Holdings Corporation, a subsidiary of Ayala Corporation, manages this route on behalf of the DPWH.
Beginning at the T-interchange with SLEX at Susana Heights, the MCX was officially opened to the public on July 24, 2015. On the other side, the road curves around Magdaong Creek, marking the border between Poblacion and Tunasan. In the next stretch, it comes to a stop near the New Bilibid Prisons and finishes at a roundabout in Daang Hari and Daang Reyna Cavite.
Epifanio de los Santos Avenue (EDSA)
Epifanio de los Santos Avenue, or EDSA, was built in 1940 under the presidency of Manuel L. Quezon and is a circumferential roadway. Caloocan, Quezon City, San Juan, Mandaluyong, Makati, and Pasay are all located along this major artery, which runs north to south across Metro Manila.
EDSA's northern entrance is situated at the Bonifacio Monument Roundabout in Gracepark, Caloocan, while its southern terminus is the SM Mall of Asia Rotunda in Bay City, Pasay, which spans 23.8 kilometers.
Tarlac-Pangasinan-La Union Expressway (TPLEX)
TPLEX, or the Tarlac-Pangasinan-La Union Expressway, is a four-lane highway that had a previous length of 88.85 kilometers before being extended by 4 kilometers. Now that it has its own roadway, it can link central and northern Luzon, with the southernmost terminus in Tarlac and the northernmost intended port in Rosario, La Union. From Tarlac to Rosario, La Union, it is also an extension of NLEX and SCTEX.
TPLEX's first and second portions were completed in November and December of last year, respectively, and the line has since been extended by around 4 kilometers. The new section extends from Sison to Rosario, cutting the distance between Metro Manila and Baguio by 30 minutes.
For constant travelers and motorists, it's important to familiarize one's self with the various expressways in the Philippines. Another significant thing to do is to have a real estate investment in one of these places to take advantage of the appraisal value of properties in the area.
Good thing Lumina Homes offer a number of communities in these provinces such as:
BATAAN
Lumina Pilar
The Balanga Residences
BULACAN
Lumina Pandi
Lumina San Miguel
Bulacan Residences Calumpit
CAGAYAN
LA UNION
ISABELA
NUEVA ECIJA
Lumina Cabanatuan
Lumina San Jose
PANGASINAN
RIZAL
TARLAC
ZAMBALES
BATANGAS
CAVITE
LAGUNA
QUEZON
So, start your smart investment now and make your brand new house and lot reservations with Lumina Homes!
To know about the wide range of home model units that each Lumina sites offer, you can check our website or visit our official social media accounts.

Try our Home Loan Calculator
Loan Calculator
Try Lumina Homes' loan calculator and get an estimate computation for your preferred Lumina property and home model.