All The Reasons That Will Convince You to Choose Baras, Rizal as Your Newest Hometown
2 November 2021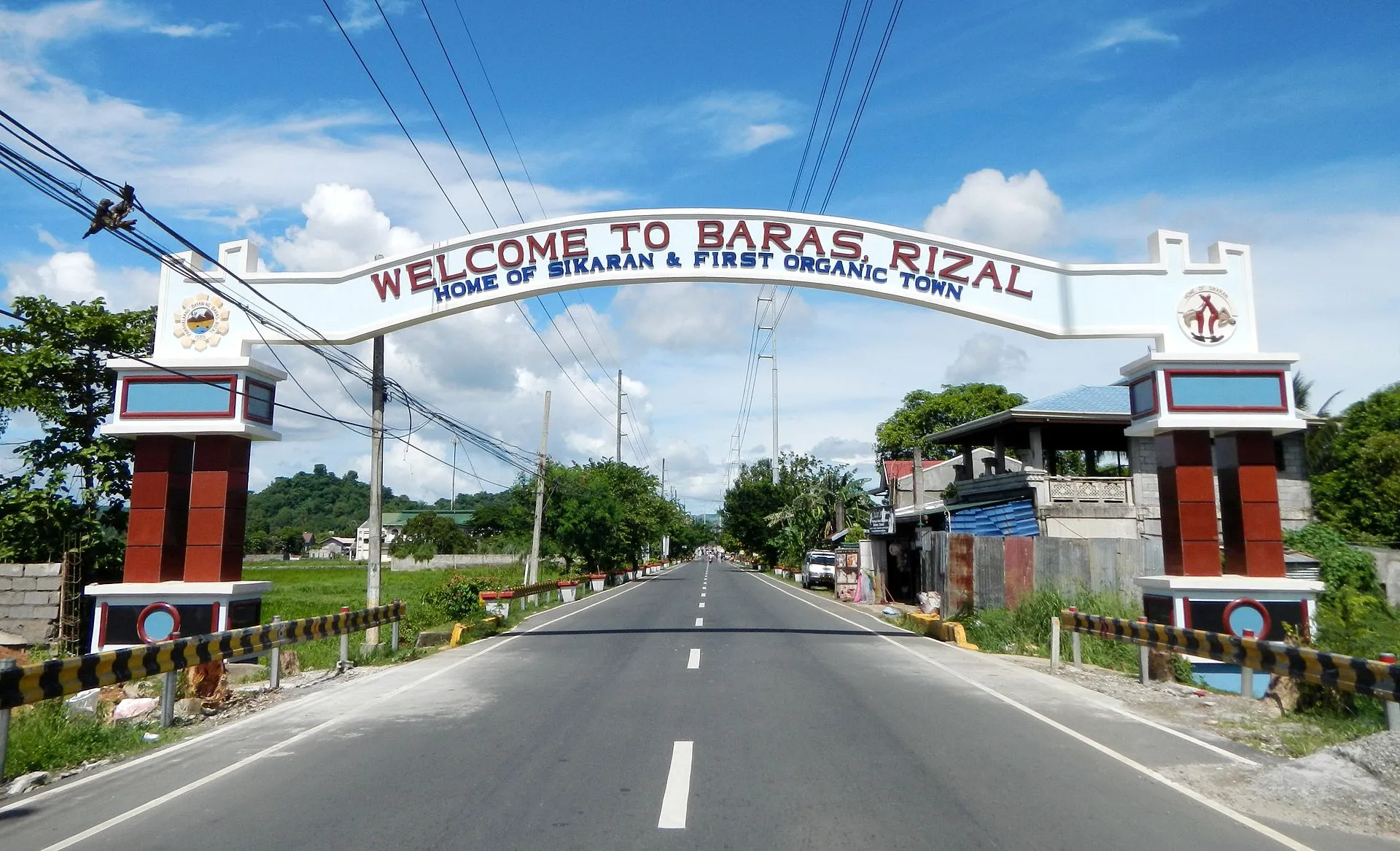 With the hustle and bustle of city life, you must have already wondered how it is possible to juggle between keeping up in the city's daily "chaotic" grind while managing to experience tranquility and calmness on your "me time". Or to be surrounded by picturesque views and breathe some fresh air. It must sound impossible but tell you what, it's not far beyond reach!
Living in the city definitely has its perks but urban living can already feel suffocating and tiring. You can't also deny the fact that Metro Manila is becoming crowded, having an estimated 14 million population this 2021. Don't you think this is the best time to start looking for a perfect place where you can live by nature but still be able to experience modern living?
Just in the borders of Metro Manila, neighboring provinces like Rizal, which is the closest province of the metro, have so much to offer. It can unexpectedly let you snuggle the best of two worlds. Hold your horses! We know that hearing the province of "Rizal" still sounds too far from the city life, inaccessible by simple transportation means, could be very inconvenient, full of mountains or simply just sounds "too rural". Allow us to break that myth in a few.
One of the potential places you can consider to live in Rizal is the Municipality of Baras. In spite of the fact that there are a lot of versions where the name "Baras" came from according to their official website, the most appealing is when the previous Barrio was then a hinterland. Coming from the word itself, it was then a place of backwoods or you can imagine this as a remote area which is unknown to many. Back then, the area had plenty of hardwood which was made into a "barras" which means—two pieces of wood that are being used to harness horses in between. Over time, the word has been named Baras which is also the birthplace of a traditional Philippine martial art called "Sikaran."
I bet you already got hooked on this interesting history behind this place but why is this little giant city an ideal place to stay? Here are the few points that could hopefully convince you to move out from the bustle:
Accessible compared to other provinces outside Metro

A breath of fresh air

Perfect for coffee lovers

Always ready for weekend adventures
Now, let us take a closer look into these interesting points!
What you'll love about living in Baras, Rizal
1. Accessible compared to other provinces outside Metro
Surprisingly, this not-so-little municipality of Baras is just one hour drive from Pasig City. Simply like driving from Pasig to Quezon City which is sometimes even busier during rush hours, right? Technically, it's just like how you jump from one city to another within Metro Manila so, no need to have that fear of being left out!
Baras is just a playlist away from the supermarkets, meeting friends in a cozy cafe and other amenities to do personal or work errands. This also means that you are free to stay in your current job. No need to waste your time thinking in the event that you need to choose between the career you worked hard for and peaceful living! Of course, I bet you don't want to give up those cute working outfits when entering that posh building.
If you're worried about how you can access Baras, Rizal from Manila for work or meet ups, there are actually a lot of options to get there from the metro. The easiest and probably the most convenient is traveling through private transportation. It can take 1 to 1.5 hours to reach Baras from Quezon City without traffic. Not that bad, right?
It's also possible to get there by van or jeepney via the Cogeo or Tanay route which are widely available in Cubao, Ortigas, and even Makati area.
2. A breath of fresh air
Imagine waking up in the morning hearing the crowing from the roosters and serene chirping of the birds rather than the car engines and sirens all day. Then, open your window and let the breath of mother nature fill your house while you prepare a cup of coffee for a warmer taste of the morning.
Baras has an abundance of natural scenery that you can admire from afar, a quick stroll or for some next level adventure! Compared to other neighboring provinces whose infrastructures are starting to pop up from here and there, Baras managed to preserve its wonders but keep up with the much needed amenities like public markets, hospitals and schools.
Staying in the outskirts of Metro Manila has its own charms and that includes savoring life's most precious gift—time. You can be easily swayed by the business of life in general and having a lot of distractions around would bring more stress which takes you to enjoy your alone time.
Baras would also make an awesome choice for retirement houses. The quality of the air in Baras is so much cleaner and crisp which helps for your better health compared to harmful air emitted by the numerous factories or vehicles in the urban cities. It would encourage you to stroll around the area and appreciate the view without going too far from your house and lot!
3. Perfect place for coffee lovers
They say, "coffee is the favorite drink of the civilized world" however this saying is no
longer true for this modern generation here in the Philippines as the coffee culture has slowly dominated the food and beverages industry.
If you are one of those coffee lovers, you don't need to fret because cafes are now all around Baras. At this time, there are already a couple of modern, chic, and instagrammable cafe restaurants that would easily fit into your aesthetic and taste requirements but for an affordable price. Even riders and bikers can easily grab a bite and enjoy the fresh brewed coffee over the scenic view of mountains.
4. Perfect for weekend adventures
We are all thirsty and eager to experience again the thrill of adventures best for a day tour or a weekend getaway hanging out with friends. From lushful forests, mountains, ethereal rock formation, breathtaking falls and recreational activity areas—Baras has it all! No doubt that this low-key destination in the east of Metro Manila is coined as one of the best tourist spots you could ever find outside the borders of the National Capital Region.
These are the few stress relieving spots you can discover in Baras:
Masungi Georeserve
The moment you enter this nature conservation center, you will already feel a big warm hug from the abundant rainforest. Masungi Georeserve is within the range of Sierra Madre and infamous for its stunning limestone peaks, caves with stalactite and stalagmite formations. There are two ways you can actually experience the conservatory: Discovery Trail & Legacy Trail. You might be thinking that it's only well-known for "Sapot", an instagrammable suspended nets above the beautifully crooked limestones but this is only one of the many features of the conservatory's Discovery Trail.
Discovery Trail features include:
Silungan

Sapot

Yungib ni Ruben

Tatay

Nanay

Ditse, Patak, at Duyan

Bayawak

Liwasan

Sawa
This experience would suit perfectly if you are an outdoor enthusiast or a regular/ beginner hiker. The Discovery trail will let you explore and trek the conservation area. It will be a bumpy yet exciting exploration of Masungi Georeseve's well preserved limestones.
Another experience you can get from visiting the conservation area is an immersion in the greater Masungi Geopark Project. You can participate in restoring and reviving the abused land of the area. If you personally love nurturing trees, this is the perfect experience for you to try! A delicious reward meal called "Minalot" will be served to complete the trail.
Legacy Trail features include:
Kawayan

Tree Nurturing

Amihan
Palo Alto Falls and Leisure Park
Baras is the home of natural attractions and well known for its waterfalls. One of the hidden gems of the town is the Palo Alto Falls which is secluded in a 200-hectare compound. The uphill trek was made easier as the pathway was paved in concrete with hand rails at the stairs for added safety.
Up to the main falls, you will already be mesmerized with the lush forest surrounding the huge rocks with the sight of little streams from the main falls. The tranquility from the sound of water brushing off from the rocks with the whispers of the dancing leaves will give you that deep serenity from nature. Walking up to the peak is also a great adventure! Although you will be walking on the concreted pathway, it was paved in a way that was as if it were one of the creations of mother nature. It is surely a blissful 250 steps to a spectacular waterfall view.
Consider all of these amazing perks in Baras, Rizal the next time you consider finding the ideal place to live outside the city!
Find the best property investment in Baras, Rizal through Lumina Homes
Thinking of moving to Baras, Rizal for good? Or just want to build a new house in your hometown? Lumina Homes is an ideal choice for choosing the best developer for affordable property investment for OFWs (Overseas Filipino Workers) and citydwellers.
Lumina Homes is the affordable housing arm of Vista Land, the Philippines' largest homebuilder known for housing brands including Camella, Lessandra, and Vista Residences among others.
Through its low cost housing, getting the dream house and lot is made achievable for every Juan as one of the missions of Lumina Homes is to provide low cost housing in the Philippines that will make the dream of owning a house and lot more achievable.
What's great about the Lumina properties, aside from its affordability, is that all projects have great amenities and are strategically located near major establishments, schools, and transportation hubs to maximize the way you live in the province.
An Ideal Property Investment for OFWs & Starting Families
We at Lumina understand the struggle of OFWs dreaming of a better life for their families. Life abroad and away from your loved ones isn't easy. So to help you out plan a brighter future for your family, away from the chaos of the metro, Lumina Baras will aid you to find a good home in a good location for a very good price.
Lumina Baras is an awesome property investment for OFWs as it offers a variety of affordable house and lot in the Philippines, and is conveniently located at Latigo Drive Brgy. Concepcion Baras, Rizal.
So if you are looking for a budget-friendly townhouse home for sale in a new area across the country, you'll not regret choosing Lumina Homes.
Here's everything you need to know about Lumina Baras:
Amenities
Guarded Entrance

Multi-purpose Hall

Basketball Court

Play Area

Gazebo
House and Lot for sale in Baras:
Anna Rowhouse:

It is a 24 square meter

affordable house and lot for sale

in Baras on a regular 36 square meter lot. Its features include a living area, dining & kitchen, 1 bedroom provision, 1 toilet & bath, and service area.

Armina Single Firewall:

It is a 42 square meter

affordable house and lot for sale

in Baras on a regular 54 square meter lot. Similar to Angeli Single Firewall, it includes a living area, dining & kitchen, 3 bedrooms, 1 toilet & bath, 1 carport provision, and service area. However, it comes with additional features like free ceiling and tiles on ground floor.

Angeli Single Firewall

- It is a 42 square meter

affordable house and lot for sale

in Baras on a regular 54 square meter lot. Its features include a living area, dining & kitchen, 3 bedroom provision, 1 toilet & bath, 1 carport provision, and service area.

Angeli Duplex:

It is a 35 square meter

affordable house and lot for sale

in Baras on a regular 54 square meter lot. Its features include a living area, dining & kitchen, 2 bedroom provision, 1 toilet & bath, 1 carport provision, and service area.

Athena Single Firewall:

It is a 53 square meter

affordable house and lot for sale

in Baras on a regular 63 sqm. lot cut. It comes complete with 1 Living Area, 1 Dining & Kitchen, 1 Toilet & Bath, 3 Bedrooms, Family Area, Service Area and Parking Space.
Landmarks
Schools, Colleges, & Universities
Baras Elementary School

URS Morong

STI College
Hospitals & Clinics
Rizal Provincial Hospital System Tanay Annex

Ospital ng Baras

Tanay General Hospital
Places of Worship
St. Joseph Parish Church

Inglesia Ni Cristo Baras

St. Jerome Parish Church
Marketplace, Malls, & Leisure Areas
Baras New Market

Savemore Tanay
Major Roads, Highways, & Expressways
Tanay Highway/ Manila East Road
That being said, what property investment for OFWs is better and more affordable than Lumina Baras?
HOW TO GET TO LUMINA BARAS
Via Commute
From Starmall Shaw Blvd/LRT/SM Masinag Ride a UV going to Baras/Pililla.

Alight at Baras Town Proper or Baras New Market.

From Baras Town Proper, ride a tricycle going to Lumina Baras.
Via Private Vehicle
From Starmall Edsa Shaw Head southeast on Ortigas Ave toward ADB Ave.

Continue on Ortigas Ave/Ortigas Ave Ext. Take E. Rodriguez Avenue and National Rd to Manila E Rd/R-5 in Morong.

Continue on Manila E Rd/R-5 to Baras, then.

Turn left onto Latigo Drive. Brgy. Concepcion Baras, Rizal.
Get your money's worth with Lumina Baras. Start investing in a new property now where your family can live comfortably or make it a new source of income in the future. Contact us now and let Lumina Homes help you on your real estate investment journey to build your dream home.
***
For more information about the affordable house and lot for sale of Lumina Homes, please contact (0917) 629 6523.
Visit our official website at www.lumina.com.ph and like/follow our official online channels: Facebook, Twitter, Instagram, YouTube, Google MyBusiness & Google Maps, Pinterest, Spotify, Viber, Telegram, Lazada, and Shopee.

Try our Home Loan Calculator
Loan Calculator
Try Lumina Homes' loan calculator and get an estimate computation for your preferred Lumina property and home model.