5 Reasons Why a House and Lot in Binangonan, Rizal is the Best Christmas Gift for You and Your Family
15 November 2021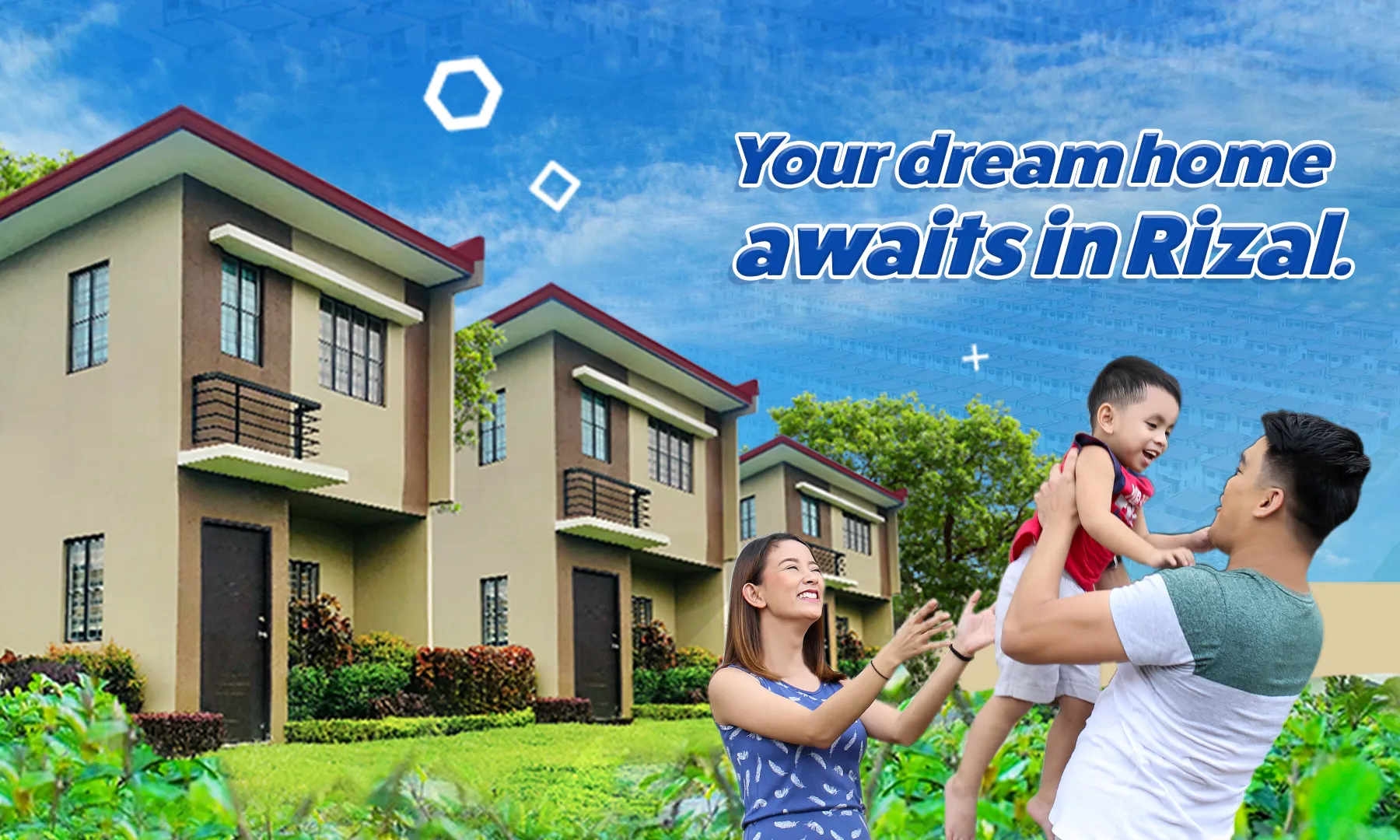 It's the most wonderful time of the year again, every Filipino's favorite season—Christmas! While the most awaited holiday in the Philippines means joyous celebrations and reunions, it could also mean congested roads from here and there, especially in Metro Manila.
Malls and supermarkets would be very festive but crowded with people shopping early to choose the best Christmas gifts for their loved ones, buy decorations, film festivals, or simply hang out with friends. After all, it is the best season to feel warmth seeing your families and friends get together.
Aside from this festivity, we cannot take away the fact that Metro Manila could often be loud, polluted, and chaotic enough to convince us to look for a place where we can enjoy the holidays with tranquility.
You will surely be lucky if that place has a picturesque view that you can enjoy in the morning with coffee or when strolling around in the afternoon. These sounds may be too far from your present reality, but why don't you give yourself a break? It would be the best season to be generous and give yourself some love by having a new home where you can touch base both being close to nature and still enjoying your city life.
Well, if you're wondering where that place could be, you don't have to think far!
Just within the borders of the metro, Rizal province is waiting for you to be discovered. It is just an hour ride away from Metro Manila and accessible from business-centric cities like Pasig, Quezon City, and Makati.
Beyond great, right? This could be the best fit to describe this province! With its natural beauty, from lush green forests and mountains to modern aesthetic tourist attractions, the area is also catching a lot of attention. It would be the perfect setting for investments, business establishments, and settlements. So, if you are eyeing for excellent property investment in the Philippines, a home in Rizal province could be the best Christmas gift you can give to yourself this season!
The next question is, where specifically in Rizal? The province is geographically huge, but if you are looking to find a new home to experience that amazing probinsya life, the municipality of Binangonan is entirely nestled between the foothills of the Sierra Madre and Laguna De Bay. The town is triangular, composed of the mainland and a half of Talim Island.
Here are a few of the many reasons why residing in Binangonan, Rizal would be beneficial and worth considering for:
What You'll Love About Living in Binangonan
1. Nature is within your reach.
Ever wonder how it feels like breathing fresh air all day long? The province is located at the foot of the Sierra Madre mountain range so imagine waking up in the morning waving to the luscious trees and tall mountains and getting energy from the air coming directly from nature itself.
Life in the capital can be challenging to leave behind, especially now that we're welcoming the holidays. But have you ever considered celebrating Christmas with the cold breeze coming from the mountains and not air conditioning? Natural lighting from the moon and the stars instead of skyscrapers or lights from the cars? Beautiful melodies from the birds chirping rather than car noises? Just imagine how romantic and blissful that Christmas could be. Not just for you but your whole family.
2. Affordable goods and low-cost living.
Compared to the insanely expensive goods and cost of living in Manila (especially this holiday), goods and the cost of living in the province are way cheaper. Considering Rizal's climate condition, soil and proximity to market are very affable for agricultural developments. The province is currently planting diversified and high-value crops like vegetables, fruits, and root crops.
Another factor contributing to lower prices of goods in Rizal, especially in Binangonan, is their aquaculture sourcing directly from the Laguna Lake. It is a sanctuary of various fish species like bangus, tilapia, and "Karpa" known as bighead carp. Other freshwater species that can be found here are kanduli, hito, dalag (mudfish), golden kuhol, clams, and shrimps! Your Christmas table would indeed be full of colorful fresh fruits & vegetables and delightful dishes you can enjoy with the rest of your family. Enjoying the good food and company can be the best Christmas gift too, isn't it?
3. Ideal location
Whether by private car or public utility vehicles, the province of Rizal is easily accessible. Either you're a student attending a university in the metro, a worker hustling in the busy corporate industries in the city, or just someone who would like to meet friends for some get together this holiday, you can access the major cities in Metro Manila from Rizal (and vice versa) with ease.
Aside from having the currently available routes for jeepneys, FX Taxis (AUVs), or city buses with terminals located in major capital points, the Southeast Metro Manila Expressway (SMME) project is already under construction. This project is widely known as C6 Expressway and Skyway Stage 4, running across the metro to part of Rizal. The aim of this project is, of course, to decongest the existing roadways in Manila.
Then, in 2023, The Department of Transportation (DOTr) also expects the construction of the Metro Rail Transit Line 4 (MRT-4) bound from Quezon City to Rizal. The rail is set to have 11 stations designed to serve 220,000 passengers a day!
Of course, this means, more accessible and faster commute going in and outside the city!
4. So places for fun quick getaways.
Being in a very accessible location enables you to enjoy juggling both worlds and supports you in finally having the work-life balance you've always wished for. On weekends, a perfect way to relieve your work stress is to breathe it out and try various activities within the province.
For adventure seekers, why don't you try hiking or biking within the beautiful mountain hills? Here are some best spots for your thrilling activities:
Mount Tagapo - Binangonan

Angono-Binangonan Petroglyphs - Binangonan

Daranak Falls -Tanay

Treasure Mountain- Tanay

Masungi Georeserve - Baras
Pililla Wind Farm - Pililla

Cloud 9 - Antipolo

Treasure Mountain - Tanay
If you are the type who likes to chill in a cozy cafe, why don't you try to visit these Instagrammable coffee shops you can only find in Rizal:
Typica Coffee - The infamous sari-sari store turned into a Japanese-style cafe.

ArtSector Gallery & Chimney Cafe 360 - Perfect spot to see the Metro Manila Skyline.

The Crescent Moon Cafe and Studio Pottery - From the name itself, it's a cafe where you can both enjoy your love for pottery and coffee.
5. Home of the artists
The province itself is already a work of art but remember when we mentioned that Rizal is the "Cradle of Philippine Art"? This province is not bluffing when they say they are home to various art and artists. One of the best examples is the Angono-Binangonan Petroglyphs. It is known as the oldest artwork in the Philippines and the epitome of art-history fusion.
Give your next getaway trip with your family some spice by bringing your children to museums. Quality time with parents plus colorful artworks exploration could be the best Christmas gift for a kid. Filipino artworks can surely attract their attention and give them quick history lessons. You can introduce them that Rizal Province is the hometown of renowned National Artists Carlos "Botong" Francisco and Lucio San Pedro. Botong is a famous muralist who revived the forgotten art of mural making and discovered the historic Angono-Binangonan Petroglyphs. Whilst, Maestro San Pedro is the renowned composer behind "Ugoy ng Duyan." Parents, make sure to keep these details handy!
Low in the budget? No worries at all! Just by walking on the streets, you will find Instagrammable spots, all thanks to the street arts in Rizal like the famous "Malakas and Maganda" status. The artsy gates of residents' houses are aesthetically pleasing. Just walk around, grab some coffee, and your heart will be full.
These are just a few of the many points why Rizal—Binangonan specifically is an ideal place for your next home. You might receive the best Christmas gift through material possessions but know that at the end of the day, there is nothing more significant than being happy and grateful for another season you will celebrate every after the holiday!
Find the best property investment in Binangonan, Rizal through Lumina Homes.
Are you thinking of moving to Binangonan, Rizal for good? Or want to avail of a new house in your hometown? Lumina Homes is ideal for choosing the best developer for affordable property investment for OFWs (Overseas Filipino Workers) and city dwellers.
Lumina Homes is the affordable housing arm of Vista Land, the Philippines' largest homebuilder known for housing brands including Camella, Lessandra, and Vista Residences, among others.
It is a leading housing developer in the Philippines, offering affordable house and lot packages and condominiums with easy-on-the-pocket payment terms. It was recently recognized by Best Startup Asia as the Top Real Estate Company in the Philippines for its innovations and being at the forefront of digital real estate transactions.
What's great about the Lumina properties is that all projects have great amenities and are strategically located near major establishments, schools, and transportation hubs to maximize the way you live in the province.
An Ideal Property Investment for OFWs & Starting Families
We at Lumina understand the struggle of OFWs dreaming of a better life for their families. Life abroad and away from your loved ones isn't easy. So to help you out plan a brighter future for your family, away from the chaos of the metro, Lumina Binangonan will aid you to find a good home in a good location for an excellent price.
Lumina Binangonan is an excellent property investment for OFWs as it offers a variety of affordable house and lot in the Philippines and is conveniently located at Brgy. Bilibiran, Binangonan, Rizal. The Lumina Binangonan ready for occupancy homes are perfect for home seekers seeking a property where they can move in faster and easier.
So, if you are looking for a budget-friendly townhouse home for sale in a new area across the country, you'll not regret choosing Lumina Homes.
Here's everything you need to know about Lumina Binangonan:
Payment terms
Pay down payment of 7.5% (can be spot payment of 3 mos. installments)

With 5% discount once the bank loan is approved on the 4th month

Complete requirements for housing loan (standard and income documents)
Amenities
Guarded Entrance

Basketball Court

Play Area

Gazebo
Angeli Single Firewall - It is a 42 square meter affordable house and lot for sale in Rizal on a regular 54 square meter lot. Its features include a living area, dining & kitchen, three-bedroom provision, one toilet & bath, one carport provision, and service area.
Landmarks
Schools, Colleges, & Universities
St. John's Worth Montessori School

University of Rizal System- Binangonan

University of Rizal System- Angono
Hospitals & Clinics
Antipolo Doctors Hospital

Angono Medics Hospital, Inc.

Binangonan Lakeview Hospital
Places of Worship
Sacred Heart Parish

Our Lady of Antipolo

Santa Ursula Parish Church
Marketplace, Malls, & Leisure Areas
Vista Mall Antipolo

Shopwise Antipolo

Binangonan Public Market

Thunderbird Resorts- Rizal

Eastridge Golf Club
Significant Roads, Highways, & Expressways
Ortigas Extension

Eastridge Avenue
Transport Terminals
Santolan MRT-2 Station

LRT-2 Masinag Station

Emraud Terminal
Local Government Offices
Binangonan Municipal Hall
That being said, what property investment for OFWs is better and more affordable than Lumina Binangonan?
HOW TO GET TO LUMINA BINANGONAN
Via Commute
From Shaw Boulevard, take a jeep, van, or bus bound to Antipolo.

Alight at Shopwise Antipolo.

Take a tricycle going to Lumina Binangonan Subdivision.
Via Private Vehicle
From Starmall EDSA-Shaw, drive straight ahead until Kaytikling Road.

Turn right to Taytay Diversion Road (KFC-Tikling).

Continue straight, then turn right to Eastridge Avenue to go to Lumina Binangonan Subdivision.
Special Christmas Giveaway Promo for OFWs
Lumina Homes gives back the love this holiday season to honor OFWs' sacrifice and invaluable contribution to every Filipino. With the Give Love from Abroad: Pamaskong Lumina Raffle Promo for OFWs in line with Lumina's Christmas theme this year, which is "Juan Love this Christmas."
Get your money's worth with Lumina Binangonan. Start investing in a new property now where your family can live comfortably or make it a new source of income in the future. Contact us now and let Lumina Homes help you build your dream home on your real estate investment journey.
***
For more information about the affordable house and lot for sale of Lumina Homes, please contact (0917) 629 6523.
Visit our official website at www.lumina.com.ph and like/follow our official online channels: Facebook, Twitter, Instagram, YouTube, Google MyBusiness & Google Maps, Pinterest, Spotify, Viber, Telegram, Lazada, and Shopee.

Try our Home Loan Calculator
Loan Calculator
Try Lumina Homes' loan calculator and get an estimate computation for your preferred Lumina property and home model.