Guidelines in Reopening of Cinemas on November 10
7 November 2021
Can you still remember the last time you watched a movie in the cinema? It seems like quite a long time, right?
Well, good news! As the National Capital Region or NCR and its adjacent provinces already eased up the community quarantine level in the area, cinemas and movie theaters will soon be opened again to the public, although, of course, with the proper observance of the government guidelines on the health and safety protocols. According to the news, some cinemas and movie theaters will open on November 10.
Moviegoers will soon view blockbusters on the big screen once again, but each mall has implemented many limits and safety precautions. Only persons who are completely vaccinated will be allowed entry, as specified by the Inter-Agency Task Force for the Management of Emerging Infectious Diseases Resolutions or IATF's health requirements, and the capacity of all cinemas will be restricted to no more than 30%.
The enthusiasm of moviegoers, mall owners, and the film business is apparent now that cinemas and movie theaters in the NCR and its neighboring provinces are authorized to reopen under Alert Level 3. However, this joy also comes with moderate anxiety. Following a year-and-a-half-long closure, the movie theater sector is determined to provide consumers with a safe and secure movie-going experience under the continued COVID-19 threat.
But before you get all excited and thrilled about visiting the cinemas nearest you, make sure first to know the safe and healthy protocols that you are required to observe while enjoying the movie on the big screen.
Standard protocols for cinemas and moviegoers
Since the country is still in the middle of the pandemic, the government devised some guidelines to maintain the health and safety of the citizens while slowly opening the economy, particularly the cinemas and movie theaters.
In line with this, the Cinema Exhibitors Association of the Philippines (CEAP) has developed a standard set of protocols called "Sa Sine Safe Ka" that is modeled after the US' "CinemaSafe" measures developed by the National Association of Theatre Owners (NATO) and endorsed by epidemiologists as "a comprehensive effort to identify potential risks and reduce them."
Here are the standard protocols that cinemas and moviegoers under Alert Level 3 should follow:
Movie theater guests must first have their body temperature checked before entering the cinema.

Moviegoers must show their valid vaccination card, meaning two doses already completed before they can enter the theater.

Visitors and employees at movies must comply with the IATF's existing rules, like wearing face shields and masks.

Eating is strictly prohibited inside the theater.

Even for moviegoers, theaters will implement the "socially-distanced seating" that requires them to have two seats apart.

Ticket buyers will be encouraged to use contactless and cashless payment methods.

There should be improved air ventilation inside the cinema.

Hand sanitizers must be readily available at all theater entrances.

Cinema personnel is mandated to wash their hands at least once every 30 minutes.

Between screenings, cinema staff is required to do a thorough cleaning of all surfaces and seats.
Want to know the list of cinemas you can visit? You can check out this list.
List of Cinemas opening on November 10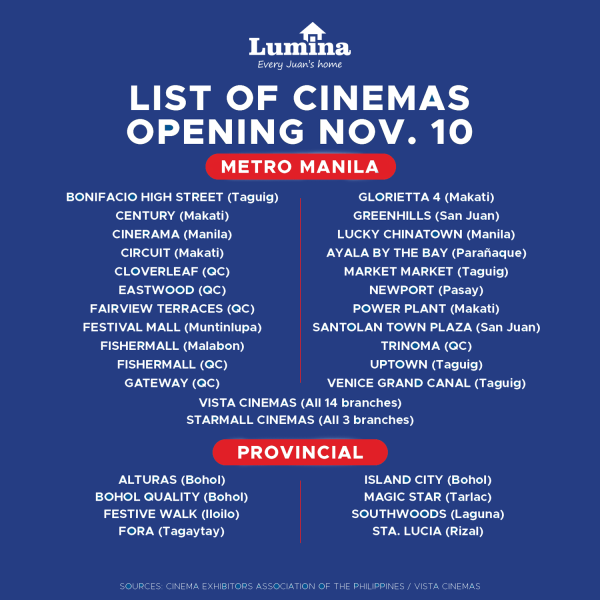 Metro Manila
1. Taguig
Bonifacio High Street

Market Market

Uptown

Venice Grand Canal
2. Makati
Century

Circuit

Glorietta 4

Power Plant
3. Manila
4. Quezon, City
Cloverleaf

Eastwood

Fairview Terraces

Fishermall

Gateway

Trinoma
5. Muntinlupa
6. Malabon
7. San Juan
Greenhills

Santolan Town Plaza
8. Parañaque
9. Pasay
The following line of Cinemas will also open on the said date:
All Vista Mall Cinemas
Evia Lifestyle Center - Las Pinas

Bataan

Las Piñas

Pampanga

Sta. Rosa

Taguig

Daang Hari

Iloilo

General Trias

Naga

Tanza

Dasmariñas

Malolos

NOMO
All Starmall Cinemas
Las Pinas

EDSA-Shaw

Alabang
Provincial Cinemas
1. Bohol
Alturas

Bohol Quality

Island City
2. Iloilo
3. Tagaytay
4. Tarlac
5. Laguna
5. Rizal
What to watch on the big screen?
It seems like a pretty long time since we last visited the movie theater to watch a film. If you still feel iffy and confounded about what to watch on the big screen, here are some of the movies that will be coming to the cinemas nearest you on November 10.
Dune
After eons of cinema closure, this is your chance to view "Dune" the way it was supposed to be seen: on the big screen. It is with great pleasure that Warner Bros. Philippines announces that on November 10th, the epic adventure will premiere exclusively in Philippine cinemas.
According to a legendary and emotionally charged hero's narrative, "Dune" describes Paul Atreides' voyage to the most deadly planet in the cosmos in order to protect his family and people from their fate that he does not fathom. There will only be survivors who can overcome their fear as evil powers clash for the world's only supply of the most valuable resource - a commodity that holds the key to unleashing humanity's full potential.
Shang-Chi and the Legend of the Ten Rings
"Shang-Chi and the Legend of the Ten Rings" marks Marvel's return to the big screen. Shang-Chi, who is based on a Marvel comics character, hasn't gained much attention until lately. There are dragons, assassins, and a specific martial arts technique in his realm, and he's a Chinese martial artist.
Black Widow (November 17)
As Natasha Romanoff, aka Black Widow investigates a perilous plot with links to her history in Marvel Studios' action-packed espionage thriller "Black Widow," she is forced to face the darker sides of her past. Natasha has to face her past as a spy and the shattered relationships she left behind before becoming an Avenger. All of this while being pursued by a force that would stop at nothing to bring her down.
It's great that another entertainment and hobby is again being opened to the public, especially since the holidays are coming. Just make sure to follow the rules set by CEAP to avoid going to the movies when you are not feeling well and instead remain at home in consideration of other fellow moviegoers.
Read More:
***
For more information on Lumina Homes, contact (0917) 629 6523.
Visit our official website at www.lumina.com.ph and like/follow our official online channels: Facebook, Twitter, Instagram, YouTube, Google MyBusiness & Google Maps, Pinterest, Spotify, Viber, Telegram, Lazada, and Shopee.

Try our Home Loan Calculator
Loan Calculator
Try Lumina Homes' loan calculator and get an estimate computation for your preferred Lumina property and home model.