A House and Lot in Iloilo is the Best Christmas Gift You Could Give to Yourself—Because Why Not?
25 November 2021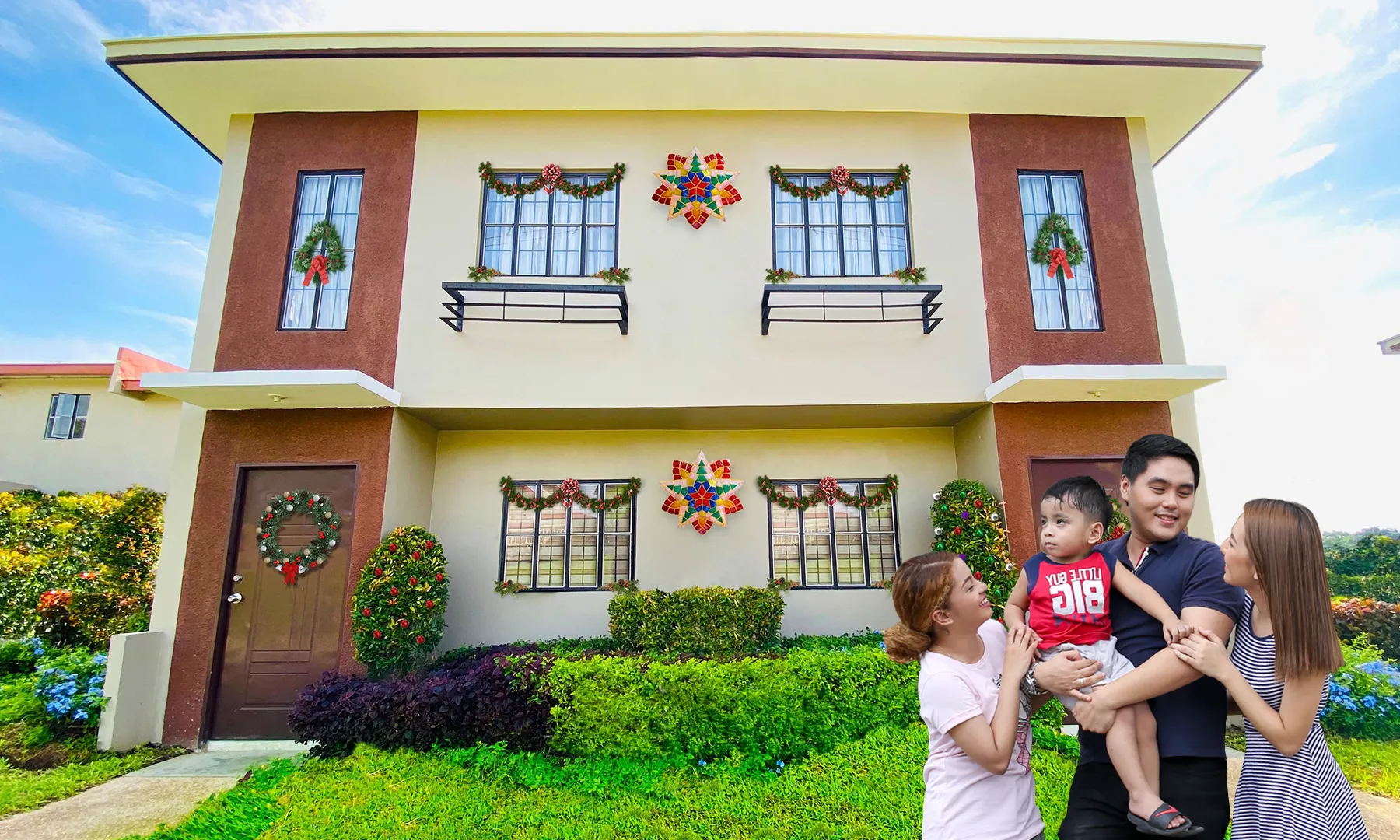 So you've managed to get gifts for everyone on your list. From your friends to relatives, you've got everything covered, except for one teeny-tiny part—yourself.
While this is the season of giving, it's also important to give yourself a much-deserved gift, especially after every challenge you have been through this year. There is nothing wrong with treating yourself at least once in a while. After all, you have been good this year. However, picking the best Christmas gift can be quite difficult.
If you still can't think of the perfect gift to give yourself this holiday season, why not get a brand new house and lot? Yes, we're telling you to take gifting to the next level and buy yourself a new home! As many would say, deserve mo 'yan!
Here are some reasons why you should consider buying a house and lot for yourself this holiday:
1. It will be a legacy.
Sure a quirky pair of socks, picture frames, sweaters, and a box of sweet treats are cute Christmas gifts but let us ask you: how long would those last? But a house and lot, especially well-built ones, could last a lifetime, and possibly more that is why it is the best Christmas gift that you can pass on to your loved ones.
Your property investment can be a heritage that you could pass on for generations, and that will make every penny you spend on your home so worth it.
2. A house and lot is a gift that has a value that keeps climbing.
Unlike other investments like stocks and bonds, the value of real estate properties tends to appreciate more over time. That is why it is one of the safest investments for beginners. If your house and lot's value appreciates and gains value, you can enjoy lots of benefits.
When the time comes that you decide to buy another property or relocate to some other place, you can make more off selling your house and lot. As long as demand is strong in your market, chances are you would take home more in profits.
On top of this, you'll also enjoy more equity. You can tap into this through a cash-out refinance, home equity loan, or home equity line of credit and use the funds to improve your property (meaning even more appreciation) or put toward the down payment on a new investment.
3. It's a great investment.
As mentioned above, real estate properties are great investments as their value grows over time. And if your house and lot are adequately cared for, you will be able to sell it for a winning price, making your investment worthwhile.
4. It's worth every peso.
There is no denying that buying a house and lot as a gift to yourself could be too much but come to think of it, a home is something that you and your family can treasure for the rest of your lives. Not only do you give yourself and your loved ones a shelter, but you also give a safe and comfortable space where you can create more beautiful memories.
It's a costly investment, no doubt, but if you look at how much this Christmas gift will bring you and your family so much joy, we're sure a home you can call your own will be so much worth it.
5. You deserve it!
Dear, you have made it through one of the most challenging years, and despite the countless troubles and hardships that pushed you back, there you are, pulling yourself together and getting back stronger than ever. So what better way to celebrate your victories than treating yourself with a good and smart splurge? You deserve to have your place. You deserve to have a comfortable space. You deserve to have your dream house.
A house and lot somewhere in Visayas?
Now you are finally convinced that a brand new house and lot in the Philippines is the best Christmas gift you could give to yourself.
But where?
One area that stands out is Iloilo City. Although Iloilo is not as popular as other cities in the Philippines, such as Manila or Cebu, it has everything a great residence place! From the oh-so-delicious food and beautiful tourist spots, there are so many reasons why you should consider moving to Iloilo for good.
Aside from that, Iloilo City is also a progressive area thanks to an influx of foreign investments and infrastructure projects, making way for more job opportunities. And if you want to live somewhere clean, a place with less pollution, it's got to be Iloilo! One of the benefits of living in Iloilo is that it is surrounded by nature. Because of its ideal location, there are lots of pristine beaches near the city. Additionally, some of the most famous and popular Philippine beaches like Boracay are just a few hours away by car or bus, perfect for times you want a change of scenery.
Aside from the beaches, the city is also known for its rivers, breathtaking mountains, waterfalls, and caves that any adventurer would fancy.
Find the best property investment in Iloilo City through Lumina Homes
Are you thinking of moving to Iloilo City for good? Or want to build a new house in your hometown? Lumina Homes is ideal for choosing the best developer for affordable property investment for OFWs (Overseas Filipino Workers) and city dwellers.
Lumina Homes is the affordable housing arm of Vista Land, the Philippines' largest homebuilder known for housing brands including Camella Homes, Crown Asia, Brittany, Lessandra, and Vista Residences, among others.
Through its budget-friendly house and lot for sale in Iloilo, getting the dream home is made achievable for its easy-on-the-pocket payment terms. And its availability through bank financing will make the dream of owning a house and lot more feasible.
What's great about the Lumina properties, aside from affordability, is that all projects have great amenities and are strategically located near major establishments, schools, and transportation hubs to maximize the way you live in the province.
An Ideal Property Investment for OFWs & Starting Families
We at Lumina understand the struggle of every Filipino dreaming of a better life for their families. Life abroad and away from your loved ones is undoubtedly difficult. So to help you out plan a brighter future for your family, away from the chaos of the metro, Lumina Iloilo will aid you to find a good home in a good location for an excellent price.
Lumina Iloilo is an excellent property investment for OFWs as it offers a variety of affordable house and lot in the Philippines, and is conveniently located at Brgy. Abilay Norte, Oton, Iloilo. The Lumina Iloilo ready for occupancy homes are perfect for home seekers seeking a property where they can easily move in.
So, if you are looking for a budget-friendly townhouse home for sale in a new area across the country, you'll not regret choosing Lumina Homes.
Here's everything you need to know about Lumina Iloilo:
Amenities
24-hour Security

Multi-purpose Hall

Covered Basketball Court

Shuttle Service

Convenience Store
Move-in faster and easily with Lumina Iloilo
Lumina Iloilo Ready for Occupancy (RFO) housing units are perfect for home buyers looking for a property where they can move in right away!
How? Here are the terms:
Pay down payment of 7.5% (can be spot payment of 3 months installment)

With 5% discount once the bank loan is approved on the 4th month

Complete requirements for housing loan (standard and income documents)
House and Lot for sale in Iloilo:
Angeli Townhouse:

It is a 42 square meter affordable house and lot for sale in Iloilo on a regular 36 square meter lot. Its features include a living area, dining & kitchen, three bedroom provision, 1 toilet & bath, 1 carport provision, and service area.

Angelique Townhouse:

It is a 35 square meter affordable house and lot for sale in Iloilo on a regular 36 square meter lot. Its features include a living area, dining & kitchen, two bedroom provision, 1 toilet & bath, 1 carport provision, and service area.

Angeli Single Firewall -

It is a 42 square meter affordable house and lot for sale in Iloilo on a regular 54 square meter lot. Its features include a living area, dining & kitchen, three bedroom provision, 1 toilet & bath, 1 carport provision, and service area.
Landmarks
Schools, Colleges, & Universities
Georgia International Academy

Central Philippine University

University of the Philippines Visayas
Hospitals & Clinics
The Medical City Iloilo

Western Visayas Medical Center

QualiMed Iloilo
Places of Worship
Mandurriao Parish Church

St. Padre Pio Church

San Miguel Catholic Church
Marketplace, Malls, & Leisure Areas
VistaMall Iloilo

Iloilo Business Park

Esplanade Iloilo
Major Roads, Highways, & Expressways
Iloilo Diversion Road

Iloilo Circumferential Road

Aleosan-San Miguel Road
Transport Terminals
Hibao-an, Pavia Terminal

MEX Jeep Terminal at VistaMall

Pavia People's Terminal
Local Government Offices
Iloilo Civil Service Commision

BIR Office
That being said, what property investment for OFWs is better and more affordable than Lumina Iloilo?
HOW TO GET TO LUMINA ILOILO
Via Commute
From Jaro Big Market, ride a jeepney bound to San Miguel/Alimodian/Leon and drop off at Lumina Main Entrance.

From Pavia People's Terminal, ride a jeepney bound to Alimodian/Leon and drop off at Lumina Main Entrance.

From Ceres Terminal, ride a MEX jeep to Vistamall, from Vistamall, take the free ride to Lumina entrance passing within Savannah.
Via Private Vehicle
From Jaro Plaza, you can take the route at Circumferential Road 1 straight to Hibao-an Terminal, turn right to Savannah, and then straight ahead is the Lumina Iloilo site.

From SM City Mandurriao, take the route going to Iloilo Business Park straight to Mandurriao Plaza. Then pass through Pavia-San Miguel Road, going to the site.
A Quick Guide to Bank Financing
Buying a house and lot may seem daunting because of the many processes you have to undergo. While it's true at some points, the payment part is not as complicated as you think it is.
If you don't know how to pay for your house and lot, here's a quick guide to help you understand how you can buy a Lumina property through bank financing.
All Lumina housing units are available via bank financing only, which is an easy way to help you acquire your very own real estate property. The good thing about bank financing is that there is no required membership or contributions. You don't also need to have a savings account to apply for a bank loan.
The bank financing housing loan interest rate for economic packages is at 5.25% interest rate per year. Although Lumina Homes uses the standard interim rate of 8% for banks just for qualification, after down payment and once your loan is released, some banks offer as low as 5%, so you don't already have to pay their interim financing.
You will have a maximum of 20 years payment term if you are locally employed, while OFWs have 15 years to pay. Meanwhile, a 30% net disposable income is required for both OFW and locally employed loan applicants. But if you are self-employed, you will just be required to have 25% net disposal. This means that since bank financing caters shorter payment terms, you can pay your debts faster and save more money than those paying for a more extended period.
You can borrow from PHP 450,000 to PHP 50 million loanable amount, which is also subject to qualification. Also, borrowers can loan up to 90% of the total contract price!
The loan process will not take too long as it is just around 2 to 3 weeks. Your loan can be released even if your house is not fully completed. At this rate, if you will choose bank financing for your housing loans, you can move earlier to your dream home!
For your convenience, Lumina Homes partners with notable banks in the Philippines, including:
Banco de Oro (BDO)

Cebuana Lhuillier Bank

AllBank

RCBC

UnionBank

UCPB

Security Bank

Maybank

China Bank Savings

Robinsons Bank
Get your money's worth with Lumina Iloilo. Start investing in a new property now where your family can live comfortably or make it a new source of income in the future. Contact us now and let Lumina Homes help you build your dream home on your real estate investment journey.
***
For more information about the affordable house and lot for sale in Iloilo of Lumina Homes, please contact (0917) 629 6523.

Try our Home Loan Calculator
Loan Calculator
Try Lumina Homes' loan calculator and get an estimate computation for your preferred Lumina property and home model.