Cheat Sheet for Long Weekends: 2022 Holidays in the Philippines
2 December 2021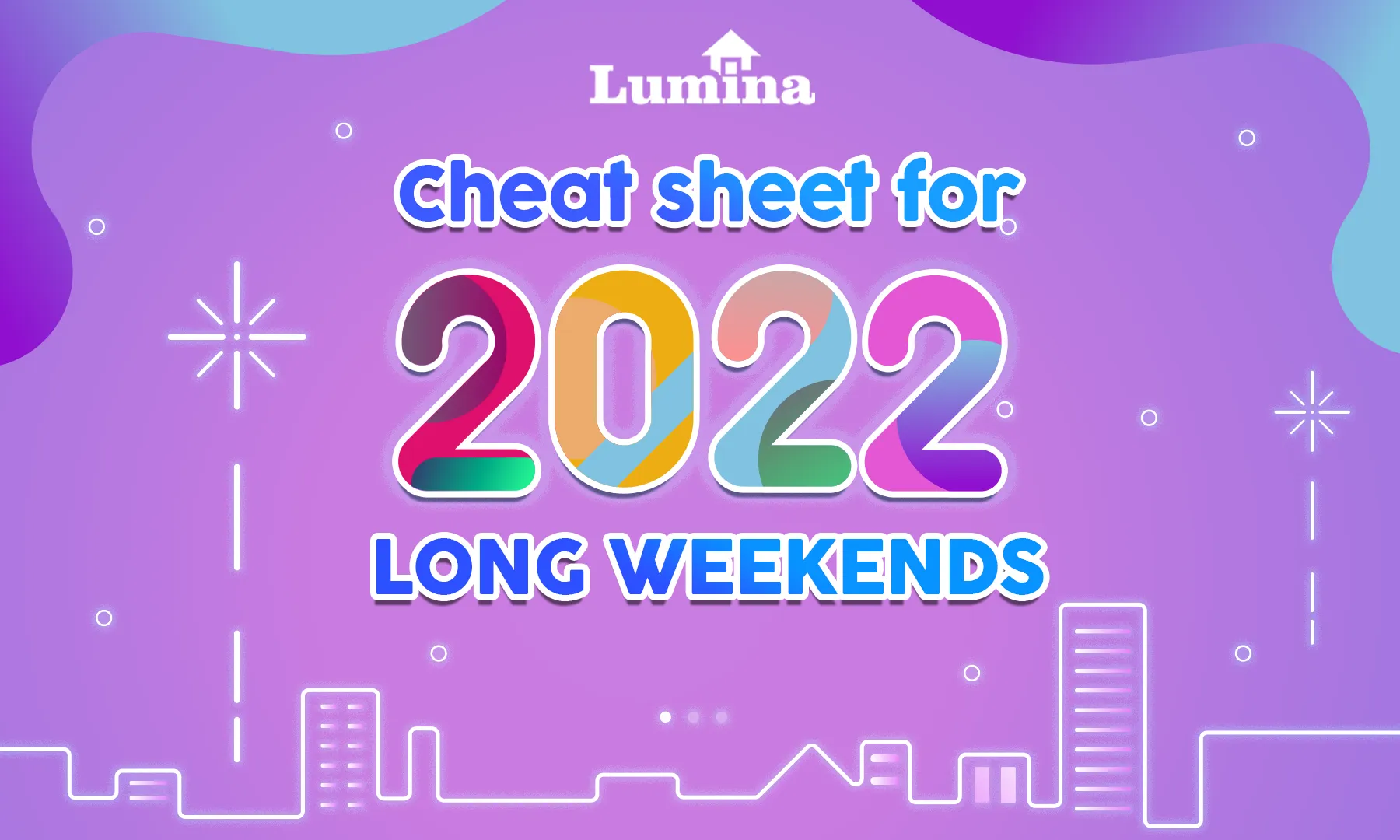 As we enter 2022 and some are even starting to implement their New Year's Resolution, we all wish to target our goals for 2022. Everyone hopes that this new year will be better even as the year started with increasing number of COVID-19 cases. But with the massive roll-out of vaccination in the country, the economy is also slowly reopening making the Filipino lifestyle return to normal, well, at least somehow.
Meanwhile, suppose you are already planning for the upcoming holidays and long weekend post-pandemic getaway. In that case, it's great to hear that recently, the Philippine government issued a copy of Proclamation 1236, which lists the regular holidays and exceptional non-working and working holidays for 2022.
So, make sure to check out this list of the official Philippine Holidays 2022 that can assist you in your plans for next year's holidays.
List of National Holidays for 2022
The following days have been designated as National Holidays by Proclamation No. 1236 that Malacañang recently released:
Regular Holidays
Regular holidays are the holidays in the Philippines that have a set or fixed date.
January 1, 2022,

Saturday – New Year's Day

April 9, 2022,

Saturday – Araw ng Kagitingan

April 14, 2022,

Thursday – Maundy Thursday

April 15, 2022,

Friday – Good Friday

May 1, 2022,

Saturday – Labor Day

May 3, 2022, Tuesday – Eidul-Fitar

June 12, 2022,

Sunday – Independence Day

August 29, 2022,

last Monday of August – National Heroes' Day

November 30, 2022,

Wednesday – Bonifacio Day

December 25, 2022,

Sunday – Christmas Day

December 30, 2022,

Friday – Rizal Day
Special Holidays
Special Holidays are more flexible. They may be announced by the President and being legislated by Congress. Currently, there are two types of special holidays in the Philippines: the Special Non-working Holidays and the Special Working Holidays.
Special Non-working Holidays
February 1, 2022,

Tuesday – Chinese New Year

February 25, 2022,

Friday – EDSA People Power Revolution Anniversary

April 16, 2022

– Black Saturday

August 21, 2022,

Sunday – Ninoy Aquino Day

November 1, 2022,

Tuesday – All Saints' Day

December 8, 2022,

Thursday – Feast of the Immaculate Conception of Mary
Special Working Holidays
A new Proclamation No. 1236 has altered this year's list of special holidays compared to last year's set. Special working holidays in the Philippines for 2022 have been released with these dates:
November 2, 2022,

Wednesday – All Souls' Day

December 24, 2022,

Saturday – Christmas Eve

December 31, 2022,

Saturday – last day of the year
Islamic Holidays 2022
On the other hand, Islamic holidays are also considered as regular holidays, although Proclamations declaring national holidays for the Eid al-Fitr and Eid al-Adha celebrations will be issued after the approximate dates of the Islamic holidays have been determined, in accordance with the Islamic calendar or the lunar calendar, or upon Islamic astronomical calculations, whichever is possible or convenient. PH holidays 2022 include Eid al-Fitr this May 3 2022 holiday.
For Eid al-Fitr and Eid al-Adha, Malacañang will issue separate proclamations establishing national holidays after the approximate dates of both Islamic festivals have been set.
The holiday proclamation said that the National Commission for Muslim Filipinos (NCMF) should advise the Office of the President of the exact dates on which these holidays should respectively occur.
List of long weekends for 2022 and Ph 2022 Holidays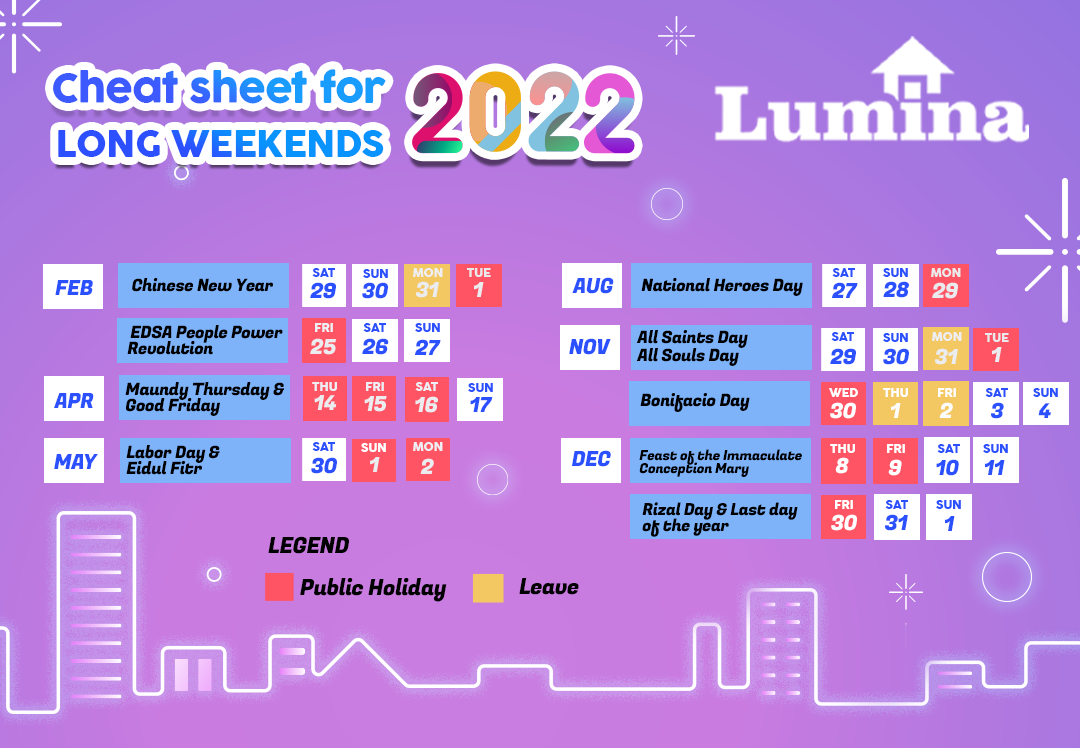 You may already perceive the holidays for 2022, but we know that what you want to determine are the long weekends for next year. Don't worry, and we got you! FYI, there will be eight long weekends that you can fully enjoy next year, so make sure to mark these dates on your calendar or scheduler and plan!
December 30, 2021 – January 2, 2022

(Rizal Day until New Year's Day)

January 29, 2022 – February 1, 2022

(Chinese New Year)

February 25, 2022 – February 27, 2022

(EDSA People Power Anniversary)

April 14, 2022 – April 17, 2022

(Holy Week)

August 27, 2022 – August 29, 2022

(National Heroes' Day)

October 29, 2022 – November 1, 2022

(All Saints Day)

December 8, 2022 – December 11, 2022

(Feast of the Immaculate Conception of Mary)

December 30, 2022 – January 1, 2023

(Rizal Day and New Year's Day)
How to Compute Philippines Holiday Pay
Aside from the long vacation that holidays give us, workers and employees also get excited because of the holiday pay that comes along with it. There is a significant difference in the compensation businesses required to provide for their employees for these three kinds of holidays. In addition, there is a variation in what is closed and how the days are designated. Let's check them out.
For regular holidays
Employees will be entitled to have double pay or 200% of their daily wage if they work on these days. Meanwhile, taking a vacation for the regular holidays will still get them entitled to have their basic rate for that day. So, whether you work or not these days, it is still a win-win situation for all!
For special non-working holiday
Not working on a special non-working holiday will make you not receive any payment for that day. But, in case that you are required to, or you just decided to work on that day, then you can have 130% of your daily wage.
For special working holiday
This is the newest type of holiday that was just implemented this year to boost our country's economy. For this holiday, employees will not be paid if they don't work on this day. On a special working holiday, employees who show up for work are only entitled to basic pay. Since these days are considered regular workdays, there is no need for additional compensation.
Now that you already have a clear footing on what to expect for the following year's holidays make sure to also include in your plans the safety and healthy protocols that you need to observe and follow while enjoying the holidays and long weekends.
It's good to know that there's now a bigger chance for us to enjoy this year's vacations and 2022 ph holidays, but we should keep in mind that we still need to be careful as the pandemic threat is still there. Enjoy planning!

Try our Home Loan Calculator
Loan Calculator
Try Lumina Homes' loan calculator and get an estimate computation for your preferred Lumina property and home model.