Pag-IBIG Offers Special Housing Loan Restructuring Program
26 November 2020

Written by: Ness Albito
Special Housing Loan Restructuring Program
In support of the government's efforts to help Filipinos going through financial difficulties due to the pandemic, Pag-IBIG Fund offers a Special Restructuring Program- six months of payment relief, more affordable amortization, and waived penalties.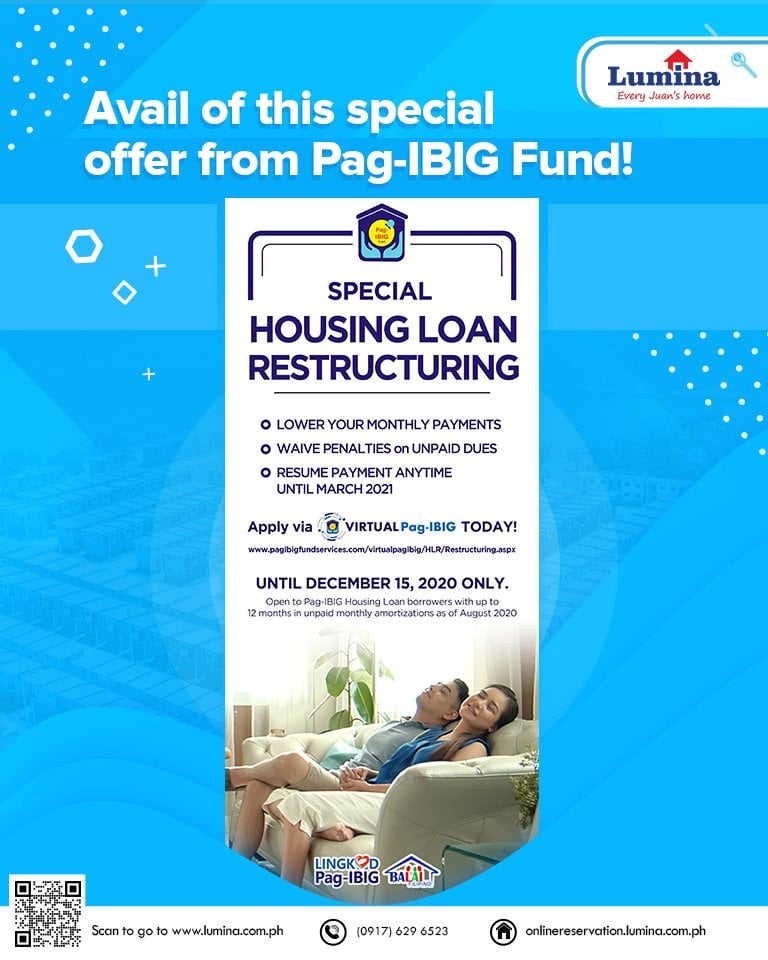 With the aim to help ease the financial burden and provide time to financially recover, housing loan borrowers with unpaid monthly amortizations of up to 12 months as of August 2020 may apply for this program.
Under this special housing loan restructuring program, borrowers are given the option to lower their monthly payments by extending their loan term, spread the settlement of unpaid dues, and waive penalties on arrears. Also, borrowers are given the option to resume payment for restructured loans by as late as March 2021.
Apply via Virtual Pag-ibig today!
For the safety and convenience of housing loan borrowers, they may apply for the loan restructuring program online through the Virtual Pag-ibig facility. No need to visit, fall in line, and proceed to PAG-IBIG branches. Applying for the program is just a click away. From their homes, using either a computer or a mobile phone, all you have to do is simply keying in your internet browsers into this link: www.pagibigfundservices.com/virtualpagibig/HLR/Restructuring.aspx
As a way of giving back to borrowers who religiously pay their monthly housing loan dues with Pag-IBIG Fund but over the past months, have not been able to do so due to the pandemic, there will be no fees like down payment or additional charge for processing the application in the said program. Borrowers are given ample time to apply as the program is available until Dec. 15, 2020.
True to its goal, Pag-IBIG Fund made this action for borrowers to keep their loans updated, and more importantly, with the goal to help them keep their properties and provide a decent home to every Filipino worker amid these challenging times.
***
For more information on Lumina Homes, contact (0917) 629 6523.

Try our Home Loan Calculator
Loan Calculator
Try Lumina Homes' loan calculator and get an estimate computation for your preferred Lumina property and home model.