Visita Iglesia in Rizal Province
2 April 2021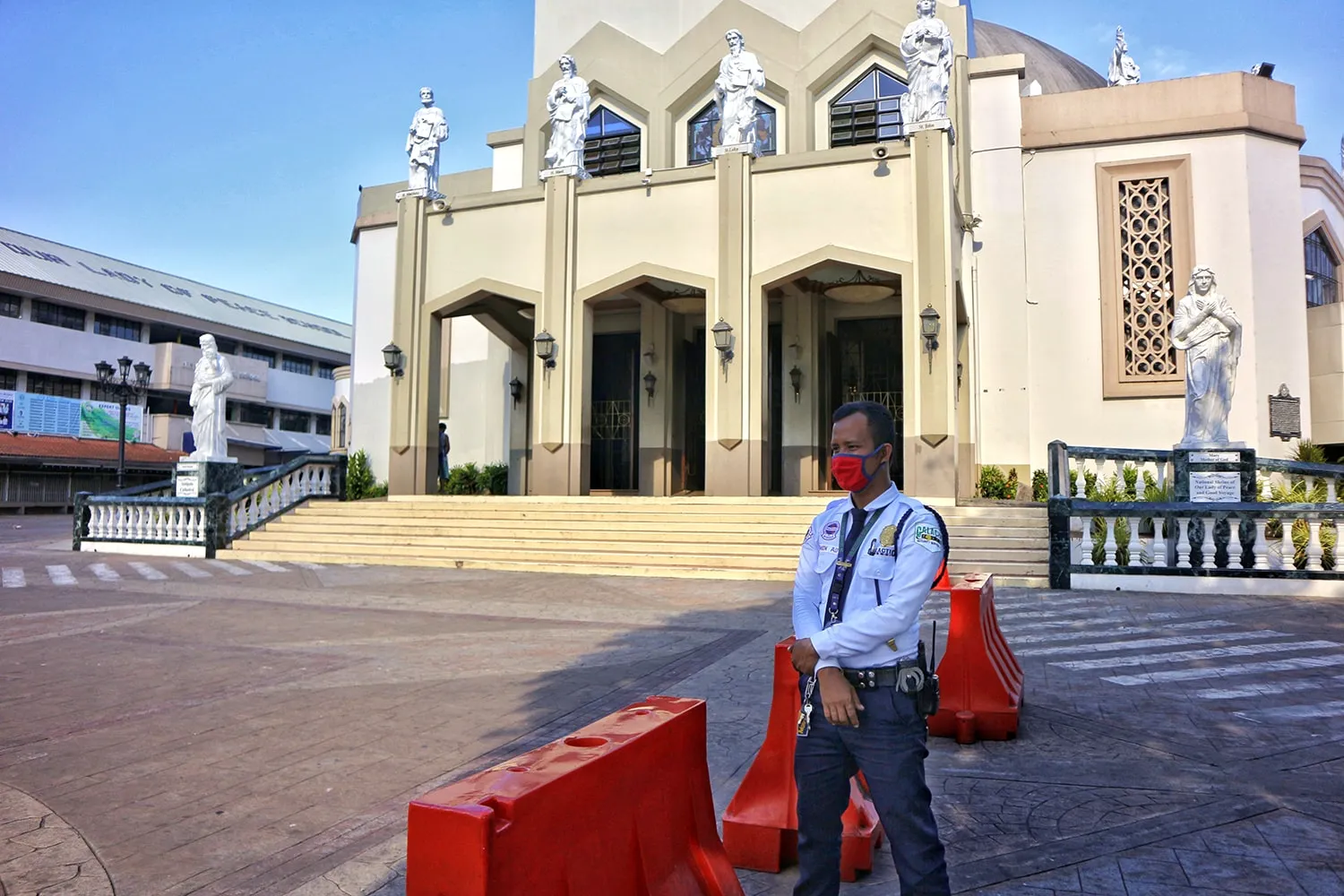 It's the Lenten Season again! Catholics' yearly tradition is to devote themselves to visiting at least seven different churches while offering prayers and penance called Visita Iglesia.
Visita Iglesia can be done in a single day, usually on Maundy Thursday, or it can take several days until Easter Sunday if the churches are too far apart. The original intention of this Holy Week practice was to honor the Blessed Sacrament.
Visita Iglesia then evolved into a type of pilgrimage and meditation for Holy Week and a method of seeking penance for sins. Superstition even holds that after completing a Visita Iglesia, your wishes will be granted.
During church visits, Stations of the Cross may also be held. Devotees either visit 14 churches to pray each of the 14 Stations of the Cross, or they pray two stations in each of the seven churches.
Where to go in Rizal for Visita Iglesia?
Here is the list of the seven churches you can visit during your Visita Iglesia in the Province of Rizal:
Antipolo Cathedral in Antipolo City
The Roman Catholic Cathedral is located in P. Oliveros Street Antipolo, Rizal. It is also referred to by the locals as the "Simbahan ng Antipolo," where you can find the Marian image of Our Lady of Peace and Good Voyage, Nuestra Senora Dela Paz Y Buen Viaje. It is a famous destination, especially during Maundy Thursday's Alay Lakad for thousands of devotees.
The most common visitors here ask for guidance to travel, like Overseas Filipino Workers (OFWs) or seafarers who will soon travel abroad and most of those who want their new vehicle to be blessed. Also, a must-try when you visit Antipolo Cathedral before you go home, drop by to the nearest pasalubong center that is just beside the church, and taste Antipolo's delicacies like cashew nuts, rice cake, kalamay, star fruit, coco jam, and mangoes!
San Pedro Calungsod Parish in Antipolo City
This church is a new one and can be found on Brgy. Sta. Cruz Sumulong Highway and also has a Sanctuary of Padre Pio. The Parish is named after the second Filipino saint, Pedro Calungsod. A young Catholic Filipino sacristan and missionary who suffered religious persecution in Guam while proclaiming the Catholic Faith in 1672 before becoming a Filipino Saint.
The church is usually open from Tuesday to Sunday, 8:00 AM to 12:00 NN in the morning, and open from 2:00 PM to 5:00 PM. But, Antipolo City is now under ECQ for being part of the NCR Plus Bubble. It will be better to check their schedule before going there.
St. Rose of Lima Parish in Teresa, Rizal
The church is located at M. L. Quezon Ave., Brgy. San Gabriel, Teresa, Rizal. The entrance road going to church from the highway is between Lumina Homes in Rizal Office and Jollibee Teresa.
Every month of August, Teresa Rizal celebrates St. Rose of Lima's feast through turumba or dancing and marching together with the devotees. Teresa Church is one of the best churches to visit during the Lenten Season, where you can easily meditate because of the fresh surroundings beside it.
St. Jerome Parish in Morong, Rizal
This is one of the oldest churches that you can find in Rizal. Chinese artisans built it in the year 1615, and you can still see the Chinese-style lions as you enter the church's steep driveway. The church is also made of stone and mortar. Inside it, you can see a first-class relic of the town's patron, Saint Jerome, the Patron of Scholars of the Bible.
Morong Church is beautiful inside and out to those who plan to get married or Visita Iglesia. It is also one of the most historical churches here in Rizal province, a perfect place to pray, reflect and thank our Almighty God.
The church is located in San Jose Poblacion, Morong, Rizal.
St. Joseph Church in Baras, Rizal
Another oldest church that you can find in Rizal is the St. Joseph Church.
The church was built with a combined fortress and barn style, which is famous in Baroque architecture.
You can visit the church in San Jose Street, Barangay San Juan, Baras, Rizal.
Saint Ildefonsus of Toledo Parish in Tanay, Rizal
Fondly called the Tanay Church by the locals, the present church began to be built in 1773 and was constructed entirely after ten years in 1783. The church was declared a National Cultural Treasure by the National Commission for Culture and Arts or NCCA on July 31, 2001.
One of the tourist attractions in front of the church is the two old trees. It is more than 300 years old; that is why when the tree died, they decided to carve San Ildefonso De Toledo's image while praying in front of Our Lady of Guadalupe. Another tourist attraction of the church is the 12 stations of the cross. They said it is one of the beautiful stations of the cross among others in Asia. San Ildefonso De Toledo Parish is one of the Jubilee Churches of Antipolo.
You can find this church at M.H. Del Pilar St., Tanay, Rizal.
Saint Mary Magdalene Parish Church in Pililla, Rizal
Declared as a Diocesan Shrine on July 22, 2018, the St. Mary Magdalene Parish Church of Pililla was built by the Franciscan priests in 1583. The church was constructed and made of adobe like the other old churches. It also houses a small devotional painting of St. Mary Magdalene that can be found inside the baptistery.
You can visit one of the oldest churches in Rizal at Brgy. Imatong, Pilila, Rizal.
With the quarantine and restrictions during Holy Week's observance this 2021, why not do an online tour while staying at home for this year's Visita Iglesia?
Besides adoring each church's magnificence structure and history, let us not forget to contemplate and reflect while having our Visita Iglesia. May this be a way to deepen our Faith and guide us to a brighter and righteous life.
Let us stay safe, Kabarangay!
Related Articles:
***
For more information on Lumina Homes, contact (0917) 629 6523.

Try our Home Loan Calculator
Loan Calculator
Try Lumina Homes' loan calculator and get an estimate computation for your preferred Lumina property and home model.