iPhone 13: The newest craze in the Apple Market!
16 September 2021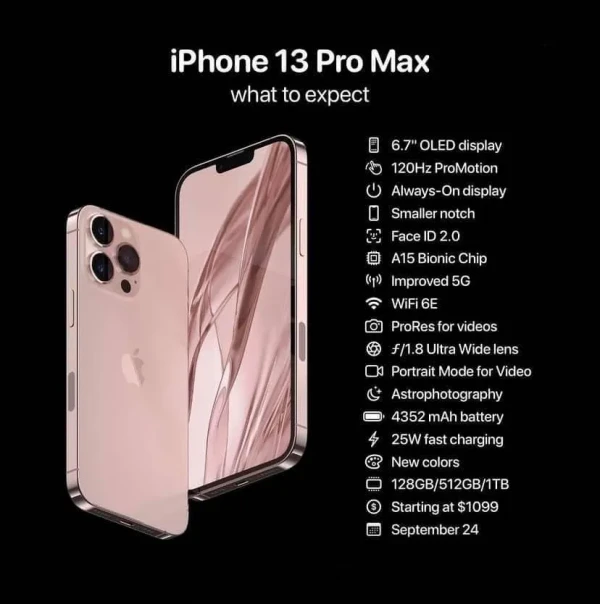 On September 15, Apple announced the newest member of the Apple device in the market, the iPhone 13. Apple promises during the announcement that the iPhone 13 lineup will have a beautiful and rugged design together with an upgraded dual-camera system for taking better pictures and movies in low light makes a big impact in the field. It also has Cinematic mode, a major step forward plus the iOS 15 features.
First in line is their iPhone 13 and iPhone 13 mini that have lower prices compared to the other newest versions. These phones will be offered in tandem with the more costly iPhone 13 Pro and iPhone 13 Pro Max. For those who are more casual in their photography pursuits, the iPhone 13 and iPhone 13 mini are just the perfect iPhone for you.
Before you go gaga on this set of iPhone 13 that will be introduced in the market by September 24, let's take a quick check first on what to expect from them.
The new iPhone 13 and its specs
Apple tends to hold onto its device designs for years, and that's why the iPhone 13 is still quite similar to the iPhone 12. The basic model has a flat surface with aluminum bands, while the pro model has stainless steel bands.
In addition to some striking new hues, the iPhone 13 series also offers a pink color that many have been begging for. One significant change is a reduced notch, and other revisions have been made to the phone's appearance.
For starters, the available colors for iPhone 13 and iPhone 13 Mini are Starlight, Midnight, Blue, Pink, and Product Red whereas for iPhone Pro Models, you can choose from these captivating hues like Silver, Graphite, Gold, and Sierra Blue.
Apple's most sophisticated processor to date is included in the iPhone 13. The A15 Bionic system-on-chip runs faster than ever before. If you love both gaming and photography, the quad-core GPU of iPhone 13 and iPhone 13 mini is ideal for you since it handles graphically-intensive applications well. In fact, Apple brags that the GPU from these phones is 30 percent quicker than the same hardware in any Android phone.
Apple's iPhone Pro Models on the other hand, are equipped with a larger GPU that runs on the power of five cores. Apple asserts that Pro devices are the first to have the most powerful mobile GPU, which, it claims, is up to 50 percent quicker than rival mobile GPUs.
The display
According to Apple, the Super Retina XDR OLED technology is a feature that can be found on all four iPhone 13 series. Just like last year, the next iPhone 13 series will have three screen size choices available. In order to compete with more expensive Android phones, Apple created a cheaper phone that has the same size screen and high-end components. For iPhone 13 Mini, it keeps the same 5.4 inch display. The iPhone 13 and iPhone 13 Pro both have larger screens with 6.1 inches, as well as other superior features. Like the iPhone 12 Pro Max, the iPhone 13 Pro Max has a 6.7-inch display.
Camera features
The iPhone 13 has received a few camera improvements according to Apple. The new 12MP ultrawide sensor in the non-Pro versions captures 47% more light. This function was previously found only on the iPhone 12 Pro Max, but the new phone now comes with 12MP primary wide-angle camera sensor-shift optical image stabilization.
This is useful for shooting gorgeous pictures in a variety of lighting situations on the iPhone 13 and the iPhone 13 mini. Meanwhile, the new iPhone 13 Pro and iPhone 13 Pro Max rear cameras have three times the optical zoom, an ultra wide camera, and a telephoto lens. Night Mode is also available on all three cameras. The Pro models can capture photos that go as near as 2cm thanks to the camera's ability to take macro shots.
All iPhone 13 versions provide you with Photographic Styles that enhance your pictures in a unique, on-the-fly style. The new iPhone models also include an updated function called Cinematic Mode which makes your movies better by including Dolby Vision HDR that every user will surely enjoy.
Battery life
All iPhone 13 models now have now longer battery life. Apple said that the iPhone 13 mini, would provide around a half-hour more battery life than the iPhone 12 mini. It is said that the iPhone 13 will provide two and a half hours more battery life than the iPhone 12. Compared to the iPhone 12 Pro, the iPhone 13 Pro will operate for 1.5 hours longer, while the iPhone 13 Pro Max will have a battery life of up to 2.5 hours longer than the iPhone 12 Pro. Apple also said that the new iPhone 13 Pro Max is the longest-lasting iPhone ever.
iPhone 13 prices and availability
The expected retail price for iPhone 13 mini starts at Php 44, 990 and the iPhone 13's price is from Php 50, 990. Concurrently, the expected price for iPhone 13 Pro starts at Php 63, 990 while the iPhone Pro Max price is from Php 70, 990.
There is no announcement yet of the availability of iPhone 13 in the Philippines although you can have it shipped from the US starting September 24.
The better investment
iPhone 13 are really fancy and great investment if you are already a well-established individual with a diverse line of source of income and own some really stable businesses. If not, then you should think twice first where to put your hard-earned money especially during pandemic and with different protocols like granular lockdown that movements are limited.
For only Php 4,000 you can say goodbye to your apartment rents and own the most affordable home model unit from Lumina Homes, which is the Aimee Rowhouse. Plus, you would only need Php 75,000 for its downpayment when you choose the pag ibig financing for your housing loan. Wow! If you think about it, it is almost the price of the iPhone 13 Pro Max!
So make sure to invest and allot your hard-earned money on the things that you "need" other than what you "want". Anyways, it would be easier for you to save up money for an iPhone if you already have a space you can call your own.
Related Articles:
***
For more information about the house and lot for sale by Lumina Homes, contact (0917) 629 6523.
Visit our official website at www.lumina.com.ph and like/follow our official online channels: Facebook, Twitter, Instagram, YouTube, Google MyBusiness & Google Maps, Pinterest, Spotify, Viber, Telegram, Lazada, and Shopee.

Loan Calculator
Try Lumina Homes' loan calculator and get an estimate computation for your preferred Lumina property and home model.