Lumina Homes' Race to 1 Million Facebook Page Likes
20 December 2021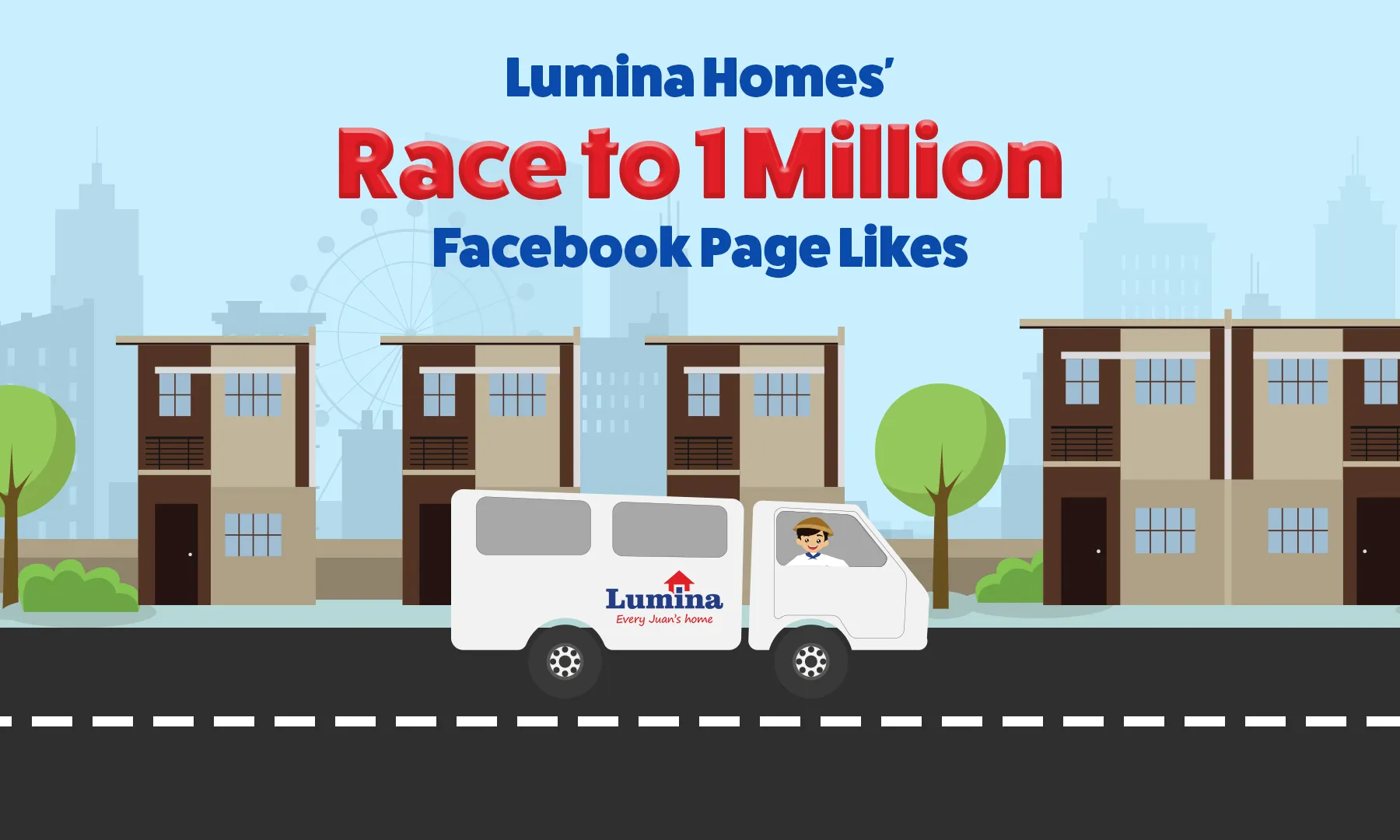 Christmas reminds us to be joyful and grateful, and Lumina Homes is grateful to the 1 million people who have liked its Facebook page.
Even before the pandemic, social media—the good and the bad—aided Lumina in becoming the most innovative real estate brand for the digitally savvy Filipino.
As promised, Lumina gave away exciting prizes as soon as it reached the one million mark. Stella Velasco was the lucky raffle draw winner, receiving an iPhone 13 (1st prize), Leigh Placio (Android Tablet, 2nd prize), and Lhai Reales (TWS earbuds, 3rd prize).
Continue to follow Lumina's official Facebook page for exciting announcements, no-nonsense and informative posts, and the most recent promos and deals on your dream house and lot.
Raffle Details
iPhone 13 is the newest craze in town! Many people dream of having this cutting-edge Apple gadget, but only some lucky few had the chance to have it because of its exceedingly high price.
But here is a piece of excellent news! You can be a lucky winner of a brand new iPhone 13 as Lumina Homes host a Race to 1 Million Facebook Likes. Want to know more information about this promo? All you have to do is to follow the simple steps below.
MECHANICS:
You need to like and follow first Lumina Homes Official Facebook Page at www.facebook.com/luminahomesofficial.
Share the announcement post inviting Facebook Likes and tag it to 100 of your friends from your Facebook Friend List. And, don't forget to set the settings of your post to public.
After achieving the 1,000,000 Facebook Page likes milestone, Lumina Homes will conduct a live raffle draw among the qualified promo participants and choose the winners of three great prizes!
For the 1st Prize: A brand new iPhone 13
There is a vast difference in the field of smartphones and gadgets when you have a gorgeous, durable design and a superior low-light camera system brought to you by the iPhone 13. On top of that, this state-of-the-art phone also has an iOS 15's Cinematic mode, which is perfect for your photography and selfie sessions.
Aside from this, the iPhone 13's performance is as promising as ever. It has Apple's most advanced CPU to date, plus its system-on-chip performance has never been better on an A15 Bionic. The quad-core GPU in the iPhone 13 is excellent for those who like both gaming and photography. It can handle graphically intensive apps effectively without lagging. You can enjoy your favorite activities without any disruption because of its smooth interface.
And as if it isn't enough to crave it, Apple even boasts that the GPU in iPhone 13 is 30 percent faster than that in any Android phone these days!
For the 2nd Prize: A brand new Android Tablet
For the 3rd Prize: A brand new TWS Earphone
What to like about Lumina Homes' Facebook Page?
There are many things to like in Lumina Homes' Official Facebook Page aside from its advertising strategies and tactics, announcements and informative posts about the latest promos in their best deals house and lot offers.
1. Make your home reservations through Facebook.
You can conveniently start your home investment by just browsing Lumina's Facebook Page. Reserve now a house and lot you can call your own through their Facebook Shopping Cart!
Yep. You heard it right. You don't have the hassle of visiting other applications or websites because you can have your Lumina Homes reservation straight from their Facebook Page.
2. Chat with a Lumina Representative.
Have some queries about home investment and Lumina Homes' house and lot offers? There is a Lumina Representative on its Facebook Page that you can always ask any time of the day. You don't have to undergo the trouble of contacting their customer service over the phone as the answer for your home reservation and investment inquiries are just a Facebook chat away.
3. Payment Guidelines
Are you a first-time homebuyer and getting confused about your Lumina Homes' monthly dues and amortization fees?
Lumina Homes' Official Facebook page also offers some tips and guidelines on settling your payment like a pro.
4. New Project Area Launch
Are you wondering if there is already a Lumina Homes community near your area? With Lumina Homes' Official Facebook Page, you can stay updated about the newest real estate development that you have that you may find helpful during your home investment journey. You may also leave some comments for your suggested site where Lumina can market real estate business.
5. Hiring or Careers Announcement
Lumina Homes continue to engage every Juan with its helpful and informative online contest and activities, and you can see all these on their Official Facebook Page. Let's take a look at some of the events that Lumina currently have:
Juan Hour
"KAPAG 5 PM NA, JUAN HOUR NA!"
Every Wednesday around 5 p.m., our Kabarangays should be on the lookout for this new habit. You can win Php 1,000 AllEasy Load by watching and liking the featured social media account during Juan Hour, and you can also learn more about real estate business, about the company, and house ownership at Lumina Homes while you're at it.
And yup, this is for real! By just viewing their live streaming, you may get Php 1,000 AllEasy Load! Please tune in to Lumina live selling program to learn more about home investment and your chosen affordable house and lot model or Lumina Homes' condo unit!
Make sure to attend their Juan Hour on Wednesday, October 6, at 5 p.m. and discover the beauty and charm of their community in Lumina Tagum and Lumina Pagadian.
Halloween is just around the corner. Even though we are still being advised to stay indoors, we can enjoy Halloween by joining the Spooktacular Halloween Costume Online Contest from Lumina Homes.
All certified Lumina Kabarangay homeowners with children under the age of 12 are eligible to join and enter this competition. The deadline for submitting submissions is only October 18, 2021, so be sure to show off your originality and skills by doing arts and crafts with your kids.
On October 23, 2021, Lumina Homes' official Facebook page will publish all official entries. So, don't forget to like and share your favorite entry until October 30, when the cash awards will be awarded to the top three Facebook pictures with the most likes.
The winner for this contest will take Php 3,000 while the 2nd placer will get Php 2,000. Meanwhile, the 3rd placer can still take home Php 1,000 of cash.
So, what are you waiting for guys? Like and follow the Lumina Homes' Official Facebook Page now and get that chance to own an iPhone 13 for free!
***
For more information about the affordable house and lot for sale of Lumina Homes, please contact (0917) 629 6523.

Try our Home Loan Calculator
Loan Calculator
Try Lumina Homes' loan calculator and get an estimate computation for your preferred Lumina property and home model.