How to Turn your Adriana Townhouse into a "New Normal" Home
1 September 2021
Lumina Homes, the affordable housing arm of Vista Land, continues to give Filipinos the home they deserve through and after the pandemic. After giving home seekers all the safe online options to reserve and "visit" their dream home, it goes the extra mile by proposing house provisions for everyone's new-normal needs.
Adriana Townhouse, one of the best-selling units of Lumina Homes, is built using the Cast-in-Place (CIP) construction method – durable, sound-proof, and pest-resistant.
Moreover, homebuyers can also maximize the 44-sqm townhouse unit—lot ranging from 36 sqm to 54 sqm—to create necessary adjustments for a pandemic-proof home.
Adriana's default features include a living area, dining and kitchen, two bedroom provision, one toilet & bath, one carport, and a service area.
Are you planning to renovate and upgrade your house to fit to the new lifestyle? Know how to turn your Lumina Homes' Adriana Townhouse into a "new normal" home! Here are some ideas to enhance your Adriana Home: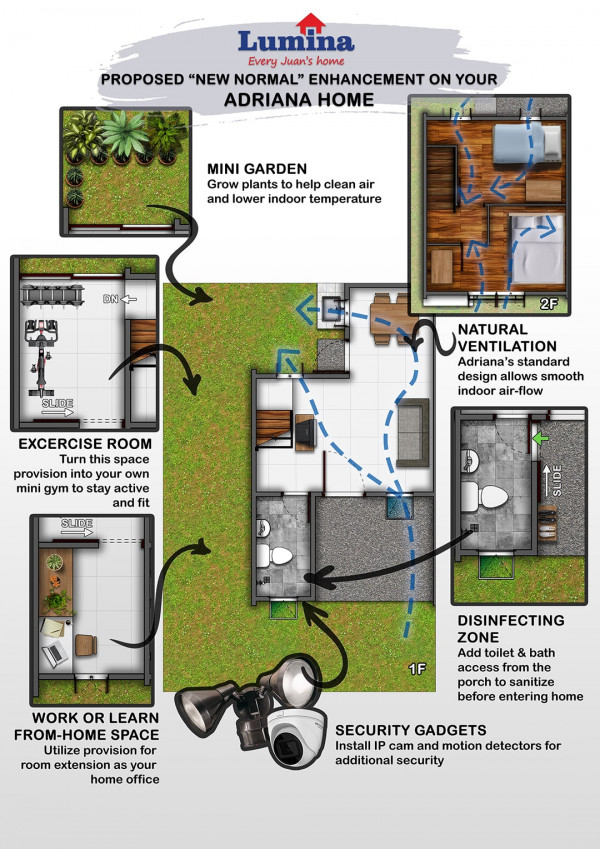 1. Designate a disinfection area.
From the carport, disinfect your bags and keep your shoes on the porch before you enter the house. To make sure you are totally clean and sanitized before you roam the living spaces, you can add a door—preferably a sliding one to save space—to access the toilet & bath from the carport.
2. Design a space for indoor plants.
Adriana follows a standard design and placement of windows to offer natural ventilation, letting the indoor air flow smoothly across the house. To invite fresh air to your home and make your indoor space cooler all year round, make space for some indoor plants and add a gardening area. It's never too late to have a green thumb and enjoy being a plantito or plantita. Whether it's ornamental or edible plants, these little greens can beautify your home while cleaning the air you breathe. For more urban gardening tips in cozy spaces, read the key takeaways of the webinar speaker during Luntiang Lumina.
3. Create a dedicated work from home or learn from home space.
To add a dedicated work- or learn-from-home space, you may add a room extension with 2.4 m x 2 m or 4.8-sqm measurement for your home office. This can help you set aside household distractions and focus on work or the kids' schooling.
4. Make a home gym.
Preferably beside the home office, you can create an additional room measuring 2.6 m x 2 m or 5.2-sqm. It can work as a home gym, so you can stay fit and active even during quarantine.
5. Add smart home tools.
Lumina Homes have 24/7 security, but for added safety, you can install web security cameras, the smartest security tool for any home these days.
Adriana is present in different project locations from as north as Tuguegarao down to Camarines Norte and Ozamiz. For those looking for an address close to Metro Manila, the townhouse is also in Bulacan, Cavite, Laguna, and Batangas. Adriana Townhouse is available through bank financing and pag ibig housing loan.
Enjoy 5% cashback capped at 100 coins when you avail of an Adriana Townhouse home reservation e-voucher from September 1 to 9 in the official Shopee store of Lumina Homes. Here is how you can buy an Adriana Townhouse home reservation e-voucher in Shopee:
Follow Lumina Homes on Shopee Mall at

Browse through the available home reservation e-vouchers and select "Lumina Homes- Adriana Townhouse e-voucher"

Read the product description or 'Chat Seller' to inquire about Adriana Townhouse.

Click "Add to Cart" or "Buy Now" and pay for the e-voucher through credit card, Shopee Pay, or GCash.

Once paid, a Lumina Representative will contact you to set an online appointment for marketing briefing and completion of documents.
Related Articles:
***
For more information about the affordable house and lot for sale by Lumina Homes, contact (0917) 629 6523.
Visit our official website at www.lumina.com.ph and like/follow our official online channels:
Facebook
,
Twitter
,
Instagram
,
YouTube
, Google MyBusiness & Google Maps,
Pinterest
,
Spotify
,
Viber
,
Telegram
,
Lazada
, and
Shopee
.

Loan Calculator
Try Lumina Homes' loan calculator and get an estimate computation for your preferred Lumina property and home model.
Disclaimer: All computation appearing herein are sample computation only and are not official.