12 Reasons Why We Love "Ber" Months
29 September 2022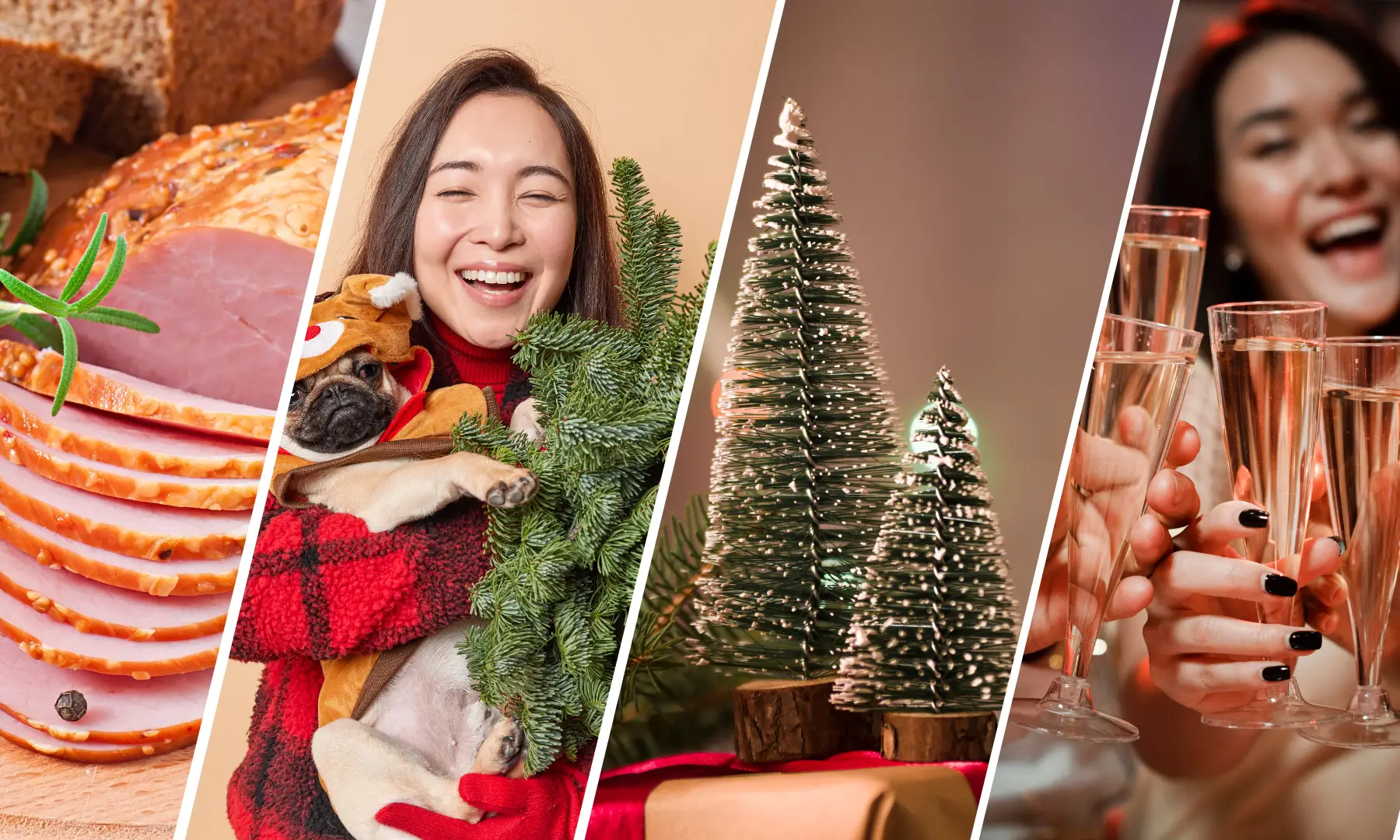 At the end of August, memes on social media are practically everywhere showing a teaser of a smiling Jose Mari Chan, singer of the perennial favorite "Christmas in our Hearts." It was one of those witty social media banters where there's no provided context, but everyone knows what his plain presence was all about, no caption needed.
In other words, the ubiquity of Jose Mari Chan memes serves as a humorous metaphor that, at least for Ber months-loving Filipinos, the coming of September means Christmas is already just around the corner. Quite literally and figuratively.
'The longest Christmas celebration in the world'
And just like that, September arrived like an old friend we haven't seen in a while, much to our delight. Believe it or not, some are already greeting each other with a merry Christmas!
You see, if there's one nationality known to be the most excited about the advent of September, Filipinos will be quick to proudly claim ownership of that recognition. In fact, if you do a quick Google search of which country has the longest Christmas celebration in the world, the Philippines will materialize as the top answer.
But why, exactly, do Filipinos love the arrival of "Ber" months? In this feature, we will get to learn the various reasons why, and prepare to conclude how they all make absolute sense!
Top reasons why we love "Ber" months
September marks the commencement of renewed hope for Filipinos. Reaching September means we have surpassed the challenges of the first eight months, especially now in a post-pandemic era. But there are more reasons to celebrate the upcoming holiday season, and here we came up with our top 12, just like the number of months in a calendar year.
If you have your own unique idea that is not on this list, feel free to add yours in the comments!
1. Christmas Countdown
We can all agree that our fondness for the ber months all boils down to our anticipation to celebrate Christmas! Not only Christmas, since shortly a week after would be New Year's Eve. New year, new season, new self, new stuff, new dreams, new goals, new investment, new lifestyle, you name it.
Some of us may dread the new year for adding up a number to our age, but the new year can actually be turned into a motivation to do better and be a better person. It's everybody's New Year's Resolution, and it's for all good reasons.
2. Christmas Parties
Part of how we love the advent of the holiday season is the highly anticipated Christmas party. Whether it's students in schools, employees at work, and family members at home, it's a source of such excitement! There will be fun games, gift exchanges, and the karaoke. The grandness of it all is not seen in expensive gifts or branded clothes worn, but in the collective laughter and merriment of the ones celebrating the occasion.
3. Colder Weather
In a tropical country like ours, it's generally warm all throughout the year. The coming of September 1st is gesturing toward cooler weather and some fresh air. While we're used to the heat, it also means we crave for cold weather to lull us to sleep at night (without an AC or a fan) and not be able to sweat in buckets during the day.
We only have two weather conditions in the Philippines: dry season and wet season. We rarely experience a Baguio kind of climate, so it makes sense we crave it during the months forecasted as the start, or resumption, of the cold season.
4. Better OOTDs
Now, cooler weather also means we could flex ourselves in outfits we would not otherwise wear in summer. It's going to be a treat for millennials and Gen Zs who love sporting their outfit of the day (OOTD), as well as millennials-at-heart who bask in dressing up for worthwhile occasions. It doesn't have to be the brands that celebrities wear. Fashion lovers know ukay-ukay (thrift) stores offer a wide selection of fashionable yet economical outfits!
5. Food cravings
Assuming the weather has started getting cooler, we surely crave the warm welcome of a melange of foods to spoil our famished stomachs. Macaroni soups, Arroz caldo, bibingka, lumpia, spaghetti, pansit, and practically everything you could think of that reminds you of the Noche Buena and Media Noche, where families prepare a banquet of sumptuous meals and eat together as we celebrate the entire year's arguably most important occasions.
6. Christmas Vacation
The commencement of the "Ber" months also beckons toward a number of non-working holidays, which is an opportunity for employees and breadwinners to take a well-deserved break from an exhausting workload. We have Halloween and Bonifacio Day every November, and the highly anticipated Christmas season by December, including Rizal Day. And don't forget the semestral break for the students!
The Ber months are definitely the perfect time to bond with the family at a tourist destination!
7. Excitement to Decorate
Our mothers and grandmas will surely lead the Christmas décor hanging as early as September, which will be joined by children and young adults who love the sight of colorful ornaments adorning the Christmas Tree, plus the lanterns and flashy Christmas lights! They are a sight to behold when nighttime hit, and there are homeowners who actually put an investment into making their house a giant Christmas venue for passersby to see and take pictures.
8. The Fun of Gift-giving
You may regard yourself as kuripot (ungenerous, stingy), or to put it in a more positive light, matipid (frugal, thrifty). But really, gift-giving is an act of Christmas kindness that is exciting for both receivers, usually godchildren of their godparents, and generous gift-givers. It's not required, but many people feel obliged and happy to buy gifts and maintain the spirit of gift-giving.
It's the thought that counts, but physical gifts have their appeal, especially for the kids!
9. Shopping!
It's not always bad to splurge or treat yourself with some material things if you have more money. If you're the breadwinner, or simply an employee working your ass out for eight hours, you deserve those new pair of shoes and perhaps a new phone you've been resisting to buy in the early months of the year. With the issuance of 13th month pay come December, go get those pair of expensive shoes, while still saving up for future needs.
9. 'Simbang Gabi'
The Simbang Gabi or Evening Mass is a Spanish-inspired Filipino tradition done in nine consecutive days of nighttime church attendance. If completed, it is believed that one's wish will be granted. Well, there are sure Simbang Gabi wishes that didn't come true, but it's the feeling of being closer to God that matters most. More than an occasion, Christmas is a spiritual matter that religious Filipinos take very seriously.
10. Christmas Songs
You know it's past September when malls, establishments, radios, and television commercials start playing Christmas songs and jingles! Besides checking the calendar, Christmas songs are an auditory reminder of the season. And while there seem to be lesser carollers these days, they remain an integral part of the holidays.
So if you come across some carollers belting out infamous Christmas songs, whether out of tune or worthy of a chair-turning The Voice audition, it wouldn't hurt to give some coins from your pockets if you have an extra.
11. Christmas Movies
Aside from Christmas songs, old or new, there are Christmas films too that we anticipate watching or revisiting! In the Philippines, we have the annual Metro Manila Film Festival (MMFF) every December 25th, where films usually depict scenes of the real-time season. It's another way to bond with the family, which is going to the cinema with them, with the movie of the majority's choice.
12. Family Get-togethers
This listing would not be complete without a mention of how family-oriented Filipinos are. And the "Ber" season is aptly an opportunity for Overseas Filipino Workers (OFWs) to come home, if only for a short but worthwhile time before they get back in search of greener pastures at the expense of proximity to their loved ones.
Simply put, the season will make every Filipino family come together, gather in an annual reunion, and be merry during the season. We anticipate the get-togethers with family members we have not seen for a long time, as well as opportunities to settle conflicts across relationships. Christmas is an opportunity to solve quarrels, with the spirit of holidays serving as the adhesive for reconciliation.
Celebrate the "Ber" months' season with Lumina Homes!
It's almost the end of September, and if you plan to invest in an affordable house and lot for sale, may it be with award-winning Lumina Homes, the housing arm of Vista Land.
With Lumina, we offer an affordable house and lot with amenities for your convenience and comfort needs. Direct message us on this website and through our other social media channels and have your own house and lot in the Philippines as an advanced Christmas gift to yourself and the entire family!

Try our Home Loan Calculator
Loan Calculator
Try Lumina Homes' loan calculator and get an estimate computation for your preferred Lumina property and home model.