The Ultimate Holiday Playlist: 20+ Songs for Christmas Carols
20 October 2021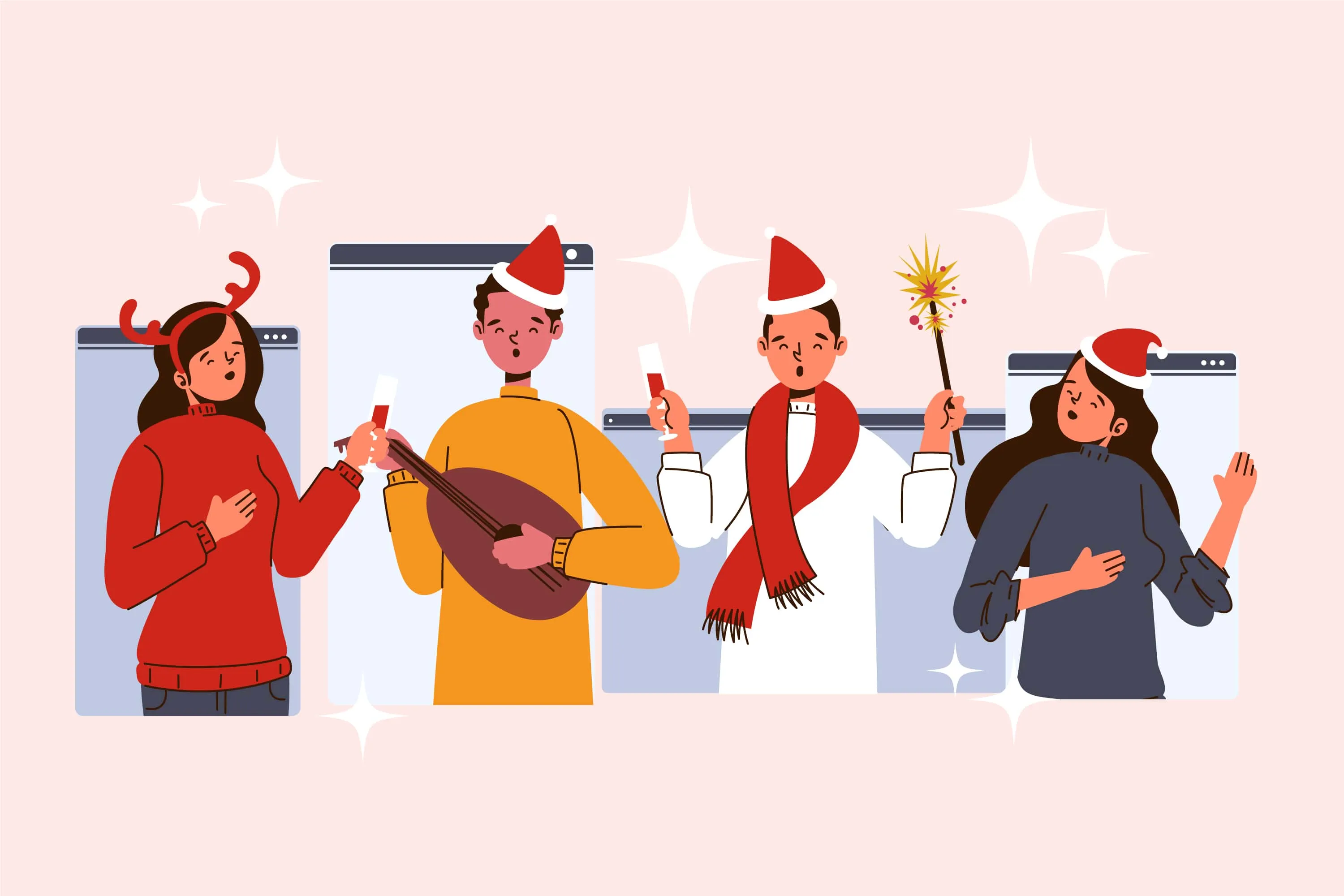 Christmas carols are sung every year as part of the holiday season celebrations across the globe. This custom raises the happiness and cheer of the season wherever you go.
There is a vital religious element to many of the classic and best Christmas songs, with many focused on the birth of Jesus Christ. However, there are famous Christmas songs these days that focus on the activities around the holiday.
If you want to organize a family choir, you can check some of this classic Christmas melody that can be easily sung and memorized even by young kids.
1. We Wish you a Merry Christmas
This is the most common song we hear from the Christmas carols in our country. Its ancestry may be traced back to the English habit of giving Christmas goodies to carolers on Christmas Eve, such as "figgy pudding," which was similar to today's modern-day Christmas puddings. It's also a welcoming song for the homeowners.
2. Joy to the World
One of the most popular Christmas carols was "Joy to the World," written by Isaac Watts. Psalm 98 is a well-known Christmas hymn in the United States, and the song's purpose is to spread joy and encourage hope for the future to everyone who hears it.
3. The First Noel
It depicts "Noel's" or "Jesus'" birth's narrative, namely the night of his birth in Bethlehem. The poetries in the Middle Ages were wholly written to be sung; that's why it is presumed that "The First Noel's" song is older and likely in French.
4. Silent Night
A fun fact about this is that a young Austrian priest called Joseph Mohr wrote the song's lyrics in 1818 in German with a title, "Stille Nacht, Heilige Nacht," shortly after the conclusion of the Napoleonic Wars.
5. The 12 Days of Christmas
As with "The 12 Days of Christmas," the singer of this Christmas song boasts about all the beautiful presents they got from their "true love." The lyrics have also undergone several revisions and variations throughout the course of this carol's shady history.
6. Jingle Bells
"Jingle Bells" is a well-known and often performed Christmas carol from the United States. According to legend, James Lord Pierpont created the song, originally named "One Horse Open Sleigh," in 1857 in Medford, Massachusetts.
7. O Come, All Ye Faithful
This hymn is often credited to John Wade, a British refugee who fled the Jacobean uprising and settled in France. When Wade published Cantus Diversi in 1751, he added the Latin text of "Adeste Fideles," which he had set to music about 1741.
8. Santa Claus is Comin' to Town
Lyricists John Frederick Coots and Haven Gillespie wrote "Santa Claus Is Comin' to Town" in 1934. Folklore has it that Santa Claus drives his reindeer-drawn sleigh around the streets at night, dropping into homes by way of the chimneys, leaving presents for the kids who have been good all year.
9. Rudolph the Red-Nosed Reindeer
Robert Lewis May developed the mythical reindeer Rudolph the Red-Nosed Reindeer in his book with the same title. Rudolph is frequently shown as Santa Claus's ninth and youngest reindeer, leading the team and guiding the sleigh on Christmas Eve with his glowing red nose.
10. Frosty the Snowman
In 1950, a new Christmas carol was released, telling the story of an inanimate snowman that comes to life to bring holiday happiness to the kids as they enjoy sledding and ice-skating.
Meanwhile, if you would like to take your Christmas carols to the next level, you might as well include on your playlist these popular Christmas songs with their modern up-tempo tunes. Don't worry, and you must already remember this by heart as you always hear them blasting on mall and park stereos every holiday season.
11. All I Want for Christmas Is You by Mariah Carey
Mariah Carey has been dubbed the "Queen of Christmas" because of this song, becoming one of the best-selling contemporary Christmas songs of all time.
12. Last Christmas by Wham!
This upbeat Christmas ditty is perfect when you need to practice it while humming in the shower. One of the fun facts about this song is that although it was first released in 1984, it didn't reach No. 1 until 2017. Sign and dance now this holly jolly Christmas song with the fam bam!
13. I Saw Mommy Kissing Santa Claus by Jackson 5
Jimmy Boyd's original is excellent, but the funky sounds of Jackson 5's cover version will have everyone up and dancing to the funky beats and singing along.
14. It's Beginning to Look a Lot Like Christmas by Michael Bublé
Again, Michael Bublé succeeds. It's impossible to get into the holiday spirit without listening to this holiday classic and including it in your Christmas carols playlist.
15. (There's No Place Like) Home For the Holidays by The Carpenters
Karen Carpenter's angelic voice lends a homey feel to any song, but mainly to this cheery Christmas ditty.
16. Christmas in New Orleans by Louis Armstrong
Louis Armstrong's festive homage to New Orleans, "What a Wonderful World," has a huge brass band and is perhaps best known.
17. Underneath the Tree by Kelly Clarkson
As it was featured on Kelly Clarkson's holiday album, this song, which has initially been titled Wrapped in Red, immediately rose to the top of the Christmas charts.
18. Merry Christmas, Happy Holidays by *NSYNC
Bring back those 90's feelings with this Christmas song from NSYNC. The band's second studio album, Home for Christmas, had only this one song, "Christmas Time Is Here," which is also the only track released from their Christmas album.
19. Santa Tell Me by Ariana Grande
Christmas Kisses, the Japanese version of Ariana Grande's EP Christmas EP, initially included her Christmas original, which has become a modern favorite.
20. My Only Wish (This Year) by Britney Spears
As part of the 2000 holiday collection Platinum Christmas, Britney Spears contributed this original holiday song. This also features other singers on the album like Christina Aguilera and Whitney Houston.
21. Winter Wonderland by Darlene Love
The best rendition of this song is Darlene Love's, which beats out recordings by Bing Crosby, Frank Sinatra, and even Radiohead.
22. Jingle Bell Rock by Bobby Helms
Despite its 1957 release date, this song debuted in the top ten of the Billboard Hot 100 list in January 2019 at the position of Number 8. After more than 60 years of waiting, the song finally cracked the top ten, setting a new record.
23. Feliz Navidad by José Feliciano
Thanks to Puerto Rican artist and composer José Feliciano, everyone now has an idea of how to say Merry Christmas in Spanish.
24. I'll Be Home for Christmas by Michael Bublé
Another great song from Michael Bublé. This song will genuinely serenade your ears and give warms to everyone's heart this holiday season.
25. Rockin' Around the Christmas Tree by Brenda Lee
While it's hard to think Brenda Lee recorded this song as a teenager, it's still a fan's favorite, as well as a holiday golden until today.
26. Like It's Christmas by Jonas Brothers
Hearing this song makes you groove and feel the love in the air together and see the twinkling of lights beautifully every Christmas, especially when you are in love and happy together.
Music doesn't just help us set our mood and prepare us for some holiday vibes that this Christmas season brings. So make sure to include some of this jolly and heart-warming song on your home's stereo and have a merry little Christmas with the whole family.
***
For more information about the affordable house and lot for sale of Lumina Homes, please contact (0917) 629 6523.
Visit our official website at www.lumina.com.ph and like/follow our official online channels: Facebook, Twitter, Instagram, YouTube, Google MyBusiness & Google Maps, Pinterest, Spotify, Viber, Telegram, Lazada, and Shopee.

Try our Home Loan Calculator
Loan Calculator
Try Lumina Homes' loan calculator and get an estimate computation for your preferred Lumina property and home model.