OFW Sessions: Property Investment Seminar this Aug 6
19 July 2021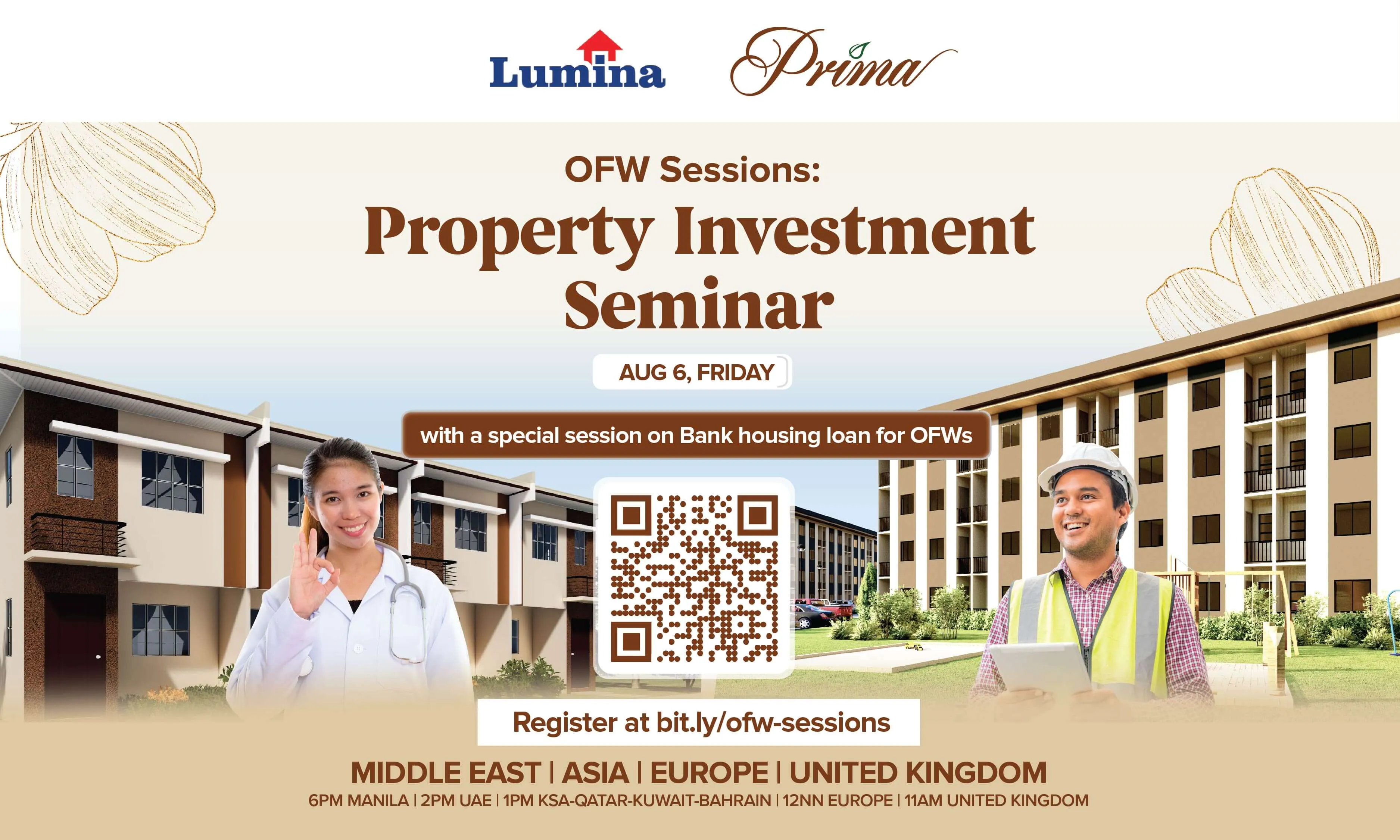 If you are an Overseas Filipino Worker who wants to own a house and lot, a condominium, or a parcel of land in the future, now is the time to start to get ideas on how real estate investment! This August 6, join Lumina Homes in OFW Sessions: Property Investment Seminar. Let us all learn how to invest in real estate in the Philippines practically and profitably!
The investment seminar will offer real estate professionals' investing tips and a special session on bank housing loans for OFWs.
If you are interested in learning more about different properties for sale and want to learn how to get started investing in real estate, now is the time to register via Zoom: https://us02web.zoom.us/webinar/register/WN_AtEjGkLWS7qoSdFHLv-70A
You can also watch the OFW Sessions: Property Investment live stream on the Lumina Official Facebook Page and Lumina Official Website's Live Event on August 6!
6 p.m. Manila Time

2 p.m. UAE

1 p.m. KSA-QATAR-KUWAIT-BAHRAIN

12 noon Europe

11 a.m. United Kingdom
For OFW attendees of the Property Investment Seminar this August 6, they are entitled to exclusive perks and discounts when they avail a Lumina home or a Prima condo unit as an early celebration of Lumina Homes' 9th Anniversary.
Keep in mind that when looking for OFW investing options, you should look for ideas that can provide practical earnings. This is basically what investing in real estate in the Philippines ensures. You will not only be able to obtain a property in your name, but you will also be able to gain profit from your investment. Furthermore, when you invest in real estate, you are engaging in a secure and crisis-proof venture. Even if there is a crisis, your investment is safe.
Overseas Filipino Workers
Overseas Filipino workers (OFWs) are still fuelling the country's real estate boom by spending hard-earned money in the Philippines. Many, if not all, of them aspire to have a place of their own without spending all their savings.
You will earn more money working outside of the Philippines than if you worked in the Philippines. Depending on where you work now, you may have the added benefit of working in an industry that is in better shape even during the pandemic, with more stable jobs.
While other tangible assets like vehicles and luxury items value depreciate rapidly, real estate properties can increase in value even while you sleep. An OFW should think about purchasing real estate while still working abroad.
Admittedly, buying a home is a major decision. Doing this while being in another country comes with its own set of challenges, especially that we have travel restrictions nowadays brought by the pandemic. However, you should not overlook the potential to invest in real estate that will indeed appreciate in value and generate passive income. All of these advantages while you continue your career in another country at the same time.
You can easily search for affordable properties for sale in the Philippines on the Lumina Homes website. The website features house and lot communities in over 50 key cities and municipalities across the Philippines, including Rizal, Bulacan, Pampanga, Bataan, Zambales, Nueva Ecija, Tarlac, Pangasinan, La Union, Cagayan, Isabela, Cavite, Batangas, Laguna, Quezon, Camarines Norte, Albay, Sorsogon, Iloilo, Capiz, Cebu, Negros Occidental, Agusan del Norte, Zamboanga del Sur, Bukidnon, Misamis Occidental, Davao del Norte, Davao del Sur, and South Cotabato.
You may easily explore through a 360-degree virtual tour to check the best-selling home models and showcase area that displays what a typical Lumina community appears. For reservation, Lumina is equipped with an online reservation system called Lumina Homes Online, and this site allows homebuyers to see the exact unit location through an interactive web map and pay the reservation fee through credit card, debit card, or digital wallets like GCash and AllEasy.
Also, the future is all the way up for Vista Land's mass housing arm, Lumina Homes, as it launches its first-ever condominium project, Prima Tanza in Cavite.
Being just a stone's throw away from the premium mall means that future residents of Prima Tanza are in for a lifestyle of comfort and convenience, with endless shopping, dining and entertainment options. The mall is also home to a transport terminal of MetroExpress Point-to-Point Modernized Jeep (Vista Mall Tanza to Parañaque Integrated Terminal Exchange or PITX), perfect for a hassle-free commute to and from the metro.
While residents enjoy the convenience of having easy access to essential establishments like hospitals, malls, schools, and future developments, they can also feel safe and secure at Prima Tanza's 24/7 guarded entrance and high-quality amenities, including modern clubhouses, a swimming pool, basketball court, playgrounds, and green parks.
Discerning homeseekers can expect for more Prima condominiums across the country. In the pipeline are more verticals in Iloilo, Davao, Butuan, Cabanatuan, Subic, and Cebu.
Imagine having a real estate investment that could provide enough passive income from rental properties to allow OFWs to return home and stay for good if they choose it. While it is true that OFWs earn a lot of money working in other countries, it would be best to have the option of staying at home or having a retirement plan. Or to simply enjoy and spend time in the Philippines with family and loved ones, living a meaningful life in your very own dream home!
Related Articles:
***
For more information about the house and lot for sale in the Philippines by Lumina Homes, contact (0917) 629 6523.

Try our Home Loan Calculator
Loan Calculator
Try Lumina Homes' loan calculator and get an estimate computation for your preferred Lumina property and home model.