Make Your Move this Love Month and Get Extended Terms for RFO Homes
9 February 2022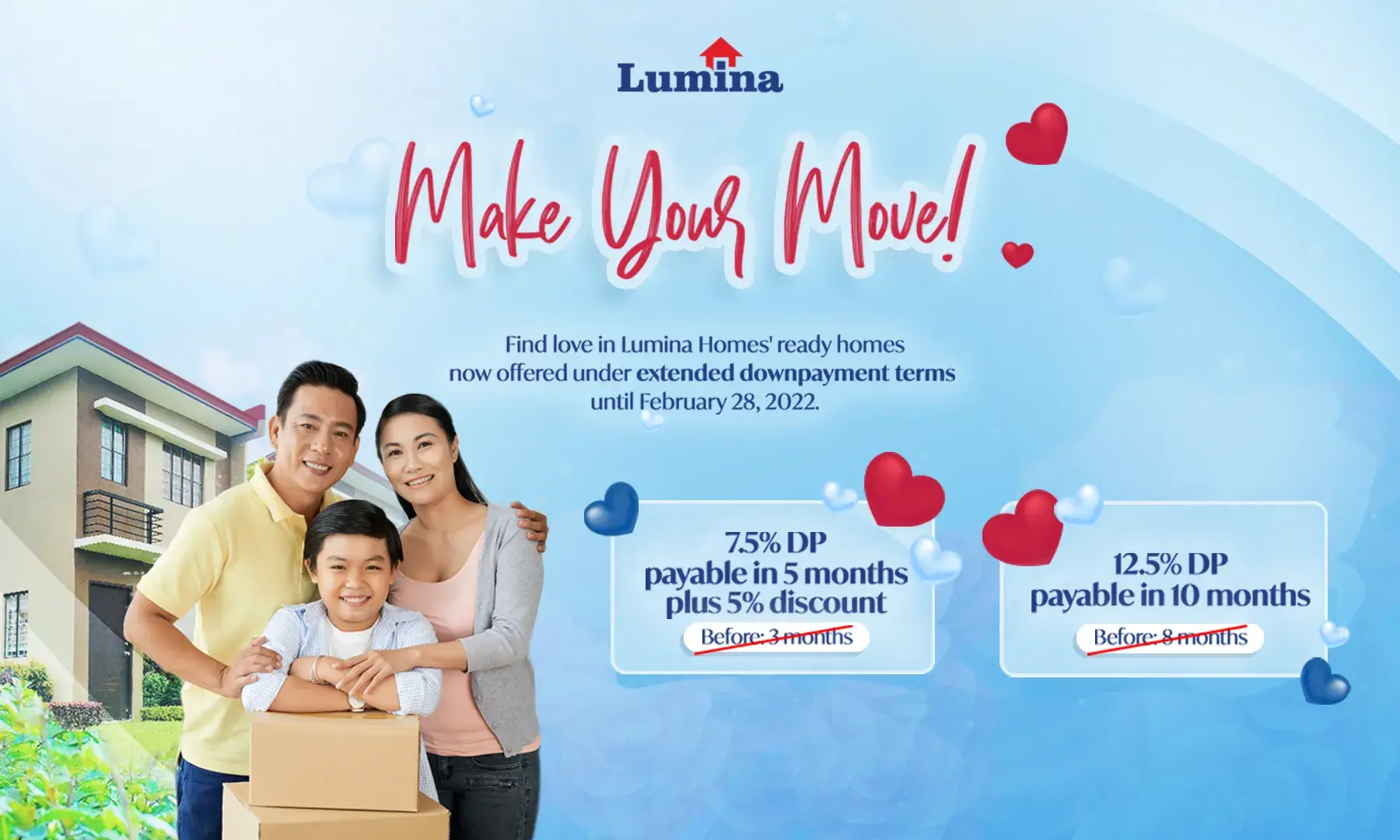 February is the month when lovers look forward to expressing their feelings to each other. And, just as the romantic air enchants the lovebirds, this Valentine's month could be your long-awaited opportunity to move into your dream home finally—and this applies to single but happy people as well!
If you haven't taken full advantage of the "pandemic discounts" in real estate, now is the time. Because just like how you should hold on to your one true love, this could be a now or never.
For ready-for-occupancy (RFO) units, Lumina Homes offers extended down-payment terms for those who will reserve a unit until February 28, 2022.
You may choose to pay your down payment in two terms. The first option is a 7.5% down payment payable in 5 months. You will also get a 5% discount when you receive a bank loan approval on or before completing the down payment for five months.
The second option is paying the 12.5% down payment with a more extended period of 10 months instead of the usual 8-month term.
Homebuyers can gain a low-maintenance source of income by investing in Lumina because the units can also be leased. They can even pick from a large selection of ready-to-move-in (RFO) units. The projects of Lumina Homes' that offers RFO Homes are the following:
Lumina Homes is spreading the love through beautiful and generously sized two-story home models for growing families: Angelique Townhouse (35 sq.m. floor area and 36 sq.m. lot area), Angeli Townhouse (42 sq.m. floor area and 36 sq.m. lot area), Armina Single Firewall (42 sq.m. floor area and 54 sq.m. lot area), Adriana Townhouse (44 sq.m. floor area and 36 sq.m. lot area), and Athena Single Firewall (53 sq.m. floor area and 63 sq.m. lot area).
Major thoroughfares, transportation hubs, schools, hospitals, and business and leisure areas are close to Lumina properties. In terms of work, leisure, and other vital necessities, make it accessible for homeowners and their families to do daily activities.
Join other Valentine's events and promos of Lumina Homes:

Try our Home Loan Calculator
Loan Calculator
Try Lumina Homes' loan calculator and get an estimate computation for your preferred Lumina property and home model.