Make your Money Work for You, OFW
16 March 2022
Overseas Filipino Workers (OFWs) have earned the title 'Modern Day Heroes,' owing to their integral role of OFWs in bolstering the Philippine economy. By working in a foreign land, they send much-need remittances to their families in the Philippines, equivalent to 10 percent of GDP, totaling about P134.77 billion in 2020, according to figures from the Philippine Statistics Authority.
Earning wages in foreign currency, OFWs enjoy more significant financial muscle that makes saving and investment possible. Trading their productive years for better earning potential abroad, OFWs look forward to the day they come home and enjoy the fruits of their labor by using their hard-earned money either to start a business or invest in properties.
Among all types of investment, real estate is one of the most preferred asset classes for OFWs owing to the ease of entry. Below are some reasons why real estate—especially homes in desirable suburban locations—appeals to the OFW investor.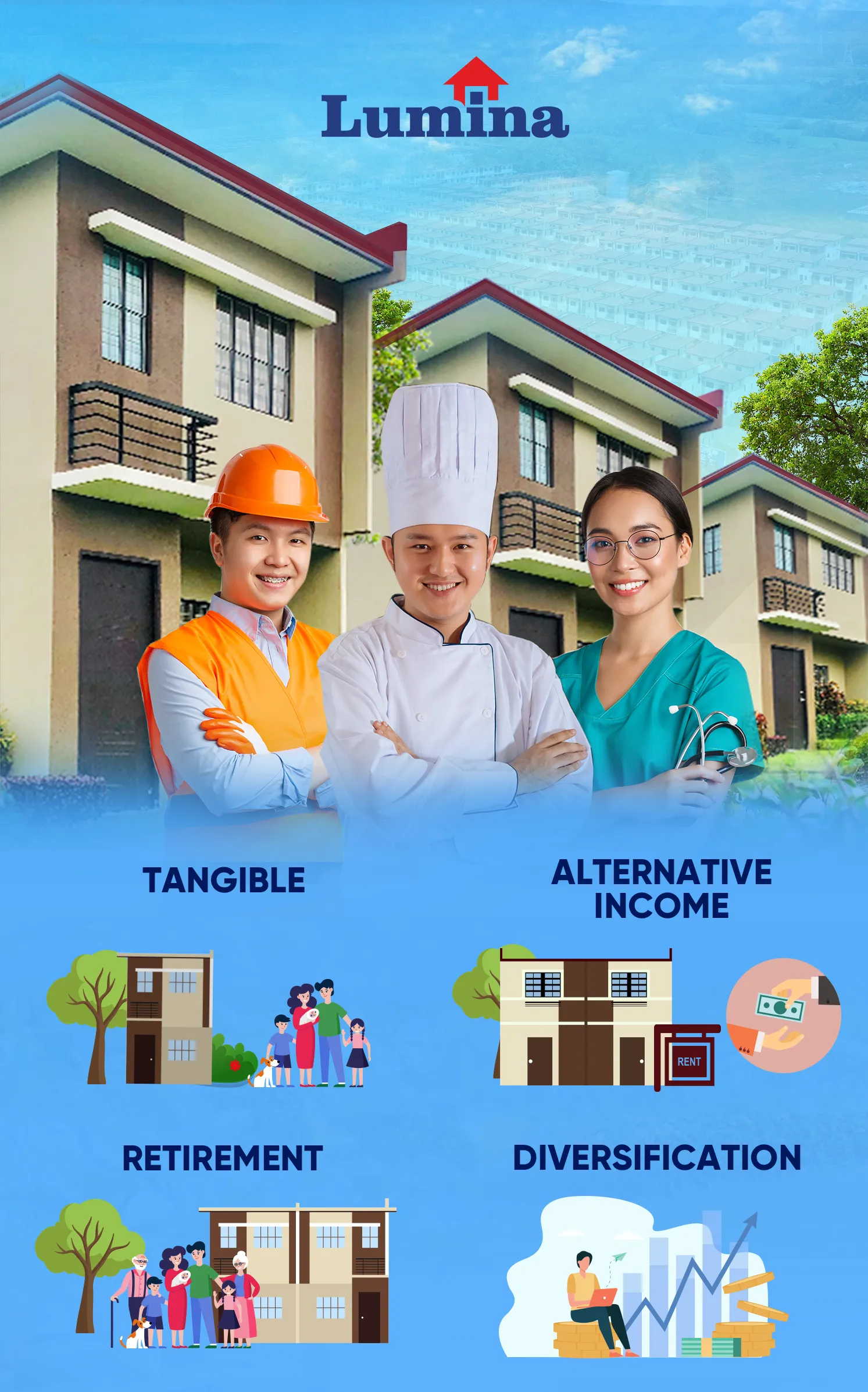 Tangible
A home is a tangible asset that can be seen, felt, and held. Few things come close to the emotional satisfaction of owning a house and lot compared to stocks and mutual funds. Real estate can also be passed on to your kids and grandkids, a valuable inheritance that will stay in the family for generations.
Alternative income
When rented out, a house and lot can be another source of income for the OFW family. Instead of relying only on monthly remittances, rental income can greatly help households become self-reliant. Additionally, rental income may be able to subsidize the monthly mortgage payments HOA dues or pay for updates and repairs.
Retirement
Having a place to come home to and a place to call your own after their employed years is over is one of the most common goals for OFWs. A suburban home bought today will become the permanent roof over their head, a token of a life's work that OFWs can treasure when they return to the Philippines to retire for good.
Diversification
Wise investors spread their investments among different asset classes to limit exposure to risk. If you already have stocks, mutual funds, or UITFs, then real estate may just be the next way to diversify your portfolio. Real estate properties like houses and lots in suburban communities are considered low-risk investments because they increase in value over time. You can hold on to it while it appreciates and sell it off later for a big payday.
Lumina Homes
If you're out looking for a property as the next investment, consider Lumina Homes.
Since its establishment in 2012 with a flagship project in Santo Tomas, Batangas, Lumina Homes offers quality, affordable house and lot properties in a network of more than 50 key locations nationwide.
As the affordable housing subsidiary of Vista Land & Lifescapes Inc.—one of the country's leading integrated property developers—Lumina Homes' master-planned communities are located near signature lifestyle brands that include Vista Mall, AllHome, Coffee Project, MEX, and more.
eSpacio, Lumina Homes' very own amenity center, is packed with well-thought and functional amenities like a multi-purpose hall, mini gardens, playground, jogging path, shuttle terminal, and new features like the community center and Tambayan ni Juan.
Lumina Homes Division Head Engr. Joemi Tan said, "Lumina Homes has grown from a low-cost housing brand to one that provides a middle-income Filipino family's ultimate dream home."
For a safer, hassle-free, and more convenient experience, Lumina Homes presents an array of digital real-estate solutions like virtual home tours and subdivision walkthroughs, online reservation, online appointment booking, and online payment options through digital wallets and digital banking in partnership with national bank players.

Try our Home Loan Calculator
Loan Calculator
Try Lumina Homes' loan calculator and get an estimate computation for your preferred Lumina property and home model.