Lumina to Host Spooktacular Halloween Costume Online Contest for Homeowners
5 October 2021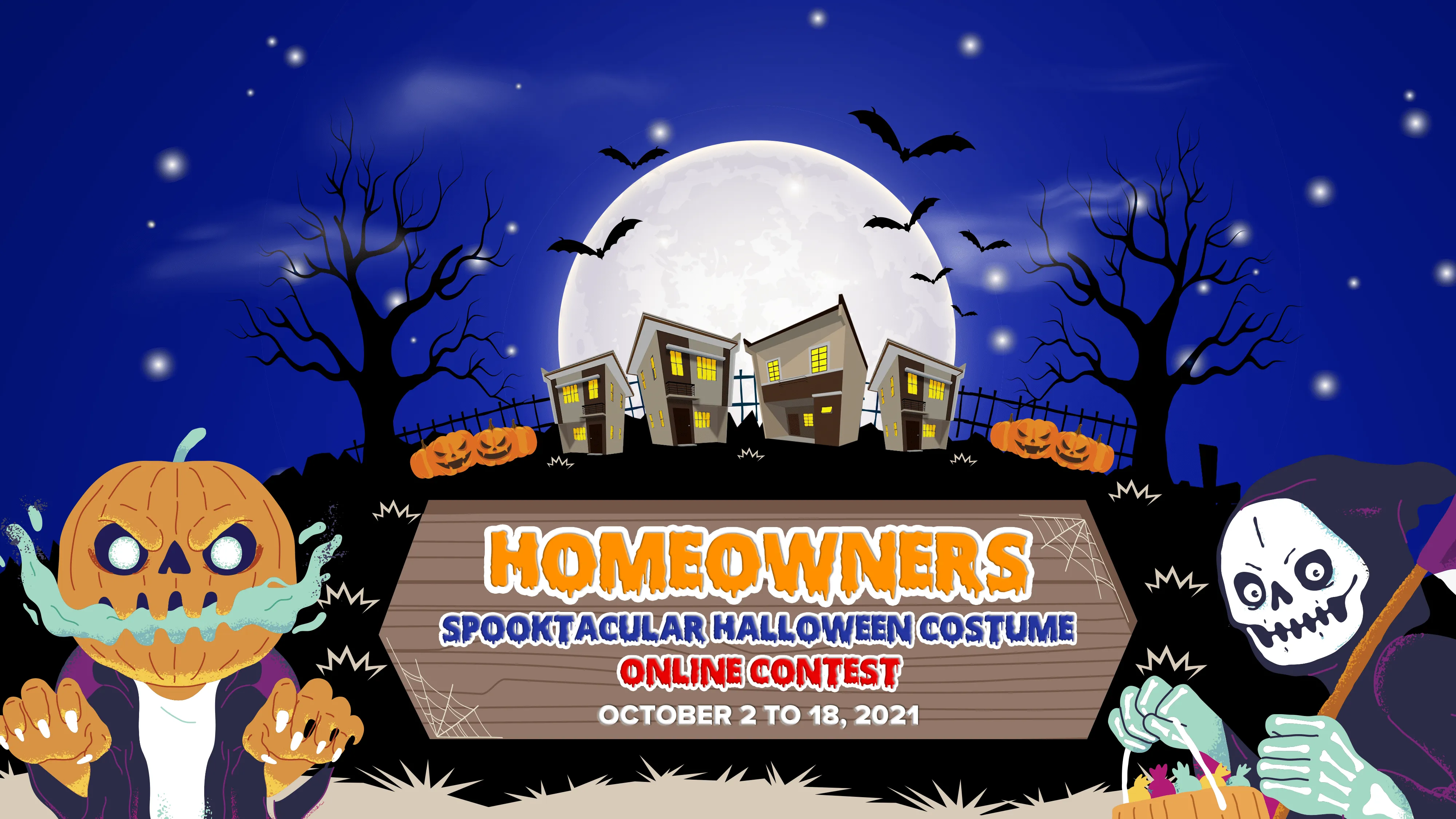 Trick or Treat! Halloween is here again!
Do you still remember the times when you could still freely celebrate Halloween parties with friends and wear costumes of your favorite movie or anime character? Or those nights when the kids within the Lumina community are all dressed up, knocking door to door to have tricks or treats? Those times seem to happen quite long ago due to the safety protocols we have to maintain during this pandemic.
Enter Lumina Homes' Homeowners Spooktacular Halloween Costume Online Contest and enjoy Trick or Treat safely at home! The activity aims to constantly engage Lumina homeowners even amid the pandemic and create an event that each family member will enjoy.
The Spooktacular Halloween Costume Online Contest is open to all certified Lumina homeowners who have kids aged 12 years old and below.
Here are the mechanics for the competition for Lumina Homeowners Spooktacular Halloween Costume Online Contest:
1. Dress your kid with the most creative and spooky Halloween costume you can conjure up.
2. Unleash your photography skills and take a photo of your kid wearing the spooky outfit.
3. Submit the image to Lumina Homes Customer Care or Property Management Office via email or through the office.
Make sure to showcase your creativity and talents with your kids' arts and crafts to turn any costume spooky, as the deadline for submission of entries is up to October 18, 2021, only.
Lumina Homes will post all the official entries on Lumina's Official Facebook Page on October 23, 2021. And the top 3 photos with the most number of reactions on Facebook until October 30 will win cash prizes!
The winning entry will receive Php 3,000 in cash while the 2nd placer will get Php 2,000. The third placer, on the other hand, will still get Php 1,000.
Do you want to know some ideas about the Halloween costumes you can easily make at home? Let's take a look at some of the design and spooky concepts you can incorporate into this contest!
Do-It-Yourself Halloween Costume Ideas
You can always conveniently buy your costumes in the nearby mall or shop, but it will be more exciting, creative, and unique if you make your kids' costumes for the contest. Here are some of the tips on creating either a scary, bloody, or spooky collection for your adorable little trick-or-treaters.
Scarecrow Costume
Enough with the adorable costumes. If you want something quite spooky but still cute, you can try this DIY Scarecrow Costume. The materials that you will be needing are:
denim overall

scraps for patches

plaid shirt
This is perfect, especially if you want to teach your kids about recycling—using scraps at home and putting a bit of creativity on it to become patches. You can do it in under an hour, but it would take more if you would like to include the scarecrow face make-up to complete the ensemble.
Sadako
Who will not pee on their pants when you see a ghost crawling out of television? To achieve this look, you've got to recreate this iconic scene of a ghost crawling out of the TV! Use cardboard to create a life-size TV screen, then prepare a wig or straighten your kid's hair to achieve the Sadako look.
Pennywise of It
A scary clown holding a red balloon, Pennywise the Dancing Clown from the movie It, will surely create goosebumps for anyone!
Pennywise's hairline is extra high, so you may need a swimming cap to create that bald look before adding an orange wig. Then, a cakey white foundation or face paint to achieve the clown make-up along with dark liquid lipstick and a black eye shadow. The outfit must be all white, from long sleeves to pants, to gloves! Adding some ruffles on the sleeves, the neck, and the pants will also be cool. You may also attach round red pompoms that will make the long sleeves appear with puffing buttons.
The costume might be extra challenging to do, but the look will be complete if you add a creepy smile along with it while holding that iconic red balloon.
Freddy VS Jason
Do you have two kids that always seem to be bickering on each other? Freddy VS Jason is the best peg for their costume! An extra pose quarreling can make it lit!
For Freddy, you need to have is a sweater with red and black stripes, wolverine-like nails, liquid latex or mask, an oversized black hat, and dirty jeans for pants.
And for Jason, you have to prepare a mask, a dark shade long sleeves with few rips and dirt-like splatter, black gloves, and a toy ax.
You can also try to dress up like our Filipino mythical creatures.
Mambabarang or insect summoner
Warlocks known as mambabarangs employ dark magic to swarm their victims with insects, either inside or outside their bodies.
Materials that you will need are:
a cloth or scarf to wrap on the head of your kid

a skull and feathers to top it off

another two scarves to use as a malong on your kid's torso and another as a bahag
Use a kohl eyeliner to add wrinkles and dark circles to your kid's face for a more dramatic effect. Bonus Tip: Get your kids some creepy plastic crawlies that you bought from a toy store for some extra scare!
Tiyanak
The tiyanak, also known as demon babies from hell, are creatures that use the cuteness of normal human babies to entice people so that they can then reveal they are true demon baby from before devouring those who fall for its ruse.
This is a budget-friendly costume for toddlers. All you need is black hypoallergenic body paint and a diaper with some splatter of the black paint.
The White Lady Ghost
According to Filipino mythology, the multo, or white woman, is a ghost with unfinished business in this realm. She's one of the Philippines' most prominent mythical creatures since so many people claim to have seen or met her.
Materials that you will need are:
a white dress that you are planning to throw away soon

brown and black eyeshadow to add as smudges of dirt to the cloth

red food coloring for blood stains
For your kid to appear pale and sickly, use a foundation that is a couple of shades lighter than her skin tone and smear eyeshadow or kohl eyeliner around her eyes to make that spooky eyebags look.
This is best if your daughter has long black hair as you can wear them down and messed it until it appears completely disheveled.
There are many more DIY costumes that you can try to experiment with and create within a budget. Just make sure to prepare your wild imagination and artistic hands in designing and setting up your kid's spooky Halloween outfit.
Related Articles:
***
For more information about the affordable house and lot for sale of Lumina Homes, please contact (0917) 629 6523.
Visit our official website at www.lumina.com.ph and like/follow our official online channels: Facebook, Twitter, Instagram, YouTube, Google MyBusiness & Google Maps, Pinterest, Spotify, Viber, Telegram, Lazada, and Shopee.

Try our Home Loan Calculator
Loan Calculator
Try Lumina Homes' loan calculator and get an estimate computation for your preferred Lumina property and home model.