Lumina Homes Becomes Part of Vista City Iloilo
13 October 2015

Lumina Homes, the housing developer that caters to the socialized housing segment, will build a 12-hectare residential community that will offer affordable house and lots within Vista Land's newly-launched P40B community or innovative master-planned city, known as Vista City Iloilo.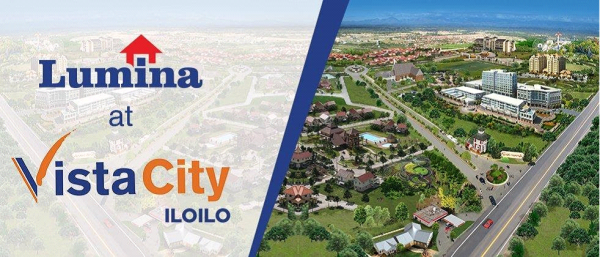 Lumina at Vista City Iloilo
Vista City Iloilo, Where Premier Lifestyle Meets Affordable Housing
"Vista City Iloilo, designed to have everything from business and commercial centers, to schools, to even hospitals and churches, will connect Lumina homebuyers to everything they need, letting them enjoy a balanced lifestyle within their budget."
The world-class setting and prosperous Iloilo province in the Philippines consists of the southeastern part of Panay Island and the province of Guimaras just across its coast. Its capital is Iloilo City and considered one of the major urban centers in the Philippines.
Being in the center of the archipelago, the province earned the moniker as "the Heart of the Philippines." Its capital city, meanwhile, was called the "City of Love," owing to its friendly, sweet, and soft-spoken locals.
With its great location and progressive economic situation, Lumina Homes saw a great potential to build an affordable house and lot community in this city through Lumina Iloilo.
Why Take Residence in Lumina Iloilo?
Having been a part of Vista City Iloilo, Lumina Iloilo is a grand, master-planned community that will appeal to aspiring property owners who want to invest in real estate without shelling out substantial sums of money for a house and lot that can be value-priced yet still deliver quality home features.
If you want to know more about Lumina Iloilo's exclusive offers for future homeowners like you, read on for the house specifications, as well as perks and amenities in store for your family once you seal your real estate investment with Lumina Homes of Vista Land.
1. Establishments and institutions are within reach.
Location, location, and location are the most important facets to consider when investing in real estate. This comprises the proximate presence of commercial establishments, institutions, and other convenient spaces to homes within a community.
At Lumina Iloilo, homeowners and prospective property buyers are blessed with proximity to academic institutions, marketplaces, malls, restaurants, leisure destinations, and other establishments.
It is close to commercial centers like SM City Iloilo, Vista Mall Iloilo, and Iloilo Supermarket; hospitals like Western Visayas Medical Center, The Medical City, and Iloilo Doctors' Hospital; as well as schools such as Georgia Academy (with a FIFA-standard football field in front of the international school), San Jose San Miguel Elementary School, Oton National High School, Oton Central Elementary School, Sacred Heart School - Pavia, Leonora Salapantan National High School, and San Miguel Central School.
2. Suburban setting with plentiful urban perks.
If you want to live in a community where you can relax without being deprived of convenient perks to aid your daily living, Lumina Iloilo caters exactly to your needs of balancing an environment of peace and convenience.
Located in Savannah City communities in barangay Abilay Norte, Oton, Iloilo, Lumina Iloilo is strategically situated within the exquisite confines of Vista City Iloilo. This provides present and future homeowners easy access to a wide array of establishments, all the while ensuring that you are to come home to a community with a relaxing atmosphere and scenic suburban views.
3. Quality yet value-priced homes.
There are a total of four (4) home models in Lumina Iloilo, each of which has specific features depending on individual preference and budget allocation.
Lumina Homes in Iloilo offers rowhouses such as Airene and Aira with prices ranging from Php 525,000 to Php 820,000, and floor area of 22 to 33 sqm. Their features include a living area, dining and kitchen spaces, 1 toilet and bath, and the provision of 1 to 2 bedrooms and a service area.
In addition to its rowhouse offerings, Lumina Iloilo also has the cozy two-story Angelique and Angeli townhouses, with prices starting from Php 885,000 to Php 1,210,000, and with floor areas of 35 to 42 sqm. These house models feature a living area, dining and kitchen spaces, 1 toilet and bath, provisions for 2 to 3 bedrooms, a carport, and also a service area.
4. Signature Lumina perks and amenities for homeowners.
The team behind Lumina Iloilo gestures its genuine care for its existing and future homeowners by providing them with exclusive perks and amenities only found in Lumina Homes.
Bordered by the province of Antique in the west and Capiz in the north is the dynamic and highly urbanized city center of Iloilo. Lumina contributes to Iloilo's rapidly burgeoning economy by building affordable homes in a secured community that boasts amenities such as a community hall for gatherings, a basketball court for the sporty adults, mini gardens for all ages, a children's playground for outdoor recreation, and space for future commercial establishments.
Close to Iloilo International Airport, and located in the grand master-planned city of Vista City Iloilo, Lumina Iloilo ensures property valuation over the years.
Furthermore, Lumina Iloilo guarantees utmost security with guarded entrance gates equipped with security cameras, security guards who will rove around the community to ensure homeowner safety, and more.
Lumina Iloilo Living: A Masterplanned Community to Shelter the Entire Family
Experience utter convenience and relaxation with Lumina Iloilo's beautifully developed residential enclaves in a masterplanned community! With the home financing of your preference, such as Pag-IBIG, banks, or directly with Lumina Homes, make the most of investing in an affordable house and lot without foregoing quality house features.
Lumina Homes, a modest housing arm of Vista Land, offers different house models with signature lifestyle amenities for Filipino families around the country. Lumina Homes in Iloilo boasts of being one of the most convenient communities to take a living because of vast economic opportunities, proximity to different commercial establishments, and being a cultural haven where various festivals are held and attended by local and international tourists.
Lumina Homes Iloilo, with a price for as low as Php 2,280 per month, is expected to attract plenty of homebuyers, who long to get affordable house and lot for sale in the city; and property investors who are in the business of renting out homes.
Become a Lumina homeowner in Iloilo City soon and experience convenient homeownership in Western Visayas like no other!

Try our Home Loan Calculator
Loan Calculator
Try Lumina Homes' loan calculator and get an estimate computation for your preferred Lumina property and home model.