Georgia International Academy, Your Partner in Online Education!
16 March 2021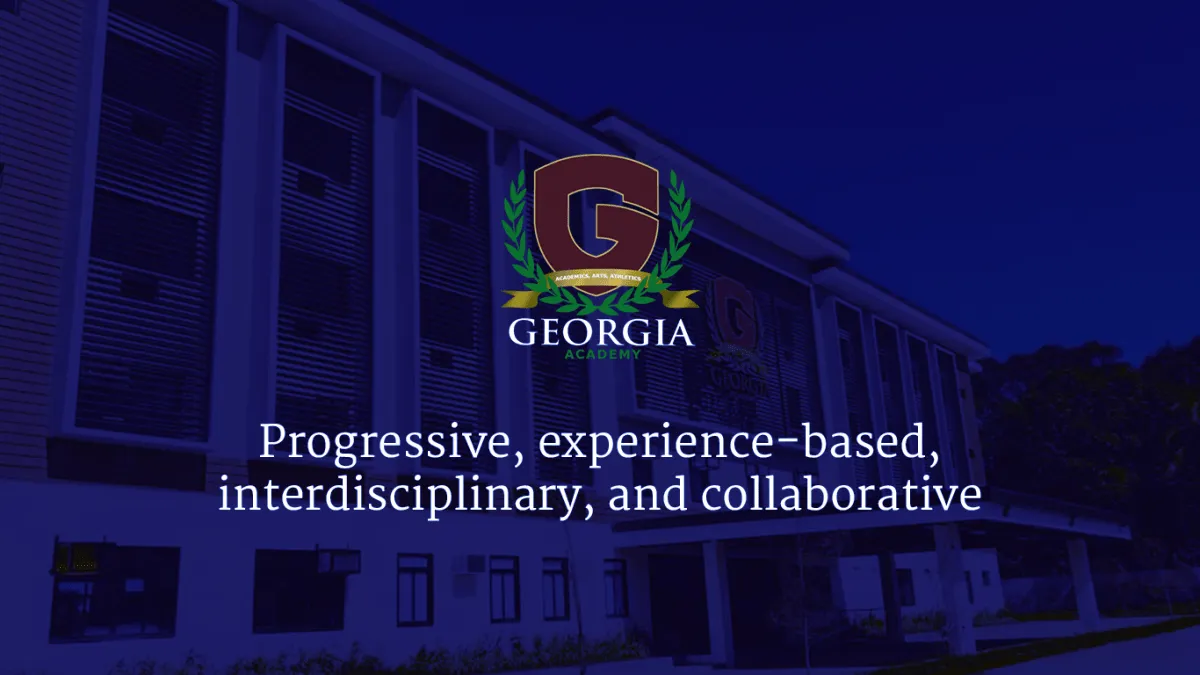 Georgia International Academy's first-ever branch opened inside the heart of the Savannah community. Now, fast forward to over a decade in providing quality education to Filipino students, Georgia adds more campuses in Cagayan De Oro (2014) and Antipolo (2016).
It also welcomes its newest school catering to preschoolers, Little Georgia Academy, with Vista Mall Taguig and Sta. Rosa branches and inside condominiums in Makati and Ortigas.
Georgia International Academy believes that excellent education must begin early because young minds are naturally receptive to new ideas and readily embrace good habits. Education at Georgia International Academy is experienced-based, interdisciplinary, and collaborative. The school integrates international standards of learning while servicing the local community.
The school prides itself on its competencies in Academics, Athletics, and Arts. It stands on its vision to be the country's leading provider of quality, integrated education, preparing young minds to be future leaders, making them mindful of their global society roles.

The school's mission is to nurture and support young minds by teaching them how to think rather than just what to believe, thus preparing them to excel in every endeavor through active participation in academics, athletics, and the arts. The school strives to develop students' competence and confidence by focusing on their communication and leadership skills, as it provides an inspired and healthy environment conducive to learning.
What are Georgia International Academy offerings?
Georgia International Academy embraces what is best in traditional education with matchless style and augments it with carefully selected innovation. Students also receive specialized instruction in music, athletics, art, and community involvement in addition to their core subjects. A solid foundation and helps them develop personal achievement satisfaction and a zeal for learning are what the curriculum provides to students.
Georgia Academy aims to nurture potentials without diminishing enthusiasm through stimulating curriculum, accomplished faculty, and a healthy and safe learning environment. Its progressive education ensures that Georgian graduates are well prepared to lead satisfying and productive lives as both citizens and individuals and compete successfully in a global society and a rapidly changing world.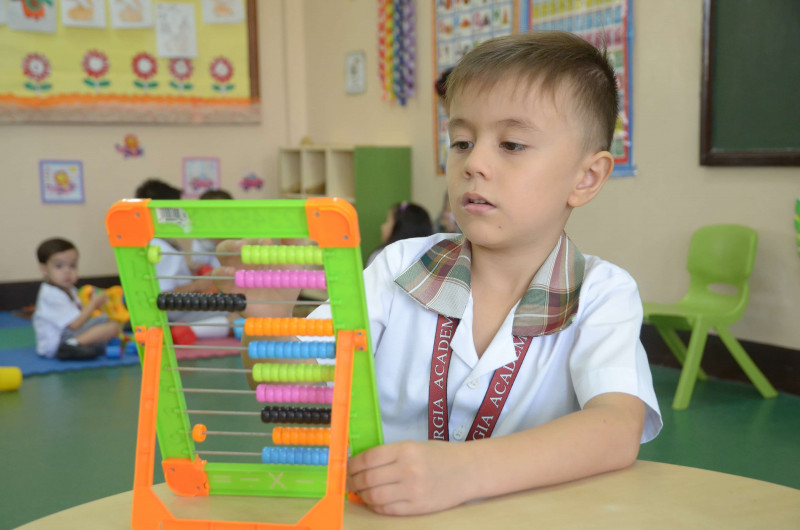 Pre-School Level
Nursery
Pre-Kindergarten
Kindergarten
Pre-School Level provides the first bold step in the journey through elementary school. Here, your children experience early successes. In reading, explores math's mysteries and develops learning skills. The sessions are dedicated to subjects that require more focused attention-practicing phonics, reading, writing, and counting. And yet, children are allowed to explore art, music, and physical education.
Grade School Level
Primary Level (Grade 1-3)
Intermediate Level (Grade 4-6)
Stimulating and enjoyable, Georgia Academy's scholastically sound elementary curriculum enables your children to reach their full potential at their expected scholastic level. Your children tackle all subjects with excitement and ease because they know their teachers are there to walk and guide them through every step of the successful learning process. They also know praise for a good job awaits.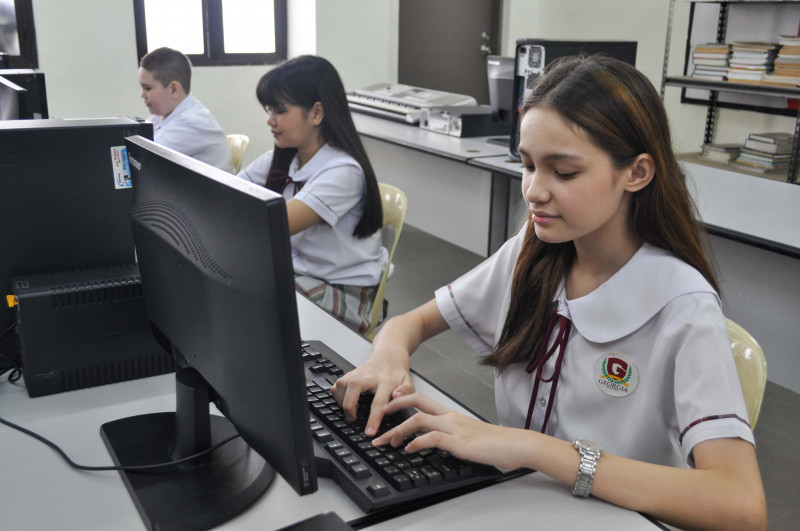 High School Level
Junior High School (Grade 7-10)
Senior High School (Grade 11-12) ABM, GAS, STEM
Nowhere at Georgia Academy is the college preparatory nature of the curriculum more evident than in the high school. For the opening of SY 2020-2021, Georgia International Academy was recognized as an Educational Service Contracting (ESC) participating school. The said partnership program with the Department of Education entitled Grade 7 Georgians to be the programs' beneficiaries. These ESC grantees are subsidized by the government, giving them discounts on their tuition fees and can be extended until the students are in Grade 10 until Senior High school.
In the year 2016, Georgia Academy added the Senior High School program to its offerings. Currently, it caters Academic track for the Grade 11 and 12 students.
Under this track, the following strands are available ABM, GAS, HUMSS, and STEM. Students are exposed to the opportunities that will prepare them for real-life undertakings. Such opportunities are Internship Assistance Program in partnership with Villar Group of Companies, which allow senior high students to work on their chosen strands' job training. On top of that is the spirit of teaching being valued as much as the academic offerings. That contributes to the development of practical wisdom, the ability to make sound and valuable decisions, and a sense of stewardship- globally, as well as locally.
Also Read: Back to School: How the Education System in the Philippines Changed in Recent Years
A WORLD OF ACHIEVEMENTS

Academics and Extra-Curricular Activities

The results speak for themselves. Georgian successes continue to reassure us that our programs work. After-school offerings cover a wide range of interests such as dance, music, or even sports, including individual and group lessons.
Academic Excellence

At Georgia International Academy, academic excellence is more than just making good grades. It is the full development of your child's intellectual capacities and the maximum effect of capabilities. With a focus on confidence-building and collaboration, students get the most out of every minute in the classroom.
Excellence in Arts

Georgians are encouraged to be creative. The students can let their inner selves shine. Self- expression through painting, writing composition, drama, dancing, and singing builds confidence and self-assurance. For years, Georgia Academy has garnered trophies for championship events for arts. Last 2020, it produced three champions in solo vocal pop and classical and folk dance for elementary and high school categories.
At Georgia Academy, students are given the opportunity to develop their creativity, work cooperatively, communicate with others, and show initiative, dependability, and leadership.
Athletics Experience

The athletic program of Georgia International Academy prepares students to be sound in mind and body. Through athletic endeavors, Georgians are grounded physically, mentally, psychologically, and morally enabling themselves to build their unique individual characters.
These factors paved the way for Georgian students to excel in sports competitions, even bagging championships in sports like basketball, swimming, football, table tennis, and so much more. The school encourages and supports students in their passion for sports by joining local and even national contests.
Georgia International Academy's E-Learning
The 2020 global health crisis created a significant challenge to the school as classroom-based instructions took a toll on the learners' safety. Rethinking its educational infrastructure and prioritizing quality education, Georgia Academy launched its E-learning program by May 2020.

During this shift, Georgia Academy welcomed over 800 learners all over the Philippines and abroad with its new learning modality for SY 2020-21, ensuring that no Georgians was left behind as the school transitioned to Online Learning.
The sudden end of the previous school year may have caused any learning gaps. To address that, Georgia International Academy initiated the Bridging Program, which was conducted during the first two weeks to orient students and their parents on the ways and means of E-Learning. It is during this period that policies and routines will be set for every class.
Also, to help the parents cope up, Georgia Academy launched the Parent Support Program. This program gives parent technical support from our staff as they navigate through the e-learning platforms. Parents will have access to short videos, modules, and webinars to augment what their children learn from school. For Feedback, parents will also have opportunities to have regular sessions with teachers.
For its students' psycho-spiritual well-being during this transition, the school introduced the Mental Wellness Program.

Georgia Academy uses the following platforms for its Online Learning, Google Suite applications for all learning activities. GSuite Educational Account will be given to every student to access the teaching platforms, while Zoom will be used as a secondary platform for other activities.
With its experience and track record for online learning, Georgia International Academy will continue to provide quality education in any learning modalities for your child next SY 2021-2022.
Georgia International Academy is located near gated master-planned community settings like Lumina Homes, Camella, and Lessandra, where your children's safety and security are the top priority.
Visit its branches in Iloilo, CDO, and Antipolo or get in touch with them through any of the following numbers for Iloilo (033) 508 9615 | 0908 867 2553, Cagayan De Oro (088) 881 3210 | 0917533 7773, and Antipolo 8470 2654| 0917 144 6679. You may also get in touch with Georgia Academy through Georgia website.
Related Articles:
***
For more information on Lumina Homes, contact (0917) 629 6523.

Try our Home Loan Calculator
Loan Calculator
Try Lumina Homes' loan calculator and get an estimate computation for your preferred Lumina property and home model.