Lumina San Miguel: A Wise Investment for Filipino Families
12 August 2022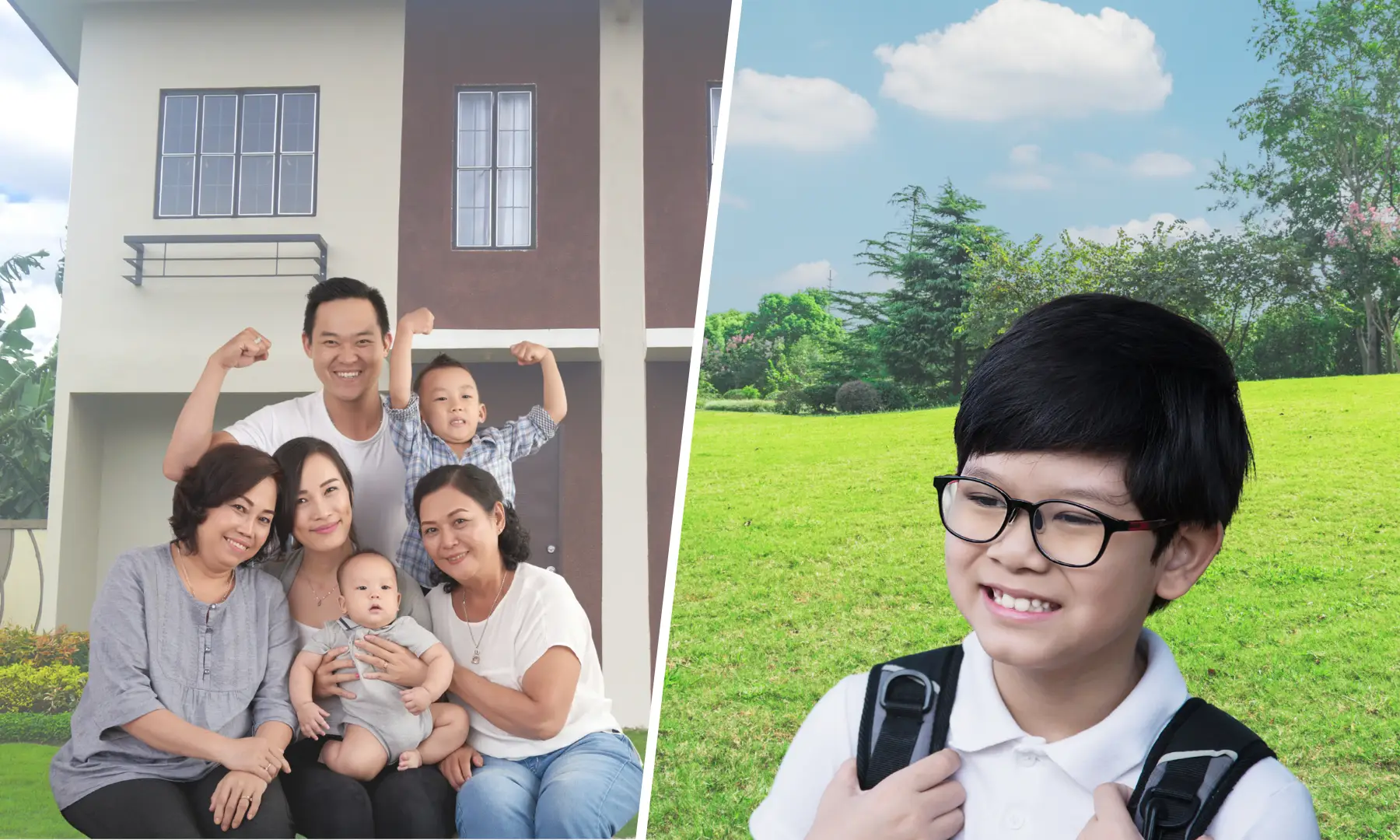 The province of Bulacan is well-known for being the birthplace of Filipino heroes, such as Francisco Balagtas, author of the monumental epic Florante at Laura, and Gregorio del Pilar, the Hero of Tirad Pass. The City of Malolos, Bulacan's Capital, is known as the historical site of the first republic in Asia under President Emilio Aguinaldo.
In the first-class municipality of San Miguel, meanwhile, it is famous for being a historical setting for Filipino revolutionaries. Home to the Biak-na-Bato National Park, it features a variety of tourist spots for hiking, spelunking, and even cliff diving from its majestic waterfalls.
The Bayukbok Cave Trail, for example, had been the secret headquarters of our Katipuneros who fought for the country's independence against the repressive Spanish regime.
San Miguel is arguably lesser known than its famous city brothers Malolos, Meycauayan, and San Jose del Monte. Hence, it is high time to shore up this town's underexplored beauty and get to know everything from its history, geography, why it's a great place for permanent residency, and other interesting facts.
Learn more about San Miguel
According to the Bulacan government's website, the progressive town of San Miguel was established by then "Captain Municipal" Miguel Pineda, hence the town's name, in 1763. On the map of Bulacan, San Miguel is the third largest town with an area of 231.40 square kilometers, after Dona Remedios Trinidad and Norzagaray.
It is the sixth most populated town among 21 municipalities and 3 cities.
Moreover, the first-class municipality contains a list of 49 barangays, with Sibul, San Juan, and Camias as the most populated barrios with 10,161, 8,602, and 7,560 inhabitants, respectively, according to the 2020 census.
Before its separation as a Bulacan municipality in 1848, San Miguel, alongside other barrios, was first part of Pampanga province. It was because of this historical occurrence that San Miguel's culture, heritage, and cuisine choices were partly inspired by the Kapampangans, whose reputation is carved as being best for their exceptional culinary wonders.
For mail, package sorting, and easier address tracking, San Miguel Bulacan's zip code and/or postal code is 3011. For the complete list of postal codes in the country aside from the zip code of San Miguel, also check: Zip Codes in the Philippines | 2022 Postal Code Update
Finally, directions are made easier through Google Maps as a guide. To get to San Miguel from Metro Manila, riding a bus is the cheapest way, albeit the longer trip time, gauged at about 3 hours of commuting.
From Doroteo Jose LRT to EDSA LRT, you can proceed to Pasay and hop on a bus heading directly to San Miguel. The fastest but costly option is by taxi or a private vehicle, which will only take about an hour from the metro.
8 Reasons to Live in San Miguel Bulacan
There are some semi-urban dwellings in San Miguel, but for the most part, it's a rustic rural community. Sugary treats prepared with carabao's milk are a famous local specialty. But perhaps San Miguel's best treasure is its people—amicable and accommodating to non-locals.
If these reasons are still inadequate to convince you to live within the town's confines, below are some of the best reasons why San Miguel Bulacan is a great place to stay and raise a family.
We listed eight (8) considerations that you shouldn't miss.
1. Proximity to the capital region.
The overcrowded Metro Manila prompts some Filipino families to find a better and less polluted place of residence in nearby provinces, and the proximity of Bulacan to the capital region makes it one of the top choices for provincial relocation.
If you already reside in San Miguel, you have a variety of options for getting to and from Manila, including buses and other means of public transportation. In this way, residents who work in Manila's Central Business Districts (CBDs) can leave the bustling metropolis and return home to their calm, suburban homes every day.
Interestingly, there is also a San Miguel place in Manila. It is not a barangay nor a town, but one of the city's 16 districts, and caters to middle-class families within the residential area. Its barangays are in the form of numbers, like Barangay 637 up to 648.
It was also where the famous alcoholic beverage corporation, San Miguel Brewery, was produced originally, starting in the years of the Spanish colonization.
2. It is near sites with historical significance.
Along with several farms and resorts, the town is home to stunning natural wonders, including the Verdivia Falls, the exquisite mountains of Manalmon, Gola, Mabio, Susong Dalaga, and the caves of Madlum, Bahay Paniki, and Bayukbok, all within the borders of the historical Biak-na-Bato National Park.
The City of Malolos is where the oldest and most famous churches take refuge, such as the Barásoain Church, established in 1888. It is a historical landmark popularly known as the seat of the Malolos Congress and for the drafting of the Malolos constitution in 1898.
Another famous church landmark is St. Francis of Assisi Parish Church, or simply the Meycauayan Church, the oldest church in Bulacan founded in 1578.
3. It is plenty of business establishments.
The various things to do in Bulacan can be explored on weekends when you don't feel like going to Manila. In San Miguel, there's enough to keep you and your family enjoying the town and the Bulacan province at large.
There have been a number of malls and department stores in the city of Bulacan in recent years. There are also several food parks in the area where you may sample the finest of the region's bounty. Joining food tours is another option for discovering culinary treasures like the Hamon Bulakenya, Empanada de Kaliskis, Carabao's Milk, and Ginataang Binagkat, which is a sweetened Gabi with milk and Pinipig.
If you plan to buy a house, having an affordable house and lot property in Lumina San Miguel will let you enjoy the perks of having proximity to marketplaces, such as:
San Miguel Public Market (Around 12 minutes travel time)
Puregold San Miguel (Around 7 minutes travel time)
RCS Supermarket (Around 9 minutes travel time)
If you're looking for a San Miguel Bulacan resort that you could relax at, the town will spoil you with this list of resorts:
Bim's Farm Resort
Car-Reby's Hotel And Resort
Farm Master Resort
Isla Pag-asa Garden Resort
Isla Rosy Wavepool & Resort
Mansion Holiday Resort
San Miguel Leisure Farm Resort
Sibul Springs Resort
4. It is environment-friendly.
In the eyes of a parent, nothing is nicer than watching their children play in a large open space, with the wind blowing across their joyful little faces—something that a busy, overpolluted city may not provide.
Having a home in the suburbs gives youngsters a taste of the simpler, more carefree lifestyle that comes with having a home conducive to environmental relaxation.
Another testament to its environmental friendliness is when, in 2007 under the presidency of Gloria Macapagal Arroyo, San Miguel residents from the Biak-na-Bato National Park filed a petition to make the historical site a protected area against the detrimental effects of mining.
5. Delectable foods and delicacies.
Aside from being famous for the historical Biak-na-Bato National Park, San Miguel is also known for its variety of foods and delicacies. San Miguel doesn't just offer sweet pastillas, this favorite food item actually originated from the town itself.
Another food item that San Miguel is known for is chicharon, with plenty of food stops offering a variety of food items that both tourists and locals in the province could take advantage of to preserve the town's reputation as not only rich in historical significance, but also as a progressive town that is wealthy with sumptuous cuisine choices.
6. It features 'Banal na Bundok' for religious families.
Tarlac, situated in the same Central Luzon region as Bulacan, has Monasterio de Tarlac for pilgrims and tourists. The former has 'Banal na Bundok' (Holy Mountain) as a San Miguel Bulacan tourist spot, especially during the Holy Week, which features a number of numinous figures for religious families to visit and feel the presence of the Lord.
Its name derived from how the mountain seemed as though it was an image of Jesus Christ if viewed from a certain vantage point. After a long flight of stairs, pilgrims will be welcomed by tall statues of angels, and life-size Stations of the Cross. On the other end, you can visit Noah's Ark Wildlife & Rehabilitation Park as well as various shops for souvenirs before departing.
7. Travel time is eased with MRT-7, now 60% complete.
The construction of the MRT-7 will make San Miguel Bulacan even more accessible. From EDSA North Avenue to San Jose Del Monte, there will be a 22-kilometer rail system. It is predicted that the project will be completed by the end of the year as planned.
Lumina San Miguel residents can have much easier access to public transportation aside from the ES Transport & CISCO Bus Terminals.
The city of Bulacan is also planning to develop more roadways that would link it to other parts of the country in the north.
8. Lumina San Miguel is ideal for starting a family.
Lumina San Miguel is a subdivision in the province of Bulacan that offers an affordable house and lot for sale and rent-to-own homes.
Located in Brgy. Buliran, San Miguel, Bulacan, our community is near schools and universities such as:
San Miguel National High School (Around 19 minutes travel time)
St. Paul University (Around 17 minutes travel time)
It is also near hospitals and medical facilities like Emmanuel Hospital (Around 16 minutes travel time) and the San Miguel District Hospital (Around 16 minutes travel time), giving you and your family the convenience and security when seeking immediate medical attention.
Invest in a house and lot in San Miguel through Lumina Homes
Make Lumina Homes in San Miguel the community where you could start an investment in a house and lot in the Philippines. Lumina Homes has a superb track record of delivering quality homes for many Filipinos, and was awarded by Pag-IBIG Fund as a premier provider of housing in the country.
What is more, investing in a house and lot with Lumina San Miguel is now made easier for every Filipino who is dreaming of having a home they can call their own. With the flexible payment method that Lumina San Miguel offers, you can now apply for home financing for your chosen home model unit either through a bank home loan or in-house financing.
If you see yourself living in a community that is conducive to relaxation, peace, and with a host of subdivision amenities for your family's convenience, don't hesitate to send us a message. We're excited to make the home deal with you!

Try our Home Loan Calculator
Loan Calculator
Try Lumina Homes' loan calculator and get an estimate computation for your preferred Lumina property and home model.