Travel Portal: Major Transport Infrastructures in Bulacan
16 March 2022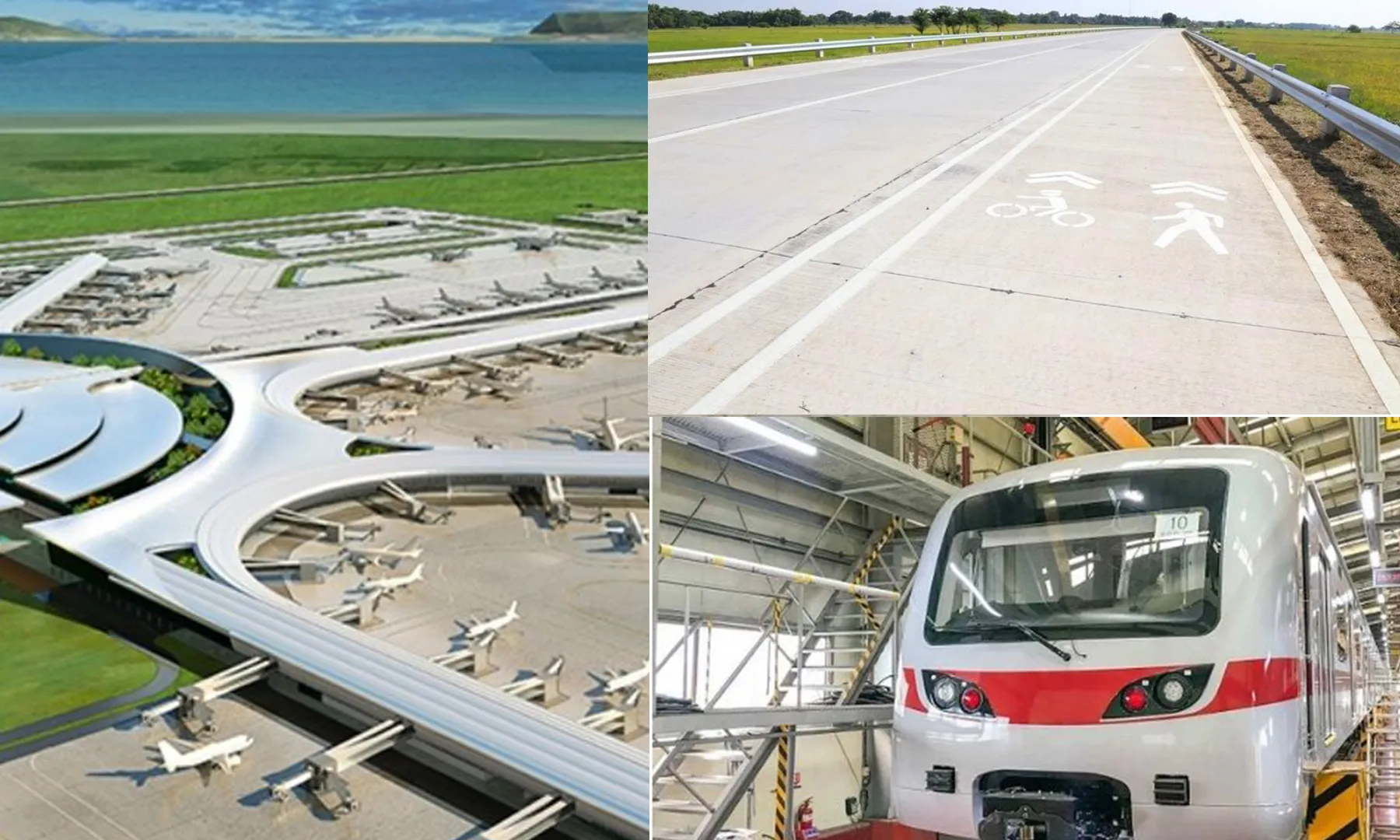 Difficult roads lead to beautiful destinations, others say. Think about the last time you went to a stunning place. How hard was it for you before you glimpsed its awesome wonder? Perhaps, if you're a nature lover, you'd expect an hour or two of trekking to see nature's majestic beauty. How about when you're a self-confessed urbanite? Would you brave an hour or two of traffic to visit a newly opened amusement theme park or cafe? You do not need to worry if you're living in the North. Here's a list of major infrastructures in Bulacan you can use so you can arrive at your chosen destination.
Major Transport Infrastructures in Bulacan
Whether you want to take a motorbike to go camping or your family's SUV to visit a newly opened restaurant, take a shortcut through these roads to get where you need to be. You'll be surprised, and there's more to them than being roads less traveled. So, strap in your seatbelts and join this joyride!
1. Pulilan-Baliuag Diversion Road
Shorten your trip to the North when you try traversing on the Pulilan-Baliuag Diversion Road. Passing across four barangays in Pulilan namely, Tabon, Peñabatan, Sta. Peregrina and Balatong, and ending to connect to Maharlika Highway, this 9.6-kilometer-long diversion road may save you an hour of your travel time, depending on your speed.
A project of the Department of Public Works and Highway, it is undertaking that officially started last May 2015 was finally completed last March 2021. A total of Php509M were allotted for this major infrastructure as part of the Build, Build, Build Program.
What makes this four-lane highway unique from others is it's the first of its kind in Bulacan. Along with the 3,000-vehicle capacity, it also has a bike lane which makes it inclusive for many travels. The pandemic has given rise to biking as an alternative form of travel. Hence, imagine looking at rice fields as you go along your way.
To reduce travel time for motorists, it said that the Pulilan-Baliuag Diversion Road complements the Balagtas Bypass Road for those who wish to visit the eastern towns of Bulacan, including Nueva Ecija-bound passenger buses and cargo trucks.
2. Pandi Bypass Road
In 2018, the Philippine Chamber of Commerce and Industry (PCCI) cited Bulacan as one of Luzon's emerging viable business destinations, as it is near Metro Manila.
The provincial government also projected that the municipalities of Pandi, Bocaue, and Balagtas will see a boost of manufacturing firms, warehouses, call centers, outlet stores, and a shopping mall, making residential houses and lots here a prime commodity. Hence, as several major infrastructures are being built in Bulacan, prioritizing the roads serves as the kick-start of other builds.
Among the bypass roads that will pave the way to decongest the growing traffic happening on national highways, the Manila North Road (MNR) and Daang Maharlika is the Pandi Bypass Road. Parallel to the MNR and NLEX, the Pandi Bypass would offer a faster route to its neighboring municipalities.
Still, part of the Build, Build, Build Program, this 10.7-kilometer-long highway starts the Tambubong Exit of the North Luzon Expressway (NLEX) in Bocaue and ends at the town of Pandi.
According to the DPWH First Bulacan District Engineer Henry Alcantara, this new four-line bypass road was allocated an initial Php500M as part of the Php1B budgets allotted to a simultaneous program of building major infrastructures in Bulacan.
3. Metro Rail Transit Line 7
Gone are the days when MRTs were only exclusive to Metro Manila. An ongoing major infrastructure build in Bulacan includes a railway. If you're more into a pollution-free, "fast, efficient, convenient, safe, and reliable" transportation system, then this major infrastructure built in Bulacan is good news for you!
With 62.1% complete, the Metro Rail Transit Line 7, or just MRT 7, is expected to have its maiden voyage for partial operations with test runs starting in April 2022 and be fully operational by December 2022, according to Transportation Secretary Arthur P. Tugade.
A 20-year plan that finally happened, this 22-kilometer railway project started its build last 2016. This Php63B project of the government is done in partnership with San Miguel Corporation, spearheaded by its President and COO, Ramon Ang.
With 108 rail cars or 36 train sets acquired from South Korea, it will link North Avenue, Quezon City, and San Jose del Monte, Bulacan. It will contain 14 stations, namely: Quezon North Avenue Joint Station, Quezon Memorial Circle, University Avenue, Tandang Sora, Don Antonio, Batasan, Manggahan, Dona Carmen, Regalado, Mindanao Avenue, Quirino, Sacred Heart, Tala, and San Jose del Monte, making the usual two to three hours commute into a mere 35 minutes.
Prior to the pandemic, it was expected to accommodate 300,000 passengers, but due to social distancing protocols, it may decrease in half. Still, with full operations until its 12th year, it is expected to serve up to 850,000 commuters.
4. Tutuban-Malolos Railway Project
Formally known as the North-South Commuter Rail Project, the Tutuban Malolos Railway Project offers two pieces of good news. First, it is part of the government's commitment to increase mass transport systems in the country, and second, the whole project would not only aid to decongest the traffic of Metro Manila, but it would also connect both North and South provinces surrounding the nation's capital.
The Japan International Cooperation Agency and the Asian Development Bank funded this major infrastructure build in Bulacan. Phase One of the NSCR is a 38-kilometer-long commuter railway line that connects Malolos, Bulacan, to Tutuban in Manila. Meanwhile, Phase Two of the NSCR involves two major sections, namely, the Malolos to Clark Railway in the North and the South Line from Solis to Calamba City, Laguna.
Phase One of the NSCR comprises:
Over 30 kilometers of viaduct/ bridges

A seven-kilometer-long elevated embankment

Seven river railway bridges and one highway crossing

A depot, workshop, and operations control center

Ten rail stations with the provision for five additional stations in the future.
It is estimated that the usual travel time of one hour would now be reduced to a minimum of 35 minutes once Phase One of the project becomes fully operational.
Originally conceptualized in the 1990s, it is on track to be open to the public by the second quarter of 2024, according to Transportation Secretary Arthur Tugade. With the PNR Clark Phase 1 project is now at 45.82% completion, just imagine, once it's completed, you can travel from your Lumina residence in Bulacan to the south in just an hour.
5. Malolos-Clark Railway Project (MCRP)
Part of the previously mentioned North-South Commuter Rail, the Malolos-Clark Railway Project is phase two of a 163-kilometer-long railway project of the government, making it one of the major infrastructures being built in Bulacan. With a US $6.1B budget for the entire project, it aims to connect New Clark City to Calamba by 2025.
Approximately 53.1 kilometers, the Malolos-Clark Railway Project is broken down into the following segments: (i) Malolos-Clark section (51.2 kilometers) from Malolos to Clark and Clark International Airport, and (ii) Blumentritt extension (1.9 kilometers) and finally, connecting Solis and Blumentritt stations in Metro Manila District I (City of Manila).
This project will be beneficial to those living in Bulacan, as it connects not only to the Clark Economic Zone but also to the Clark International Airport (CIA) in Central Luzon. No need to go to other airports; you have one in your backyard!
In January 2021, Mayor Edwin Santiago of the City of San Fernando spearheaded the preparation for the construction of the Malolos-Clark Railway Project along with the representatives of the Department of Transportation (DOTr), Philippine National Railways (PNR), and two private contractors. Among those awarded this US billion-dollar project is the local construction magnate Megawide Construction Corp. (Megawide) and other foreign counterparts. As of January 31, 2021, the progress rate is at 27.79%, like site inspections and preparations in both Clark International Airport (CRK) and Apalit Stations are ongoing.
6. San Rafael-San Ildefonso-San Miguel Bypass Road
Part of the Build, Build, Build Program of the government, this Bypass Road aims to be instrumental in congesting the traffic of Bulacan's primary road–Daang Maharlika, along with San Jose del Monte Bypass Road.
This bypass road project is supplemental to other heavily used routes in Bulacan, among them the Plaridel Bypass Road. It aims to augment road use from San Miguel Bulacan towards other parts of the province, going through San Ildefonso and San Rafael.
Aside from traffic decongestion, it would spur economic activity and faster transfer of agricultural products. In fact, further improvements on the road from the previous 30-centimeter pavement thickness would be improved to 35 centimeters to consider the load-bearing capacity requirement and need for road resilience for container cargo trucks and haulers that will heavily rely on this road for faster travel.
7. New Manila International Airport
Perhaps if there is a major infrastructure built in Bulacan that gets everyone excited, it is the construction of Bulacan International Airport or the New Manila International Airport. This ongoing build of a second airport aims to complement air traffic operations at the existing and congested Manila Ninoy Aquino International Airport.
As of March 2021, the Department of Transportation Secretary Arthur Tugade reported that it will be finished after five years and is projected to accommodate 100 to 200 million passengers, initially having two runways, and adding two more, a year later. With a PHP740B budget, its actual construction will start on the 18th of March, 2022.
However, what makes it unique is just not the possibility of promoting tourism to the province and its neighbors. This 2,500-hectare airport would be part of a 12,000-hectare township. It will be complete with a residential zone, government center, seaport, and industrial zone, focusing on social and environmental concerns to be sustainable and fair. According to top urban planner Felino "Jun" Palafox Jr. This will make it the pacesetter for green cities as envisioned by its principal developer, San Miguel Corporation.
Living in Bulacan: Traveler's Dream Spot
With all these major infrastructures in Bulacan on their way to becoming a reality, it can be said that the province can be a traveler's dream spot. Gone are the days when you needed to allot two to three hours just to reach your destination, but thanks to the ongoing projects, transport, may it be public or private, is working its way to being considered convenient.
Before prices go up and property values go sky-high, consider investing in a house and lot in Bulacan. Lumina has various sites populated in Bulacan. You can choose from Lumina Pandi, Lumina Residences Bulacan, Lumina Baliwag, or even Lumina San Miguel so you can be where you need to be–in the middle of all the action.

Try our Home Loan Calculator
Loan Calculator
Try Lumina Homes' loan calculator and get an estimate computation for your preferred Lumina property and home model.