Filipino Travel Blogger Tips on Must-see Tourist Spots in the Philippines
29 March 2022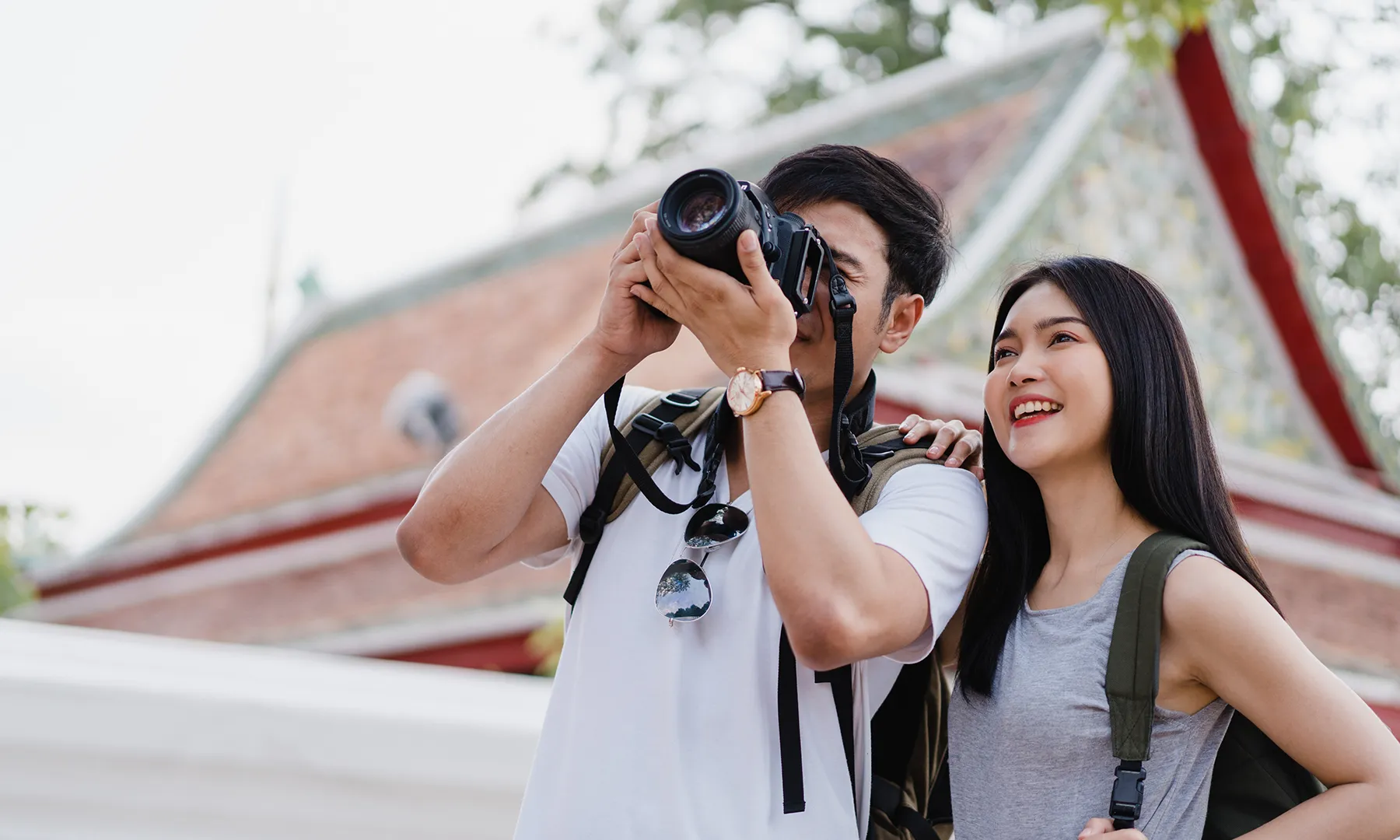 Aside from the face-to-face meet-ups, live events, and dining out, many would claim that traveling to provinces of the Philippines is what they missed the most. But, there are many travel blogs about interesting places in the Philippines. Do you have an idea for your next getaway?
To give you an idea of where to go next locally, we've curated a list of travel destinations from travel blogs. These travel blogs are their best travel destination tips and are written by former corporate world employees but are now either an award-winning travel photographer, a freelance writer or even an advocate of solo travel!
Filipino Travel Bloggers' take on destinations in the Philippines
LUZON
1. The Pinoy Traveler showcases Nueva Ecija
When you think of traveling to the North, do you think of Nueva Ecija? If not, now you'll do! The Pinoy Traveler's entry in his latest posts showcases a must-see eco-stay resort in the province called Camp Paraiso. A Bali-inspired destination, now you can experience the beauty of nature with a Bali feel. What makes it more special is it can cater to travelers of all ages and numbers, for they welcome a solo trip, a couple's retreat, and even group travelers!
Indeed there's something for everybody here, as you can choose which type of accommodation you prefer. Do you prefer the comforts of a resort and a pool surrounded by nature? Would you strip down to the basics–just you in a tent? Still, if you want a provincial rest house feel, there's also something for you.
Experience the natural cold waters flowing from the mountains of Aurora for your swimming activities and family fun. If you want to get close to our Mother Nature, enjoy their lush greenery by touring the property and discover a nook where you can appreciate nature's beauty.
Are you looking for a side trip to Nueva Ecija? You can also visit "Little Vigan" or The Gapan Heritage Site, situated near the resort and Labi Bridge. Consider Nueva Ecija for your next Northern Adventure!
2. The Poor Traveler heads to Rizal
From the north of Luzon, let's head to the east! Among the many free and comprehensive travel guides from The Poor Traveler, their feature of Rizal will make you realize that there's so much to do in our national hero's namesake province.
Rizal is now becoming a famous camping hub, owing to its proximity to mountains, rivers, and falls as it overlooks the Laguna de Bay. You can find activities for your palate in Rizal, ranging from food, nature activities, team building camps, relaxing spas, and even museums, ancestral homes, and churches to satisfy your artsy soul's thirst for good travel stories.
Are you the nature lover type? Try camping! Choose where you'd like to camp out. Do you prefer feeling on top of the world–or at least of the place? Call your hiking friends and climb to the peaks of Mt. Daraitan, Treasure Mountain, and Mount Purro Nature Reserve. You can even visit the Angono-Binangonan Petroglyphs and Calinawan Cave. But if you prefer camping closer to the water, head over to Daranak Falls, Hinulugang Taktak Falls, Batlag Falls, Tinipak River, and Palo Alto Falls.
Craving for the adrenaline hit? Kickstart your challenging journey into high gear when you go for an ATV Adventure, Paintball Battleground, and the Masungi Georeserve group activities.
Try a culture trip itinerary if you prefer a taste of something quieter and appeals to your artsy soul. And that includes the Pinto Art Museum, Angono Mural street, Blanco Family Art Museum, Bahay na Bato, and a visit to national artist Botong Francisco's Ancestral House.
You can even finish it with relaxing activities in Luljetta's Hanging Gardens Spa, which is a treat for itself, perfect for that relaxation you're looking for. Not to be forgotten, enjoy your favorite drink as you look at the view in various Antipolo and Binangonan cafes!
For any adventure you prefer, there's something for you to do in Rizal.
3. Take Things Slow at Batangas by Pinay Travel Junkie
In terms of travel, when we say Batangas, there are probably two things that come to mind: it's the beach or the boondocks. While you can certainly enjoy them in Batangas, why don't you try taking things slow and choose a path towards self-discovery? Unwind and take a break when you visit The Farm At San Benito, as featured in Pinay Travel Junkie's blog. A place where you can enjoy inspiring nature in silence, feel healthy with their choice of vegan food, and indulge in a spa or a swim.
Alternatively, you can also choose to stay at Cintai Coritos Garden. In another Bali-inspired resort, you can explore the property and decide to stay in one of their 18 villas. Celebrate moments with their tasty cuisine from the Philippines and even in several parts of Asia. You can even stroll in their landscaped gardens, try out their swimming areas, and take picture-perfect photos with their Asian-inspired carvings for that ultimate bonding.
Enjoy, relax and breathe in some fresh air as you sip your favorite Barako coffee in Batangas.
4. Travel Tips for Bicol by Pinay Solo Backpacker and Lakwatsero
Home of the people in love with the spicy food and the world-famous Mt. Mayon, Bicol is a worthy travel destination you shouldn't miss. Aside from the fact that Miss Universe 2015 Catriona Gray used the majestic mountain to flaunt the Filipino culture, there is more to Bicol than what readers get from a typical travel blog.
A seasoned travel blogger, Pinay Solo Backpacker, shared different ways you can enjoy Mt. Mayon aside from the usual touristy view of the Cagsawa Ruins. Have you tried riding an ATV to get closer to its beauty? Alternatively, as a side trip, you can also enjoy Quitinday Hills and its adjacent Underground River and Falls.
But aside from these trademark tourist spots and delicacies, the Bicol region has so much to offer, including incredible beaches, swimming with the whale sharks, and other beach activities. A word to the wise: don't forget to bring your beach travel essentials!
But what makes Bicol beaches stand out, aside from its uncommercialized charm, is its natural beauty. You can experience pristine powdery-white fine sands in Calaguas as detailed by Lakwatsero.com, or even pink sand beaches in Matnog, Sorsogon!
Being isolated from the mainland, these islands are host to rich marine life where residents get most of their livelihood. Hence, tourists flocking are now given a chance to earn more as they offer tours that include swimming with the marine fauna, fish-feeding, and even island hopping.
Whether you prefer beaches with exciting activities, just off-the-beaten-path adventures, or quiet beach coves, Bicol has beautiful hideaways you can enjoy.
VISAYAS
5. Lakad Pilipinas strolls in Bacolod
If there's another scenic spot often recognized in the Visayas region aside from Cebu City, it is Bacolod. Aside from the Masskara festival and their delicious chicken inasal, visiting Bacolod can inspire you to start a blog just as Lakad Pilipinas experienced! Do you want to catch a glimpse of history but with a modern twist? You'll get it via the many museums, churches, and tourist spots in Bacolod, which includes The Ruins, a beautiful ancestral home mansion of the family of Don Mariano Ledesma Lacson and Maria Braga Lacson.
Are you a newbie traveler? Bacolod is a perfect destination for you as the people are friendly and a fairly inexpensive area to tour around. You can even utilize the local transportation as most tourist spots are adjacent to one another.
If you're a foodie, then Bacolod is a place you must grab a bite in. Head over to Manokan Country, where you can choose where to eat their famous chicken inasal. Then, indulge your sweet tooth with a visit to Calea for their cakes and pastries.
Do you want your family and friends to know what the fuss is about in Bacolod? Bring home delicacies and home-made products like piaya, barquillos, otap, and biscocho. Don't forget to bring these much-awaited sweets from Bacolod–meringues, galletas, and of course, napoleones!
Experience culture by way of food, only in Bacolod.
6. Pinay Travelista recommends Iloilo City
There's something about Iloilo that reflects old-world charm. Perhaps it comes from the architectural wonders of old churches, museums, and establishments? In Iloilo, Pinay Travelista in her travel blog recommends that you must check out the San Jose Church, Plaza Libertad, Bahay Panlalawigan ng Iloilo, Jaro Cathedral and Belfry, and Molo Church to appreciate its lasting beauty and rich cultural feel. You can even take a leisure walk at the Iloilo Esplanade to cap off your travel day.
If you want to venture outside the city proper, you can visit Gigantes Island, as well as the Concepcion, Ajuy, and Sicogon beaches. You can enjoy their well-preserved marine sanctuaries in San Joaquin as well.
However, if you want to make Iloilo memorable, you must try their food. Sit down at any local restaurant in La Paz Market and get a bowl of the authentic La Paz Batchoy and Pancit Molo. You can even try other local delicacies cooked with batwan, a sour fruit commonly used in the area, instead of the usual sampaloc or artificial counterpart. Fresh seafood is also used in every dish.
With this, you'll not regret eating a home-cooked Ilonggo meal!
MINDANAO
7. Pinoy Adventurista highlights Zamboanga Del Sur
Exotic names may represent a far-flung yet wonderful place, don't you think? That's why Zamboanga del Sur lives up to this belief and, therefore, a new reason why you should consider discovering what this tourist spot has to offer.
As highlighted in Pinoy Adventurista's blog, to formally welcome you to Zamboanga, you must take a ride in the iconic Pagadian tricycle, tilted at a 25-40-degree angle. Enjoy riding this as you traverse in the uphill and downhill areas of Pagadian.
Being a chartered city, you can enjoy the comforts of urban living in the safety of rural life. You can eat two-peso worth of barbecue as you gaze overlooking the blue waters of Yllana Bay by the Rotunda, or just hang out at Mt. Palpalan's peak.
If you're a self-confessed water baby, don't miss Manga Falls, Pulacan Falls, and Merloquet Falls, which are similar to rice terraces but with water cascading. You can never go wrong with a trip to the beach as well. Try island-hopping and see pinkish beach sand in Sta. Cruz Island, the awesome Puting Balas Sandbar, and the Once Islas, are known for it being untarnished by commercialization.
Are you looking for a different kind of adventure? Try spelunking! Also known as cave exploration, discover different limestone rock formations inside the Kendis Cave and the Guipos Cave.
To cap off your adventures, eat fresh fish and seafood harvested right out of Zamboanga's coastal waters and served at the GreenHouse Fishing Station and restaurant.
Never judge a destination by its name; Zamboanga del Sur will surely live up to your traveler's dream.
8. Kara Santos and Eazytraveler shares the beauty of Bukidnon
Are you on the lookout for a low-key travel destination but high quality? Bukidnon is the place to be. One of the highlights of Bukidnon tourism is their celebration of the Kaamulan Festival. True to its root origin, amul meaning "to gather," Eazytraveler witnessed how locals showcased their talents and culture in the street dancing and ground presentation of the seven indigenous groups, namely, the Bukidnon, Higaonon, Talaandig, Manobo, Matigsalug, Tigwahanon, and Umayamnon.
Rich in the potential to be a biodiversity hub, Bukidnon also has several eco-focused destination spots. Among them are Kaamulan Nature Park (Kaamulan Grounds), Mt. Kitanglad, Mt. Dulang-Dulang, and the Pitcher Plant Farm.
The mountains of Kitanglad and Dulang-dulang are the homes of rare and endemic species, including the Philippine Eagle, Philippine Tarsier, and Rafflesia schadenbergiana, the second largest flower in the world. While the Pitcher Plant Farmhouses nurseries of carnivorous plants from around the world.
If extreme sports is something that interests you, then you don't have to switch provinces; check what Bukidnon has to offer! Travel Up by Kara Santos saw Bukidnon in a different light and shared it in her blog. Aside from seeing pineapple plantations, you can try the Vertical Bivouac, or camping overnight on a cliff. You could also visit Dahilayan Adventure Park, where you can experience riding dual ziplines, trying Drop Zone in the middle of scenic mountain views, or wandering around via an ATV. Do you share Kara's thirst to empower Filipinas? Then you must definitely include this as one of your travel stories!
If that's not enough, you can also try riding a skybike at Kamp Juan across a hanging bridge 200 feet above the river all the way to the other side, which is a whopping 360 feet across a ravine. How's that for an adrenaline junkie?
For an exciting yet tree-hugger travel experience, Bukidnon is a must-try.
Living the Good Life in the Philippines
Don't you often wonder why foreigners choose the Philippines' tropical islands as their must-see travel destination? Because this archipelago is so diverse geographically and in terms of culture, food, natural resources, and even beautiful places to be proud of!
For those who have been traveling sparingly because of your corporate job, have you visited a place and fallen in love with exciting places that you want them to be among the destinations of your forever home? We know the feeling as well!
Did you know that there is a Lumina House and Lot waiting for you in the scenic spots that our travel bloggers have mentioned? Yes, Lumina Homes can be found all over the Philippines, so rest assured that your house isn't just a structure but a home.
Whenever you want to visit the beach, feel fresh by swimming in falls, or try an adrenaline-raising activity, you don't have to travel all over the country or outside Asia. From the north of Luzon to the south in Mindanao, there's a Lumina affordable house and lot fit for you!
Build the life you've always wanted in the place you have always dreamed of. After you have experienced travel the world and satisfied your wanderlust, it's time to stop living in hotels and get yourself your own place of rest. A comfortable life starts when you build your own sanctuary. With Lumina found in different areas in the Philippines, we want to welcome you home.

Try our Home Loan Calculator
Loan Calculator
Try Lumina Homes' loan calculator and get an estimate computation for your preferred Lumina property and home model.