List of Visa-free Countries for Filipinos
9 April 2022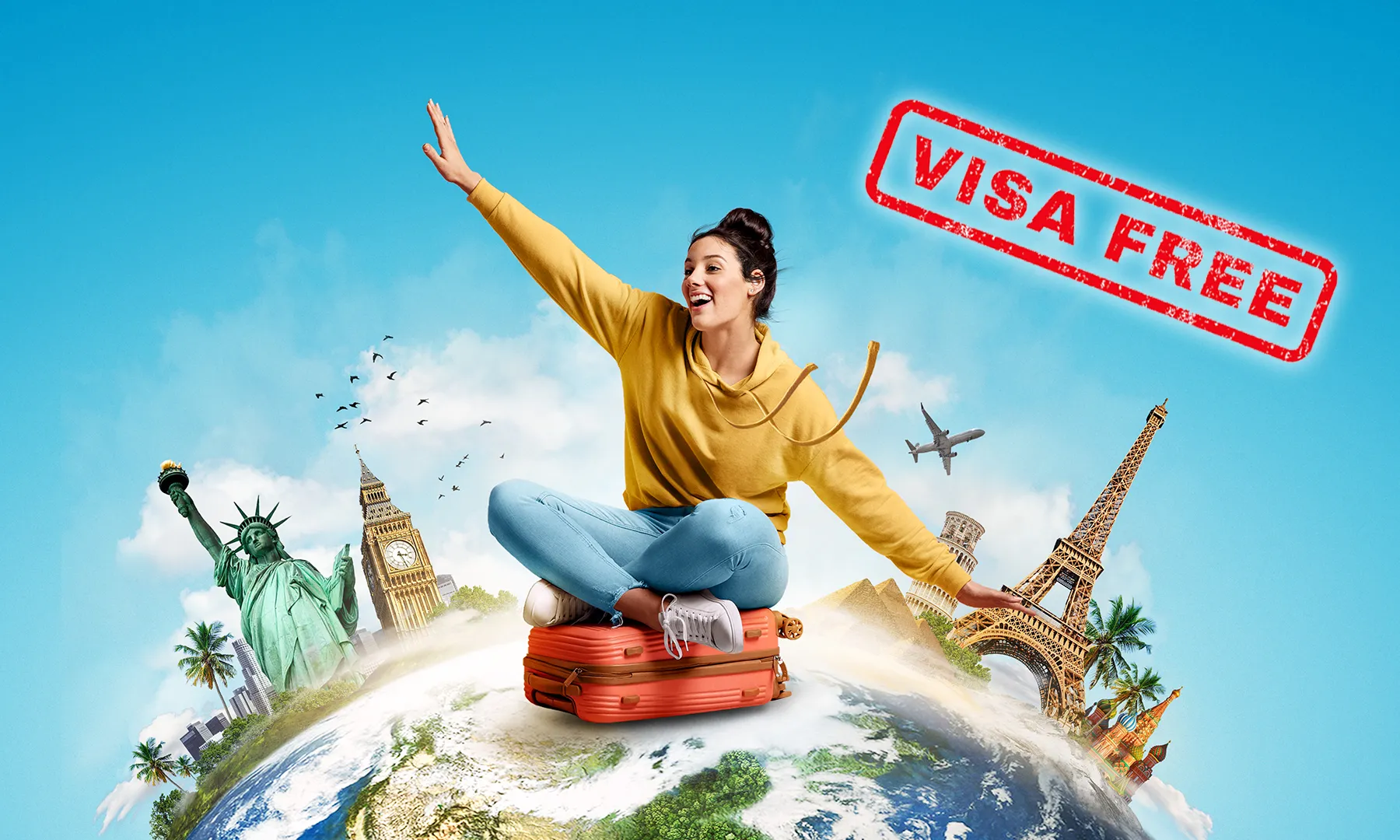 Even though the Philippines has much remains to be done in terms of travel freedom as it is presently ranked 74th out of 199 nations, there are still over 60 countries you may visit without a visa!
Well, in point of fact, there are more than 30 countries in which Filipino nationals may travel without a visa, and they are eligible for a Visa on Arrival or an eVisa for an additional 50 plus countries. This brings the total number of countries where Filipinos may go without having to cope with cumbersome bureaucratic processes at multiple embassies to more than 80.
So, if you've been aching to have an overseas travel, you can check out this list of countries where you may travel without a visa to get some inspiration for your next trip!
Philippines visa free countries
Here are the visa free countries list where Filipino citizens can travel anytime:
Asia or Oceania
Brunei – 14 days

Cambodia – 21 days

Fiji – 4 months

The Hainan province of China

Hong Kong – 14 days

Indonesia – 30 days

Israel – 90 days

Laos – 30 days

Kazakhstan

Macau – 30 days

Malaysia – 30 days

Micronesia – 30 days

Mongolia – 21 days

Myanmar – 14 days

Palestinian Territories

Singapore – 30 days

Taiwan – 14 days

Thailand – 30 days

Vanuatu – 30 days

Vietnam – 21 days
Americas
Barbados – up to 90 days

Bolivia – 90 days

Brazil – 90 days

Colombia – 90 days with an available 90 day extension

Costa Rica – 30 days with available extensions of up to 90 days. Upon arrival in Costa Rica, you can get 30 days of visa free, then once inside the country, you may extend your visa to a maximum of 90 days.



Dominica – up to 21 days

Ecuador – 90 days

Haiti – 3 months

Peru – 183 days

St Vincent and the Grenadines – 1 month

Suriname – 90 days
Africa
Gambia – 90 days. To enter the country, you must first get entrance permission from the Gambian Immigration Service, unless you are a tourist on a commercial airline.

Morocco – 90 days

Rwanda – 90 days

The Ivory Coast – 90 days
Ways on how Filipinos can travel without a visa
To visit visa free countries means you simply need to present your valid passport and travel ticket to the immigration officials upon arrival in a new country. Unless you want to remain in the country for an extended period of time, you will not be required to get a visa.
As a condition of entry into some countries such as Morocco and Thailand as well as Ecuador, evidence of travel insurance is also required aside from being Philippine passport holders.
List of Countries where Filipinos may apply for a Visa On Arrival
Citizens of the Philippines may get a Visa on Arrival in roughly 28 different countries all over the world. Although a Visa on Arrival is not the same as a visa free trip, it is still a great alternative when you want to travel to another country.
Armenia – up to 120 days. Aside from Visa On Arrival, you can also apply for an eVisa here.

Azerbaijan - you can only have Visa On Arrival here if you have a residence permit for UAE.

Benin – up to 8 days.

Comoros – up to 45 days.

Iran – up to 30 days.

Kenya – up to 3 months.

Kyrgyzstan – up to 1 month. You must land through the Manas International Airport to get a Visa On Arrival.

Madagascar – up to 90 days.

Malawi – up to 30 days. As soon as you get here, you have the option to extend your stay for up to an additional 90 days.

Marshall Islands – up to 90 days.

Mauritania - just make sure that you will arrive in the Nouakchott–Oumtounsy International Airport to get Visa On Arrival

Mauritius – up to 60 days.

Mozambique – up to 30 days.

Nepal – up to 90 days.

Nicaragua – up to 90 days.

Pakistan – you can visit here as long as you have a valid Electronic Travel Authorization for business reasons.

Papua New Guinea – up to 60 days

Saint Lucia – up to six weeks

Senegal – up to 90 days.

Sri Lanka – up to 30 days.

Tanzania – up to 3 months.

The Maldives – up to 30 days.

The Shenzhen province of China. This program is only open to those who previously had a valid Chinese visa.

Timor-Leste – up to 30 days.

Togo – up to 7 days.

Trinidad and Tobago

Trinidad and Tobago – up to 1 month

Uganda
Ways on how to apply for Visa On Arrival
Once you arrive at your destination, you may apply for a Visa on Arrival. With this kind of visa, you are not required to visit an embassy in your country of residence, however, you may be required to submit a digital application over the internet beforehand.
Depending on the country you're visiting, Filipino nationals must meet different visa-on-arrival requirements. Some of the documents that you need to prepare beforehand are a few papers that prove:
In order to make it through your vacation, you have enough money or financial resources to support your trip

You need to have a return or onward flight ticket prior to your travel so that you may get out of the country before your visa expires.

You have booked a hotel or an Airbnb for your stay.

You're covered for medical expenses or travel health insurance abroad.
Certainly, you would need to know the important documents that you will need to provide to the immigration agents prior to your travel date. You might also encounter some circumstances when you have to wait a few hours for the visa to be completed, although this is of course, much preferable than waiting many days or weeks.
Countries where eVisas are available to Filipino citizens
eVisas may be obtained for the following countries by Filipino citizens:
Antigua and Barbuda

Armenia – up to 120 days.

Benin – up to 30 days.

Djibouti – up to 31 days.

Ethiopia – up to 90 days. You must enter the country through the Addis Ababa Bole International Airport in order for you to get an eVisa.

Gabon – It is necessary for you to go via Libreville International Airport for you to get an eVisa.

Georgia – up to 30 days within a 120-day period.

Guinea – up to 90 days.

Guinea-Bissau – up to 90 days.

India – up to 60 days

Kenya – up to 3 months.

Kyrgyzstan – up to 1 month. To get into Kyrgyzstan after receiving an eVisa, you must either fly into Manas International Airport, Osh International Airport, or cross the Irkeshtam or Torugart land crossings with China, the Ak-jol, Ak-Tilek, Chaldybar, Chon-Kapka land crossings with Kazakhstan, the Bor-Dobo, Kulundu, Kyzyl-Bel land crossings with Tajikistan and the Dostuk land crossing with Uzbekistan

Lesotho

Madagascar – up to 90 days

Malawi – up to 90 days.

Pakistan

Papua New Guinea – up to 60 days.

Qatar

Russia – up to 8 days. Only three areas in Russia may be visited with your eVisa: Saint Petersburg, the Leningrad Region, and the Kaliningrad Province.

Saint Kitts and Nevis – up to 30 days

São Tomé and Príncipe

Sri Lanka – up to 30 days

Tanzania

Tanzania – up to 3 months

Uzbekistan – up to 30 days.
Ways on how to get an eVisa
An eVisa refers to electronic visa or online visa. In order to get one, all you have to do is to go to the country's visa applications website and fill out an online application form. The same rules apply to eVisas to any other kind of visa although the only difference is that, this is such a convenient way as you can apply online.
You must apply for an eVisa online before you go to your destination. It is common for government websites to have their own dedicated servers for processing eVisa applications. Check the website of the Embassy or Ministry of Foreign Affairs or Tourism of the country where you want to go in order to find out where you may apply for an eVisa. You can usually find the eVisa application link on their website, or they will lead you to the right site in which you can apply.
Occasionally, the online application and the Visa on Arrival are related in the sense that you submit applications online for visa authorization and then get the visa upon arrival.
Is a Visa Required for Filipinos when Traveling to Europe?
Filipinos need a Visa when traveling to any European country. Specifically, they would need to apply for a Schengen Visa as this is a requirement when visiting a country within the European Union.
It is possible to travel to a number of countries outside of the Schengen area with a valid visa from a Schengen country. Here is the list of countries that you can visit with a Schengen Visa:
Albania
Antigua and Barbuda

Belarus

Bosnia and Herzegovina

Bulgaria

Colombia

Croatia

Cyprus

Georgia

Gibraltar

Kosovo

North Macedonia

Montenegro

Romania

Sao Tome and Principe

Serbia

Turkey
You must also take note that a travel health insurance is required for foreign nationals who would like to apply for a Schengen Visa.
Overview of travel health insurance for a Schengen Visa
As a result of the Schengen Agreement, all of the European nations that are part of the Schengen Zone are covered by Schengen Travel Insurance.
If your flight is delayed or you need to cut your vacation short, or if you are held personally liable, travel insurance may protect you from financial harm. This depends on the coverage you pick.
The following conditions must be met by any insurance policy issued in connection with a Schengen visa:
It should cover at least €30,000 for medical bills and evacuation in case of an emergency.

The Schengen Area's 26 member nations should be able to use it.

It must be valid and you should be able to use it throughout the remainder of your trip in Europe.
Fortunately, since it is needed by embassies for the visa application, the majority of insurance firms offer plans that explicitly match these criteria. Travel insurance certificates from companies like MondialCare, AXA Schengen, Dr-WALTER, Bupa, Allianz, Insubuy, and Europ Assistance are needed by Embassies when applying for a Schengen visa.
Health Insurance's Proof of Purchased for Schengen Visa
The Embassy will request evidence of bought Schengen travel insurance when you apply for a visa. When you sign up for one of your insurance company's plans, they will provide you with a "travel insurance certificate," which is what it is commonly called.
Just contact your insurance provider if the Embassy you are applying to has special insurance certificate criteria, and they will most likely provide you with a certificate tailored to your case.
Also makes sure that your Schengen travel health insurance covers the following:
Cost of medical treatment that includes in-patient and out-patient medical treatment, Doctor visits, hospitalization, surgery, prescription medication, and emergency dental care.

Cost of repatriation or evacuation. The expense of repatriation is covered by travel insurance if you get very sick or are involved in a major accident and need medical treatment outside of your current place of residence. In the case of death, repatriation is also covered.
It's like a breath of fresh air to know that the world is now again slowly opening its doors for international travels after almost 2 years of restrictions and quarantines. Traveling overseas is totally an exciting plan although you must not just consider your safety on your travels but also the security of your home when you leave the country.
When deciding to buy a new house and lot, make sure that the community you will choose include a safety and security feature that will provide you some peace of mind when you travel abroad.
Good thing that this can now be achieved through Lumina Homes 24/7 guard house, CCTVs all over the subdivision, and perimeter fence.
Availing of a brand new home with Lumina gives you an extra sense of security and assurance inside your community apart from the personal security that you install in your house. Now, you can travel with freedom from worries when it comes to your home's surveillance and protection.
Purchase a home that can guarantee your peace of mind and protection with Lumina Homes!

Try our Home Loan Calculator
Loan Calculator
Try Lumina Homes' loan calculator and get an estimate computation for your preferred Lumina property and home model.