Get a P300 Discount when you Reserve a Lumina Home through GLife!
19 January 2022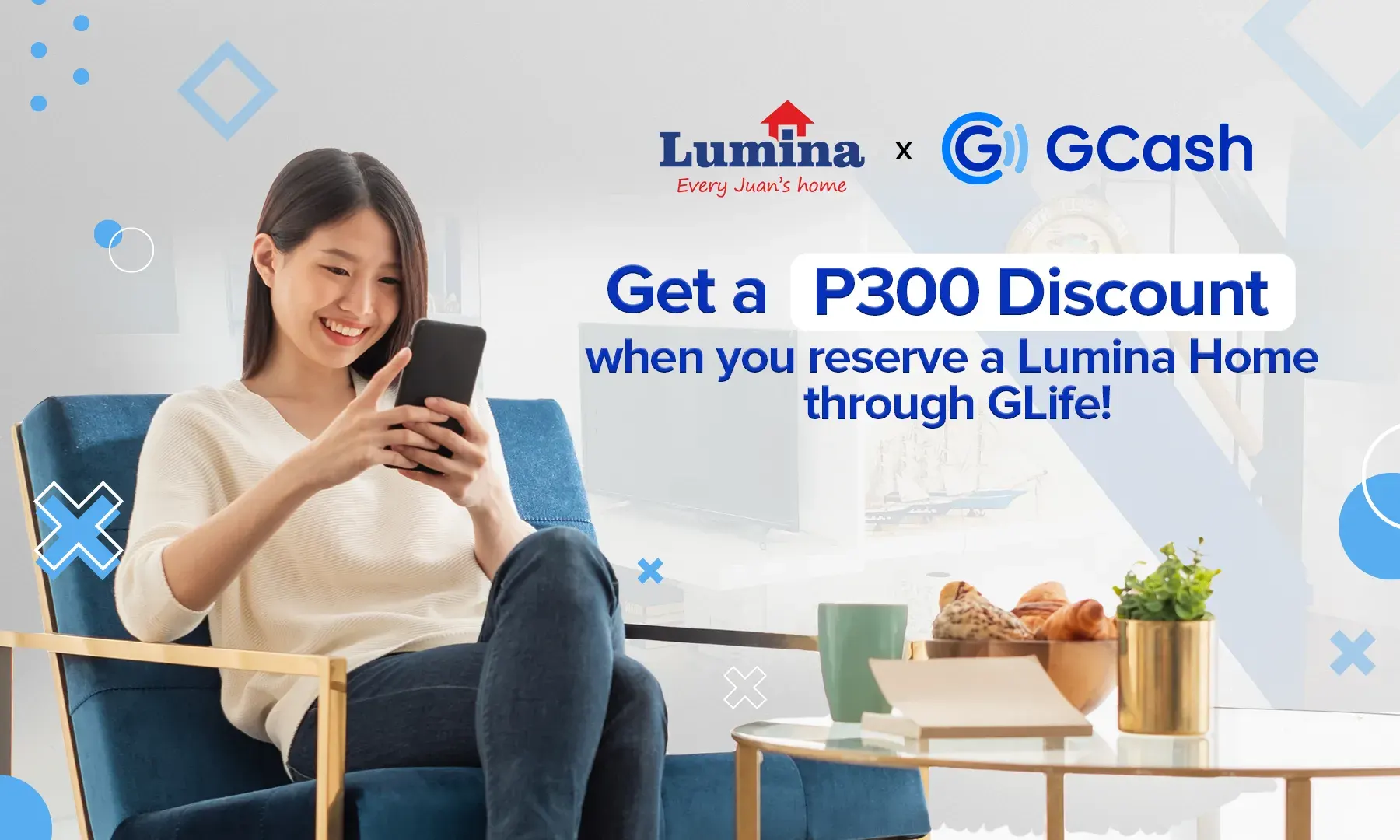 [UPDATED] People say that cash rules the world, but with the coming of COVID-19 as a global pandemic and crisis, the world gradually moves closer to a cashless society which makes this remark in vulnerability.
In light of current developments, digital money may soon replace traditional forms of payment. Many nations are promoting reducing the amount of currency in circulation these days to lessen physical contact and prevent the widespread of the virus.
In the Philippines, although cash is still being widely used across the nation, cashless transactions are slowly becoming popular because most transactions are progressively going digital and cashless also has some significant benefits. Several corporate hazards are eliminated when using a cashless payment system, including employee theft, counterfeit money, and robbery. In addition, it lowers the expenses of security, bank withdrawals, transportation, and counting.
With the new variant Omicron threatening the world with its surge after the infectious Delta strain, it's safe to think that people can still avail services, products, and transactions safely without worrying about physical contact. Filipinos can now purchase products and make investments without drawing cash from their pockets!
Speaking of investment, do you know that you can make a home reservation these days through cashless payment and be one step ahead in reaching your dream home? With Lumina Homes, this is possible!
How to get Php 300 off on your Lumina home reservation with GLife?
When you use GLife and pay it through GCash, you can now effortlessly make your house and lot reservations at the comforts of your own home by following these four easy steps:

Step 1: Find and pick Lumina Homes from the list of GLife Partners.
Step 2: Your GCash Number, Name, and Contact Information will be requested in the second step of the registration process. After inputting all these necessary details on this page, tap the "I Agree" button to save it.
Step 3: It will then take you to Lumina Homes Online Store, where you can see all of the various house and lot packages and condo units from Lumina, as well as their assigned reservation pricing. Once you've selected your preferred house model unit, add it to your shopping basket and fill out the necessary information for the checkout.
Step 4: Lumina Homes will get back to you as soon as possible once you've made a reservation through their sales representative, so make sure to keep your lines open after making the reservations.
Meanwhile, if it is your first time using GLife, here's how you can access it from your GCash App.
How to go to GLife in the GCash App?
If you already have a GCash account and are a GCash user, you may use your GCash App on your phone to conveniently access GLife. You may get to it by following these two simple steps:
Step 1: When logging into your GCash account, look for the GLife option and choose it. There should be no trouble locating it on the dashboard since it's marked.
If you can't locate the GLife option on the dashboard, you can still access it using the Show More option. Aside from that, make sure that you're using the most recent version of the GCash App.
To do this, you can quickly go to Google Play or the App Store on your mobile phone and update your GCash App.
Step 2: For the first-timers, you'll be greeted with a welcome page when you sign up for GLife. You can then tap your screen to view a wide variety of retailers from GLife's list of partners.
Make home reservations with GLife
Offering easy-to-own bigger, and better real estate property that fits the changing needs of Filipino families, Lumina Homes overmastered itself by building creative platforms to reach a broader audience. Partnering with GCash through GLife opens another method to avail fine yet affordable house and lot investment packages to the Filipino people even in the middle of the pandemic.
While in its 9th year in the real estate market, Lumina Homes joined forces with GLife to offer a new digital twist to the home investment experience of every Filipino people.
GCash, the Philippines' leading mobile money and e-money provider, recently launched GLife as its newest service. A wide range of beauty and food delivery firms, e-commerce sites, gadget stores, restaurants, and real estate may be accessed via the GCash mobile app, all through GLife. Transactions with your favorite brands and GCash-approved merchants are now more straightforward, quicker, and more convenient than ever before!
Are you getting excited to make your home reservations with GLife? Make sure to do it now!
This January 24 to 31, 2022, Lumina homebuyers can get Php 300 discount voucher for every house and lot reservation that they make via GLife!
Also read why a house and lot is the best gift for you and your family:
Reserve Now, Pay Later
Using your GCash account, you can now avail a digital reservation voucher today and pay it later!
When you use the GCash app, you may now shop and pay later for your purchases, thanks to the GCredit function. If you find yourself unable to pay for an online purchase because of a lack of finances, this is a great approach to alleviate some of the burdens of home reservations.
Lumina Homes partnered with GCash to make it easier for Filipinos to make home reservations and reach their goal of having a space they can call their own. More and more individuals are turning to the convenience of online shopping for anything from everyday necessities like groceries and household goods, so more indulgent purchases like home reservations should not be left out.
Here's how you can do it:
The first step is to ensure that your GCash account is fully verified to apply for this loan credit. CIMB Bank has partnered with GCash to deliver an in-app functionality that gives up to a PHP10,000 personal credit line and an interest rate as low as 1% for fully authenticated GCash customers. Purchasing from Lumina Homes requires you to choose GCash as your payment method of choice. Afterward, you have to enter your GCash Mobile Number, punch in your OTP delivered to your phone through SMS, and enter your 4-digit MPIN. Finally, you can now choose GCredit as your chosen payment method and wait for an SMS confirmation as proof of your transaction.
Safety and health should always be maintained for home reservations and investments while removing any unnecessary complications. That's why it is a fantastic thing that homebuyers don't have to deal with all of these worries and inconveniences when they make a house and lot reservations with Lumina Homes.
Make your home investment now with Lumina Homes and enjoy the ease of house and lot buying across the nation!
Check out more promos and discount offers of Lumina Homes here:
***
For more information on Lumina Homes, contact (0917) 629 6523.
Visit our official website at www.lumina.com.ph and like/follow our official online channels: Facebook, Twitter, Instagram, YouTube, Google MyBusiness & Google Maps, Pinterest, Spotify, Viber, Telegram, Lazada, and Shopee.

Try our Home Loan Calculator
Loan Calculator
Try Lumina Homes' loan calculator and get an estimate computation for your preferred Lumina property and home model.