Lumina Presents Mayo Uno Papromo for Filipino Workers
1 May 2021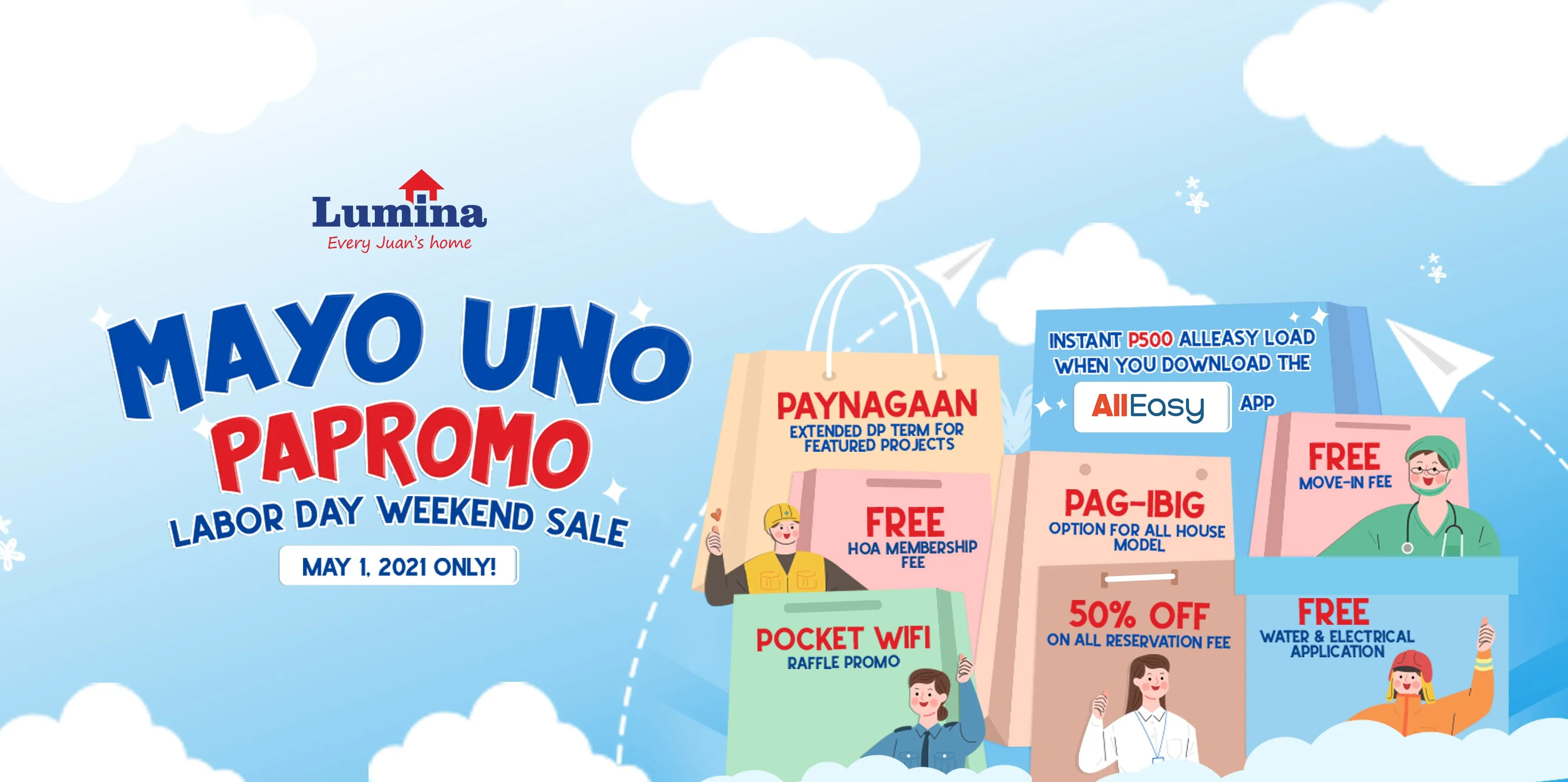 May 1 is significant for two reasons: it is a secular as well as a religious holiday. The secular observance is Labor Day, which is observed annually in a lot of the countries worldwide. The spiritual meaning is that today is St. Joseph the Worker's feast day.
Labor Day or Araw ng mga Manggagawa is a regular national holiday in the Philippines dedicated to commemorating the labor movement's achievements.
And to honor every Filipino worker, Lumina presents Mayo Uno Papromo this Labor Day, where homebuyers may reserve a unit in Lumina Homes and receive instant Php 500 AllEasy credits and avail all these promos:
Lumina Homes has over 50 house and lot community developments in key locations across the country like Rizal, Bulacan, Pampanga, Bataan, Zambales, Nueva Ecija, Tarlac, Pangasinan, La Union, Cagayan, Isabela, Cavite, Batangas, Laguna, Quezon, Camarines Norte, Albay, Sorsogon, Iloilo, Capiz, Cebu, Negros Occidental, Agusan del Norte, Zamboanga del Sur, Bukidnon, Misamis Occidental, Davao del Norte, Davao del Sur, and South Cotabato.
How to receive Php500 AllEasy credits upon reservation of a Lumina home?
Reserve your Lumina Homes house and lot in any location.

The buyer must be an employed Filipino worker.

The Marketing Officer must recognize the sale as one of the first 20 buyers of the cluster.

Download the AllEasy app and claim your AllEasy credits.
AllEasy is an all-in-one mobile app that can pay bills, buy prepaid mobile load and RFID, fund transfer wallet to wallet, and pay via QR code.
You can even reserve a house and lot in Lumina Homes using an AllEasy digital wallet and even pay your Lumina Home dues too!
AllEasy, Inc. is a Financial Technology (FinTech) solutions provider that aims to uplift the lives of all Filipinos by providing an easier way to make payments.
With the mantra of financial and digital inclusion, made all easy - AllEasy propels a rapid shift into a country where everyone enjoys more economical digital means of payment transactions. By doing so, AllEasy helps bridge the gap between the haves and the have nots and provides financial access to the country's unbanked.
Through the AllEasy e-wallet app, you can experience seamless digital payment transactions such as sending money, paying bills and merchants, even making safer purchases through Pay on Delivery.
How to gain raffle entry for The Winner 'TECHS' It All?
1. Homebuyers should reserve 2-storey house and lot for sale in any of these participating Lumina Homes project locations:
2. The reservation of the chosen house and lot should be made using Lumina Homes Online.
3. The homebuyer should also subscribe to the Lumina Newsletter, and the email address for the subscription should match the one used during the online reservation.
4. Promo runs from April 1 to June 30, 2021.
What is The Winner TECHS It All Raffle Promo?
From April 1 to June 30, 2021 homebuyers that will reserve a 2-storey Lumina house and lot from selected Lumina project locations may get a chance to win a procket WiFi. Homebuyer must reserve the Lumina property via Lumina Homes Online and made a subscription in Lumina Homes' website. There will be ten winners of brand new pocket WiFi.
Here are the participating project locations of Lumina Homes for The Winner TECHS It All Raffle Promo:
What are the Lumina Homes' project locations with PAYnagaan Extended DP terms?
Reward yourself for a job well done and celebrate Labor Day with some activities and ideas that you can do to enjoy this holiday even you are just inside your house.
Related Articles:
***
For more information on Lumina Homes, contact (0917) 629 6523.

Try our Home Loan Calculator
Loan Calculator
Try Lumina Homes' loan calculator and get an estimate computation for your preferred Lumina property and home model.