Voters Registration for 2021
24 September 2021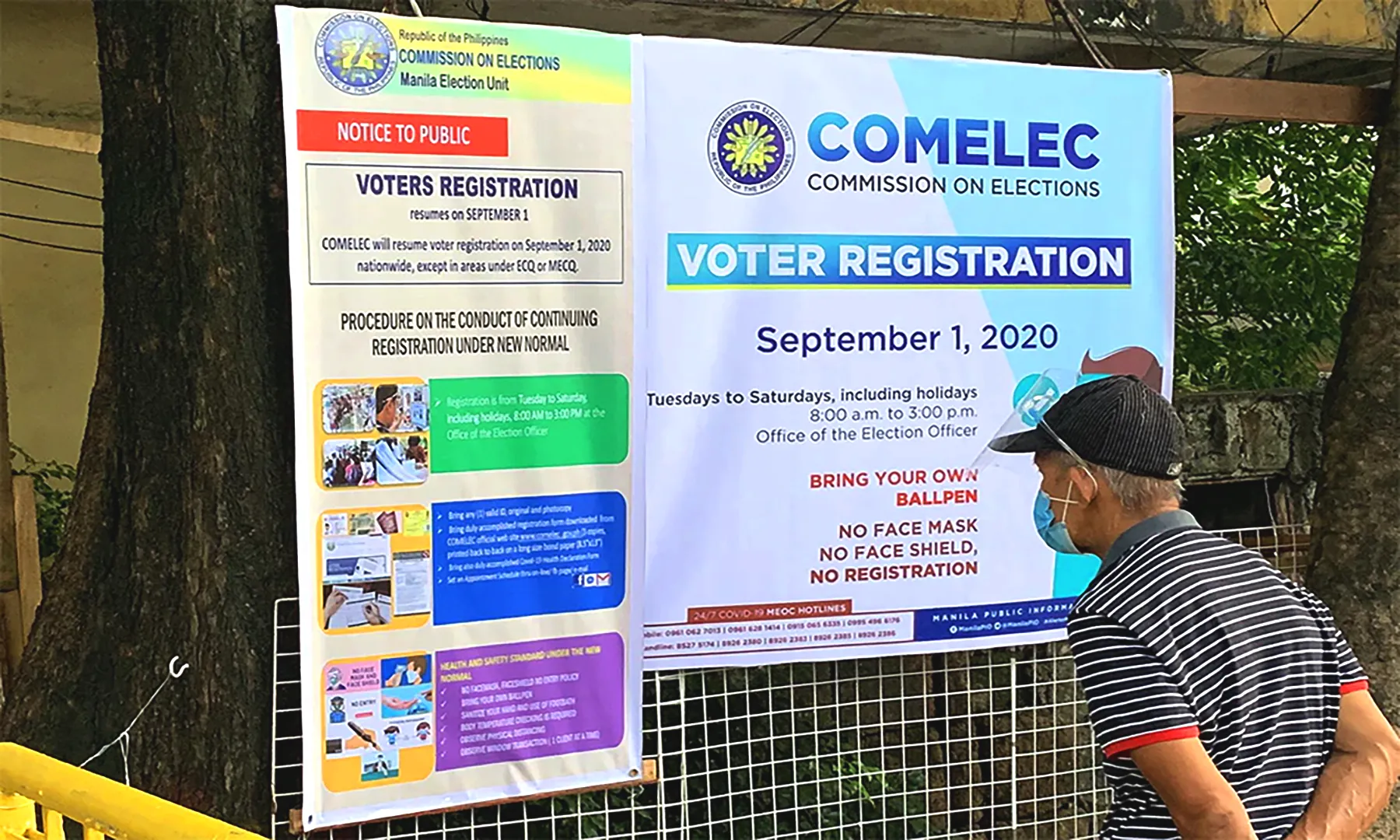 As quoted from Commission on Elections (COMELEC) Spokesperson James Jimenez, voter registration is always an "essential activity" for all eligible Filipinos. He also pointed out that elections are won by the voters who turn up and not only via our active, moving, inspiring, witty, or perceptive social media postings.
This is a great reminder especially to the youth and the first time voters who find it amusing to be actively campaigning on social media platforms. Voting is an important duty that falls on the people. Although voting is not mandated by law, yet it is a critical component of every democracy. Citizens take part in the democratic process by casting a ballot and electing leaders to represent their interests and ideas, and those elected leaders in return, support these interests.
But just like everything else, the pandemic also takes its toll on the voter registration process. As a result, according to the Comelec, the voter registration hours were also needed to be adjusted for the 2022 election. In addition, Comelec also said that Friday will be designated for office disinfection based on the recent rescheduling.
Beginning on August 23 and running through September 30th, voter registration is open from 8 AM until 7 PM on weekdays and from 8 AM until 5 PM on weekends and on holidays.
They've also pointed out that, according to the Philippine Statistics Authority, there would be 73.3 million eligible voters in the country next year. If this number is compared to the 60 million people who have previously signed up, they are concerned that 13.3 million eligible voters would be left out.
Due to this, a bill was filed by 23 senators seeking to prolong the voter registration period for the 2022 national and local elections to October 31, 2021. As part of introducing the bill, senators put emphasis that the COMELEC set the voters registration deadline on September 30, 2021, that is before the COVID-19 pandemic hit the country. This schedule won't be ideal in the current situation as based on their data, around 28.3 percent of the country's registration period was halted because of the quarantine limitations.
In return, on Thursday, September 23, a COMELEC official acknowledged that the election authority was examining the idea of extending the voter registration by at least one week, but this will be done after the submission of certificates of candidacy (COCs) from October 1 to 8. Lawmakers then sought a two-week extension from COMELEC after Casquejo said on Thursday that a one-week extension was being considered.
Voters Registration Guide
Many Filipinos may be perplexed as to what has changed in our voter registration procedure in light of the country's present health crisis due to the pandemic. With only a few days left before the deadline, it is important to know and prepare all the required documents you need to prepare upon the registration.
Am I eligible to register?
You should met first the following conditions before you can get allowed to register: You must be a Filipino citizen, a t least 18 years old on or before the 2022 Election, and a resident of the Philippines for least one year and a resident of the place in which you intend to vote for at least 6 months.
Take Note: It's just necessary to register once.
Are there any online registrations available?
Filipinos who are eligible cannot register online. In order to vote, they must still travel to their local Comelec office or the Office of the Election Officer and fill out the form, have their picture taken, and have their fingerprints and digital signatures. Comelec has established up iRehistro though, where you can complete your forms online even if you can't register virtually. This does not imply, however, that you have already been registered. It was clarified by Comelec that after completing iRehistro, qualified voters may submit their application form in person at a Comelec office or at the Office of the Election Officer.
Where can I register?
Eligible Filipinos who would to register need to visit their local Comelec or the Office of the Election Officer. Regardless of where you live, you can run across one their offices as
these are typically found inside or near the city halls. There also satellite offices available though you should need to book for an appointment online for these offices.
What requirements should I bring?
Eligible Filipinos simply need to carry a government-issued ID and one valid photocopy of it. You should also bring the completed Comelec forms if you already have them. It is not necessary to get a negative COVID-19 test result although you will be asked to fill out a Coronavirus Self Declaration Form.
Requirements for OVS Registration Records aside from valid Philippine Passport
If you're an eligible Filipino citizen but haven't registered as an overseas voter, you may do so at any approved registration facility, such as an embassy or consulate. The Overseas Voter Registration Desk requires first-time registrants to show up in person to have their biometric data and photos taken.
Here are the basic requirements for the registration:
· One (1) printed copy, completed and signed OVF Form. Just make sure NOT TO SELECT AN APPOINTMENT THROUGH THE iREHISTRO form.
· Valid Philippine passport, One (1) photocopy of the data page of Philippine passport. If your Philippine passport is not available, please request for a DFA Certificate form from the Overseas VoterRegistration Officer during your visit to the Philippine Embassy.
Supporting documents:
· for Dual Citizens (via RA 9225), you need to bring the original and one (1) photocopy of the Order of Approval or Identification Certificate
· for Seafarers, kindly bring your Valid Seaman's Book and one (1) photocopy of the data page of your Seaman's book
During your visit, make sure to bring the following:
· Signed and completed Oversea Voter Registration Form
· Original and one (1) photocopy of valid Philippine passport
· Original and one (1) photocopy of supporting documents
The pre-checking counter will then verify your schedule and supporting documents. If the documents you have aren't complete, then you'll be rescheduled for another visit so make sure to bring all the required documents.
The final step is the verification if all your documents are genuine and full before taking your picture and biometric data using the equipment supplied by the COMELEC.
The first step in practicing your right as a citizen is to have the voters registration. So, make sure to accomplish this before the deadline!
Related Articles:
***
For more information about the affordable house and lot for sale of Lumina Homes, please contact (0917) 629 6523.

Try our Home Loan Calculator
Loan Calculator
Try Lumina Homes' loan calculator and get an estimate computation for your preferred Lumina property and home model.