National Reading Month 2022: Book Recommendations on Property Investing
25 November 2022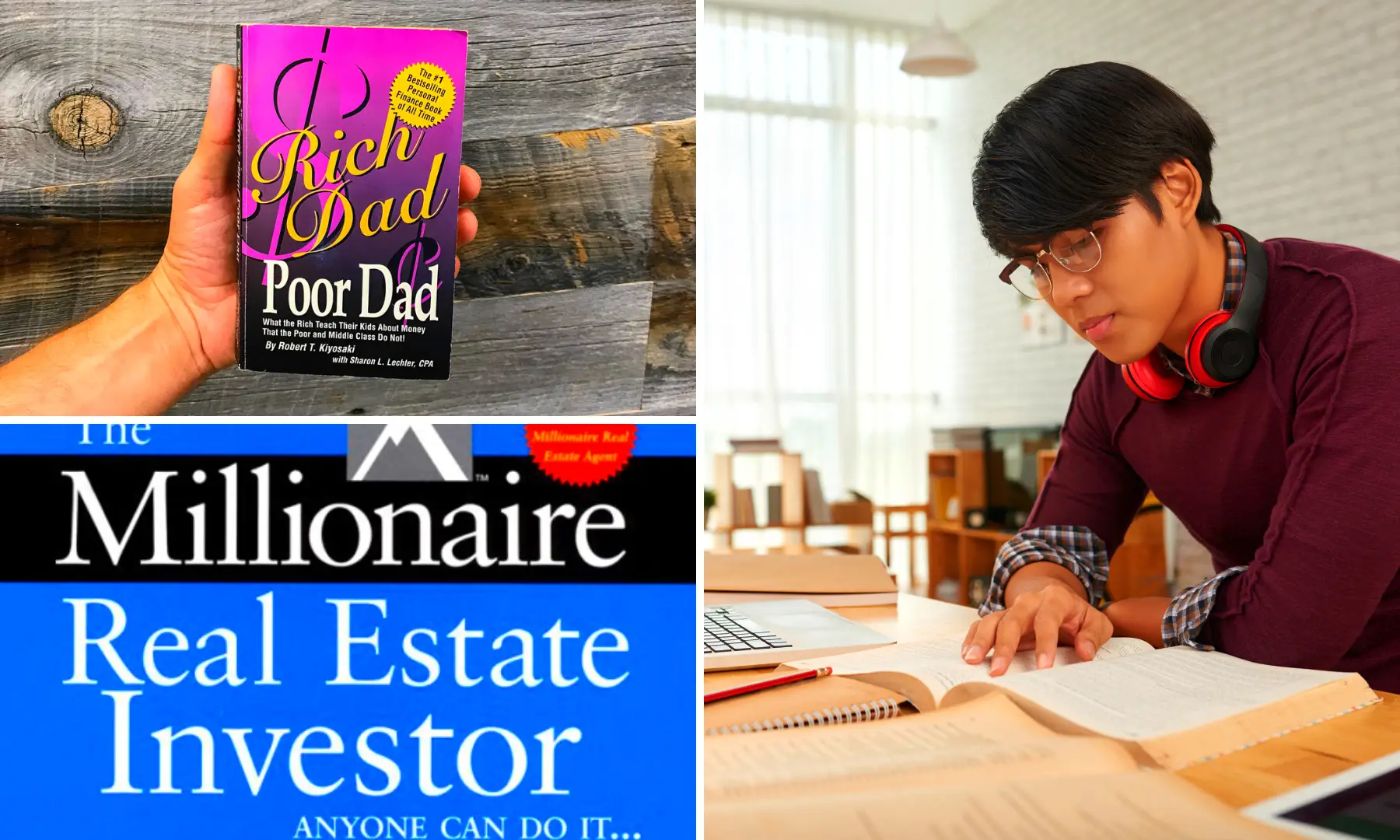 First established in 2011, National Reading Month is a national program by the Department of Education (DepEd) that aims to promote reading as a potent literacy tool among pupils and students across the country. The National Reading Month every November is part of the education agenda of the then government under the Aquino administration, called the "Every Child, A Reader Program" (ECARP).
Up until today, the program is observed to foster a love of reading as well as for the improvement of reading comprehension among Filipino youth. Lumina Homes joins the nation in its efforts of bettering the current standing of the country in the global ranking of overall literacy rate, with reading comprehension as one of the key indicators.
The National Book Week in the Philippines, meanwhile, is also celebrated every last week of November to promote reading and literacy, as well as recognize the quintessential role of public libraries in the encouragement of reading among Filipinos.
The National Reading Program in Retrospect
During National Reading Month, DepEd encourages schools across the nation to facilitate a "Read-A-Thon" session among pupils to promote a healthy reading culture. As an incentive, a search for the most outstanding student and team readers from a pool of great Filipino students from public schools was launched.
Another project integral to the annual celebration is the Drop Everything and Read (DEAR) program, a reading activity for every pupil for at least 15 to 20 minutes daily, with reading materials provided by the school. In addition, the Shared Reading Program (Big Brother or Sister / Kaklase Ko, Sagot Ko), is a reading endeavor that aims to foster empathy among independent readers to assist struggling readers to become better and improve their level of reading proficiency and comprehension.
The then-Education Secretary Bro. Armin Luistro also proposed to conduct a more Intensified Remedial Reading among poorly performing readers in public schools to be focused on by teachers and advisers by giving remedial lessons to improve their reading and learning capabilities.
In addition, the "Five Words A Week (FWAW)" and "A Paragraph A Day (APAD)" seek to encourage students to master at least one word per day for a total of five days a week, as well as to read out loud at least one to two brief paragraphs a day before their classes begin. This was eyed to improve every student's skills in oral communication. Finally, DepEd suggested the facilitation of a Reading Camp where pupils and students are provided a venue and avenue to showcase their skills and talents in communication arts through competitions.
Book Recommendations: Best Books on Real Estate, Investing
Last year, the celebration was done virtually on October 26 in light of the coronavirus pandemic. Themed "Bawat Bata Bumabasa Sa Kabila ng Pandemya," which translates to "Every Child Gets to Read Despite the Pandemic," the program was conducted to encourage reading competence among the youth despite being challenged by obstacles even in the face and magnitude of the global virus.
As we celebrate National Reading Month this November, Lumina Homes joins the nation in its celebration of literacy and love for reading. In this article, take a look at our list of real estate investing books imperative for agents, brokers, real estate enthusiasts, and professionals in general.
To not get bored, as anyone might, devote time every day each day as to what part of your day will be exclusive for reading. One of the books below asks that you read at least five minutes a day and that's it! You can follow this trick to kickstart your reading journey into learning the ins and outs of the real estate industry.
Toward the attainment of financial freedom and independence, let the reading of property investment books recommendation begin!
1. The Millionaire Real Estate Investor (2005)
The annual Swanepoel Power 200, which ranks the most influential executives in the residential real estate brokerage industry, officially placed Gary Keller first on their list. He is the main author of this best-selling real estate reading essential for building financial wealth and busting myths about moneymaking for aspiring real estate investors.
2. Rich Dad Poor Dad (2015)
Still earning copies seven years since its original publication is Rich Dad, Poor Dad by Robert T. Kiyosaki. This is ubiquitous in the finance section of arguably all National Bookstores in the country, and for all good reasons! Not only does the author teach about the importance of investing, but also details hardships to relate to his target audience that any ambitious venture does come with risks and difficulties. This is a must-read as an investment book for building personal wealth and achieving financial literacy.
3. The Real Estate Service Act of the Philippines (2009)
It is a must that by pursuing a long-term career in property investments, one must know the laws concerning professionals in the local real estate. In this book by Atty. Martinez, he provides a comprehensive guide to Republic Act No. 9646, an essential book for brokers, consultants, appraisers, salespeople, and assessors. Accompany this book with Atty. Denny Milligan's "Real Estate Law in the Philippines," which takes its focus more on laws and regulations, including real estate taxes, in the local setting.
4. Real Estate Success in 5 Minutes a Day (2016)
Reading is a tedious chore for those with attention spans shorter than a goldfish. This book by Karen Briscoe advises just what its title straightforwardly suggests: read five minutes a day from the chaptered book on any real estate topic. This is perfect for those who are just starting to read but intend to learn more about real estate at a slow reading pace.
5. The Book on Flipping Houses: How to Buy, Rehab, and Resell Residential Properties (2019)
In this property management book by author J. Scott, he details the ways in which you can develop creative financing strategies, assess the profitability of real estate deals with speed and accuracy, what investment property types to invest in, the do's and don'ts of selling and reselling and, as the title suggest, the essentials of house flipping or wholesale real estate investing.
6. Retire Rich with Rentals: How to Enjoy Ongoing Cash Flow From Real Estate… So You Don't Have to Work Forever (2014)
This long-titled book will surely appeal to investment beginners who are still hesitant to hold real estate investing dearly to their heart due to downright lack of knowledge of how the industry works. Author Kathy Kate offers generous insights in this book for people who take building an empire of wealth until retirement very seriously.
7. The Book of YES: The Ultimate Real Estate Agent Conversation Guide (2016)
Before customers become customers, they are strangers first and are not interested in any investment unless pitched to them by a competent and convincing sales agent. Authored by real estate trainer Kevin Ward, this is a reading essential for agents who want to grow their career in the deceptively simple business of buying and selling properties.
8. "Laugh Your Way to Real Estate Sales Success (2014)
The industry is notorious for being a serious business and basically devoid of humor. But author Cathy Turney takes the unorthodox path of introducing real estate with a lighthearted approach. This book tells the basics and complexities of selling and buying homes in an amusing way. If reading bores you, this book probably won't.
9. The Wall Street Journal's Complete Real-Estate Investing Guidebook (2006)
Pulitzer-winning and one of the most patronized financial newspapers in the world, this complete real estate investing guide by David Crook from The Wall Street Journal will tell you everything you need to know about the industry as well as insights provided by an industry expert. This is considered a bible book in the real estate industry, so make sure to consider including it in your to-read list.
10. The Miracle Morning for Real Estate Agents (2014)
As in any business venture, it could take a toll on a person's wellbeing, whether as an agent or an investor. Uncertainty in the sector is a certainty, and while it is considered resilient in the face of a downturn, risks and hardships will not be absent. Discover the "miracle morning" in this book by collaborative authors Hal Elrod, Michael J. Maher, Michael Reese, and Jay Kinder, with Honoree Corder, and expect to be inspired by their real estate insights and coping mechanism ideas.
Also read: Discover Your Next Exciting Read and Celebrate World Book Day
Lumina Homes: The Trusted Real Estate Brand to Seal Your Property Investment
The real estate industry among other investment vehicles is distinguished as a safer bet that could be resilient after an economic crisis such as the COVID-19 pandemic. This makes the industry safer with fewer risks and more potential for lucrative income. Lumina Homes, one of the housing arms of Vista Land, has established trust and a good reputation for its name as a real estate brand for the last decade.
Offering affordable house and lot for sale that could be converted by buyers into rental property investing for passive income, Lumina Homes was awarded as a top housing developer by Pag-IBIG Fund and as Best Developer for affordable housing by the first-ever Carousell Property Awards. This is a testament to Lumina Homes' reliability as a real estate company that shall keep present and future investors and buyers confident of investing their hard-earned money in an affordable house and lot.
Ride on a virtual tour of available properties and invest in a Lumina house and lot in the Philippines from over 50 key locations today!

Try our Home Loan Calculator
Loan Calculator
Try Lumina Homes' loan calculator and get an estimate computation for your preferred Lumina property and home model.