Legazpi City: The Philippines' Next Real Estate Investment Hotspot 
5 October 2022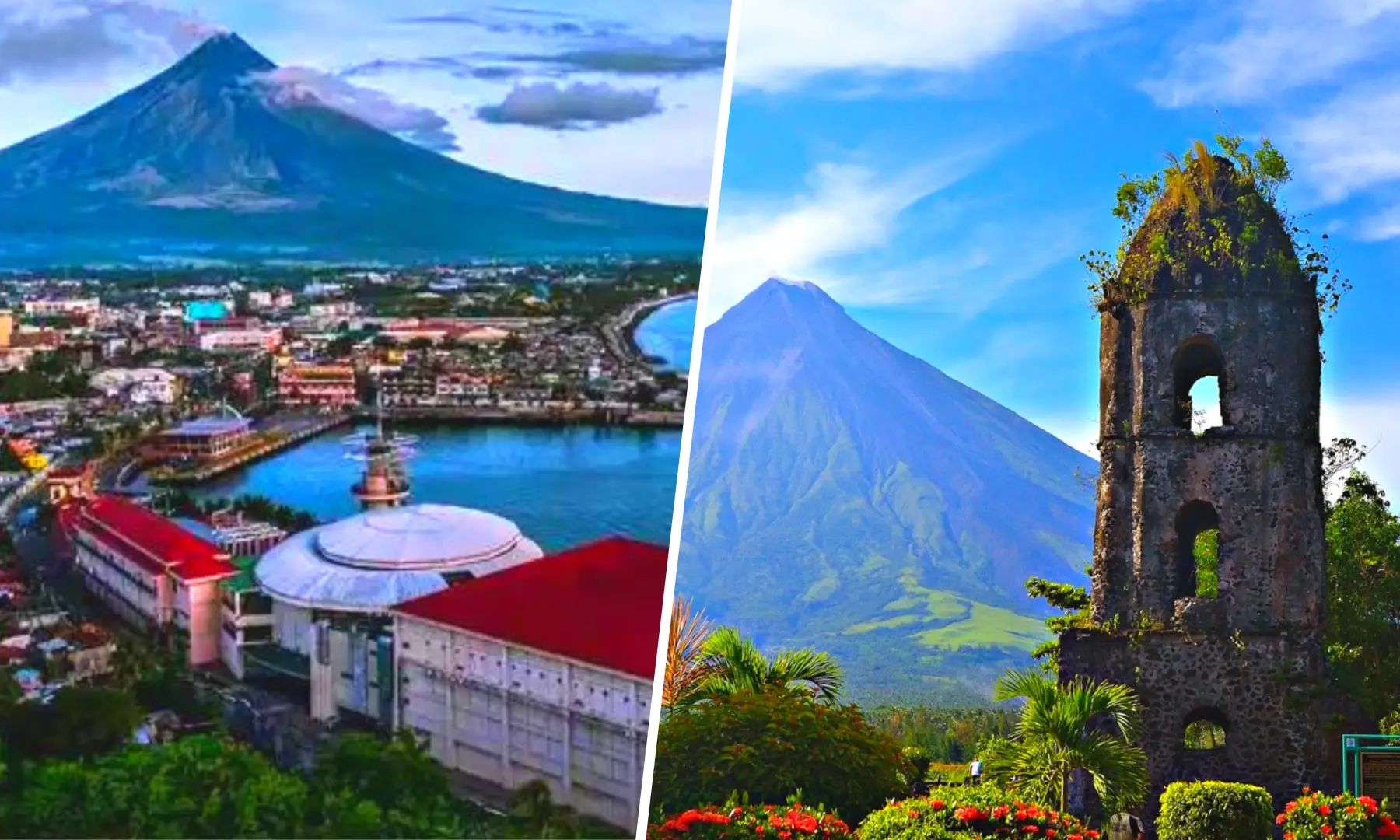 What comes first to mind when you hear the word Bicol? More likely than not, you think of Mayon Volcano, the majestic perfect cone in the heart of Legazpi City, Albay. Through the years, Legazpi City has developed its reputation as a must-see tourist destination for both locals and foreigners alike. However, did you know that Legazpi is so much more than just Bicolandia's entryway? Discover what else Legazpi City has to offer and more importantly, why this city in the south is an excellent place to make an investment. Welcome to the city of the Uragons!
Getting to Know Legazpi City
Considered a first-class city of the Bicol Region, Legazpi City enjoys a mixture of urban and rural living. Identified as the provincial capital of Albay, it is also the biggest city in the Bicol Region in terms of population. Aside from being the geographical regional center, it has also become the center of the economy, tourism, education, health services, and even transportation of the area.
Located 527 kilometers (327 mi) south of Manila, Legazpi City is also the hub of the Albay province and is situated near the east, with Santo Domingo on its north, Daraga on its west, and Manito, Albay, and Pilar and the neighboring town of Castilla which is under the province of Sorsogon.
With a total land area of 20,437 hectares, 70 percent of which is classified as rural areas, while 30 percent is classified as urban ones. Legazpi City is divided into two districts, the Legazpi Port and the Old Albay District.
The city's topography is varied as well. On the south, you can see rolling to hills terrain, on the other hand, its coastal areas also extend from plain to hilly elevation. The city has rivers namely the Tibu, Macabalo, and Yawa that surround its urban district, hence the local government erected several urban drainage and flood control system to protect its residents. The flood control system includes dykes, sea walls, canals, and even three water pumping stations.
Legazpi City's weather is tropical and a considerable amount of rainfall occurs in the province every year. Weather-wise, January is the coldest month, and the hottest months are May and June. Want the best time to visit Legazpi? Then book your tours during the summer months between March through May!
These are just some vital statistics about Legazpi City. Are you looking for a good investment in the form of an affordable house and lot for sale? Aside from the ideal weather and the impressive balance between rural and urban, then discover more reasons why you should fall in love and invest in Legazpi City.
The Advantages of Living in Legazpi City
1. It is a model in disaster risk management of the Philippines.
As potential owners of real estate, you may be familiar with how important it is to protect your home against natural disasters. But the good news is, Legazpi City responded to the challenge. In 2017, the local government started a seawall cum boulevard project as part of the Php 2.1 billion flood control construction project which is just in its first phase.
With these efforts, Legazpi Albay is recognized by the National Disaster Risk Reduction Council (NDRRC) as a model locality for implementing risk reduction management practices in the Philippines. The Albay capitol also received the first Climate-Adaptive and Disaster-Resilient (CLAD) Award for Cities and Municipalities by the Climate Change Commission (CCC).
2. Legazpi Albay is a recognized major economic hub in the Bicol Region.
The Legazpi City Hall is a hive of activities not only for its active efforts against natural disasters, but they are also building a business city center. Legazpi Albay is still considered an agricultural powerhouse as Legazpi City produces rice, root crops, and coconut, to name a few. However, the Legazpi City government also diversifies in business opportunities as they also engage in wholesale and retail trade, services, manufacturing, and even mining. As a result Legazpi City exports several natural resources like abaca, copra cake, coconut oil, and perlite.
To promote the urban aspect of Legazpi, Albay, the local government has established many information technology (IT) parks and industrial estates in the city's central business district, the Legazpi Port District. The over 5,000 business establishments can be found in several business parks such as the Legazpi City Special Economic Zone in Barangay Banquerohan, City Light Industrial Park (CLIP) in Barangay Bogtong, Embarcadero IT Park in Barangay Victory Village, Bicol Regional Agro-Industrial Center (BRAIC) and First Legazpi Industrial Estate, both in Barangay Homapo. Meanwhile, the first master-planned commercial business district in the Bicol Region, Landco Business Park, opened in 2001. To boost these parks, Legazpi Albay is promoting itself as an ideal location for ICT-BPO businesses.
As a result, Legazpi City has cemented its economic stability in the region. They ranked first in overall competitiveness among component cities in 2018 by the National Competitiveness Council and were also named "The Most Business-friendly City" by the Philippine Chamber of Commerce and Industry in the same year.
3. Legazpi City boasts fun and adventure within its vicinity.
Known as the City of Fun, Legazpi City, its tourism industry has always been a staple in its economy. However, tourism is not only about Mount Mayon volcano visits. There are lots more to discover in the city. Some of them are extreme sports such as zip-lining, scuba diving, and water sports activities. If you want to check out more of a nature park, then you could visit these tourist spots:
Built by Franciscan priests and destroyed by Dutch pirates, these ruins used to be a tower. But along with the lava eruption, the rest of the church building was buried, and only the tower remained to be seen today. It is now declared a National cultural treasure in 2015.
Ligñon Hill Nature Park

Want to have a 360-degree panoramic view of the city, Daraga, Albay Gulf, and Mount Mayon Volcano? Then here's where you should go! This is also the spot where you need to be if you're an adrenaline junkie and you love to rappel, hike, bike, play paintball, or even do a 320-meter zipline. Want a side trip for some taste of history? You can visit the Japanese Tunnel and pretend to be a soldier from the Japanese occupation during World War II.

Mayon ATV Tour

Go on the wild side and try to reach the peak of the mountain using an ATV tour. A 5,775.7-hectare park with Mayon Volcano as its centerpiece, you can enjoy zooming through the expansive land. Just pray that it's not covered with clouds like usual, so you must visit it early in the morning to see it best.

Albay Park and Wildlife

If you have kids and you want to introduce them to wildlife, then this is the perfect place. You can introduce Philippine Hawk Eagle, crocodiles, bleeding heart pigeons, and more to your children. Plus, you can even have a picnic, go boat riding, and let your kids play on the playground.

Sumlang Lake

One of the newest tourist attractions in Legazpi City, the lake is small but it provides a great view of Mount Mayon Volcano and features a nice restaurant. Want to go to the middle of the lake? Rent a bamboo raft for only Php 50 per person.

Legazpi Boulevard

Are you looking for a different angle to view the Mayon Volcano? Then you must try visiting Legazpi Boulevard. A charming road along the coastline of the city, you can view Mount Mayon behind a small hill at the mountain's foot, which resembles a sleeping lion, and is called as "The Sleeping Lion Hill". When you head over to the boulevard, you may see the JCI Legazpi Tourism marker, several cafes, and restaurants, plus other health services and fitness centers activities such as Zumba, jogging, or just plain family fun.

Embarcadero de Legazpi

Looking for shopping but also enjoying the scenery? Check out Embarcadero de Legazpi for various array of lifestyle options, such as dining, shopping, and entertainment. new waterfront development in Legazpi, you can also enjoy the city's budding nightlife.

Want to have a memorable time during your visit? You shouldn't miss kart racing and the 350-meter zipline. There is also an upcoming 90-feet high skywalk that will give you an amazing view of Mount Mayon and the cityscape.

Albay Astrodome

When you have concerts and sports events that are for everybody, this is the place to be! this 6000 strong Astrodome was inaugurated as the biggest multi-purpose event hall in the city last 1997.

Peñaranda Park

The park was named after the first governor of Albay, Jose Maria Peñaranda, this is then called Freedom park. I might as well walk in the park and discover how nice this park is as a place to relax or people-watch.

St. Gregory the Great Cathedral

Because Catholicism has a stronghold in the area, did you know that the oldest Roman Catholic Church in the country can be seen in the area? It is no other than St. Gregory the Great Cathedral, Spanish missionaries in the 1580s.

Ibalong Festival

Every August of the year, locals commemorate Ibalong and three legendary heroes via parades on the streets dressed and masked as the legends. A display of arts and culture in the area, it is a non-religious festival where all are invited to participate-locals and tourists alike.
4. Legazpi City is an active and rich source of History, Arts, and Culture.
Legazpi has played an active part in history. Even before Spanish explorers came, they already have a thriving civilization, but was heavily influenced by the Catholicisim from the Spaniards, even until today. Aside from the history books, a good place to visit and experience for yourself a glimpse of history is through the churches and the festival they celebrate. Here's a quick glimpse of Legazpi throughout the years.
Legazpi City, Albay: What's in a name?

Previously a fishing settlement called Sawangan, Legazpi was then named after the Spanish conquistador, Miguel Lopez de Legazpi.

The first Spanish explorers to set foot

As mandated by Legazpi, in 1569, two members of the Spanish expedition Luis Enriquez de Guzman and an Augustinian Fray Alonso Jimenez, set foot in Legazpi with the aim to start a Catholic Church in the area.

Mount Mayon Volcano erupts

On the first of February, 1814, after volcanic rocks and lava from the eruption of Mayon Volcano, residents were forced to flee to nearby areas. This in turn established other settlements with their own chapels and parishes, as the aftermath of the eruption resulted to the modern-day Cagsawa Ruins.

American Forces and Occupation

After the Spaniards, came the Americans. When the Allied Forces liberated Legazpi in 1945, they built a more modern and present church in place of the St. Raphael the Archangel Church.

Towards the end of the Philippine American war, General Simeon Ola surrendered to the American in 1903 and the Americans established a civil government, allowing the citizens of Albay to experience peace and economic progress.

With all these influences, Legazpi is also a melting pot of influences, and can be seen among their way of life. As Catholicism is still the dominant religion in the area, Cagsawa ruins is still a highlight of any Legazpi trip, and a celebration of fiestas for their patron saints are still observed.

5. Legazpi City is famous for their native food delicacies and recipes.
If there is a striking part in terms of cooking by people in Bicol, it's the heat. They are fond of cooking spicy foods and would not hesitate to eat chili. in fact, they love spicy food so much that they even have chili ice cream! While they are famous for Bicol Express, there are other hidden gems you must definitely try when you come to Legazpi. Have you tried some of these?
Pinangat
Laing
Sinantolan
Kinunot
Tilmok
Dinuguan
Picadillo
Housing Market Trends in Legazpi Albay
With its economic growth, and a better offer on quality oflife, Legazpi City has become an attractive hotspot for investment for Filipinos, especially if you want to settle down and buy your house and lot for in the Philippines. However, aside from economic activity and leisure areas, there are othr things to consider before you buy a forever home. Here is a list of the noteworthy aspects to encourage you to choose Legazpi City.
a. Transportation
Legazpi Albay being at the center of Bicol has always been in close proximity with everything. If you tend to travel by air, the new Bicol International Airport is your gateway, which is only just a few kilometers away from the city proper. Previously, there was a Legazpi airport, until it was shutdown in place of the newer airport.
For travel by water, the Legazpi port is your destination. A support where most local and international fishing and cargo vessels dock, it is also instrumental in the liberation of Manila in 1945. It now has an adjacent Legazpi Port District, where most businesses are located, so you won't have any problem navigating the way towards the port.
For land transfers and transportation, there is the Legazpi Grand Central terminal. Situated near SM City Legazpi, it hosts lines for jeepneys and vans to take you to nearby towns, and buses for interprovince travel.
b. Entertainment center
Aside from the tourist areas you get to visit during the day, you need some time to rest and sleep, right? Don't worry, Legazpi City has hotels that caters to you and your budget. Some of the notable hotels in the area are Marison Hotel, Casablanca Suites. For first-class room service, you may want to check out The Oriental Legazpi and Hotel St. Ellis. For a more budget-friendly accommodations, the Mayon Bachpackers Hostel, and the Legazpi Tourist Inn are your friends.


If you miss the urban lifestyle for leisure, than don't worry, you can choose from LCC Mall Legazpi, Pacific Mall, and SM City Legazpi for your mall fix.
C. Education
Legazpi Albay is the home of two prestigious schools and universities in the Philippines. In fact, it is considered to be the center of education in the Bicol Region. The first university is Bicol University, and the second one is the University of Sto. Tomas - Legazpi, formerly known as St. Thomas Aquinas University. Both schools offer a wide range of college courses, from business, scients, arts, and even education.
D. Housing Sites
As of writing, there are several villages, subdivisions, and housing sites in Legazpi City. Several National and Local Real Estate Developers have invested on projects in the city. But with so many of them, how do you know where to look for an affordable house and lot in Legazpi City? You don't have to sweat looking for it. Discover what Lumina Homes has to offer!
Lumina Legazpi City: Your Home in the Queen City of South Luzon
With Legazpi City having lots to offer to boost your quality of life, is it not also fair that you go home to a house best for your family? Introducing Lumina Legazpi, where you can find the most affordable house and lot for sale in the Philippines. You can visit us at Sitio San Jose, Brgy. Maslog, Legazpi City to see different model houses suited to your liking. Check out our Angeli Single Firewall, Angeli Duplex, and Aimee Rowhouse to discover which fits you and your family.
Witht Lumina Homes, there's no geographical location that can hinder in developing the best household sites for our clients. That's why Legazpi City is the next real estate investment hotspot. We ensure you will have a home built to last in the Queen City of South Luzon, Bicol. For more information, don't hesitate to contact us today.

Try our Home Loan Calculator
Loan Calculator
Try Lumina Homes' loan calculator and get an estimate computation for your preferred Lumina property and home model.