Earthquake Safety Tips: Reminder for Every Juan
27 September 2021
It's the start of another work week but I hope all you guys had enough sleep last night as residents in Luzon were awakened by loud shaking early Monday morning after a magnitude 5.7 earthquake hit the region.
Based on all available data from the Philippine Institute of Volcanology and Seismology or Phivolcs, a tectonic earthquake rattled Looc, Occidental Mindoro at 1:12 AM today, Monday. Metro Manila, Cavite, Rizal, and Nueva Ecija were rocked by tremors that led several office building occupants and employees evacuated to safety in anticipation of more powerful aftershocks. At 1:40 AM, a 4.5-magnitude aftershock was felt, although no damage was done.
With earthquakes occurring in our country much often these past couple of years, it's best if we stay informed and prepared in this kind of scenario.
Emergency information during an earthquake
Depending on where you are, you should take different precautions during an earthquake although the priority will always be to take immediate action for your safety as falling or flying objects are imminent in this kind of situation.
When driving, pull over and come to a complete halt. Make use of the parking brake. Just avoid parking directly on electrical posts and power lines.
When you are on your bed, tuck and cover your head and neck under the pillow.
When outdoors, make sure to stay away from structures or buildings as well as electrical posts and power lines.
When indoors, remain put, don't rush going out, and keep away from doorways.
It's important to remember these three steps drop cover and hold to protect yourself during an earthquake:
Drop. Avoid being knocked over by getting on your hands and knees. This will also give you a great position to scurry for cover.
Cover. Shield your head and neck from flying debris by placing your arm and hand over them. While the shaking continues, take cover beneath any nearby tables. In the absence of a table, take a seat against one of your home's interior wall, away from potentially dangerously tall furniture and items.
Hold. Hold your position until the trembling has subsided. Keep one hand on whatever you're holding onto, like a table if you're hiding beneath it. If you're in the open, keep your arms over your neck and head.
How to stay safe after an Earthquake
Aftershocks after earthquakes are frequent and some of which are even powerful. Due to this, buildings that get structural damage in an earthquake are more likely to collapse, as well as broken gas lines, in the wake of an aftershock. Tsunamis and landslides can also be triggered by earthquakes so you should still remain vigilant. Plus, keep in mind that we are still in the middle of a pandemic so make sure to still follow the health protocol from the government when the shaking stops.
After handling items or surfaces that are often handled, wash your hands thoroughly with soap and water. If you can't wash your hands, use a hand sanitizer with at least 60% alcohol.
An earthquake's primary shock will be followed by aftershocks. Drop cover and hold when you feel a strong aftershock come through. Look around if your area is safe and stay away from flammable liquids immediately.
If you're in a damaged building, get out of there as fast as you can. Entering a damaged structure is not recommended. Just make sure to still observe a 6 ft. distance or more from people who are not members of your household.
As soon as the shaking stops, go inland or to higher ground if you live in a tsunami-prone region. There is no indication that COVID-19 is spread via water, although floods may include chemicals, sewage, and other debris that should be avoided.
It's a bit scary and alarming but earthquakes with a higher magnitude than 4.0 are getting pretty common these days. This is because the Philippines is located on the Pacific Ring of Fire that makes it experience regular earthquakes and volcanic eruptions. Due to the collision of major tectonic plates in the area, several earthquakes could occur often.
That is why it's really vital to make have a safety plan and make your house earthquake-proof.
Earthquake Safety Plan
A strong earthquake may shift almost everything in your house. Check your home's security and evaluate the construction and contents of your home to ensure you're well-prepared and have earthquake insurance.
Home structure
Your house must be well-anchored to the ground and should be securely anchored to its foundation. Fix large fractures in ceilings and foundations. It's always better to consult a professional structural engineer for expert advice.
Gas Appliances
Repair your faulty electrical wiring and leaking gas connections or hire experienced professionals to do it for you. Eliminate gas and water leaks by using flexible pipe fittings. Install wall straps or floor bolts to secure your water heater, refrigerator, furnace, and other gas appliances. If your gas provider suggests it, you should install an automated gas shut-off valve that is activated by severe vibrations.
Large or heavy objects
Large or heavy items should be stored on the lower shelves. Store fragile items in low, locked cabinets such as bottled foods, glass, and china. Heavy objects like pictures and mirrors should be safely stored away from beds and seating areas. Kitchen cabinets should have sturdy locks. Wheels on the refrigerator should be removed or locked to prevent them from rolling away accidentally during an earthquake. Keep heavy, shaky items out of the path of exits and entrances.
Small items
Museum putty is great for securing trinkets and other small valuables. Closed cabinets with locks on the bottom shelf are ideal for storing weed killers, insecticides, and other inflammable products. Plants should be hung from joists or wall studs with closed hooks in lightweight pots away from the windows and securely fastened.
Tree limbs
Make sure to prune the tree limbs that are close to your house or garage.
For rental apartments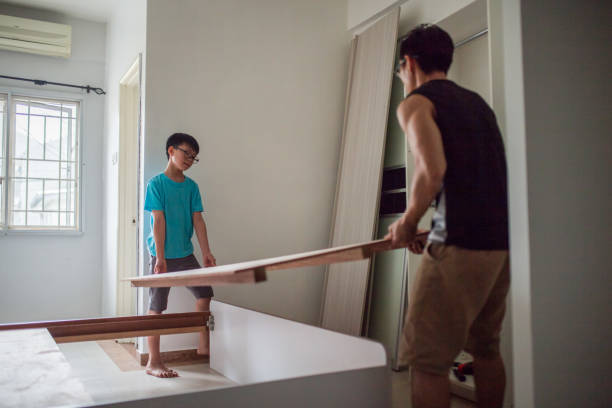 Meanwhile, if you are renting apartments, you can also make your place earthquake-proof by placing big or heavy things on the floor or low shelves. You should also remove hazards that might fall on you from areas where you spend a lot of time. You must not also store heavy or flimsy goods near doors or escape routes.
You can also secure any of your appliances by consulting with your landlord before putting straps or bracing on the walls to see if they have a preferred method to do it or if they prefer to have a maintenance worker do the job.
Earthquakes are really scary especially if you are inside a high-rise building. No matter what, make sure that you won't panic and remember these safety tips. Keep safe every Juan!
Related Articles:
***
For more information about the affordable house and lot for sale of Lumina Homes, please contact (0917) 629 6523.

Loan Calculator
Try Lumina Homes' loan calculator and get an estimate computation for your preferred Lumina property and home model.