Best Schools and Universities near Lumina Sorsogon
26 November 2022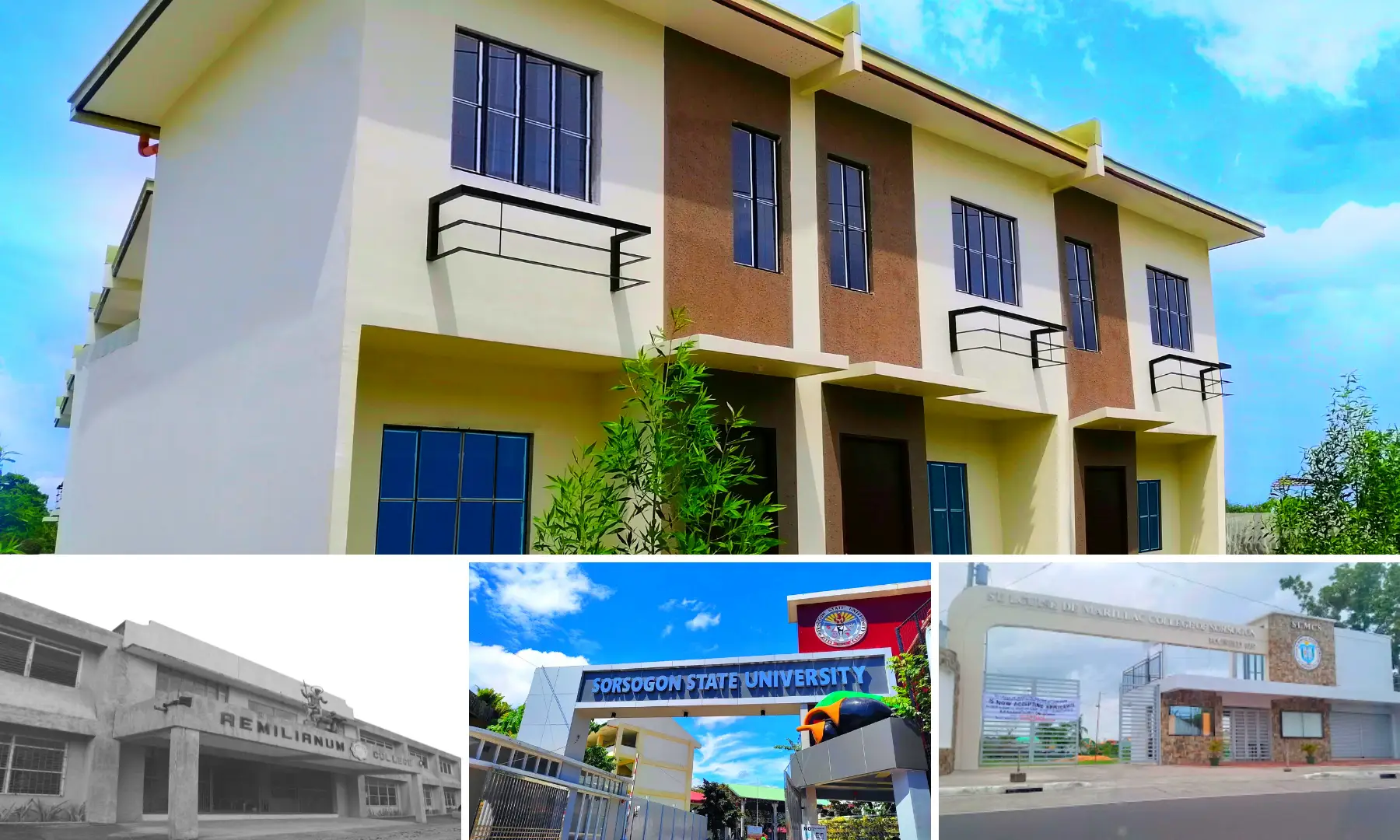 Monikered "The Gateway to Southern Philippines," Sorsogon is a formidably flourishing province in the Bicol Region. With business and employment opportunities abounding, Lumina Homes sees Sorsogon also rising as a lucrative investment hub for real estate and other business ventures. Perfecting this array of conveniences is its exquisite and world-class tourism spots, such as the amazing whale sharks in Donsol and the Bulusan Volcano.
If you fancy living in close proximity to commercial establishments and an impressively thriving business climate, Sorsogon is a perfect choice for permanent residency in the perfect mixture of urban perks and a tranquil rural living in the Bicol Region.
Sorsogon City at a Glance
The economically and naturally rich City of Sorsogon was instrumental in the vast economic growth of the Bicol Region, especially in 2018. The economic boom is attributed to the rise of real estate and tourism, making both the city and the province important spots to invest and reside in.
The presence of several public college schools in Sorsogon is another key indicator of its economic prosperity. If there are students in the family who dream of a bright future, be it in elementary, high school, or college, Sorsogon will give them a number of academically competent schools to fulfill their dreams of finishing their education.
Below is a list of reputable schools with the corresponding courses offered, each of which is reachable by a quick drive from Lumina Sorsogon roughly within 6-12 minutes.
1. Aemillanum College Inc. (ACI)
ACI is a private Catholic school in the City of Sorsogon. Founded and managed by the Somascan Congregation, it was named in honor of St. Jerome Emiliani. The academic institution commits to producing graduates who both have competence and compassion. What is more, this Catholic Sorsogon college intends to promote education that values extension services to communities, making it imperative for students to undergo the programs to be in service of the impoverished and the marginalized.
Currently, the Catholic college offers undergraduate courses in Engineering, Information Communication Technology, Business Administration, Industrial Technology, Teacher Education, and Communications. For graduate-level students, it offers a Bachelor of Laws and a Master in Information Technology. For a short-term vocational course, interested applicants can enroll in Automotive Servicing. Finally, the college also provides basic education programs from elementary to the senior high school level.
2. Louise de Marillac College of Sorsogon (SLMCS)
Formerly known as the Colegio de la Milagrosa, Saint Louise de Marillac College of Sorsogon is a private educational institution situated in Talisay, Sorsogon. It was established in 1937, with the college offering undergraduate courses and studies in various fields of specialization, ranging from English to Accountancy.
In addition to undergraduate programs offered, SLMCS is also committed to harnessing and maximizing the technical-vocational skills of its sea of students through its TESDA-accredited courses, namely National Certificates II on Cookery, Tourism Promotion Services, and Events Management Services. Completing its academic programs is education catered to Senior High School students, featuring Academic and Technical-Vocational-Livelihood (TVL) strands.
Establishing a legacy as a legitimate provider of quality education is its exceptional academic performance through the years, having been recognized by the award-giving Philippine Accrediting Association of Schools, Colleges, and Universities (PAASUC) with Level II Accreditation in its departments in Basic Education, Business Administration, Liberal Arts, and Teacher Education.
3. Sorsogon State University (SorSU)
Topping the list of public college schools in Sorsogon is its official state university. Sorsogon State University is recognized as one of the oldest trade schools in the country, having been built in 1907 as Sorsogon Trade School, was then renamed Sorsogon School of Arts and Trades through Republic Act 704 in 1953, and once again renamed Sorsogon College of Arts and Trades in the year 1976.
In 1993, it was converted into a premier state college in Sorsogon with national vocational high schools integrated into it. What is more, the state university was formed with a history of name conversions before being officially named as such, wherein four vocational schools were established.
Concentrating on Teacher Education and Technology is the School of Industrial Technology and Education (SITE), formerly the Sorsogon College of Arts and Trades (SCAT). Concentrating on Agriculture and Agriculture-Based Technology (SAABT) is the School of Agriculture, formerly the Sorsogon National Agriculture School (SNAS). Concentrating on Business Management and Information Communication Technology, meanwhile, is the Institute of Management and Information Technology (IMIT), formerly called Bulan Vocational High School which was also further renamed School of Arts and trades (SAT). Finally, concentrating on Fishery Technology and Fisheries Resource Development is the School of Fisheries and Fisheries Based Technology (SFFBT), formerly known as Magallanes School of Fisheries.
Making social responsibility, commitment, and resilience as its core values, Sorsogon State University commits to delivering quality higher education through the fulfillment of its mission and vision for the betterment of the community.
Sorsogon City Campus
Bachelor Of Science In Accountancy (BSA)
Bachelor Of Science In Entrepreneurship (BSEntrep)
Bachelor Of Science In Tourism Management (BSTM)
Bachelor Of Science In Hospitality Management (BSHM)
Bachelor Of Special Needs Education (BSNED)
Bachelor Of Culture And Arts (BCAEd)
Bachelor Of Physical Education (BPEd)
Bachelor Of Elementary Education (BEEd)
Bachelor Of Secondary Education (BSEd)
Bachelor Of Engineering Technology (BET)
Bachelor Of Technology (BT)
Bachelor Of Science In Midwifery (BS Midwifery)
Bachelor Of Science In Architecture (BSArch)
Bachelor Of Science In Civil Engineering (BSCE)
Bachelor Of Science In Electrical Engineering (BSEE)
Bachelor Of Science In Mechanical Engineering (BSME)
Bulan Campus
Bachelor Of Public Administration (BPA)
Bachelor Of Science In Accountancy (BSA)
Bachelor Of Science In Accounting Information System (BSAIS)
Bachelor Of Science In Computer Science (BSCS)
Bachelor Of Science In Information System (BSIS)
Bachelor Of Science In Information Technology (BSIT)
Bachelor Of Science In Entrepreneurship (BSEntrep)
Magallanes Campus
Bachelor Of Science In Fisheries
Castilla Campus
Bachelor Of Science In Agriculture (Bsa)

Bachelor In Agricultural Technology (Bat)
Graduate Programs
Doctor in Public Administration (DPA)
Doctor of Philosophy in Mathematics Education
Doctor of Philosophy in Filipino
Doctor of Philosophy in Language Education
Doctor of Education in Educational Leadership and Management
Master of Arts in Teaching
Master Of Arts in Management
Master Of Arts in Education
Master In Education - Non Thesis
4. Lewis College
The Lewis College is yet another Sorsogon school providing competent education services founded on the "Christian Values of Faith, Service, and Personhood." It seeks to offer aspiring students in the Bicol Region with high-quality yet low-cost education that will accommodate all students and shall make them productive members of the society and catalysts for provincial and regional progress.
Named after its president and founder, Atty. Loida Nicolas Lewis, the college offers basic education from kindergarten to senior high school, TESDA-accredited vocational courses, and three core courses at the higher education level, namely:
College of Business Education
College of Teacher Education
College of Computer Studies
5. Bicol Merchant Marine College
Established in the year 1993, Bicol Merchant Marine College Inc. (BMMCI) is a private non-sectarian, non-stock college built to respond to the then-growing development of the maritime industry in the country and therefore to compete internationally. BMMCI takes pride in being the only maritime academic institution in the province of Sorsogon, which commits to producing competent and marketable graduates in the business of local and global shipping. It offers programs for senior high school and higher education. Courses offered for the latter are the following:
Bachelor of Science in Marine Transportation
Bachelor of Science in Marine Engineering
Bachelor of Science in Hospitality Management
Bachelor of Science in Tourism Management
6. Sorsogon State of Criminology
Equipped with a straightforward slogan of being an ideal school for future law enforcers where quality and affordable education is offered, the Sorsogon College of Criminology prides itself as the first-ever criminology .,school in the province of Sorsogon. Aside from this, it also offers a senior high school program under the General Academic Strand.
Lumina Sorsogon: A Potent Real Estate Investment in the Bicol Region
Strategically located in the heart of Sorsogon City, Lumina Homes Sorsogon did not hesitate to develop a mass housing community in this highly convenient location for Bicol residents and prospective investors. With its vast economic progress, tourism boom, and ample employment opportunities, Sorsogon is indeed an ideal hub to invest in real estate.
Lumina Homes is one of the housing arms of trusted homebuilder Vista Land. Its signature offers include an affordable house and lot for sale with a variety of home model units for aspiring property owners to choose from. Lumina Sorsogon currently holds units for Angelique Townhouse, Angeli Duplex, Angeli Single Firewall, and Armina Single Firewall. Lumina-signature amenities include a Multi-Purpose Hall, a Guarded Entrance, and mini gardens and playgrounds.
For other real estate queries on our affordable house and lot units, take a virtual tour of available house and lot in the Philippines strategically scattered across Luzon, Visayas, and Mindanao!

Try our Home Loan Calculator
Loan Calculator
Try Lumina Homes' loan calculator and get an estimate computation for your preferred Lumina property and home model.