List of Lumina Homes Property in Luzon
26 September 2022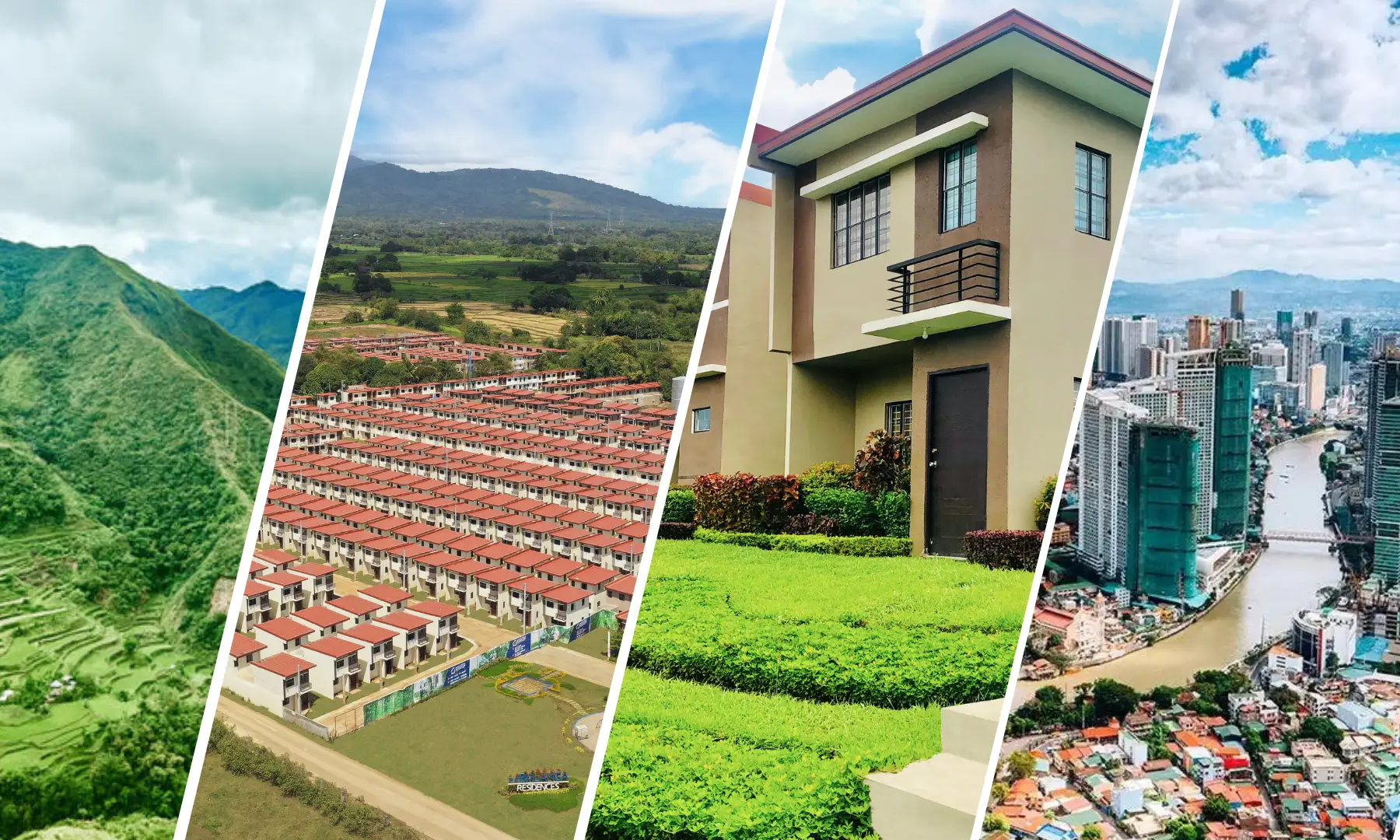 Luzon, the biggest and most populated island in the Philippines, is located in the country's northernmost region. Mountains, seaside resorts, and coral reefs all contribute to the region's appeal, and the country's capital, Manila, may be found here as well.
It is on the island of Luzon that the majority of the country's businesses can be found with Metro Manila included in its region. Various farms can are also located here producing a wide array of crops such as rice, corn, coconuts, sugarcane, mangoes, and bananas.
Meanwhile, the majority of the country's grain is grown in a central plain that stretches for about 160 km north of Manila.
Complete List of Lumina Homes Locations Available in Luzon
There are now a series of economical Lumina Homes available properties in this area of Luzon:
Affordable Housing Segments in North and East Luzon
Stunning mountainous regions may be found in the northern and eastern parts of the Philippine island of Luzon. Destinations, where individuals may be at one with nature, are just a few hours away from the bustling streets of Manila, the capital city. Due to its accessible location near nature, most potential buyers prefer to invest in this part of the country.
BATAAN
Lumina Pilar (Brgy. Liyang, Pilar)
An 11 hectares of affordable housing community near nature, Lumina Pilar is mostly served by Gov. JJ Linao National Road. This makes the subdivision an excellent place to reside as almost everything else is at least one kilometer distant.
All the affordable house and lot offerings in Lumina Pilar are still at pre-selling prices, making it so much affordable compared to other communities.
Lumina Balanga (Sitio Maluya, Brgy. Cupang, Balanga City)
The Balanga Residences is a community that provides conveniences including a multi-purpose hall, mini gardens, and a playground for its residents. Furthermore, VistaMall is barely two kilometers away in this 13 hectares of land development.
BULACAN
Lumina Baliwag (Brgy. Pagala, Baliwag)
Located in one of Bulacan's most rapidly developing towns, the 8-hectare Lumina Baliwag takes great pleasure in its location. The business and leisure centers of Baliuag are approximately 3 minutes away, making the quality homes of this community quite convenient. It is also the first Lumina community that got a community garden inside its subdivision.
Lumina San Miguel (Brgy. Buliran, San Miguel)
The Lumina San Miguel 14-hectare land development is situated in a very accessible and practical area in San Miguel, Bulacan. The property details are conveniently located approximately 8 minutes from several schools, hospitals, churches, business establishments, supermarkets, and fast food chains.
Lumina Pandi (Brgy. Pinagkuartelan, Pandi)
Homeowners in Lumina Pandi may enjoy a community spread out across 22 hectares. The Municipality of Pandi is quickly becoming one of Bulacan's thriving towns, and its affordable house and lot, just 14 kilometers from Balagtas Exit, has all the future commercial areas you could want-- making it a typical dream home that every Filipino wants.
Lumina Residences Bulacan (Brgy. Bugion, Calumpit and Brgy. Rueda Plaridel)
As a part of the Vista Land & Lifescapes Masterplan in Malolos City, Lumina Residences Bulacan has a prime location which spans at 14 hectares. Located at 15 kilometers from Tabang Exit, the development is attractive to those who commute to and from Metro Manila for employment. It is also conveniently close to the McArthur Highway in the heart of Malolos, the capital city of Bulacan.
CAGAYAN
Lumina Tuguegarao (Brgy. Carig Norte, Tuguegarao City)
This is a 30-hectare land project in Stoops Blvd. that is closely located to malls and shopping centers such as Robinsons Mall, SM Downtown, City Mall, and the Primark Town Center-- providing its residents and future homeowners the city living within the province.
LA UNION
Lumina San Juan (Brgy. Calincamasan, San Juan)
Lumina San Juan is a neighborhood that spans 8 hectares and is located in close proximity to the beach and resorts. It's also just around 15 minutes from the shopping districts of San Juan and San Fernando City La Union.
NUEVA ECIJA
Lumina Cabanatuan (Brgy. Valle Cruz, Cabanatuan City)
Located in the center of Cabanatuan City, Lumina Cabanatuan spans 15 hectares. Schools, shopping centers, terminals, places of worship, and commercial centers are all within easy reach of its edge position.
Lumina San Jose (Brgy. Caanawan, San Jose City)
Lumina San Jose is an expansive 14-hectare development that has a prime position along the Maharlika Highway, only minutes from the heart of the city.
PANGASINAN
Lumina Manaoag (Brgy. Sapang, Manaoag)
The Minor Basilica of Our Lady of Hold Rosary Manaoag may be reached from here in less than fifteen minutes. An excellent location for residential development as it is about ten minutes from Binalonan Exit of the Tarlac-Pangasinan-La Union Expressway (TPLEX).
RIZAL
Lumina Pililla (San Antonio Feeder Road, Brgy. Quisao, Pililla)
The National Road is about a minute away (or 900 meters) from this real estate while schools are only 3 minutes away. The housing units here also have accessible locations close to various Rizal tourist spots which are just 10 minutes away from the project site.
Lumina Baras (Latigo Drive, Brgy. Concepcion, Baras)
Schools, grocery stores, and other services may be reached as little as five to ten minutes from Lumina Baras, while the trip to the National Road takes less than three minutes.
With the Metro Rail Transit Line already in the pipeline in Rizal province, the CBD in the metro like Quezon City can be reached easier from here.
ZAMBALES
Lumina Subic (Brgy. Pamatawan, Subic)
This project is situated in a well-known area of North Luzon, renowned for its proximity to both beaches and mountains. Simply put, it's another incentive among many to put their investment into Lumina Subic.
TARLAC
Lumina Tarlac (Brgy. Maliwalo, Tarlac City)
This project spans 10 hectares and has 1, 354 residential units. It's just a ten-minute drive from SM Tarlac and close to top-notch medical facilities like Jecsons, CLDH, and TPH. Lumina Tarlac residents and future homeowners appreciate how convenient its proximity is to several grocery stores and higher education institutions.
Lumina Tarlac Residences (Brgy. San Agustin, Concepcion)
This subdivision is only 150 meters away from Mc Arthur Highway and 5 minutes away from Robinson's Luisita Mall. It is also quite accessible to Public Transportation and one ride going to SM City Tarlac. On top of that, Lumina Residences Tarlac has great proximity to Clark New City, giving its residents more job and business opportunities.
Lumina House Communities in South Luzon
Many Metro Manila residents go south of the metropolis when they need a break from the frenzy of city life. It is simple to travel to and from these cities thanks to the South Luzon Expressway (SLEX), Skyway, and C5. Most communities in this area also provide shuttle services to major commercial hubs in Metro Manila--giving faster transportation hubs to its residents.
BATANGAS
Lumina Bauan (Brgy. As Is, Bauan)
Lumina Bauan is a 16-hectare neighborhood that's conveniently placed only minutes from the town center and a number of commercial districts. Bauan is located around 5.3 kilometers or 25 minutes from Batangas City while the Startoll Way and the SLEX also both provide quick access to Bauan.
Lumina Lipa (Brgy. Tangway, Lipa City)
This 21-hectare community is located in a city that has famous frigid weather as it ranks as the third coldest in the Philippines (next to Baguio and Tagaytay).
Lumina Rosario (Brgy. Quilib, Rosario)
Thanks to its proximity to major urban centers, Lumina Rosario has a superb location. This 44-hectare plot is conveniently situated within five minutes from the major highway and several business centers.
Lumina Sto. Tomas (Brgy. San Vicente, Sto. Tomas City)
The magnificent Mt. Makiling can be seen from this 33-hectare neighborhood. By car, it takes around 45 minutes through the STAR Tollway and SLEX to reach Sto. Tomas, Batangas from Alabang.
Lumina Tanauan (Brgy. Hidalgo, Tanauan City)
This 15-hectare master-planned community is located close to almost everything with easy walking distance from schools, transport hubs, and the town hall.
CAVITE
Lumina Tanza (Brgy. Bagtas, Tanza)
Can be found in the Next Vista City of the South this 500-hectare master-planned neighborhood is just around 30–45 minutes south of Pasay, Manila.
Providing Decent Homes to Every Filipino
Lumina Homes, with its 10 years in the real estate market, continue to provide affordable house and lot for sale to Filipinos all over the globe. Overseas Filipino Workers and domestic workers can both now achieve their lifelong dream to have a house and lot in the Philippines through housing loan such as Pag-IBIG Financing, bank financing, or in-house financing. With a ground floor area of up to 53 sqm, you can now get a quality home at an affordable selling price!
Start your home investment now in the progressive island of Luzon near Metro Manila and nature with Lumina Homes!

Try our Home Loan Calculator
Loan Calculator
Try Lumina Homes' loan calculator and get an estimate computation for your preferred Lumina property and home model.